'Adventure' awaits Colorado PGA pro Doug Rohrbaugh as he and his wife venture to China, where he plans to teach golf for the next 6 months
By Gary Baines – 10/24/2019
Doug Rohrbaugh has never been to China — or anywhere in Asia, for that matter — but starting this week he's going to be rectifying that issue.
And in a big way.
The Carbondale resident, one of the most accomplished players in the Colorado PGA in the last decade, is scheduled to arrive this week in China. And he doesn't plan to return to the U.S. for six months.
"My wife (Karla) and I were talking about it and I said, 'The time is right,'" Rohrbaugh said recently. "The boys (two sons) are done and have jobs out of the house. We managed to pay our house off this spring so we can rent it while we're gone. And she's been wanting to retire from dental hygiene so badly because it's very physically demanding. So we're like, 'Let's do this. It's an adventure. Whether we like it or not, let's do it.'
"We're excited — very excited to do something so different. I can't wait, I really can't."
The plan is for Rohrbaugh, who has served as a golf instructor at Snowmass Club as well as Lakota Canyon, to teach golf in Guangzhou, northwest of Hong Kong in southern China.
Rohrbaugh exits Colorado after representing the Colorado PGA in both the Colorado Cup and Western Colorado Cup Matches last week. This year, for the fifth time, Rohrbaugh earned the CPGA Senior Player of the Year honors. Last year, at age 56, he was the Section's overall Player of the Year and became the first golfer to sweep the Colorado PGA's Player of the Year and Senior Player of the Year honors in the same season.
In the last six years alone, Rorhbaugh has won the Colorado PGA Professional Championship three times — all as a senior golfer — and the CoBank Colorado Senior Open in 2013. He played in six events on PGA Tour Champions in 2015 and competed in two senior majors last year — the U.S. Senior Open at The Broadmoor and the Senior PGA Championship. Overall, the former Ironbridge Golf Club director of golf has played in eight senior majors during his career.
Rohrbaugh is by no means done playing competitive golf, but with his wife Karla having retired in late summer from her career as a dental hygienist, this figured is an ideal time to break from the routine with a big-time adventure.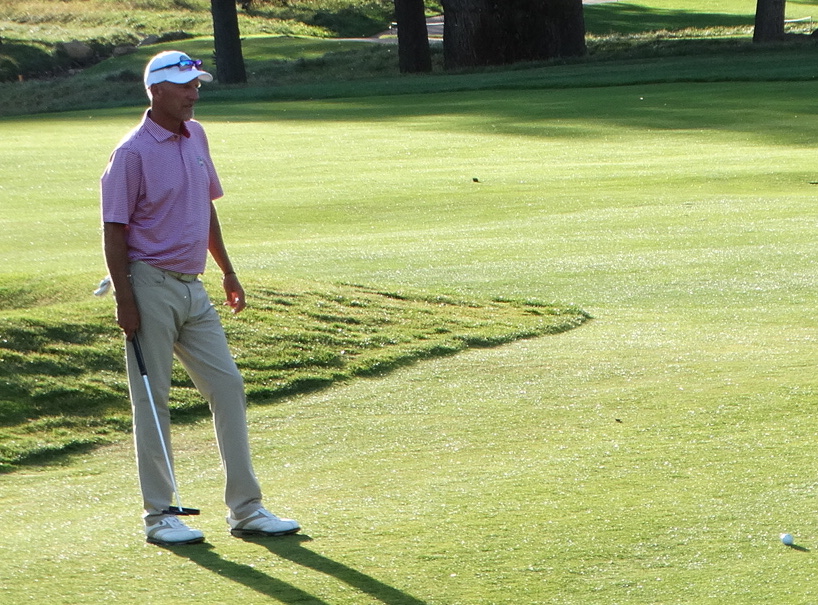 Actually, the idea came from fellow Coloradan Audie Dean, who passed away this year after suffering a stroke. Dean was a regular at many Colorado-based U.S. Open and U.S. Senior Open qualifying tournaments in the last decade. In fact, he qualified for the 2008 U.S. Senior Open that The Broadmoor hosted.
"Audie Dean and I were playing golf this spring," Rohrbaugh recalled. "I knew that he'd been going over there (to teach golf in China) so I started talking to him about it. I said, 'What are the opportunities?' He said, 'I know a guy over there that I've worked for. He has a couple of academies. Send me your resume and I'll send it to him.' So I went home and mentioned it to my wife. 'What do you think?' And her eyes lit up. She said, 'Really?' I wasn't sure I was expecting that response. So I'm like, 'I'm going to send a resume.' The guy responded in literally less than an hour. He made me an offer and I couldn't say no.
"Audie Dean went over there four times. He passed away this summer; that's why I'm getting emotional. He had a massive stroke. He and I were still talking about this and he was my source. Then, oh my gosh, out of nowhere. He was in good shape — not overweight, nothing. It caught everybody who knew him by surprise. So it's bittersweet because he was going to go back so we would have been able to hook up while we were over there."
In addition to being an instructor in China this winter, Rohrbaugh said it's very possible he'll compete in some tournaments as well.
"I'll feel it out when I get there," he said. "There is the Chinese PGA. I can try to join and be a member of that, which would allow me pro-ams and whatnot. I want to explore whether I have the opportunity to try and get in or qualify for the Japanese Senior Tour. I know there's stuff over there, I just don't know the qualifications and what you need to do. Audie played in handful of things when he was over there. We'll see how that all pans out when I get over there."
But that isn't the main impetus for venturing to China. It's to do something adventurous and fun.
"I've always wanted to go," Rohrbaugh said. "We're hoping to travel for a few days and see Thailand, maybe Singapore, Japan. I don't know. We'll see when we get there. It's so close to all that, so why not?
"When we're done, I want to rent a car and go west through Europe. We're at that point in our lives that we're young enough to do it. The situation is right. I hope we like it and it's something we want to go back to the next year. I only want to do winters. Our summers (in Colorado) are too nice. It's kind of feeling it out — what it's all about and is the situation I'm going into as good as I think it is? Time will tell."
The one competition Rohrbaugh will miss while he's gone is PGA Tour Champions Q-school, which he's attended each year since turning 50.
"I won't miss the golf season here" because he'll likely return by mid-spring, he said. "I will miss skiing a little, but I've skied so much in my life. I'm like, 'I'm good. I don't need to do it.'"
After all, an adventure in China awaits.