Coloradans Zahkai Brown, Jim Knous and Cal McCoy advance from Walnut Creek to U.S. Open final qualifying along with Wyoming's John Murdock and Kirby Coe-Kirkham; Littleton's Chris Korte moves on at qualifier in Tucson
By Gary Baines – 5/10/2021
A couple of Coloradans who have made a semi-regular habit of earning berths into the final stage of U.S. Open qualifying from Walnut Creek Golf Preserve in Westminster did it again on Monday.
Zahkai Brown of Golden and PGA Tour card holder Jim Knous of Littleton made the grade again at Walnut Creek in local qualifying along with fellow Coloradan Cal McCoy and Wyoming residents John Murdock IV and Kirby Coe-Kirkham.
They all will advance to 36-hole final qualifying, which will take place at various sites May 24 and June 7. The U.S. Open itself is set for June 17-20 at Torrey Pines in San Diego.
Brown, a former CGA Player of the Year who won the 2013 CoBank Colorado Open, landed medalist honors on Monday out of a field that originally numbered 84. The former Colorado State University golfer shot a 3-under-par 69 to advance from local qualifying at Walnut Creek for the fourth time.
On a very cool and sometimes rainy day, Brown made six birdies and three bogeys to set the standard.
"I get the membership out here (at Walnut Creek) so I practice and play here and Legacy (Ridge). I feel really comfortable, even in this bad weather," said the 30-year-old Brown. "I've been playing this course since I was 13, so thousands of rounds.
"Today I knew I was going to make some bogeys. I hit it to the center of the fairway, the center of the greens, make some putts. I missed a couple of short ones, but I made three long putts from 30 feet. It's like, 'Man, I just hit it too close I think.' But it was fun."
Knous, a former Colorado School of Mines standout who is trying to retain his PGA Tour card after undergoing wrist surgery in 2019, posted a 71 on Monday, successfully negotiating the Walnut Creek qualifier for the fifth time and setting up his sixth trip to final qualifying. Both he and Brown are looking for their first berth in the Open itself.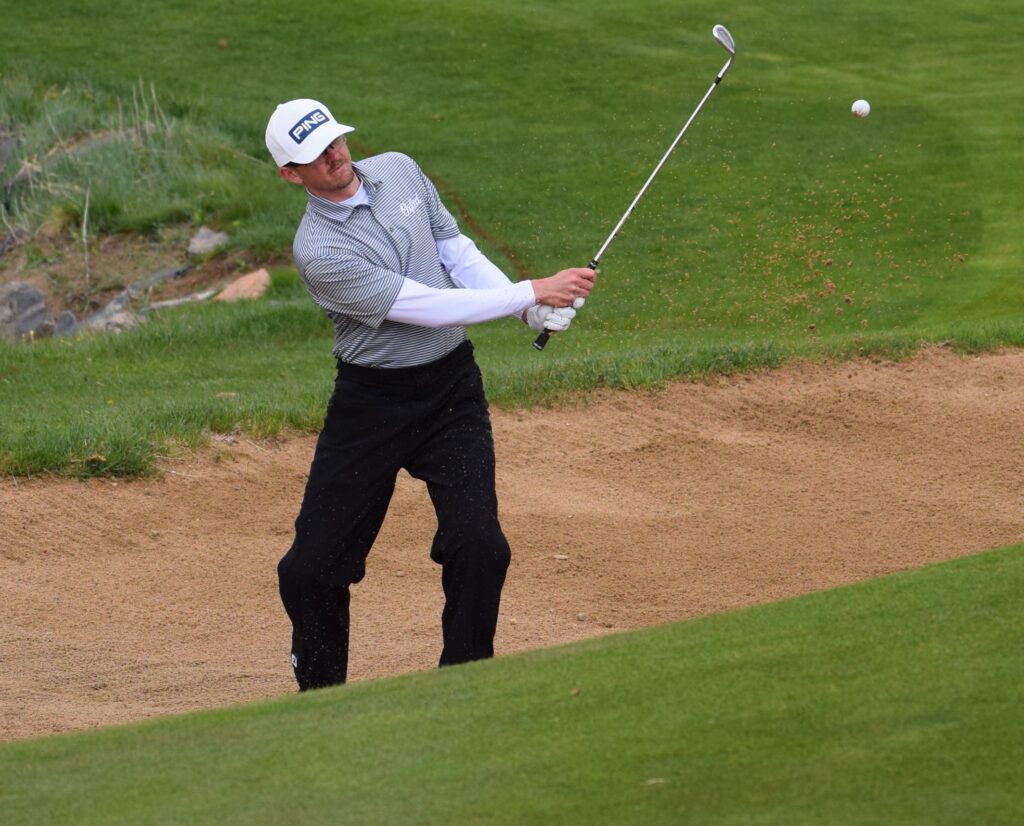 Though Knous said he played just "OK; the putter was saving me", it was good enough to get him to step 2 in the two-stage process. He made three birdies and two bogeys on Monday.
"This course fits my game really well for whatever reason," the 31-year-old said. "I like the layout, the design. Obviously I've played pretty well, and you don't have to go crazy low to get through.
"It's all about the opportunity, right? We all want to play in the U.S. Open, and I certainly do too, especially with it being at Torrey Pines this year. I've played the Farmers (Insurance Open on the PGA Tour) there twice now (finishing 29th in 2019 when he made a hole-in-one) so I know the course real well. I think my game sets up well for that course, so I'd love to play well there. But I'm excited for the opportunity."
McCoy, a University of Denver golfer who has won twice individually as a collegian, is headed to final qualifying for the first time after joining Knous in posting a 71 on Monday.
"I struck it really nice," the 21-year-old said following a round which included 17 pars and a chip-in birdie from about 30 yards on No. 2. "I'm proud of how I played. I wanted to get into the red numbers and I did. I'm excited to take it to the next step. "
Murdock, a former University of Wyoming golfer from Laramie, also advanced with a 71, as did current current UW golfer Coe-Kirkham of Sheridan, who carded a 72. Coe-Kirkham prevailed in a playoff for the final spot by making a 25-foot birdie on the third extra hole, No. 18 at Walnut Creek.
Kory Harrell of Denver and Daniel Sutton also posted 72s, with Harrell ending up as first alternate and Sutton the second.
Monday marked the second of the Colorado-based local qualifying tournaments for the U.S. Open, with the third scheduled for Thursday at CommonGround Golf Course in Aurora.
Last week in the local qualifier at Collindale Golf Course in Fort Collins, advancing to the the final qualifying were Parker Edens and Gavin Hagstrom of Fort Collins, Ryan Burke of Longmont and
Matthew Liringis of, Mesa, Ariz., who spent 10 years of his childhood living in Fort Collins.
Meanwhile, also recently earning a spot in U.S. Open final qualifying was former CGA Amateur and Match Play champion Chris Korte of Littleton.
Korte, a former DU golfer now competing as a pro, finished second out of 83 players at a local qualifier at Sewailo Golf Club in Tucson last Thursday. Korte fired a 7-under-par 65 to end up two strokes behind medalist Chris Nallen of Tucson.
Korte made an eagle, six birdies and a bogey for the round.

U.S. Open Local Qualifying
At Par-72 Walnut Creek Golf Preserve in Westminster
ADVANCE TO U.S. OPEN FINAL QUALIFYING
a-indicates amateur
Zahkai Brown, Golden 69
Jim Knous, Littleton 71
a-Cal McCoy, Highlands Ranch 71
John Murdock IV, Laramie, Wyo. 71
a-Kirby Coe-Kirkham 72
ALTERNATES (In Order)
Kory Harrell, Denver 72
Daniel Sutton 72
For all the scores from Walnut Creek, CLICK HERE.