Kupcho's advice helps Iceland's Kristinsdottir qualify at Walnut Creek for U.S. Women's Open
By Gary Baines – 05/06/2019
When Colorado sports fans refer to a Wake Forest women's player and Westminster when talking about an elite-level golfer, it's a pretty good bet they're saying something about Jennifer Kupcho.
After all, she's a longtime Westminster resident who plays golf at Wake Forest, she's won the NCAA individual title and the inaugural Augusta National Women's Amateur in the last year, and is the No. 1-ranked women's amateur in the game.
But on Monday, Olafia Kristinsdottir was the one who earned the spotlight.
Kristinsdottir, who played golf at Wake Forest but graduated before Kupcho started there, just happened to be attempting to qualify for the U.S. Women's Open on Monday in Kupcho's hometown.
And the golfer from Iceland made it a successful journey to Colorado as she earned the lone U.S. Women's Open berth available in a 32-player qualifier at Walnut Creek Golf Preserve.
Kristinsdottir, a regular on the LPGA Tour in 2017 and '18, birdied three of her last four holes to prevail by one stroke for medalist honors. Her rounds of 69-70 left her at 5-under-par 139 for the day, landing her a spot in one of the most prestigious women's tournaments in the world, being played this year at the Country Club of Charleston in South Carolina May 29-June 3.
Even though Kupcho wasn't in the field in Colorado on Monday, she may have had an influence on the outcome as she gave her fellow Demon Deacon some pointers on playing Walnut Creek, a course with which Kupcho is very familiar.
"She went to Wake Forest and I went to Wake Forest — and she was giving me tips on this course. She was helping me out," said the 26-year-old Kristinsdottir. "It definitely helped me and saved me some time. She gave me a heads-up of what to be aware of."
And, of course, Kupcho will be joining Kristinsdottir in the field for the U.S. Women's Open as the Coloradan qualified for the event for the third time, in this instance in Greensboro, N.C., on April 29. The soon-to-be 22-year-old will make the Women's Open her pro debut.
"There's going to be some Wake Forest people (competing in the U.S. Women's Open), so that's exciting," Kristinsdottir said.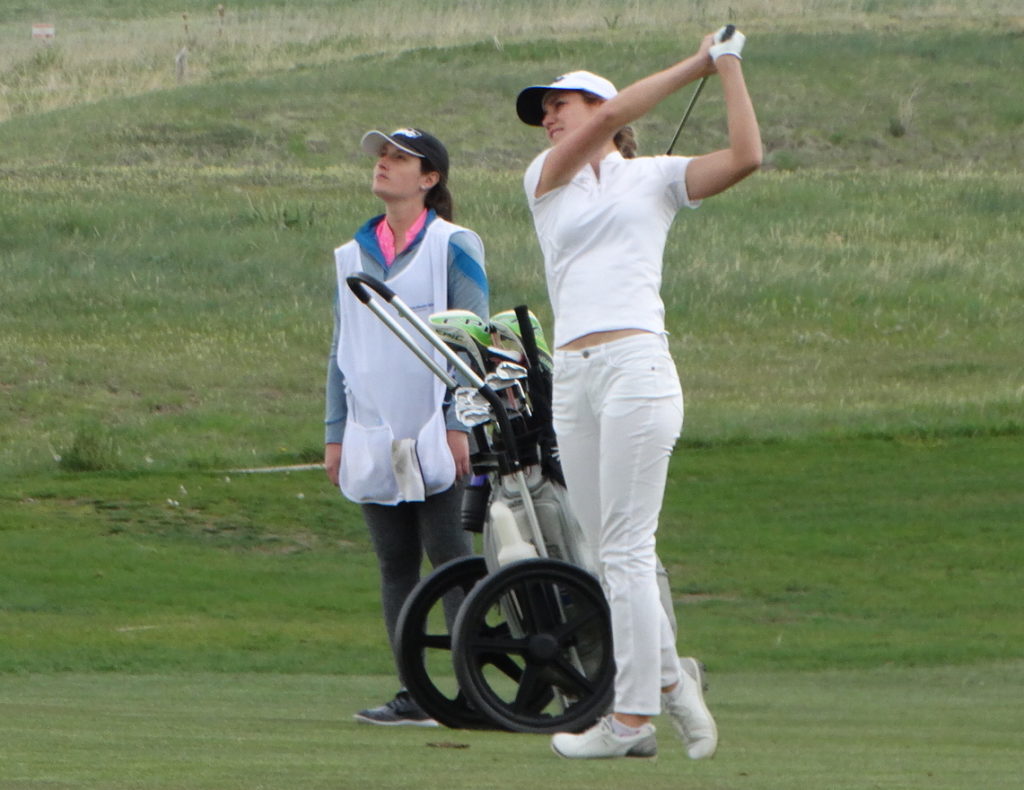 Kristinsdottir secured the Women's Open berth Monday with a birdie on her 36th hole of the day, the par-5 18th at Walnut Creek. There, she judged the distance perfectly for her second shot, landing her ball well short of the green and rolling it up to 3 feet from the flag. Amazingly, she left her short eagle attempt short, but the tap-in birdie was enough to give her the low score of the day. Overall, Kristinsdottir made 10 birdies and five bogeys on Monday.
Dottie Ardina, a Filipino who now lives in Largo, Fla., and plays on the LPGA Tour, ended up a shot behind after going 2 over par for her last seven holes.
Former University of Colorado golfer Robyn Choi, an Australian who qualified in Colorado for the U.S. Women's Open in both 2017 and '18, ended up tied for third at 143. Also at that figure were amateurs Annick Haczkiewicz of Las Vegas and Naomi Soifua of Provo, Utah.
Only 26 players posted 36-hole scores — several withdrawing when the horn blew for a lightning delay at 6 p.m. Play resumed less than an hour later for the remaining groups.
This year will mark the second straight U.S. Women's Open for Kristinsdottir, who missed the cut last year.
"It's really amazing" to land a return trip, she said. "I worked really hard for it today and earned it, so it was really cool. 
"I like the major courses because they're usually a really good challenge — the U.S. Open especially. Last year it was crazy. I usually do well when it's a good challenge. So I'm really excited for that."
This was the first time Kristinsdottir had visited Colorado, and she obviously made the most of it.
"I had to travel anyways to go to a qualifier and I've always wanted to come to Colorado, so I chose here," she said. "I read about the course and it seemed to suit my game — and it did."
Becoming a successful golfer from Iceland is no easy task — especially for one who still lives there. 
"It is a challenge," Kristinsdottir admitted. "I'm the one to lead the way. I cannot really ask anybody from Iceland for advice for what to do. But I've been lucky. I've become friends with some LPGA players, who have taken me under their wings. Sandra Gal was my big sister my first year (on the circuit). And there's Cheyenne Woods, who went to Wake Forest with me. So I've been really lucky to be able to ask them."
This marks the ninth consecutive year that a U.S. Women's Open qualifying tournament has been held in Colorado.

U.S. Women's Open Qualifying
At Par-72 Walnut Creek Golf Preserve in Westminster
ADVANCES TO U.S. WOMEN'S OPEN
Olafia Kristinsdottir, Iceland 69-70–139
ALTERNATES (In Order)
Dottie Ardina, Largo, Fla. 70-70–140
Naomi Soifua (amateur), Provo, Utah 71-72–143
For complete results from Monday, CLICK HERE.