DU's Griggs, former Fort Collins resident Liringis, Lyons' Wonnacott and Laramie's Murdock advance at Collindale to U.S. Open Sectionals
By Gary Baines – 05/07/2019
The weather was none too pleasant Tuesday at Collindale Golf Course in Fort Collins — temperatures in the 40s and drizzly much of the morning and early afternoon — but that didn't keep the competition from heating up in the first of three U.S. Open Local Qualifiers that will be held in Colorado this spring.
After the first half of the 74-man field didn't produce any scores better than 1-over-par 72, four players overcame the conditions to break par and advance to the second stage of the two-stage U.S. Open qualifying process.
Matthew Liringis of Chandler, Ariz., who grew up a couple of miles away from Collindale and called the course his first golf home, and University of Denver freshman golfer Carson Griggs from Sand Springs, Okla., shared medalist honors at 2-under-par 69. Joining them in punching their tickets to 36-hole Sectional Qualifying were Dylan Wonnacott of Lyons and former University of Wyoming golfer John Murdock, who both recorded 70s.
(The four Sectional qualifiers are pictured above, from left: Griggs, Liringis, Wonnacott and Murdock.)
For the 19-year-old Griggs, tying for medalist honors was quite an accomplishment as he had never played Collindale before teeing it up on Tuesday.
"I was going to come play a practice round on Sunday with my teammate, but we had to bail on that because of some studying stuff for tests," he said following his four-birdie, two-bogey round. "Today I just tried to take one step at a time and not think too much about it. Just play smart off the tee and keep it in the fairway, then find the centers of the greens. That's the easiest way for me to keep scores low.
"And with range finders being prohibited (in this event), that was different for me as well. Stepping off yardages helped me focus more and get my numbers dialed in with irons and wedges. Coming into a course I hadn't see yet, I had to focus really hard on what I was doing. That really helped.
"Now I have an opportunity to (potentially) go play in a U.S. Open. For most people, that's something you dream of. Making the Sectionals is the best feeling of my life."
Michael Schoolcraft of Denver, who has Monday qualified for two PGA Tour events in recent years, was 3 under par through 14 holes on Tuesday, but double bogeyed his 15th hole and bogeyed his 18th to shoot 71 and was relegated to the first-alternate position. Colorado State University golfer Davis Bryant, who went to Sectionals last year, won a four-man playoff with a birdie on the fourth extra hole to land the second alternate spot.
Liringis will be going to Sectional Qualifying for the third time and Murdock his second in a row. It will be the first trip to Sectionals for Wonnacott and Griggs; in fact, the DU golfer is competing in U.S. Open qualifying for the first time.
Each time Liringis has advanced to Sectionals — 2015, '16 and '19 — he's done so thanks to his performance at his stomping grounds of Collindale, a place he estimated he's played 75-100 times in his life. This is the second time in the last four Local Qualifying attempt in which he's been the co-medalist at Collindale.
"This is where I first picked up a club," the 23-year-old said. "I started playing golf when I was 8 years old here. The level of comfort, knowing the course, how the bounces are, the good spots, the bad spots … It's home for me. This is my course and I love it.
"Today was a very pleasing round. I left a few out there on the greens, but my ball-striking was absolutely on point."
On Tuesday, Liringis' scorecard looked remarkably steady. He eagled his first hole and had a birdie, a bogey and 15 pars the rest of the way.
Meanwhile, Wonnacott came on strong to earn his berth into Sectionals. He was 2 over par through 11 holes, but played his final seven in 3 under. For the day, he chipped in twice for birdies on par-3s — from 20 feet and 30 feet.
"I just had some things going my way," the 24-year old said.
"I play golf for fun, so it'll just be blast" to go to Sectionals. "I love the game — I love everything about it. I work and I don't play golf for a living or anything like that. Just to make it to places where I can play at a high level is all I'm looking for."
Though Murdock has lived his entire life in Laramie, he's no stranger to Collindale as he made numerous trips south to a course known for having pure greens. And the iffy weather on Tuesday didn't seem to faze him as he posted five birdies to go with four bogeys.
"I think it was all about your attitude today, for sure," the 22-year-old said. (Advancing to Sectionals) means a lot for sure. I just graduated and turned pro. It feels like my game is trending in the right direction, so I'm excited."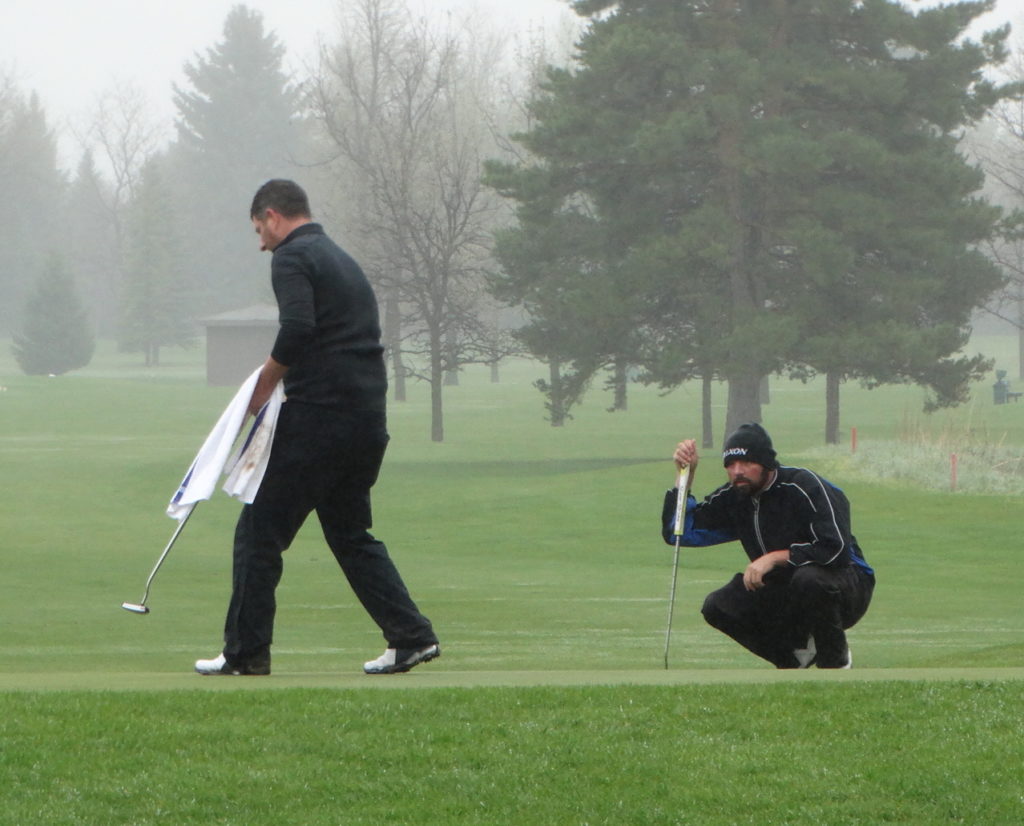 Among those falling short in the four-man, second-alternate playoff on Tuesday were two past U.S. Open contestants — Derek Tolan of Highlands Ranch (2002) and Nick Mason of Parker (2014) — who were paired together on Tuesday and both shot 1-over 72.
Nine U.S. sites will host Sectionals, in addition to three other sites around the world. The Sectional Qualifying in America will take place primarily on June 3, with one in Dallas on May 20. The U.S. Open itself is set for Pebble Beach Golf Links on the Monterey Peninsula in California June 13-16.
(Updated May 8) The remaining U.S. Open Local Qualifying tournaments in Colorado will both be held on Monday: at CommonGround Golf Course in Aurora and at Walnut Creek Golf Preserve in Westminster. The CommonGround qualifier was originally scheduled for Thursday, but was postponed due to a forecast of snow. The top five finishers each from CommonGround and Walnut Creek will advance to Sectional Qualifying.
The USGA, which conducts the U.S. Open, accepted 9,125 entries overall for this year's U.S. Open.

U.S. Open Local Qualifying
At Par-71 Collindale GC in Fort Collins
ADVANCE TO SECTIONAL QUALIFYING
Carson Griggs, Sand Springs, Okla. 34-35–69
Matthew Liringis, Chandler, Ariz. 35-34–69
Dylan Wonnacott, Lyons 33-37–70
John Murdock, Laramie, Wyo. 34-36–70
ALTERNATES (In Order)
Michael Schoolcraft, Denver 37-34–71
Davis Bryant, Aurora 37-35–72
For complete scores, CLICK HERE.