CU's Hodgkins makes the most of a few tournaments to earn CGA Women's Player of Year honors; Franklin named Women's Senior POY for third straight year
By Gary Baines – 11/9/2020
The last time a golfer not named Jennifer Kupcho or Mary Weinstein earned the CGA Women's Player of the Year honor — or the CWGA Player of the Year award that preceded it — Colorado was fresh off the catastrophic flooding of 2013.
Yes, it was that long ago.
But after the stranglehold Kupcho and Weinstein put on the award — winning it three consecutive years each from 2014 through 2019 — a newcomer has crashed the party.
Australian Kirsty Hodgkins, a University of Colorado golfer who plays out of Colorado National Golf Club, landed the CGA Women's POY honor after a season in which she won the CGA Women's Match Play and advanced to match play at her first U.S. Women's Amateur.
"The lady said I'd won Player of the Year, and honestly I couldn't believe it," Hodgkins said. "I only played a couple of events in Colorado. I didn't think this would in the realm of something I would win."
Indeed, it's not a bad accomplishment for a player who hadn't competed in a CGA championship before this year.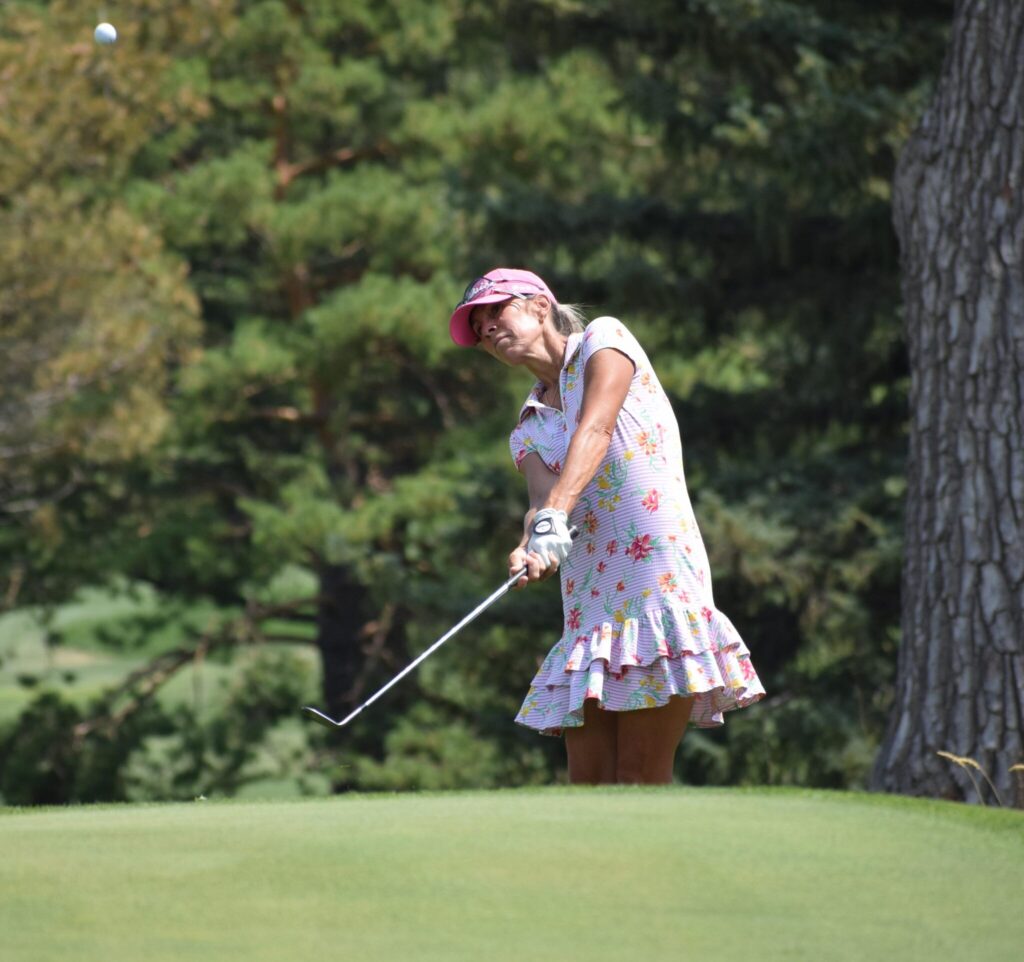 Joining the CU senior as a CGA women's honoree was Kristine Franklin of The Ranch Country Club, who earned the Senior Player of the Year award for the third consecutive year, this time after winning the CGA Senior Women's Match Play for the second straight year.
(Note: A story about the CGA men's players of the year was published earlier: READ HERE.)
Here's a look at the 2020 seasons for each of the CGA's women's players of the year: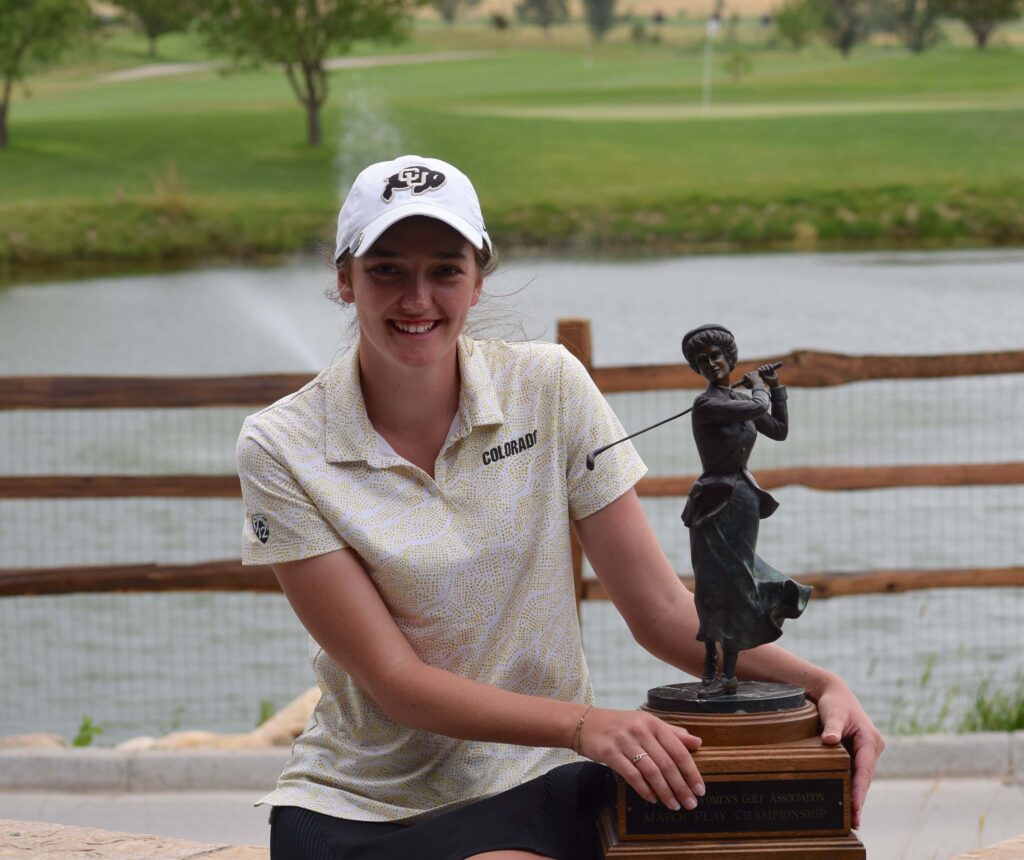 — Kirsty Hodgkins of Colorado National GC, CGA Women's Player of the Year: 2020 has been a roller-coaster year for the Hodgkins, CU's top player during the 2019-20 season.
With just a couple of months left in her CU career — as far as she knew at the time — things took a most unexpected turn late last winter. Just a couple of days after the Buffs completed the Arizona Wildcat Invitational in Tucson on March 10, the NCAA canceled the remainder of the 2019-20 college golf season — along with all other remaining winter and spring sports schedules — due to the Covid-19 pandemic.
Hodgkins would later be given eligibility for a fifth college season, though Covid-19 and the Pac-12 Conference nixed the fall portion of the 2020-21 schedule.
Other ways Covid has affected Hodgkins in 2020 included her not being able to go home to Australia, as she normally does during the summer here. And — last but certainly not least — Hodgkins herself tested positive for Covid-19, knocking her out of two or three tournaments she planned to compete in late in the season, including the U.S. Women's Amateur Four-Ball Qualifying (with teammate Issy Simpson, who ended up shooting 69 on her own) and the Colorado National Women's Amateur.
"I lost my sense of taste and smell for about three weeks," the 22-year-old said of her Covid experience. "I had kind of mild symptoms for five or six days. I wasn't bad enough to be hospitalized, so it was kind of just a bad cold. I was isolated for two weeks, then I took another week and a half off before I fully came back to practice. I'm glad it wasn't any worse. And everything is all good now."
And though Hodgkins has competed in just three tournaments in the last eight months, she's gotten some good results. In June in her first event in more than three months, she placed fourth in the CGA Women's Stroke Play at The Ranch Country Club.
A month later at Saddleback Golf Club, Hodgkins became the first CU player since Michelle Thomas in 1998 to win the CGA Women's Match Play. A few days after being the stroke-play medalist with a stellar 7-under-par 65, she capped her tour de force with a 4-and-3 victory over former Buff Erin Houtsma in the scheduled 36-hole final. Houtsma went 2 under par for 33 holes in the title match.
"Once I knew there were tournaments being played in Colorado, I started getting back into tournament prep," Hodgkins said of her 2020 golf experience. "I knew I was going to play the Stroke Play and the Match Play, and it was an added bonus that I got selected for the U.S. Am. Knowing that I had a tournament, I was able to stay in tournament prep mode. Brent (Franklin) and Anne (Kelly, CU women's golf associate head coach and head coach, respectively) were very helpful."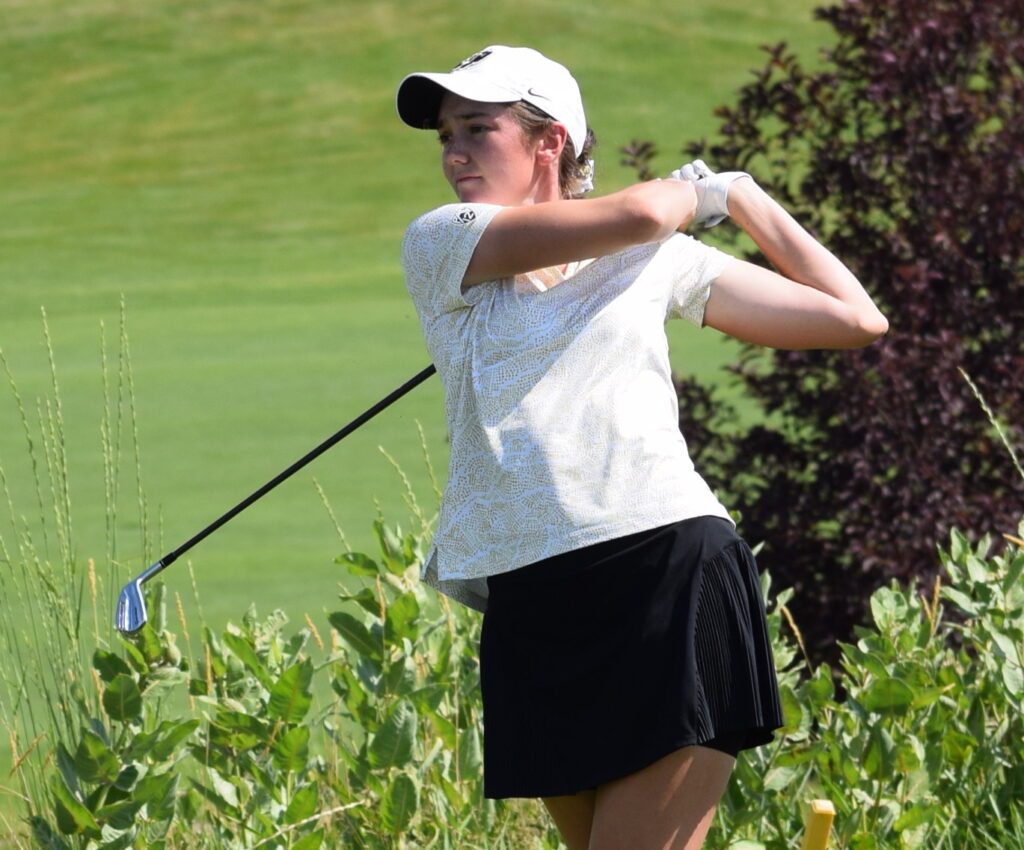 Hodgkins' victory at Saddleback marked the third time in the last 15 years that an Australian has won the CGA Women's Match Play as Alison Whitaker prevailed in 2006 and '10.
Meanwhile, it was Hodgkins' first victory in Colorado, though she was low amateur in the 2019 CoBank Colorado Women's Open.
"The stroke-play portion of the Match Play, it's been a long time since I shot 7 under in one round," she said. "It was nice to see that I was playing to a high level."
The strong play carried over to the U.S. Women's Amateur in early August in Rockville, Md. Hodgkins posted rounds of 73-76 to tie for 48th in the stroke play. That was good enough to make match play, and in the round of 64, she lost to USC honorable-mention All-American Alyaa Abdulghany. Coincidentally, those two players are the last two low-amateurs at the Colorado Women's Open.
"The U.S. Am, just making the match play, that was my goal and I did it, so I'm very excited about that," Hodgkins said of her debut in the national championship.
After Hodgkins' CU golf career wraps up in the spring, that won't mark the end of her competitive days, though her exact plans have been altered. She still hopes to turn pro, but because of the uncertainty surrounding the Covid situation, it might be a couple of years before she gives Q-school a shot.
"I'll just keep on top of the game until my family and I feel ready enough and it's safe enough to go travel," Hodgkins said.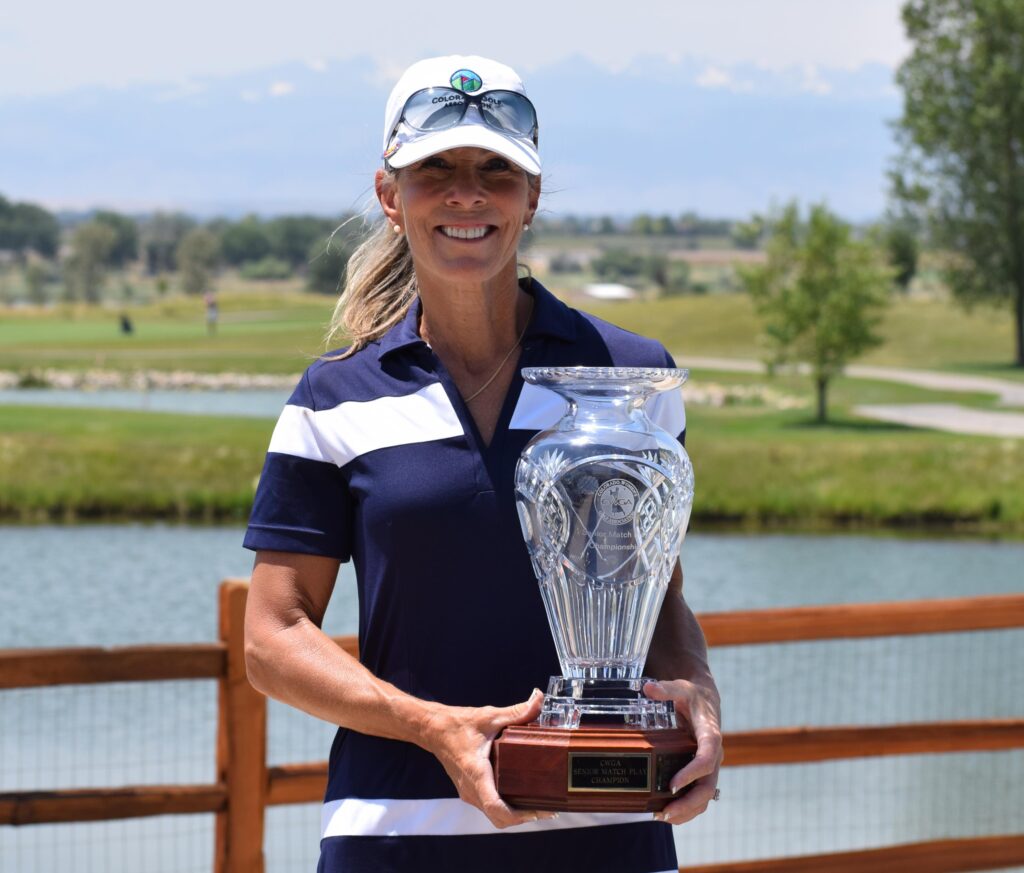 — Kristine Franklin of The Ranch CC, CGA Women's Senior Player of the Year: Franklin is part of a very select group of people who can say they've been named CGA Women's SPOY in the last decade. Since 2009, the only golfers so honored have been Colorado Golf Hall of Famers Kim Eaton (eight times) and Christie Austin (once during that period; twice overall) and Franklin.
The latter has now run her streak of consecutive Senior Player of the Year honors to three.
Franklin, a former touring pro who had her amateur status reinstated, only competed in three CGA championships in 2020, but was in contention in each cased. She won the CGA Senior Women's Match Play and finished runner-up in the CGA Women's Senior Stroke Play and the inaugural CGA Women's Mid-Amateur Stroke Play.
Franklin's victory at the Senior Match Play at Saddleback set a record as she became the first golfer to win four consecutive CGA women's senior major titles — in her case two Senior Stroke Plays and two Senior Match Plays. Not surprisingly, in the final she faced Eaton, a four-time champion, winning that title match 3 and 2. It was the third time since 2018 in a CGA women's senior major where Franklin and Eaton had finished 1-2.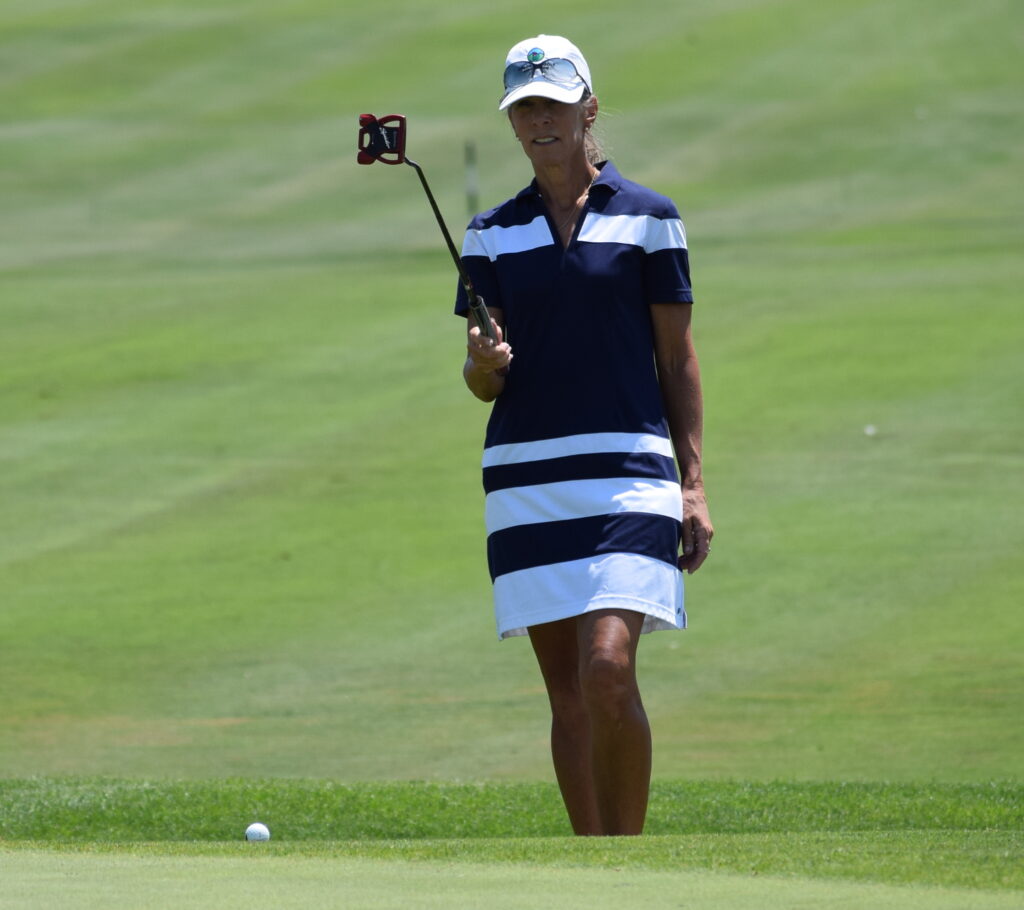 However, Franklin's streak of consecutive victories in CGA women's senior championships ended in August at the Olde Course at Loveland. There, Marilyn Hardy of Dos Rios Golf Club in Gunnison won the Women's Senior Stroke Play with an exclamation point — by six shots over Franklin and Eaton.
Franklin just returned to competitive golf in 2017 after an 18-year layoff. In her original stint as an amateur, Franklin won the 1986 CWGA Stroke Play Championship (as Kris Hoos).
Franklin is part of a very accomplished Colorado golf family. Besides being the wife of CU women's golf associate head coach and Canadian Golf Hall of Famer Brent Franklin, she's the mother of Walker Franklin, a University of Louisville golfer who won the 2020 Colorado Junior PGA Championship; the brother of former University of Denver men's golf head coach Eric Hoos, a one-time winner on what is now known as the Korn Ferry Tour; and the daughter of the late George Hoos, who helped CU win two Big 7 Conference titles and coached the Fairview High School boys golf team for 30 years, leading the Knights to two state team titles and three individual state crowns.