Public course rounds dipped slightly in Colorado last year, but state's numbers again were notably better than most of U.S.; industry leaders say Colorado is leading the way in growth-of-game efforts
By Gary Baines – 04/26/2019
As the peak months of play for the Colorado golf season quickly approach, it's worth a look back at what happened last year in the state — and what's on the horizon.
The CGA recently completed compiling the 2018 Public Course Rounds and Revenue Survey, and while rounds were down slightly compared to 2017, Colorado courses again fared significantly better than the national averages in that regard.
As for the Colorado survey, a total of 66 public courses, including par-3 facilities, have reported numbers of rounds for both of the past two years. And for those courses, rounds were down 1 percent last year compared to 2017. And if you take out the three outliers where rounds increased or decreased by more than 10,000 from 2017 to '18, the drop in rounds was smaller — 0.32 percent.
The drop in rounds — year over year — comes after increases in three of the previous four years. From 2016 to '17, for instance, public course rounds in Colorado were up 3.3 percent.
As always, weather plays a significant role in the number of rounds played in any given year.
"I believe that playable days based on weather are always going to be an influence on rounds played," Colorado PGA executive director Eddie Ainsworth said in an email this week. "Thus a variance of a couple of percentage points could always be weather-based."
In that regard, Golf Datatech reported that nationwide, rounds played in 2018 declined 4.8 percent compared to the previous year, noting that weather in much of the country was unfavorable for golf, historically-speaking. The National Oceanic and Atmospheric Administration said 2018 was the third-wettest nationally since 1895. 
But according to the National Weather Service, Colorado was drier and warmer in 2018 — relative to previous years in the Centennial State. That helped its cause compared to other states and regions regarding rounds played. 
For the record, Golf Datatech's 2018 round numbers for Colorado — including both public access and private courses — reflected a 2.4 percent decrease. It's not completely an apples-to-apples comparison — with Golf Datatech including private courses in its reports — but Colorado's public course rounds have significantly outperformed Golf Datatech's national averages year-over-year in both 2017 and '18. And even when using Golf Datatech's own numbers both nationally and in Colorado, the Centennial State has performed notably better, percentage-wise, than the country as a whole each of the past two years. 
"When I went to the (International Association of Golf Administrators) meeting in November last year, there's always state-of-the-game anecdotal reporting around the group, which represents 59 golf associations," noted Ed Mate, the CGA's executive director. "What I heard pretty consistently was that rounds were down last year, and they were down primarily because of weather. 
"But golf participation was impacted by weather around the country much more than it was here."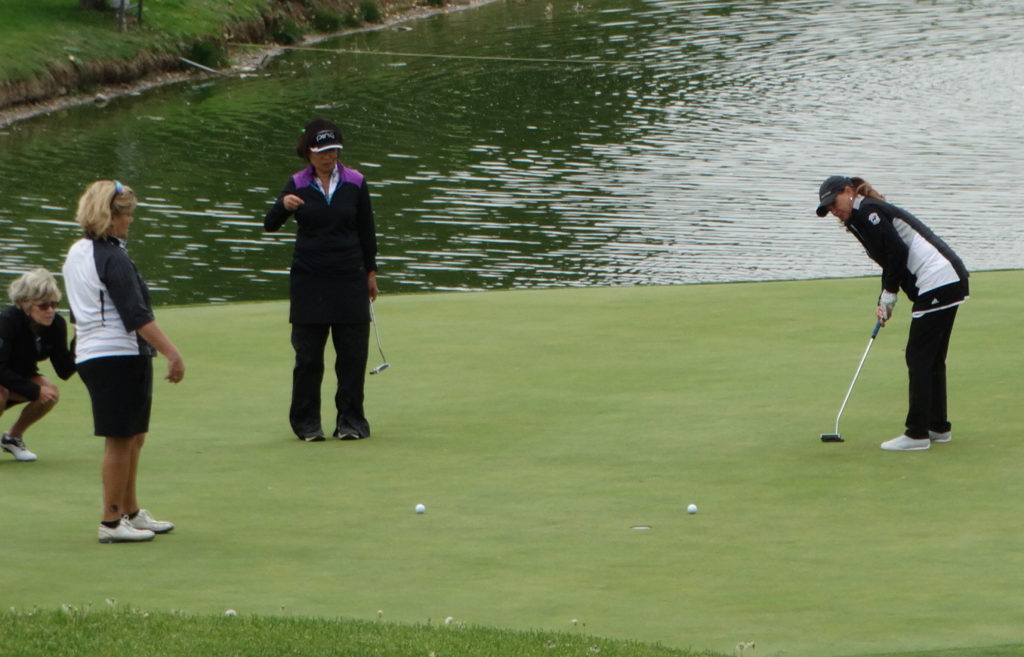 That said, industry leaders in Colorado feel that bigger picture, the state might be in better shape than most as far as moving the needle in the future with growth-of-the-game initiatives.
 Ainsworth noted several "reasons why I believe we all should be very optimistic on golf":

— The National Golf Foundation, which is partnering with the CGA, the Colorado PGA and several major golf businesses in launching a Welcome2Golf initiative in the Denver market in 2019, reports that there are an estimated 648,000 non-golfers in the Denver market who are interested in playing golf, meaning there is untapped demand. The NGF also said that 9.3 million people nationwide play golf exclusively off-course, at places like Topgolf and Drive Shack.
— A second Colorado-based Topgolf location — this one in Thornton — is scheduled to open late this year. The first Topgolf in Colorado debuted in 2015 in Centennial. In a similar vein, Ainsworth noted there are rumors a Drive Shack will open in Colorado Springs in the near future.
— Membership in the Junior Golf Alliance of Colorado, founded by the CGA and the Colorado PGA, has grown steadily since its launch in 2016.
— Ainsworth said Colorado is one of the fastest-growing markets in the country regarding PGA Junior League, with over 2,000 juniors participating.
— Ainsworth believes participation in golf by young females will increase with the 2020 U.S. Girls' Junior Championship being contested at Eisenhower Golf Club at the Air Force Academy.
"Colorado golf is the 'tip of the spear' when it comes to leading the way across the country in our Allied Associations partnerships and growth of the game programs," Ainsworth said. "To my knowledge no other market in the country is doing what Colorado is doing to grow the game of golf."
Mate agrees that the Colorado golf industry has plenty going for it.
"It's something I probably take for granted, but we have really good, quality public golf courses, which is what we're talking about here" regarding the Colorado Public Course Survey. "We're healthier than most places. That's part of the reason the National Golf Foundation chose Denver for this Welcome2Golf initiative — because it's a healthy place, a growing place. 
"The PGA of America will tell you when you look at player development programs — whether it's Get Golf Ready, Drive Chip & Putt, PGA Junior League — we perform better in Colorado than many other markets. I'd like to think some of that is due to the good work we're all doing as a golf community."
And Welcome2Golf using Denver as a pilot city could be another step in the right direction.
"It's a market-by-market growth movement targeting interested non-golfing adults," Mate explained. "They're trying to activate the latent demand in golf. According to their studies, there are a huge number of people who express interest or significant interest in taking up the game of golf. That is an encouraging sign. The frustrating part is nothing is happening to activate that group. 
"But Welcome2Golf is (in part) a marketing campaign to see if it can drive some positive metrics. It'll be interesting to see when we look at these rounds and revenue surveys a year from now if this Welcome2Golf (made a difference). I'm glad we have a really good benchmark and we can look at if anything happened in 2019 to show an increase in rounds and revenue.
"And if it goes well here, the plan is to go to other markets in 2020 and beyond."
Ainsworth certainly sees the value in the Welcome2Golf initiative, and the thinking behind it and other growth-of-the-game programs.
"We need to continue making golf more welcoming and less intimidating for beginners, while embracing the core group of golfers that accounts for 95 percent of spending and rounds played," Ainsworth said.
Though Colorado public course operators share their rounds and revenue figures on the condition that data from individual facilities aren't divulged publicly, trends and averages from the survey can be reported.