Hundred Hole Hikers hope some pain turns into plenty of gain for Youth on Course as second annual event set for CommonGround GC
By Gary Baines – 9/9/2021
Some fundraising endeavors take more effort than others.
For instance, there's this regarding Youth on Course, the ever-growing non-profit initiative that makes golf more accessible to juniors by capping their cost for a round at $5 at participating facilities, possibly with some date/time restrictions:
Last week at the Tour Championship, $1 million was presented to YOC thanks to GolfNow's "Round-Up" campaign, in which anyone who booked a tee time via GolfNow could round up the cost of his or her reservation to an even-dollar amount. The amount raised reached $1 million over the course of nine months, with an average contribution of 36 cents.
Seems relatively painless, right?
Well, some might say the Junior Golf Alliance of Colorado's Hundred Hole Hike, which benefits Youth on Course, might be the other end of the spectrum. After all, while the HHH, now in its second year in Colorado, has a nice outcome, it seldom can be considered painless. Playing more than 5 1/2 rounds of golf in less than 12 hours — all while walking more than 20 miles — can make a participant ache all over.
After playing last year in the HHH, Ashley Harrell (nee Barnhart), the CGA's managing director of golf operations, noted, "We had lots of aching hamstrings and blisters and bee stings and IcyHot usage."
Added fellow 2020 participant Gary Albrecht, via Twitter: "100th hole finished at 4:20. Could have used some 420 for my aching body. Fun day!"
For a story about last year's high-speed golf played during the HHH — where nine holes typically passed in about 55 minutes — CLICK HERE.
The second edition of the JGAC's Hundred Hole Hike is scheduled for Sept. 27, over the front or back nine at Aurora-based CommonGround Golf Course, which is owned and operated by the CGA. At this point, it's safe to say that the event will become an annual affair, Harrell said.
Last year's HHH at CommonGround raised more than $23,000 for Youth on Course.
"After doing it last year and seeing how successful it could be, it's obviously a no-brainer to do it again this year," Harrell said. "We believe in Youth on Course. It's a great program to get kids on the golf course as opposed to on the driving range. And to make it affordable and accessible in Colorado is super important for our youth."
Several JGAC/CGA staffers are expected to participate in this year's Hike. That includes returnees Harrell andSamantha Crawford, the Colorado PGA's junior golf manager; new Hikers Ryan Smith and Brent Vasa from the CGA; and perhaps a junior golf parent or two. (The CGA and the Colorado PGA founded and oversee the Junior Golf Alliance of Colorado.) All the Hikers are accepting pledges and donations at THIS SITE.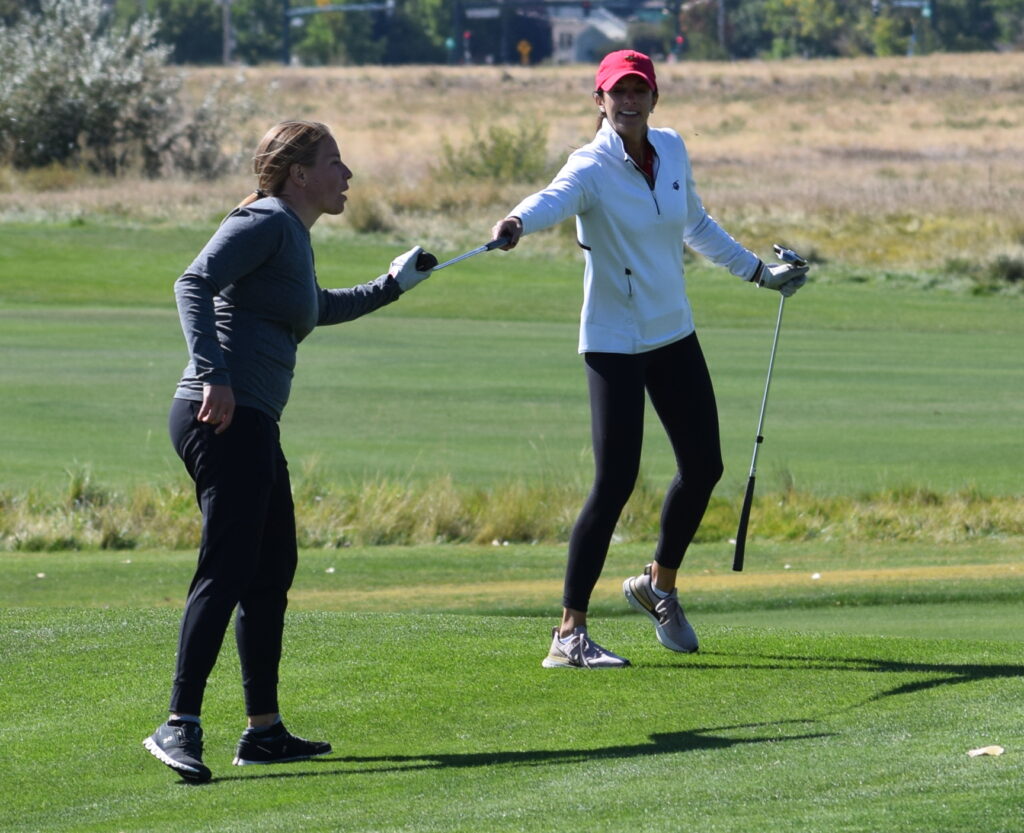 The Colorado version of the Hundred Hole Hike certainly isn't the only one of its kind. Numerous such Hikes are held across the country between June and October each year, usually hosted by major golf organizations. In 2020, more than $960,000 was raised for YOC through such Hikes.
Youth on Course was founded in 2006 and was first rolled out in Colorado in 2018 by the CGA in conjunction with the Colorado PGA through the Junior Golf Alliance of Colorado.
Nowadays, there are 2,230 Youth on Course members in Colorado as every JGAC member is enrolled. In all, 38 Colorado courses participate in Youth on Course.
Nationwide and in Canada, Youth on Course includes more than 120,000 members, and over the years the program has subsidized more than 1 million rounds. In excess of 1,500 courses participate in the YOC program. Over the last 15 years, more than $8 million has subsidized Youth on Course rounds.
Michael Lowe, vice president of programs for Youth on Course, did the first YOC Hundred Hole Hike in 2015 at The Olympic Club in San Francisco.
For more information on Colorado's Hundred Hole Hike, CLICK HERE.
For more about Youth on Course in Colorado, CLICK HERE.