Aches, blisters and stings don't keep Junior Golf Alliance of Colorado contingent from 'Hiking' 100 holes in a single day and raising more than $23,000 for Youth on Course initiative
By Gary Baines – 9/29/2020
Ashley Barnhart was understandably very tired, but there she was wide awake in the wee hours of Tuesday morning after playing 100 holes of golf on Monday — all while walking.
"I was up from about 1 a.m. to 2:30 just aching," the CGA's managing director of golf operations reported later on Tuesday. "It takes a toll on the body. I've been sore plenty of times in my life as a multi-sport athlete, but I've never experienced this same type of soreness. It's like every muscle in my body was recruited yesterday instead of just a few select muscle groups. It's interesting to experience that."
CGA vice president Gary Albrecht, who also joined in Monday's golf marathon at CommonGround Golf Course in Aurora, likewise was feeling the effects of day-long outing.
"100th hole finished at 4:20. Could have used some 420 for my aching body. Fun day!" the 64-year-old said on Twitter.
And, mind you, Albrecht didn't have much time to recover as he had the first tee time on Tuesday for the CGA Senior Amateur at Perry Park Country Club in Larkspur.
But sore or not, it was all for a good cause. In all, eight players took part Monday in the 100 Hole Hike, which raises money for the Youth on Course initiative, The Junior Golf Alliance of Colorado has joined 17 other major golf organizations across the country in participating in these Hikes in September and October. Youth on Course is an ever-growing non-profit program which makes golf more accessible for juniors by capping their cost for a round at $5 at participating facilities.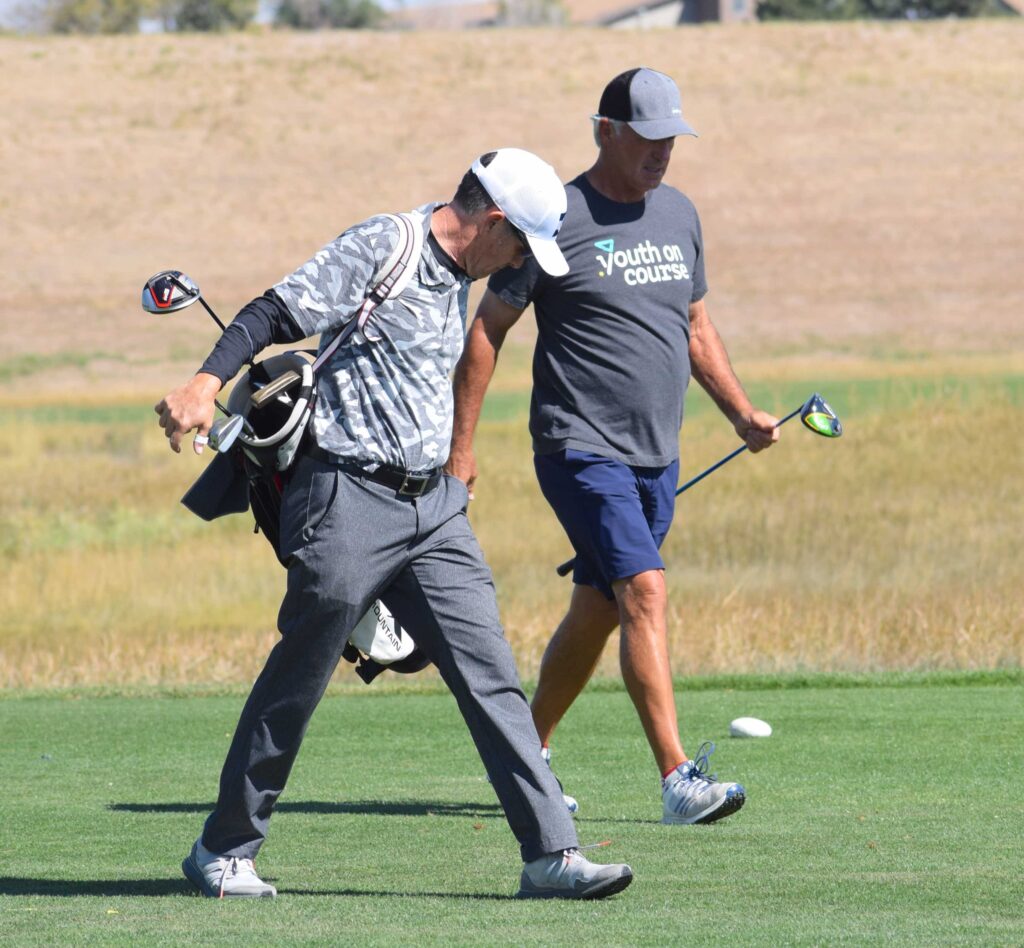 As of Tuesday morning, $23,218 had been pledged for the Hikers at CommonGround, a course owned and operated by the CGA. Heck, even a veteran of the Solich Caddie & Leadership Academy, Jayce Aguilar-Wynn, apparently was caught up in the spirit of the day.
"The best part of the 100 HH yesterday was spending time with my caddie, Jayce," Albrecht said on Twitter. "Graduate of our caddie academy at CommonGround. HS senior. Future Evans Scholar, IMO. Asked me to pledge his caddie fee to YOC. Said he'd spend it on "something stupid" otherwise. #generousbeyondhisyrs"
Monday's 100 Hole Hike at CommonGround started at 6:32 a.m. with Albrecht hitting the first tee shot. Between 9 hours and 40 minutes and 10 hours later, all eight players had completed their 100 holes. It was 11-plus nine-hole rounds on the 10th through 18th holes at CommonGround — a totally of more than 20 miles overall.
Most of the players had caddies, though some carried their own bags. Either way, it was all done on foot.
"We had lots of aching hamstrings and blisters and bee stings and IcyHot usage," Barnhart said.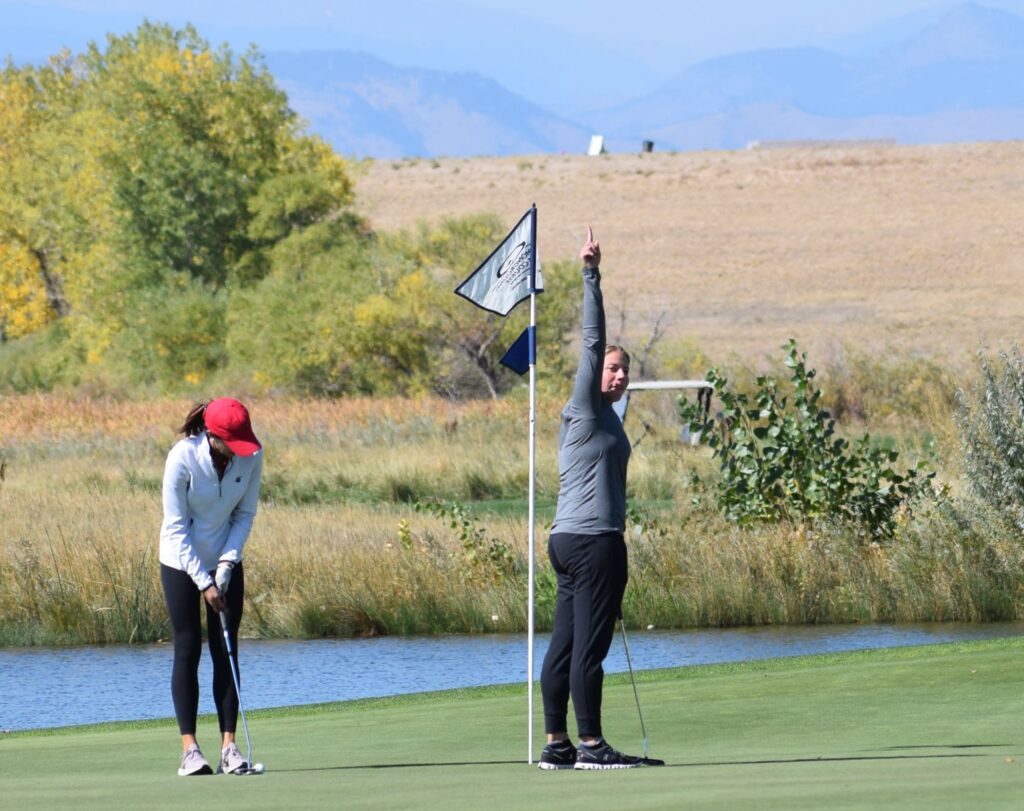 The participants included, in addition to Albrecht and Barnhart, Emily Olson, the CGA's manager of caddie development; Scott Minta, the Colorado PGA's junior golf director; Samantha Crawford, the CPGA's junior golf coordinator; Shane Houska and Brandon Kuhl, the fathers of two Junior Golf Alliance of Colorado members; and Mackenzie Cohen, a former 5A girls state high school individual champion who now serves as the events coordinator of Youth on Course.
The CGA and the Colorado PGA founded and oversee the Junior Golf Alliance of Colorado.
As Monday's 100 Hole Hike was quite the endeavor, there was also a considerable support unit on hand. That included caddies and numerous folks providing encouragement — as well as food and beverages. There was even a cart driving between groups while playing upbeat music.
In addition, various supporters popped in and out throughout the day. Those included junior golfers Ashleigh and Taylor Wilson, regular participants in JGAC events.
"We were chatting about my Hike, and Ashleigh said, 'You've supported me for so long. I want to come out and support you too,'" Barnhart relayed. "It was super sweet. They walked the last 28 holes with Emily, Gary and me. It was fun — and a nice distraction at the end of the day."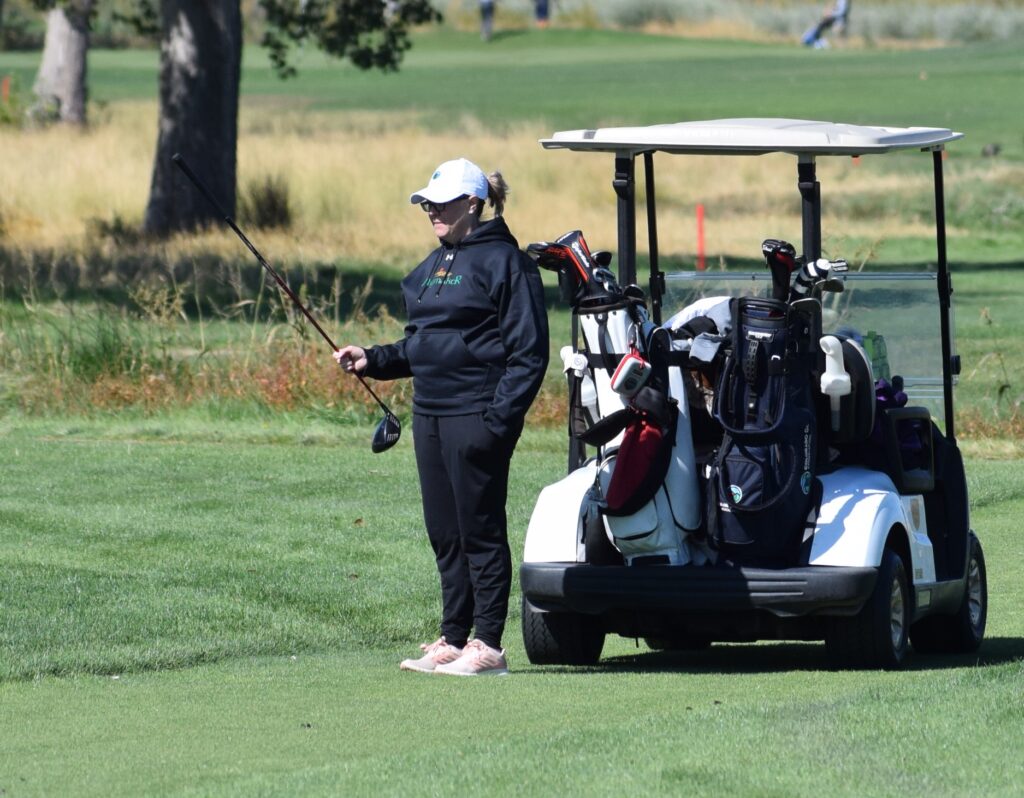 The golf on Monday bore little resemblance to what you'll see during a typical round. It wasn't at all unusual to see two players teeing off at the same time or participants putting with an iron or with a bag on their shoulders while holing out. Practice swings were a rarity — about as rare as observing tee honors.
With nines sometimes going by quicker than 45 minutes, and averaging less than 55, the key was to keep moving — preferably quickly.
Players who started out in one group often joined another, or occasionally played alone.
Through the day, despite the pace, there was occasional stellar shots, including some for eagles, one coming on a fairway hole-out by Crawford.
Though Albrecht had experienced a 100-hole event before, most of the participants at CommonGround had never come close to playing that much golf in a single day prior to Monday — especially while walking. For instance, Barnhart said she doesn't think she had ever walked more than 27 holes in a day before Monday.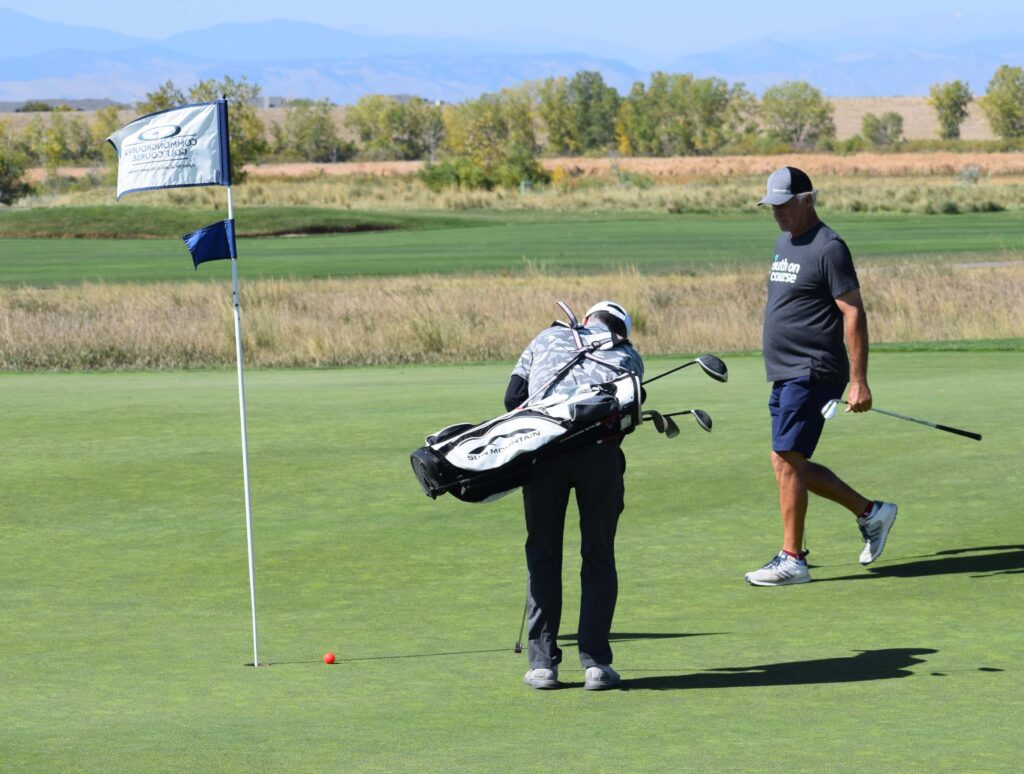 While it was quite an experience for all involved, the bottom line is that a big chunk of money was raised for Youth on Course. Barnhart said in August that raising $15,000 would be a realistic goal for the event, but the number reached was more than $8,000 in excess of that.
"That's a really successful hike for us," Barnhart said. "This is the first time we've participated in this initiative so we didn't quite know what to expect. We had a lot of support from a lot of different people, a lot of our hikers' peers, some clubs in Colorado, CGA members, PGA members. It came from all over the place. We're thankful for that. I think next year we can set a good goal of $25,000."
It should be noted that although Cohen took part in Monday's Hike, her pledges of $6,473 were not included in the $23,000-plus total from CommonGround. It's part of the $278,926 pledged so far for Hikes done by the YOC national team — or planned for them. For all the YOC Hikes nationwide, $516,371 has been pledged so far in 2020.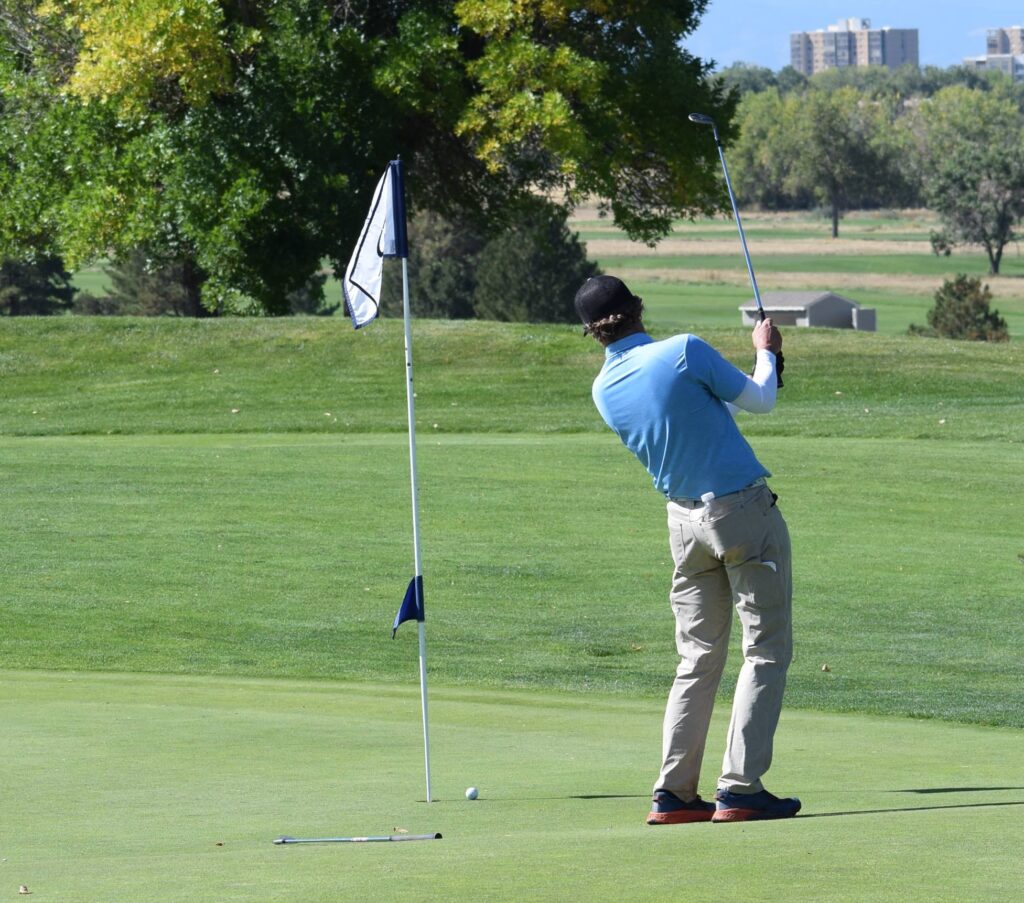 So what lessons were learned on Monday by the agony and the ecstasy of the day?
"Personally my biggest takeaway is that we are made to do hard things, but for a cause you're passionate about it makes it so much more easy," Barnhart said. "Hard things become rewarding things when that's the case.
"Collectively, it's the support of the people around you — those physically there who are supporting you and encouraging you, then everyone (else) who is behind you, including donors who support Youth on Course and the JGAC — that really keeps you going."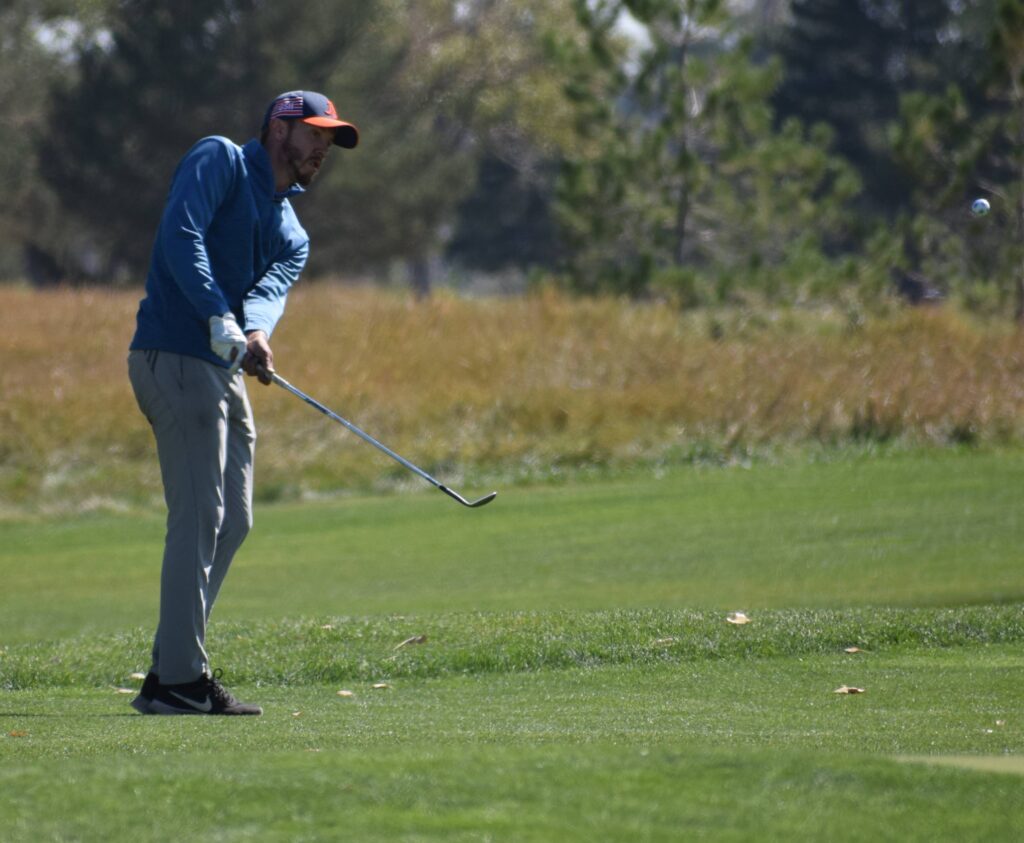 Youth on Course was founded in 2006 and was first rolled out in Colorado in 2018 by the CGA in conjunction with the Colorado PGA through the Junior Golf Alliance of Colorado.
Nowadays, as of last month, there were 1,625 Youth on Course members in Colorado as every JGAC member is enrolled. In all, about three-dozen Colorado courses participate in Youth on Course.
Nationwide and in Canada, Youth on Course includes more than 95,000 members, and over the years the program has subsidized more than 1 million rounds. About 1,400 courses total in 37 states and Canada participate in the YOC program. Over the last 14 years, roughly $8 million has subsidized Youth on Course rounds.
Michael Lowe, vice president of programs for Youth on Course, did the first YOC 100 Hole Hike in 2015 at The Olympic Club in San Francisco. This year, more than 180 golfers around the country are hiking for the cause.
For more about the Colorado 100 Hole Hike, CLICK HERE.