From the tips, new RainDance National course in Windsor likely will be longest course in North America; developer Martin Lind hopes it will become known for reasons that go well beyond that
By Gary Baines – 8/20/2021
The irony of the situation wasn't lost on Fred Funk.
In the midst of an August site visit to RainDance National Golf Club in Windsor, Funk and his fellow designer on the project, Harrison Minchew, were noting that the course in Windsor could stretch out to as long as 8,478 yards.
"Having the shortest hitter on the PGA Tour designing the longest course was a marketing thing. I'm just sayin'," Funk said with a broad smile.
It was a good line, certainly worth a laugh. But Funk and everyone else involved with RainDance National are intent on making it a reality — the length thing and whole lot more.
RainDance, a high-end public-accessible, semi-private facility, is taking shape in northern Colorado. A considerable portion of the course had been seeded at the time of the site visit on Aug. 6 that involved the CGA and some members of the media. The hope is that all the playable-turf seeding will be completed in the first week or so of September.
Ultimately, the plan is for the course at RainDance National to open on July 12, 2022.
As for that eye-catching maxed-out yardage figure of 8,478, assuming it comes to fruition, that would make RainDance National arguably, if not practically, the longest golf course in North America.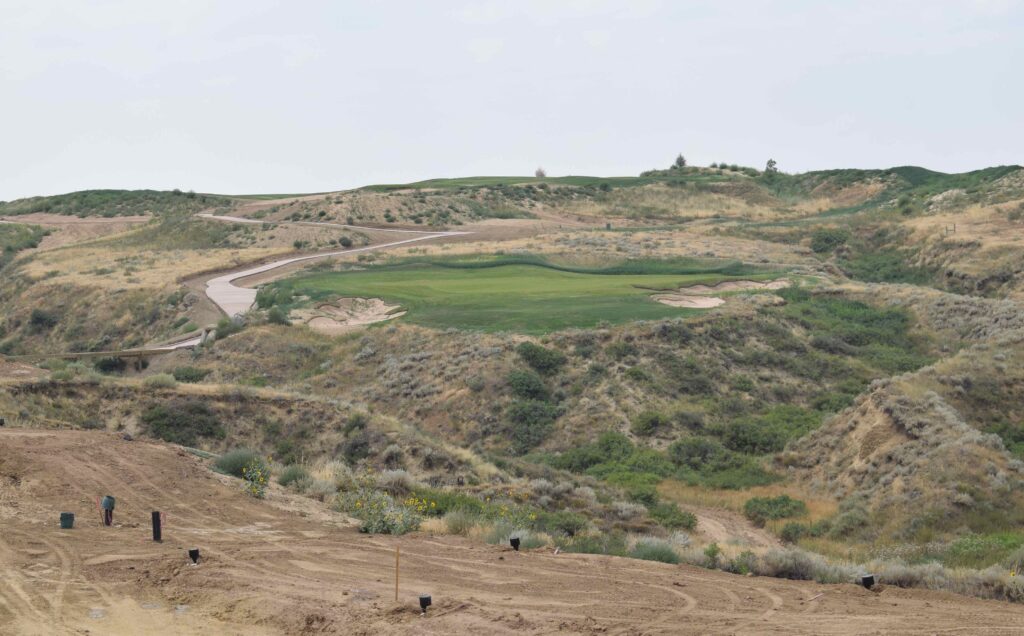 "From our research, and after the CGA rates us, we will be among the top 5 longest courses in the world, and longest in North America," Kurt Hinkle, director of marketing and public relations for Water Valley Land Company, said in an email, reiterating that such a designation won't be official until the CGA does it course rating next year.
Quite a few courses in North America currently tip out at more than 8,000 yards, including The International Golf Club's Pines Course in Bolton, Mass. (8,325 yards), Ross Bridge in Hoover, Ala. (8,191), and the Pete Dye Course at French Link Resort in Indiana (8,102). And there's at least a couple in Colorado in that vicinity: Antler Creek in Falcon (8,058) and TPC Colorado in Berthoud (7,991 for the Korn Ferry Tour's TPC Colorado Championship at Heron Lakes). Worldwide, there's Dragon Snow Mountain Golf Club in Lijiang, China (8,548).
But when you're talking 8,000 yards plus, that's largely for the possibility of a tour event coming to RainDance National (more on that later). As Minchew is quick to note, there will be multiple sets of tees, with the most-forward ones playing at under 5,000 yards.
"This golf course, playing it up, is going to be a tremendous amount of fun," said Minchew, who is serving as the project manager. "This is a really, really, really neat piece of property, and people ought to be able to see it and enjoy it. Even if you play golf bad, this is a good walk in the yard."
The aspirations for RainDance National are high — very high — for the principal players involved, including landowner and project developer Martin Lind, Funk and Minchew.
"With absolutely no ego or comparison to The Broadmoor … we're hoping that in a hundred years people are going to say, 'Wow, something really magnificent happened on this hill 100 years ago.' That's where we're at right now and we're excited about it," said Lind, who also owns the nearby 27-hole facility at Pelican Lakes.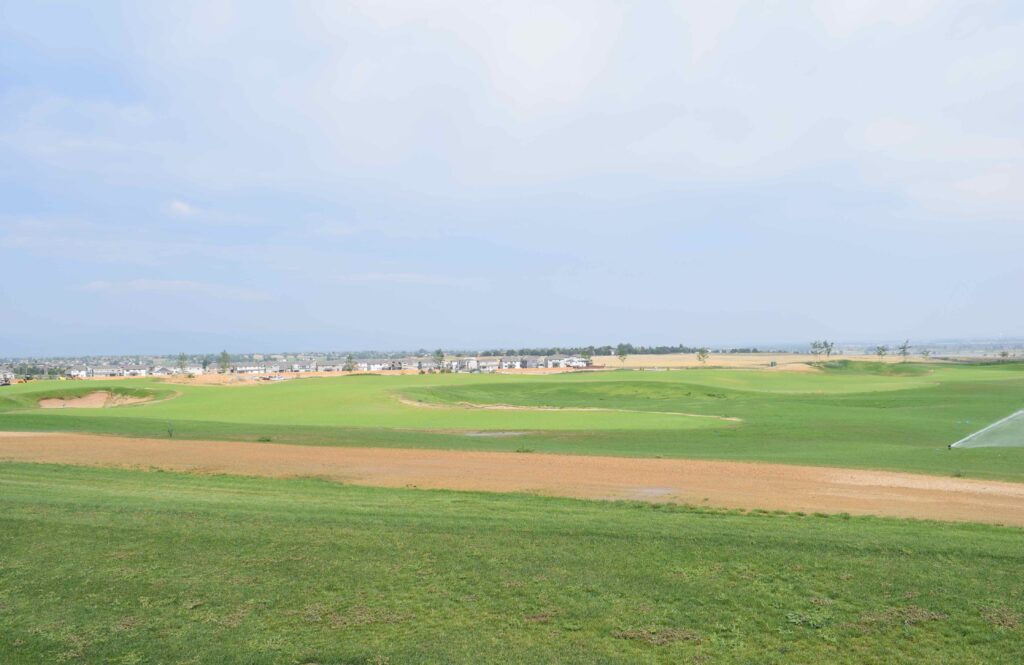 Indeed, the plan is for something far beyond golf on the 300-acre RainDance National property. Think conference center; an event pavilion; some form of guest lodging; a zip line; a small ski hill with snowmaking; a water slide; kayaking on the Poudre River; a large fire pit where folks can gather and swap tall tales about golf; walking trails; and a three-acre short-game area dubbed the "Goat Ranch"; and two driving ranges. There's even talk of some "glamping" — a form of camping involving accommodation and facilities more luxurious than those associated with traditional camping. (Note: Some of these amenities are planned to open after the course does. That certainly includes the permanent clubhouse, which Minchew expects to be completed by the spring of 2023. In the interim, there will be a temporary clubhouse.)
"A lot of resort, family hospitality, corporate retreat amenities," Lind noted regarding what's planned on the site. "We're going to move our company (Water Valley Land Company) from 'buy property, develop it, chop it up, sell it, start over' to now we have a really wide wheelbase of amenities: 45 holes of golf, 800 acres of lake for fishing and boating — so we're going to turn it into a destination resort. Whether that's people who are local for 'staycations' or whether they're going to come from across the globe for a big event we're doing … We're going to move our company into resort hospitality."
That plan has certainly evolved over time.
"We're trying to create a big family environment," said Funk, winner of eight PGA Tour events, including the 2005 Players Championship, plus nine PGA Tour Champions tournaments. "It'll be an upscale public golf course. (With all the amenities), it's pretty neat how all this is evolving into a multi-dimensional, functional project. When I first got involved, I thought it was just golf. We were just going to worry about the golf course and a small clubhouse and we're done. Then it started into this massive thing. It's kind of fun."
But for now it's all centered around the course, which makes good use of arroyos — basically steep-sided gullies: most natural, some created — throughout the layout. Funk said the property — which features about 225 feet of elevation change — bears some resemblance to Kapalua in Hawaii, the course where the PGA Tour's Sentry Tournament of Champions is held each January. RainDance is the first course design project for Funk, while Minchew has been in the business for decades.
"The yardage on the card is really long," Funk said. "We weren't initially chasing records on that. We had the course probably at 7,900-8,000 and it was going to play too short because we're going to put fescue grass in the fairways because we want it running firm and fast all the time. That's really good in this climate as well — less need for water, from what I understand. This is pretty much like a high desert."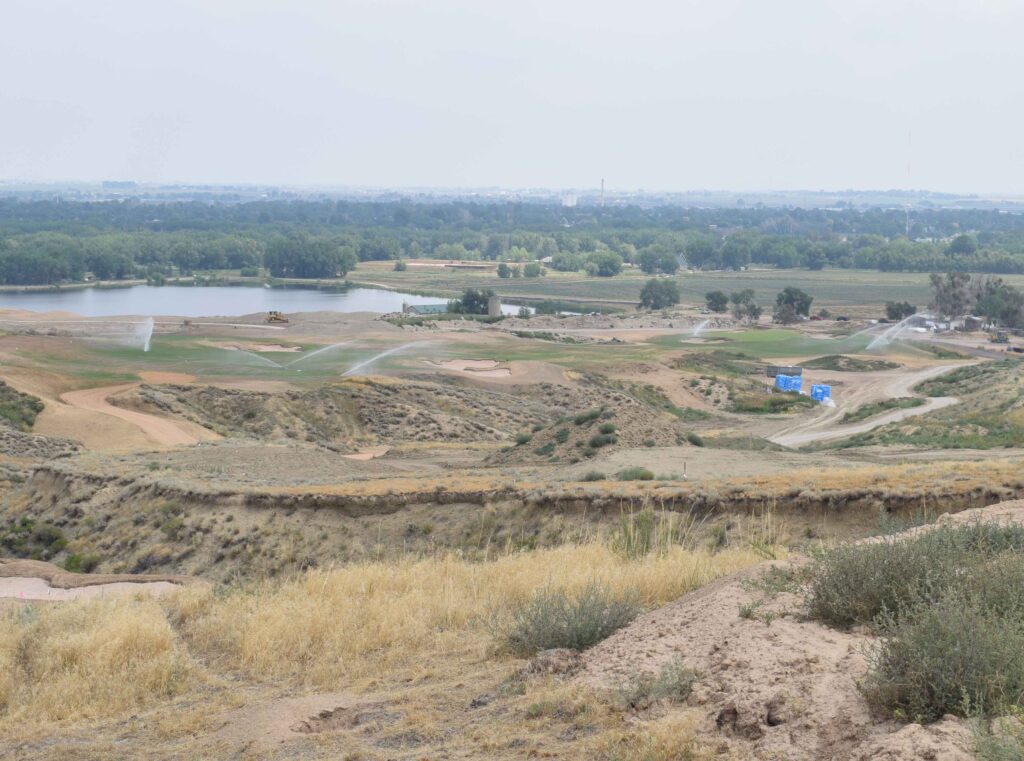 Added Minchew: "Fred and I (initially) were kind of rolling our eyes a little bit, saying it doesn't really need to be that long. But we started thinking about it. If they're going to have a tour event out here, it's going to be equivalent to the course they played at Kiawah for the PGA Championship at sea level. It's the same distance. It has the potential to have any major tournament it can. It will be able to have that. And it has the space for spectators and sky boxes and all that sort of thing."
Indeed, the yardage at Kiawah Island's Ocean Course in South Carolina for one day of this year's PGA Championship was 7,660 yards. Accounting for players hitting the ball, on average, 10 percent further at 5,000 feet, that would be the equivalent of about 8,400 yards at RainDance National.
"If you get the right wind conditions, you can tip it out on a hole for the way these guys hit it," Funk said. "If we ever had a big event out here and the young guys come out — they all fly it 300 yards at sea level and some fly it 320-330. You get that out here and they're flying it 350. You'll have some holes where it will run out and you'll have 400-plus-yard drives.
"We have two par-4s — 4 and 5 — that are 580 and 590-yard par-4s. I think these guys will hit 8- and 9-iron into (the greens) in the right conditions if they were playing the tips." There are also two 700-yard-plus par-5s — the 707-yard second and the 771-yard, downhill 13th.
Of course, when RainDance National officials talk about hoping to lure a tour event to the course, while something on the PGA Tour would be the ultimate, those opportunities are rare. Other possibilities would be an event on PGA Tour Champions or a USGA championship, for instance.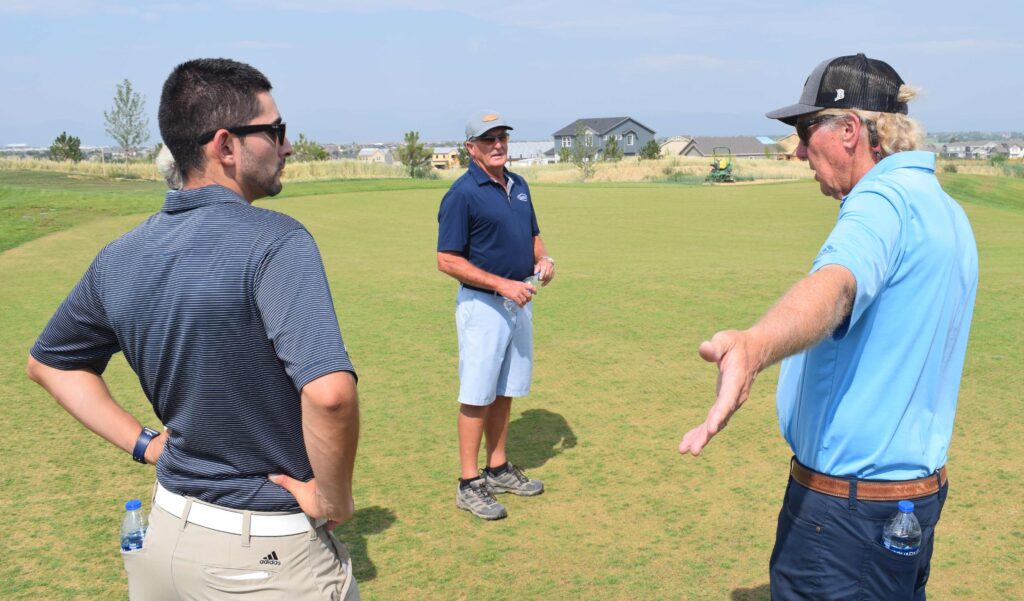 But those aspirations are just a small piece of the puzzle regarding RainDance National, which hopes to cater to golfers of all abilities.
"When the wind blows out here, any good player in the world could play this thing all the way up and it would be a very, very fun challenge," Minchew said. "That's the beauty of the site: It's so big — 300 acres of golf. When I first saw the topography, I said, 'Fred you've got to be kidding me. This is just wonderful. This is really the best site I've ever worked on, and I've done it on 75 other golf courses, and I've done some nice places. Just the whole feel of the place, the largeness of it, the naturalness of it — is extraordinary.
"This place can be a difficult golf course in the right conditions. But we don't want it that way. We want to be able to play it and people come back and say, 'I want to go out there and play it again.'"
The par-72 course, which features generous-sized fairways and greens, will include five par-3s and five par-5s after a recent change of No. 16 from a par-4 to a par-5. Houses only directly border the course — on the left side — on the first four holes, and the only place mature trees come into play is No. 16, near the bottom of the property. The first hole heads directly toward Longs Peak, which serves as a picturesque backdrop.
A unique feature on the property will be the aforementioned "Goat Ranch" — a short-course area spanning three acres where players can practice a wide variety of shots in a casual, fun environment — like a game of H-O-R-S-E in basketball. It's located in between holes 1, 2 and 9. The Goat Ranch is loosely patterned after what some have dubbed Horse courses, but the one at RainDance is expected to have a different feel.
"We had a really fun experience in (Valentine) Nebraska playing the Horse Course — a little pitch and putt — and there's a cool one (at the Bandon Resort in Oregon) called The Punchbowl," Lind said. "So we said, 'Let's put the horse course right there. We didn't want to plagiarize another name. We've named that The Goat Ranch. Part of it is when you play really bad at a course and you're mad at the course, you say, 'I'm never playing that goat ranch again. But now with the moniker of GOAT being the greatest of all time, we've named that the Goat Ranch. It literally is magnificent. It's going to be one incredible place.
"Harrison designed the No. 9 green into the Goat Ranch. So technically that's the world's largest green right there. It's going to be one fun, fun place."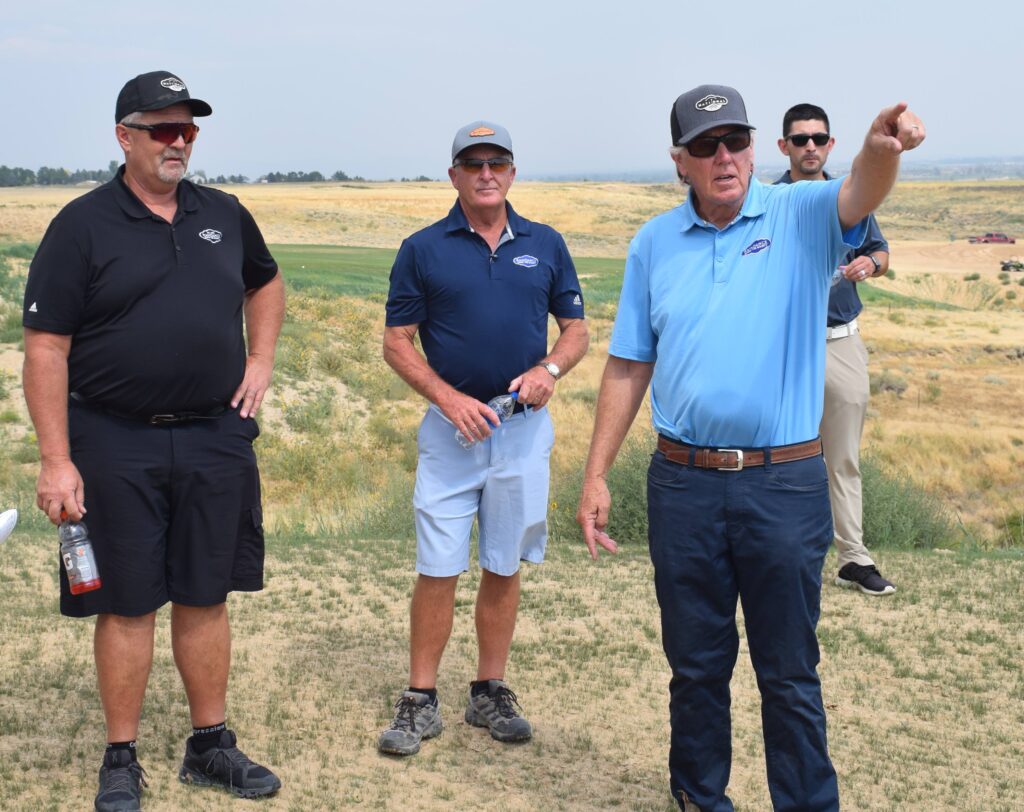 Added Funk: "The Goat Ranch, I don't think there's anything to that scale ever done like that. A lot of the putting courses I've seen, there are really drastic slopes on them — (which makes for) goofy putting. This is real golf, real putting, real chip shots, real bunker shots. It's realistic. It's not goofy, but it will still be a lot of fun, especially if we light that thing up with ground lights, which we plan on doing. And there will be music. It'll be a fun place in the summertime to go out there and have a ball."
A portion of the RainDance National property was once simply a flat wheat field, with arroyos running through the area. As noted, the arroyos are a distinctive feature, making the course what it is. Though the property — located about an hour north of Denver and a few miles east of I-25 near the Poudre River — includes 300 acres, the portion of that total that will be regularly irrigated on an ongoing basis is about 85 acres, according to Minchew.
"We really stayed out of the arroyos and really cherished them," Lind said. "Except for the very last hole. All the golfers go down into the bottom and serpentine back up. It's going to be a completely different ecosystem, a completely different experience. 'Let's let everybody feel what it's like down in the bottom.' We had to do a little erosion control and detention, but it's going to be a fun finishing hole. And when you pop out you won't know where you're at until you're all the way back up the canyon and almost to the clubhouse."
RainDance National is part of a run of new 18-hole golf courses in Colorado that are opening in a span of fewer than five years. And that's after no new — or totally redone — 18-hole courses debuted in Colorado for almost a decade. The newcomers have been TPC Colorado, the Phil Smith course at Flying Horse in Colorado Springs and the renovated City Park Golf Course in Denver. And a country club on the Kings Point property — situated on the border of Arapahoe and Douglas Counties, straddling E-470 just east of Parker Road and a few miles west of Heritage Eagle Bend Golf Club — is expected to open within four years after Oakwood Homes purchased it late in the spring.
The inaugural director of golf at RainDance National is Patrick Burke, who competed in 151 PGA Tour events during the 1990s.