'Buzzsaw' Leona Maguire defeats Jennifer Kupcho in battle of Solheim Cup unbeatens; Coloradan one of three Americans with winning records, but U.S. loses to Europe for second straight time
By Gary Baines – 9/6/2021
At the time, Lizette Salas didn't know who her U.S. teammate, Jennifer Kupcho, would be facing in Monday's Solheim Cup singles match. But on Sunday evening Salas had boldly proclaimed, "I feel bad for whoever is playing (Kupcho) tomorrow."
But that "whoever" turned out to be Irish player Leona Maguire, who was arguably the only competitor at this year's Solheim Cup in Toledo, Ohio to have a better first two days than Kupcho.
And, in retrospect, what Salas said turned out to be appropriate for Maguire, who, like Kupcho, was playing in her first Solheim Cup matches.
Maguire, a former Duke standout who was an ACC rival of onetime Wake Forest star Kupcho, went 4 under par on her first seven holes on Monday to grab a 4-up lead and went on to a 5-and-4 victory.
In an eagerly anticipated matchup of two rookies previously unbeaten this weekend, Maguire stepped on the gas early and never let up, while Kupcho couldn't muster any of the back-nine magic she had the first two days. Combine those things and Kupcho didn't win a hole all day while Maguire ended up an unofficial 5 under par for 14 holes.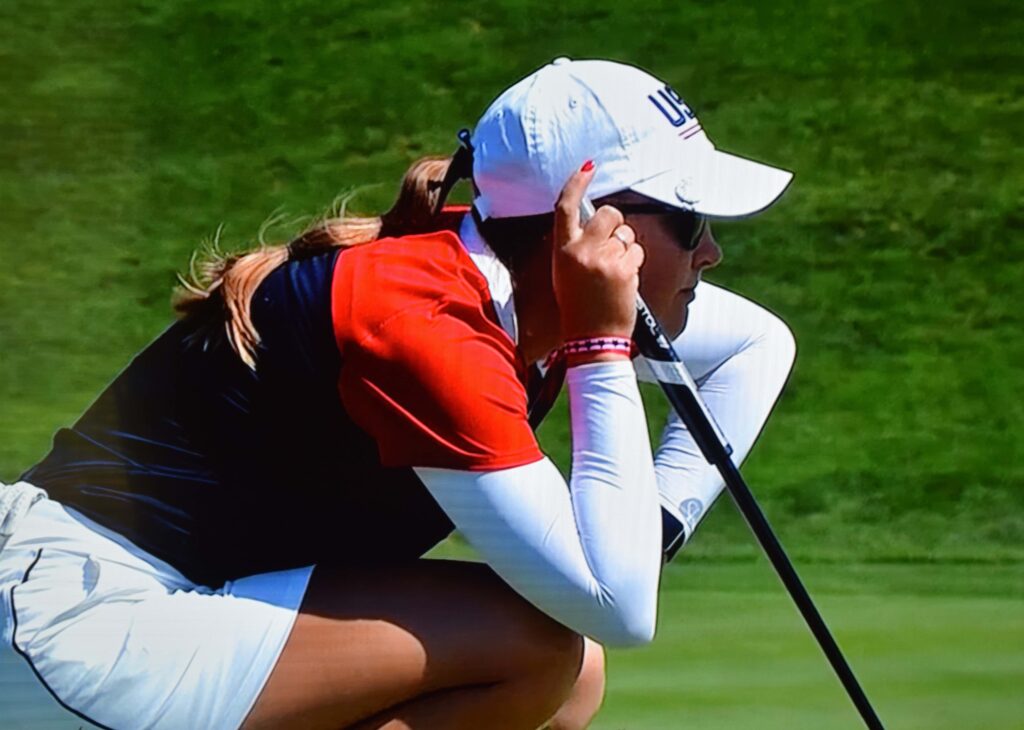 Kupcho "has not played her best, but definitely ran into a buzzsaw," Golf Channel analyst Judy Rankin said on the air on Monday.
Maguire's was the first point for the Europeans on a day when they went on to earn a 15-13 victory over the U.S. It was the Euros' second straight Solheim win and just their second ever on U.S. soil, following their rout of the Americans in 2013 at Colorado Golf Club in Parker — a competition attended in person by a then-16-year-old Kupcho.
As Kupcho recounted earlier this year, "I remember watching and thinking how cool it would be to be in that spotlight and be able to play and compete, especially with so many fans and it being so competitive."
Posting the Cup-clinching point on Monday for the Europeans was Matilda Castren, who qualified for the 2021 U.S. Women's Open at The Ranch Country Club in Westminster in May. Castren sank a 7-foot par on the 18th hole to defeat Salas, 1 up.
"I'm just so happy right now," Castren said on Golf Channel. "I knew we needed that."
Maguire ended up playing all five sessions and going 4-0-1 for the weekend, making her just the third player to earn more than four points in a single Solheim Cup — and the first rookie.
"I tried to get off to a really good start. That (15-foot) eagle on 2, I couldn't have asked for a better start than that. I putted really solid.
"I wanted to put pressure on Jen from the get-go. She's a phenomenal player. We've done battle many times before. I knew I'd have to have my 'A' game today. I was thankful there was still some energy left in the legs and I was able to get it done."
Despite Monday's loss, Kupcho had a very strong showing as a Solheim Cup rookie. As the first Solheim Cup competitor to have grown up in Colorado, she won twice, lost once and tied once. She was one of just three Americans to finish with winning records for the weekend, joining Salas (2-1-1) and Yealimi Noh (2-1-0), the runner-up in the 2019 CoBank Colorado Women's Open.
In her first three matches — all with Salas — Kupcho made five birdie putts between 15-50 feet and pitched in from 18 feet for another birdie. And, by the way, all of those came on the back nine after her team had trailed on the front.
As Kupcho said on Sunday regarding her clutch play, "It's super exciting for me. I love the sound of (the crowd supporting us)."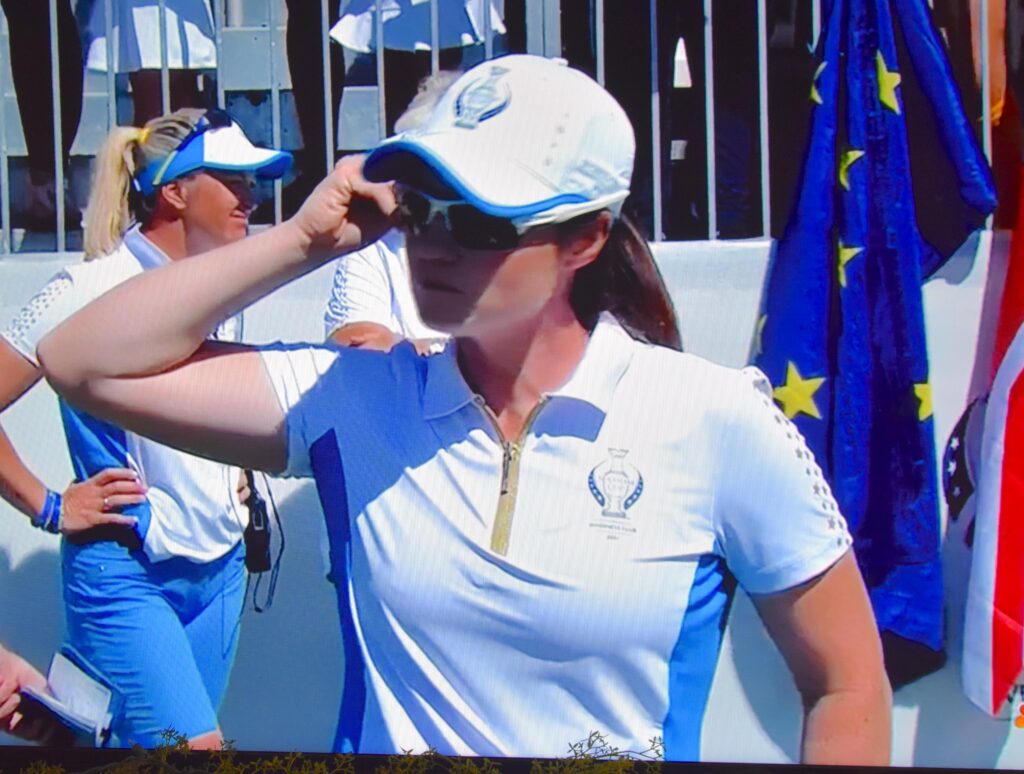 But Maguire didn't give the U.S. fans much chance to root heartily for Kupcho on Monday. After tying the first hole with par, Maguire drained her 15-foot eagle on No. 2, a 15-foot birdie on No. 4 and additional birdie putts on Nos. 6 and 7 to go 4 up.
Despite the large early lead Maguire built, there was good reason to hold out hope for a Kupcho comeback.That's because the two players tied a match at the Bank of Hope LPGA Match Play at Shadow Creek in Las Vegas in late May. In that match, Kupcho rallied from being 5 down after seven holes and 4 down after 12 to earn a half point.
But the 2018 NCAA individual champ and the 2019 Augusta National Women's Amateur winner couldn't muster a rally this time as her game wasn't in peak form on Monday. She visited three bunkers on the first three holes and couldn't find the mark with mid- and long-range putts.
Maguire will come out of the weekend as the only golfer to have played at least five Solheim Cup matches and never suffered a loss.
During their college days, Maguire finished first and Kupcho second in women's college golfers of the year voting in 2017. Maguire notched 11 individual career victories at Duke, while Kupcho had nine (including an NCAA title) at Wake Forest. Maguire was the No. 1-ranked female amateur in the world for 135 weeks and Kupcho for 34.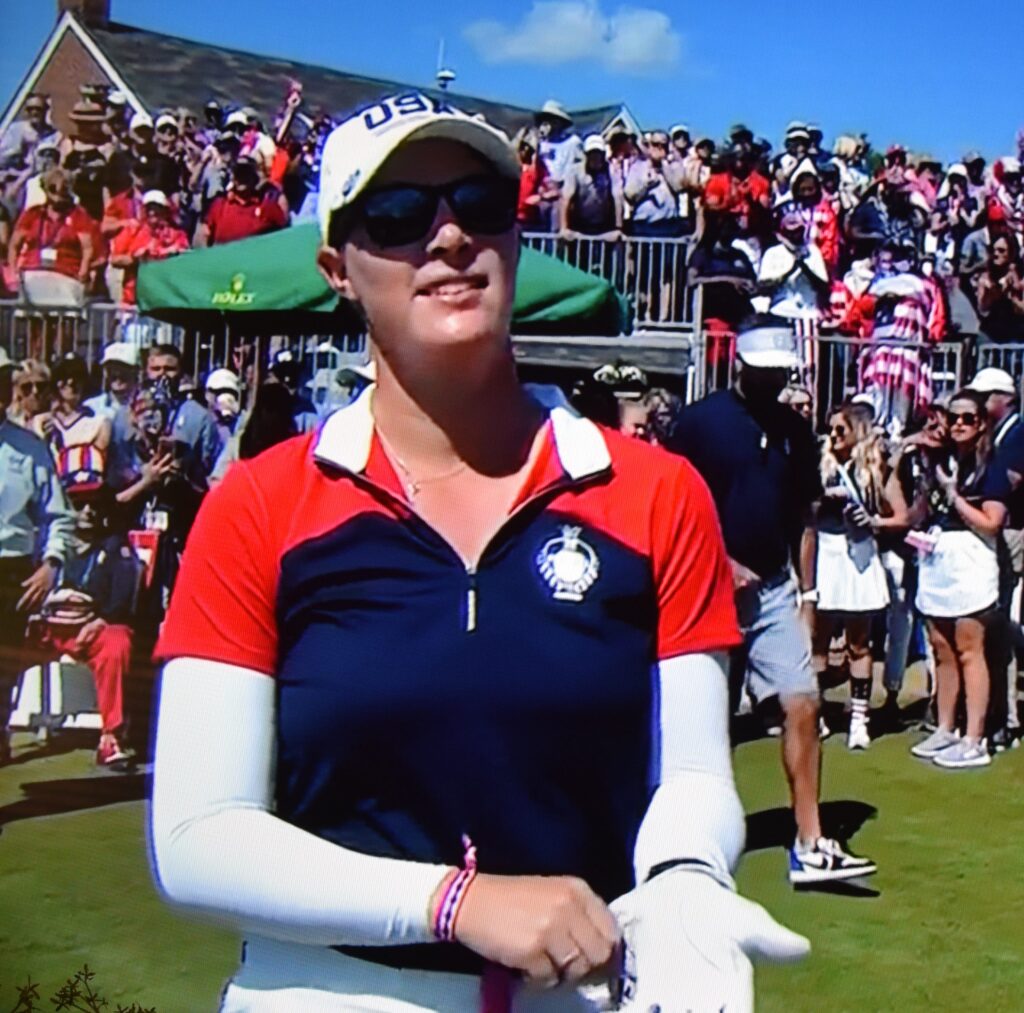 Kupcho, winner of the 2020 CoBank Colorado Women's Open, hasn't yet won on the LPGA Tour, but has certainly come close plenty. She owns nine top-10 finishes in her career, with four of those having come in 2021. All told, she has three second places, a third, a fourth, a fifth, a seventh, a ninth and a 10th.
Kupcho had previously represented the U.S. several times on the international stage as an amateur. In the summer of 2018, she helped American teams win the Curtis Cup, the Arnold Palmer Cup and the Women's World Amateur Team Championship.
For all the scoring from the Solheim Cup, CLICK HERE.
Jennifer Kupcho Match-by-Match at Solheim Cup
Saturday Four-Ball — Kupcho and Lizette Salas (USA) def. Carlota Ciganda and Sophia Popov (Europe), 1 up
Sunday Foursomes — Kupcho and Salas (USA) def. Anna Nordqvist and Matilda Castren (Europe), 3 and 1
Sunday Four-Ball — Kupcho and Salas (USA) tied with Leona Maguire and Mel Reid (Europe)
Monday Singles — Maguire (Europe) def. Kupcho (USA), 5 and 4