CGA women's major sweep and U.S. Women's Open berth lead to CGA Women's Player of the Year honor for Leigha Devine; Kris Franklin earns Women's Senior POY award for fourth straight year
By Gary Baines – 11/18/2021
Leigha Devine had been a very good player, one of the better junior golfers in the state. She helped lead Fossil Ridge to a Class 5A girls state high school team title in 2019 by placing fifth individually and earned a spot on the golf team at Rutgers University, an NCAA Division I program.
But it was something that no one could have foreseen that led to the Windsor resident taking that next big step — one that has resulted in her being named the 2021 CGA Women's Player of the Year.
When Devine couldn't attend college in person in the fall of 2020 due to Covid-19 safety concerns, she made the most of the opportunity by working extensively with her instructor, new Colorado Golf Hall of Famer Ed Oldham, for months on end.
That ended up paying major dividends as the golfer from Ptarmigan Country Club found the form to sweep the CGA's women's major championships in 2021 — the Match Play and the Stroke Play — and qualify for the U.S. Women's Open. The result is that Devine joins the likes of Jennifer Kupcho (who also works with Oldham), Mary Weinstein and Becca Huffer as CGA Women's Players of the Year in the 21st century.
"It was honestly just confidence," Devine said this week regarding her big jump in level of play. "My swing had gotten so much better and because of that I was able to shoot some low scores. I started to believe in myself. I realized, 'I can do this. I'm a good player and have the ability to shoot the scores I need to.' It continually happened and the confidence kept building more and more. I started to buy into what I was doing. That allowed me to take the next step."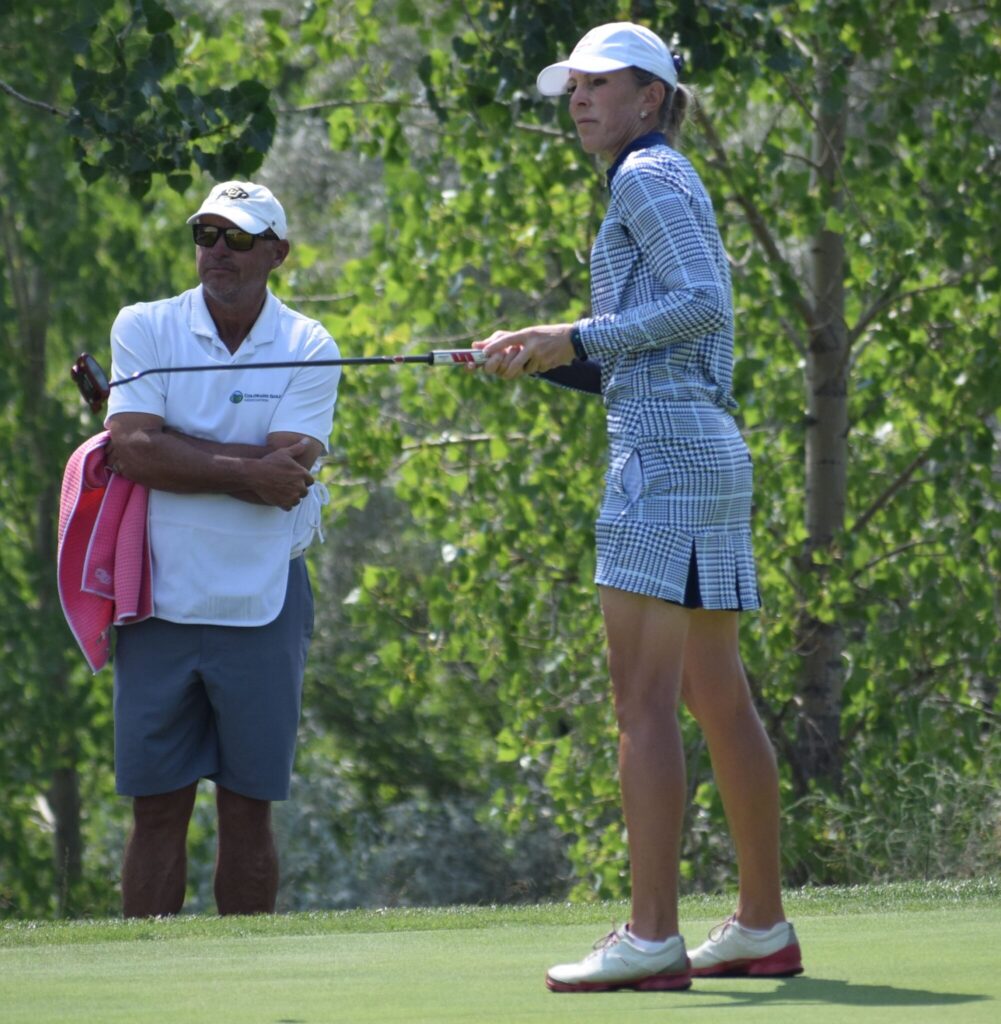 While Devine earned CGA Women's Player of the Year honors for the first time, Kris Franklin of The Ranch Country Club has gotten into quite a groove as the CGA Women's Senior Player of the Year. In fact, this marks the fourth consecutive year the former pro has earned the honor. The only golfer to have earned that award more is Colorado Golf Hall of Famer Kim Eaton, an eight-time SPOY in the state.
"It was a great phone call to receive" regarding hearing about the 2021 honor, Franklin said in a recent email. "I was in Home Depot when I got the call. I'm working on remodeling a home so golf hasn't been in the picture (lately), thus really catching me a bit by surprise. I have had so much fun playing golf again, and receiving this honor is a cherry on top. All four years I have won this award have been special and I am very proud of each!"
While Devine and Franklin earned the CGA women's player of the year honors, Chris Thayer and Robert Polk landed the CGA men's POY awards. For more on the men's honorees, CLICK HERE.
Here's a look at the seasons that Devine and Franklin had:

— Leigha Devine of Ptarmigan Country Club, CGA Women's Player of the Year: When Devine claimed the CGA Women's Match Play title at Colorado Golf Club and the Stroke Play at Boulder Country Club — both in June — it marked the 17th time a single-season sweep of CGA women's majors has been accomplished. But that feat has been far more rare in recent decades. This year was just the fourth time since 1990 it's been done, with the others who have accomplished the feat in that period being Eaton (2004), current LPGA standout Kupcho (2016) and Weinstein (2019).
"It's awesome," the 20-year-old Devine said of the award. "It's so cool to see all the hard work come to fruition. I really had a good year. Things kind of came together for me. It's an absolute honor and I'm happy to have my name in the record books."
Devine had a stellar run in the late spring and early summer to thank for most of her 2021 success. On May 10 in Spring Lake, N.J., she tied for second — then placed second in a three-way playoff — in a U.S. Women's Open qualifier, ending up as the first alternate. But not long thereafter, Devine learned that she had gotten into the field for arguably the top women's golf tournament in the world.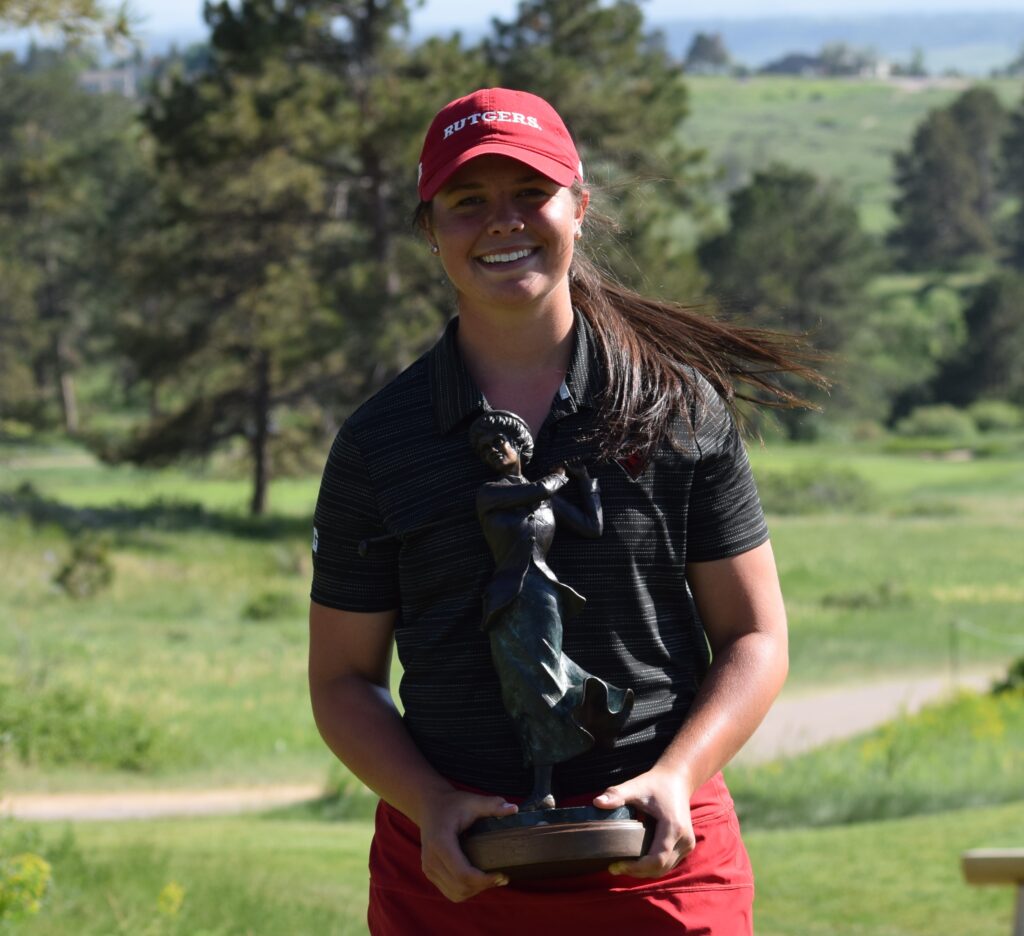 Devine missed the 36-hole at The Olympic Club in San Francisco, but rebounded in a big way. In the first time the CGA Women's Match Play and the CGA Match Play concluded on the same day and at the same site, Devine earned the women's title the weekend after the Women's Open. After dominating her previous four opponents, Devine went 38 holes to defeat two-time girls state high school champ Lauren Lehigh in the final.
Then a couple of week later, Devine prevailed by two shots in the CGA Women's Stroke Play at Boulder CC, rebounding from a first-round 75 to shoot 68-71.
"I put a lot of work in in the winter season (of 2020-21)," she said. "I was revving up toward the end of the spring of my sophomore year. Going into the summer, I was playing the best golf I had in a while. I was able to get the ball in the hole. I felt I had a good chance in the tournaments I played in. Momentum built and the confidence kept going up. I kept playing well and I tried to roll on with it. It ended up working out real well for me.
"In golf, it's so much work technique-wise, just getting better. The scores are always the last thing to come. I felt like I had put in a lot of work the last two years, but hadn't really taken the next step, hadn't really flipped the switch. But this past summer and spring, I kind of flipped the switch and was able to put the scores together and started scoring rather than just hitting the ball better, which was really nice."
Though Devine failed in her quest to also qualify for the U.S. Women's Amateur in 2021, she had a solid fall back at Rutgers. As the team's No. 1 player for most of the autumn, Devine posted two top-20 individual finishes in college events and placed in the top half of the field in three of her four tournaments. Coincidentally, two of the events were played in Colorado, with Devine ending up 38th in the Golfweek Conference Challenge at Red Sky and 20th in the Ron Moore Intercollegiate at the University of Denver Golf Club at Highlands Ranch. At Red Sky's Fazio Course, Devine posted her first bogey-free round, firing a 3-under 69 in front of family who came up to watch.
"I'm most proud of just the resilience," she said. "Throughout the year, it's such a long period of time and there are ups and downs, so to be able to keep my head down and keep working and doing what I needed to do was a big thing for me.
"I started to take golf more seriously (in 2021), to where I've decided, 'This is what I want to do with my life.' And that allowed me to have better practices more often and get more things done while I was out there instead of just hitting balls. I was hitting balls with a purpose. That allowed me to take the next step, and I'm proud of myself for that. Being able to learn how to practice with purpose — rather than just practice — definitely helped me out."
Though currently a junior, Devine plans to play golf at Rutgers for another 2 1/2 seasons and pursue a Masters degree as she'll be using a Covid year for an additional year of eligibility. After that, she's planning to pursue a career as a playing professional.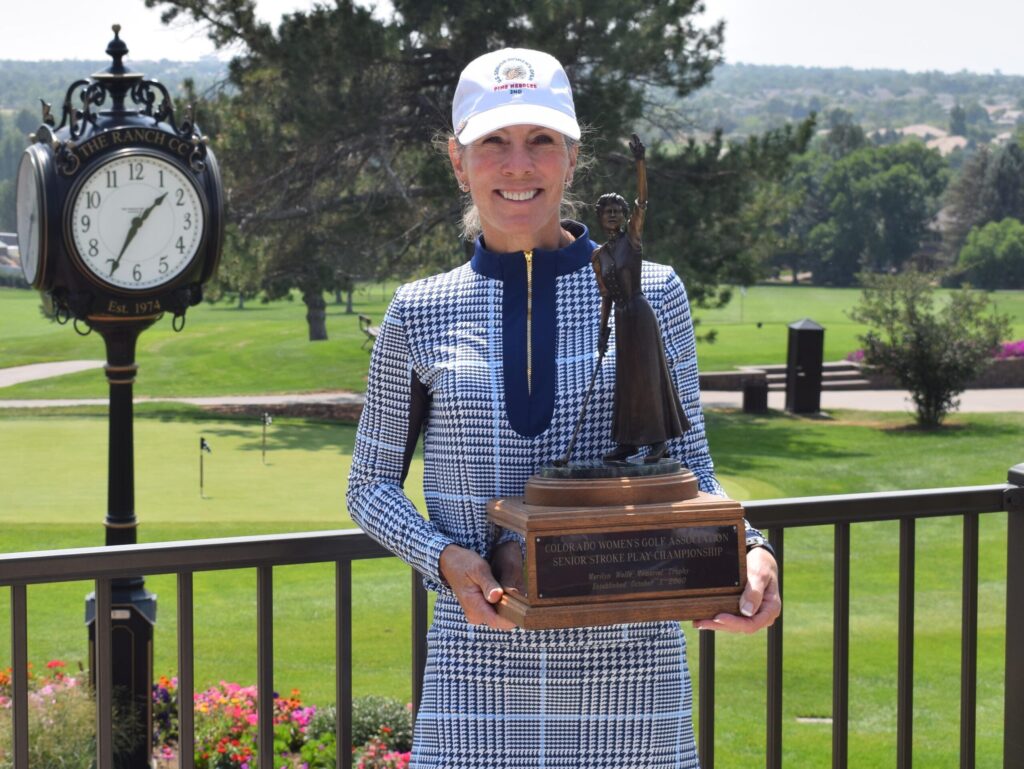 — Kris Franklin of The Ranch Country Club, CGA Women's Senior Player of the Year: Competitive golf has turned out to be kind of like riding a bike for Franklin: You never forget how.
In 2017, Franklin returned to competition following an 18-year layoff. In 1986 she had won the CGA Women's Stroke Play and later went on to an extended professional playing career, largely in Japan. But since she started competing again on the CGA level, the former Kris Hoos has never NOT finished the season with the CGA Women's Senior Player of the Year honor, earning it in 2018, '19, '20 and '21.
During that four-year stretch, Franklin has won six CGA individual titles: three Women's Senior Stroke Plays, two Women's Senior Match Plays and one Women's Mid-Amateur Stroke Play. Two came this year — the Mid-Am and a Senior Stroke Play — giving her seven CGA championships overall. Of the last seven CGA women's senior majors, Franklin has come out on top five times.
Certainly both of Franklin's 2021 CGA victories were memorable.
Franklin prevailed in the Mid-Am by 15 strokes — and that was despite a one-shot penalty for her in the final round at Boulder Country Club. (Franklin, by the way, grew up in Boulder.) And the Senior Stroke Play victory came at her home club — The Ranch, where her house is perhaps 100 yards from the clubhouse. There, she won by six over Eaton, who finished runner-up in her fifth straight CGA women's senior major.
But, asked what she's most proud of golf-wise in 2021, Franklin doesn't point to one of her wins. Instead, it's the open-age CGA Women's Match Play, where she advanced to the quarterfinals, losing to Lehigh 3 and 1.
"It was really fun to play against the young players," Franklin said in an email. "I only played to gain more experience in match play but never thought I'd make it that far. I'm going to have to lift a lot of weights in the offseason if I play again. 😊"
Also in 2021, Franklin finished runner-up in the CGA Women's Mashie, where she teamed with Eaton, and she posted a 2-1 record at the Colorado Cup Matches, helping the CGA amateurs defeat the Colorado PGA professionals.