Leigha Devine CGA Women's Player of the Year for second straight season; Marilyn Hardy and Kaylee Chen also earn POY honors; Grace Burke Award winners named
By Gary Baines – 11/3/2022
(Note: The men's CGA Players of the Year story was published earlier this week.)

The last 18 months have been a whirlwind of accomplishments on the golf course for Leigha Devine.
Last year, the Windsor resident qualified for and competed in arguably the most prestigious women's golf tournament in the world, the U.S. Women's Open, and swept the titles in the CGA women's majors, the Match Play and the Stroke Play.
This year has proven to be more of the same, with a victory in the CGA Women's Match Play, a near miss in the Stroke Play, qualifying for — and a good run in — her first U.S. Women's Amateur, and her initial individual victory in a college tournament.
And, in both 2021 and 2022, the year is ending with a CGA Women's Player of the Year award.
Devine, a 21-year-old who plays out of Ptarmigan Country Club, joins a stellar list of golfers who have earned CGA/CWGA Women's Player of the Year honors in back-to-back years in the 21st century. That includes Jennifer Kupcho, a three-time winner on the LPGA Tour this season (POY in 2014, '15 and '16); Mary Weinstein (2017, '18 and '19), now an assistant women's coach at Santa Clara; Somin Lee (2011 and '12); Kim Eaton (2009 and '10, along with 2004 and '07); Kelly Schaub (2005 and '06, along with 2003) and McKenzie Dyslin (2001 and '02).
"Being named women's player of the year for the second time is an absolute honor," Devine wrote in an email this week. "The CGA has given me so many opportunities to play and really provided an amazing environment for me to grow a player. Being in good company with the likes of Mary Weinstein and Jennifer Kupcho is a privilege and I hope to have the success that they have had."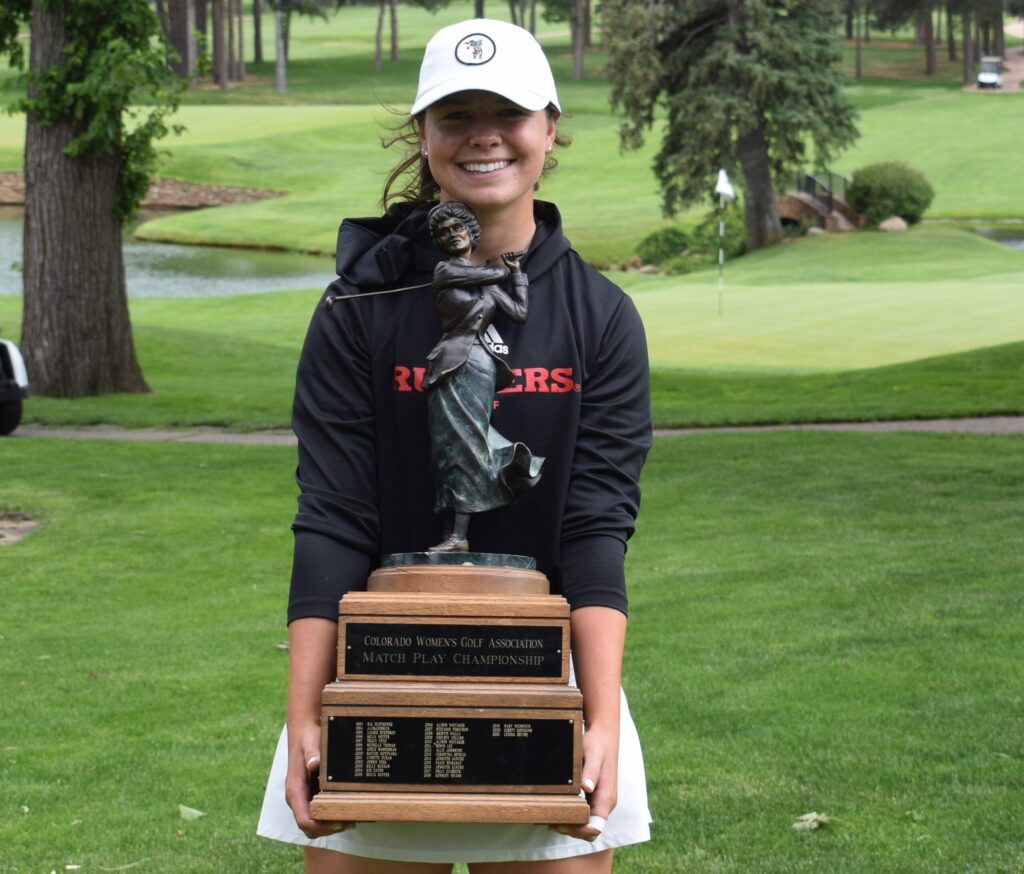 Devine came ever so close to becoming the first player since the late 1980s to sweep the CGA women's major championships for two consecutive years. Wendy Werley won the women's Match Play and Stroke Play in both 1988 and '89.
After defeating Morgan Ryan 5 and 4 in the scheduled 36-hole final of the Women's Match Play this year, Devine was tied with Kelsey Webster for the lead in the Women's Stroke Play with three holes remaining. But missed short putts on the final two holes at Colorado National — 3 feet on No. 17 and 4 feet on No. 18 — left the defending champ one stroke back of Webster, who claimed the title.
That stung for a bit, but earning a spot in the U.S. Women's Amateur for the first time — and advancing to match play — was a satisfying accomplishment for Devine. The Rutgers University golfer also won her first match at the national championship before falling in the round of 32 at Chambers Bay in Washington.
"When I look back on the summer season, the memory that stands out most is my time at the Am," Devine noted. "From the qualifying at Colorado National (where she finished second) to losing in the round of 32, the entire experience was one that I couldn't be happier about. I feel like I really made a breakthrough when it came to making the cut. As a player I proved a lot to myself by not playing to the cut line and going as deep as possible."
Another first came in September as Devine earned individual college victory No. 1 of her career, tying for first place in the Badger Invitational in Wisconsin. Her 7-under-par 209 total for 54 holes was a college best for her.
"My biggest accomplishment so far in 2022 was winning my first college tournament," Devine said via email. "We played at University Ridge, Wisconsin's home course, and a track I've played a few times. … It was a very exciting moment and goal I've been waiting to strike off the list for a long time."
Devine, a Fossil Ridge High School graduate, also finished second at another college tournament and owns a 72.92 stroke average so far this season. She plans to play another season and a half at Rutgers.
Devine continues to work with Colorado Golf Hall of Famer Ed Oldham, an instructor who also assists Kupcho.
Here are the other CGA women's players of the year, and their 2022 accomplishments: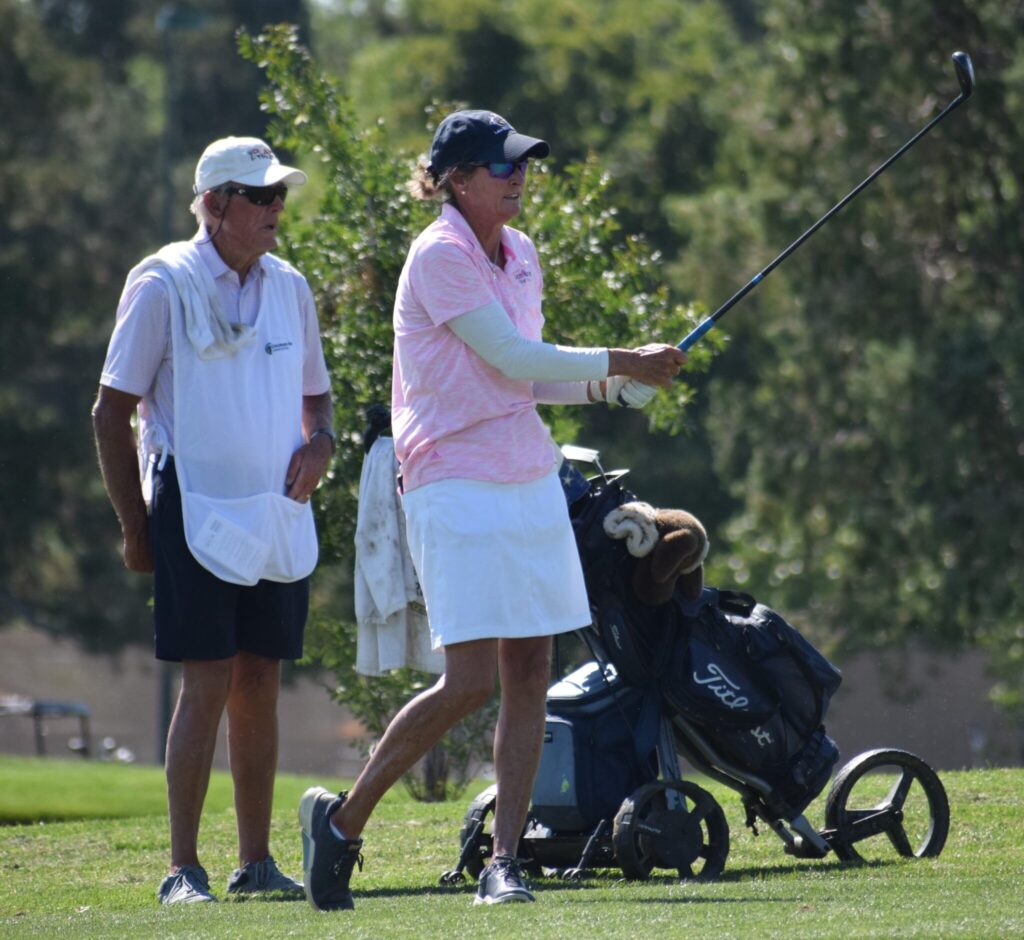 — Women's Senior Player of the Year: Marilyn Hardy of Gunnison, Dos Rios Golf Club
Hardy, who splits time between Gunnison and the Houston area, is now in her 60s, but continues to be a regular contender in Colorado women's senior events — as well as some in Texas.
This year, Hardy teamed with Kristine Franklin to win the CGA Women's Dunham Chapman in a runaway at Hardy's home course, prevailing by 21 strokes at Dos Rios. And last month she prevailed by two strokes in the Texas Golf Association Women's Senior Stroke Play, an event she also won in 2011.
Hardy also finished first in U.S. Senior Women's Amateur qualifying — earning a spot in her 44th USGA championship — then advanced to the round of 32. But there awaited three-time defending champion Lara Tennant of Portland, who won the match 3 and 2.
Hardy placed runner-up in three separate CGA women's championships — the Senior Stroke Play, an event she won in 2022; the Senior Match Play; and the Mid-Amateur Stroke Play.
This marks Hardy's first CGA Women's Senior Player of the Year honor as Franklin and Eaton have dominated the honor in recent years, with only Christie Austin (2014) having interrupted their combined run that started in 2009.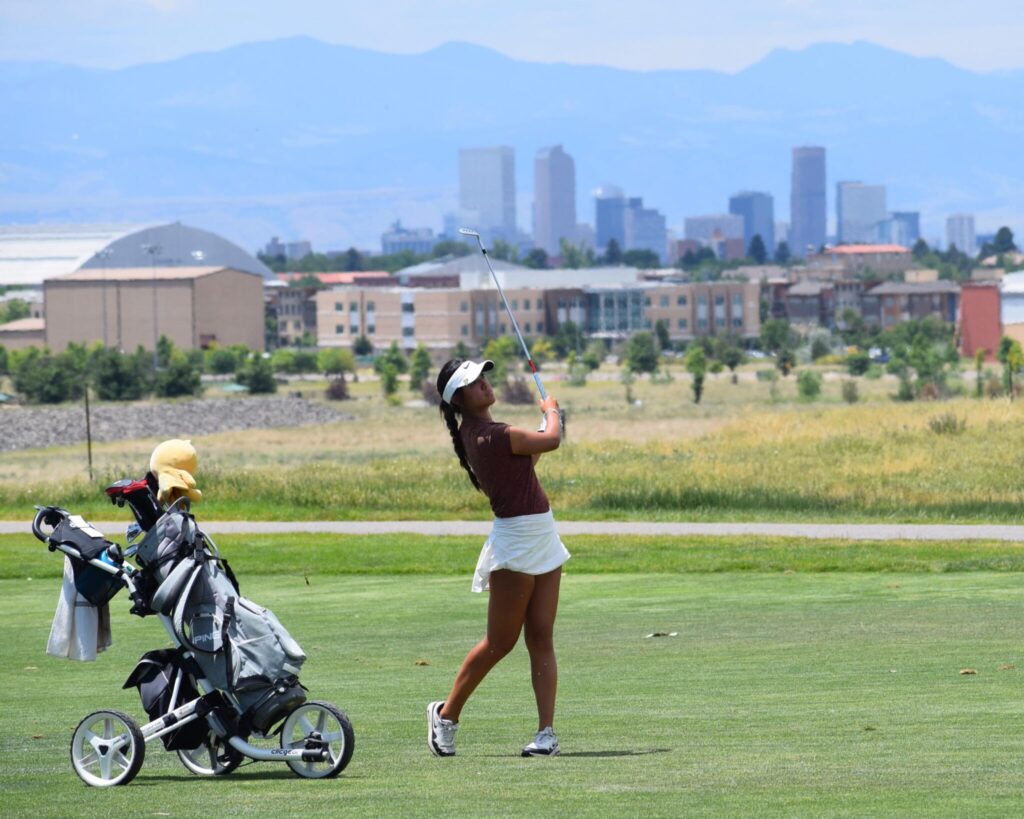 — Girls Player of the Year: Kaylee Chen of Parker
Chen, now a freshman on the women's New Mexico State golf team, finished her junior golf career with two straight player of the year honors as she was the Junior Golf Alliance of Colorado's Girls Player of the Year in 2021.
Chen has played in a wide variety of golf events in 2022 — junior, college, open-age amateur, national championships, etc.
On the junior side, the Cherry Creek High School graduate finished runner-up at the CGA State Junior Championship's girls tournament and placed 10th in the AJGA Hale Irwin Colorado Junior. Chen is a "graduate" of the Hale Irwin Player Program at CommonGround Golf Course.
In open-age amateur events, Chen placed fifth in the CGA Women's Stroke Play and advanced to the quarterfinals of the CGA Women's Match Play.
With Morgan Miller, Chen made it to the match play round of 32 at the U.S. Women's Amateur Four-Ball, where they fell in 19 holes.
Chen's best individual college finish during her first semester was a tie for 23rd at New Mexico State's own Golf Iconic Classic.

— Grace Burke Award, given to female high school golfers who exhibit character, leadership and personal integrity through their actions in competing and participating in various golf programs
Molly Stratton of Centennial, Inverness Hotel & Golf Club
Noelle Thompson of Erie
Kaitlin Zingler of Lakewood, Pinehurst Country Club