JGAC Junior Series Champions Crowned: Jeffrey Chen and Claire Atzbach (10 & under); Johnathon Smith and Addison Hines (11-13); and Austin Barry and Makaela Swanson (14-18)
By Gary Baines – 8/8/2021
Look at theJunior Golf Alliance of Colorado's Junior Series Championship trophy, and the names engraved on it read like a who's who of Colorado junior golf from over the last 13 years.
Winners of one — or more — of the various age-division tournaments include Jennifer Kupcho, who's now ranked No. 27 in the world among female golfers; Jake Staiano, who came ever so close to winning the CoBank Colorado Open earlier this month; fellow CGA Players of the Year AJ Ott and Davis Bryant; Elizabeth Wang, who a few years ago was one of the top female amateurs in the world; past multiple-time CGA Women's Players of the Year Mary Weinstein and Somin Lee. … We could go on and on.
This weekend, more junior golfers added their names to the Junior Series Championship trophy — pending engraving time, of course. Whether they'll join the aforementioned pantheon of players as far as achievements go remains to be seen. But this certainly puts them in good company for the time being.
Here are the results of the Junior Series Championships this weekend: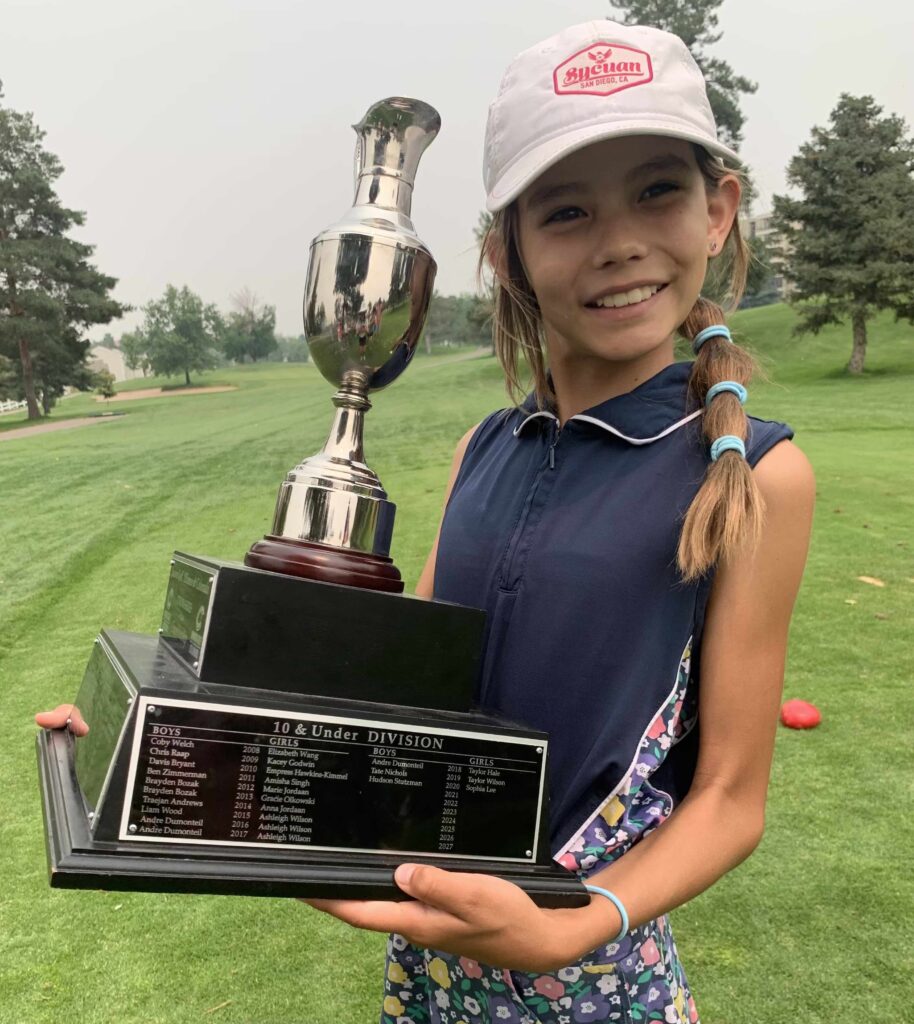 Age 10 & Under Tournament Saturday at Heather Gardens GC in Aurora
Boys: Jeffrey Chen of Aurora claimed the title in a playoff with Braylon Ball of Windsor, with Kai Jorde of Castle Rock finishing third, one stroke back.
Chen, 10, made four birdies and six bogeys en route to a 2-over-par 68. Saturday's victory marked his fifth of the JGAC season.
Girls: Claire Atzbach of Lone Tree prevailed for the championship by four strokes, shooting an 11-over-par 77. The 10-year-old carded one birdie, 10 bogeys and a double bogey. It was her eighth JGAC win of the season.
Chloe Johnson of Parker (81) placed second and Scout Fitzgerald of Parker (82) third.
10 & Under scores: BOYS, GIRLS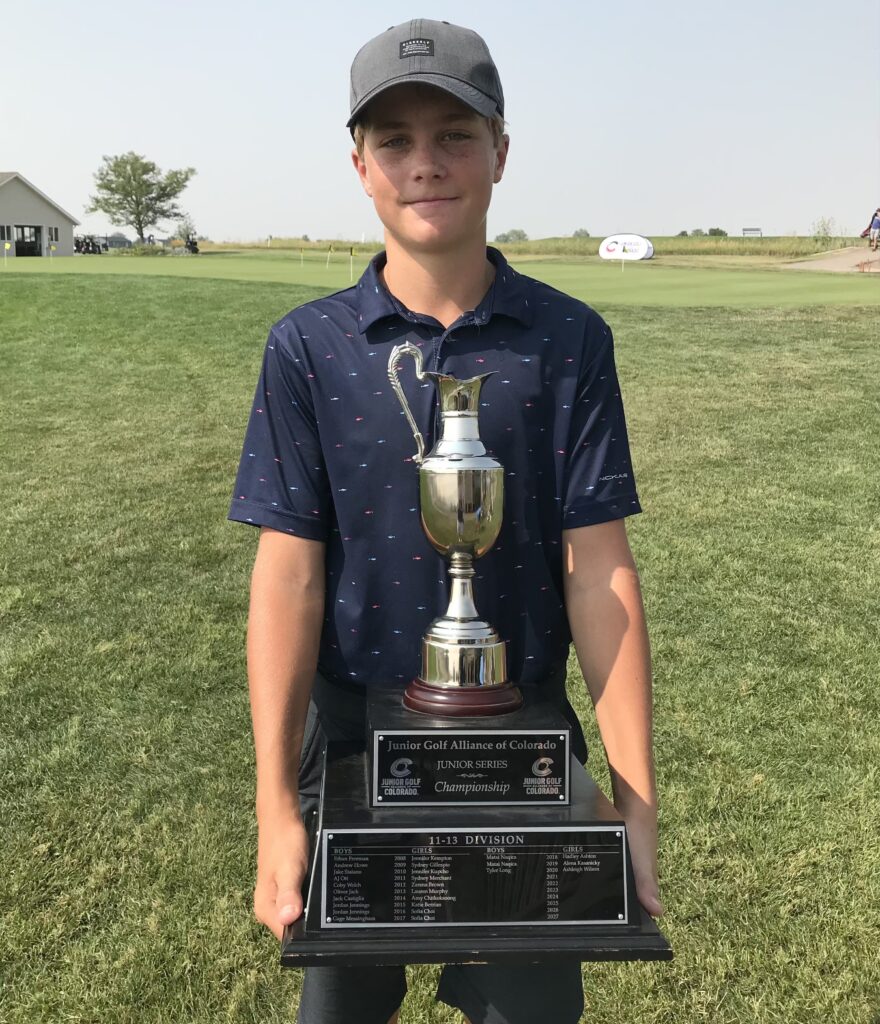 11-13 Tournament Saturday and Sunday at Coyote Creek Golf Course in Fort Lupton
Boys: Johnathon Smith of Pagosa Springs held off three-time Junior Series Champion Andre Dumonteil of Centennial to claim the title by two strokes. Smith, 13, went 69-75 for a 2-over-par 144 total. Over two days, he made six birdies and eight bogeys. It was his third victory of the 2021 JGAC season.
Dumonteil (74-72–146) took second place and Billy Ver Straate of Lone Tree (75-72–147) was third.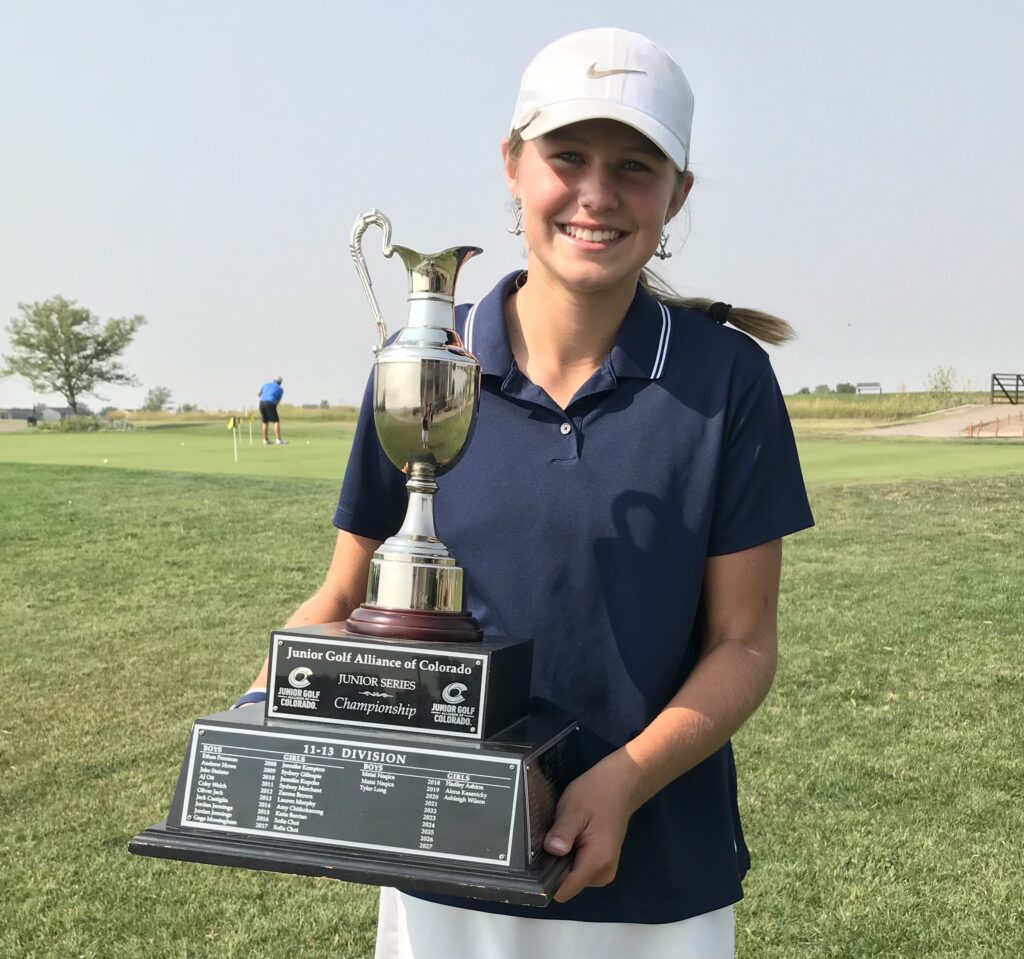 Girls: Addison Hines of Arvada claimed a three-stroke victory, going 72-74 for a 4-over-par 146 total. After playing her final six holes in 2 under par, Hines ended up with seven birdies, seven bogeys and two double bogeys over the 36 holes. It's the 13-year-old's seventh JGAC title of 2021.
Sophia Lee of Centennial (75-74–149) was second, while Sophia Capua of Aurora (78-75–153) was third.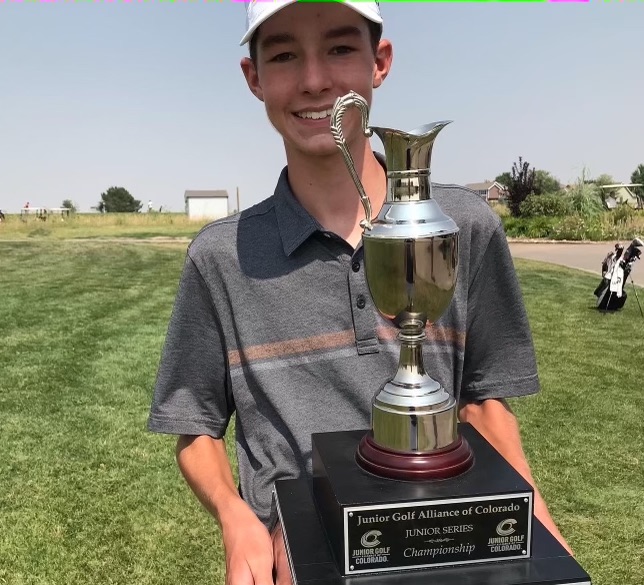 14-18 Tournament Saturday and Sunday at Coyote Creek Golf Course in Fort Lupton
Boys: Fifteen-year-old Austin Barry of Fort Collins shot back-to-back 2-under-par 69s to record a four-stroke victory. Over the two days, he made nine birdies and five bogeys. It was Barry's fifth JGAC victory of 2021.
Gavin Amella of Castle Rock finished second (70-72–142), while Talen Turnbaugh of Castle Rock (74-70–144) was third.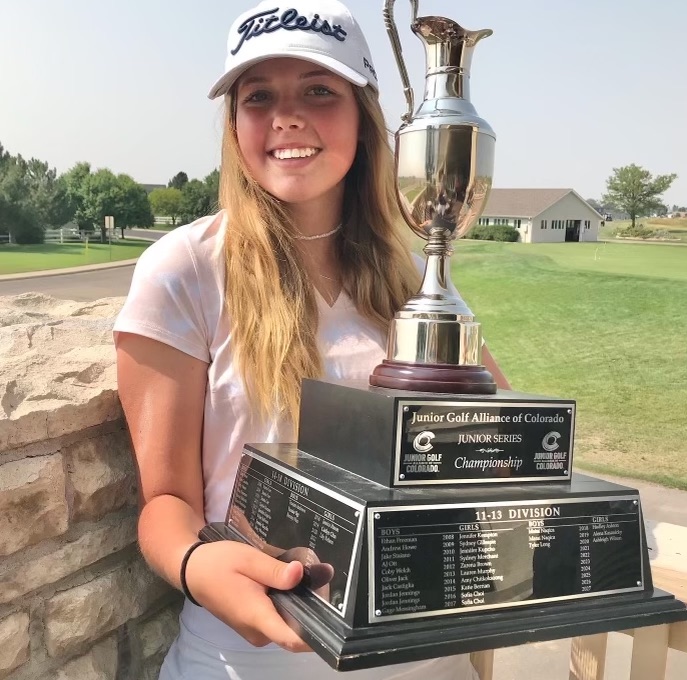 Girls: Makaela Swanson of Denver, 14, won by three strokes on Sunday after carding scores of 76-82 for a 16-over-par 158 total. She made two birdies in the final round and three overall.
It was Swanson second JGAC victory of 2021.