Boulder's Kelsey Webster remains on a roll, fending off defending champ Leigha Devine for CGA Women's Stroke Play title; Erin Houtsma wins Women's Mid-Am for second time, this one at her home course
By Gary Baines – 7/7/2022
For a player who had a lot of near-misses earlier in her golf career, Kelsey Webster is finding successfully closing the deal very satisfying in recent months.
Early last month, the 22-year-old from Boulder Country Club claimed low-amateur honors at the Inspirato Colorado Women's Open — and finished sixth overall in a field that included many accomplished pro golfers.
Then on Thursday, Webster put another feather in her cap by winning a state championship, specifically the 75th CGA Women's Stroke Play at Colorado National Golf Club in Erie. In doing so, her name will join those on the trophy, including such luminaries as Jennifer Kupcho, Lauren Howe and Barbara McIntire, plus numerous other Colorado Golf Hall of Famers.
"So far, so good this summer," said Webster, who transferred from the University of Colorado to Oregon State before last season. "This feels really good. It speaks volumes that out of the blue I decided to transfer schools and went to a school where I knew the coaches (including Colorado native Dawn Shockley) were going to help me. Obviously it shows coming back here this summer. It's fun to start to play to the potential that I've known I've always had."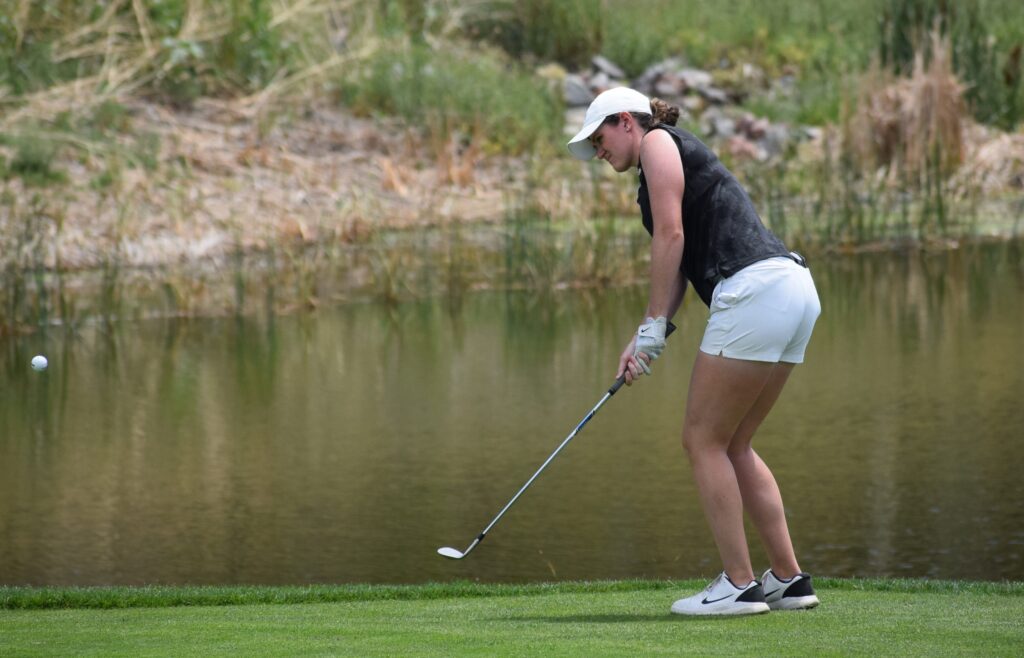 In Thursday's victory, Webster fended off a challenge from defending champion Leigha Devine of Ptarmigan Country Club, who was looking to become the first player since the late 1980s to win four consecutive CGA women's major championships.
Devine was 1 over par through two rounds and trailed Webster by four strokes, but through 15 holes on Thursday she had made six birdies and a bogey and was 4 under par overall, tied for the lead with Webster. Devine, who plays her college golf at Rutgers, had putted well to get into contention, but her flat stick let her down on the last two holes. She missed a 3-foot birdie try on the short par-4 17th, and a 4-foot par attempt on 18.
At the end of the day, she finished a stroke back of Webster.
"It's tough. It's a real deep cut, but it happens," said Devine, who played in last year's U.S. Women's Open and has qualified for this year's U.S. Women's Amateur. "Two shots in the last two holes, but that's golf. I did what I could do. It's a growing, learning opportunity. Next time, I won't miss.
"The putter was good (today overall). Obviously I made six birdies, so it has to be working a little to be able to do that."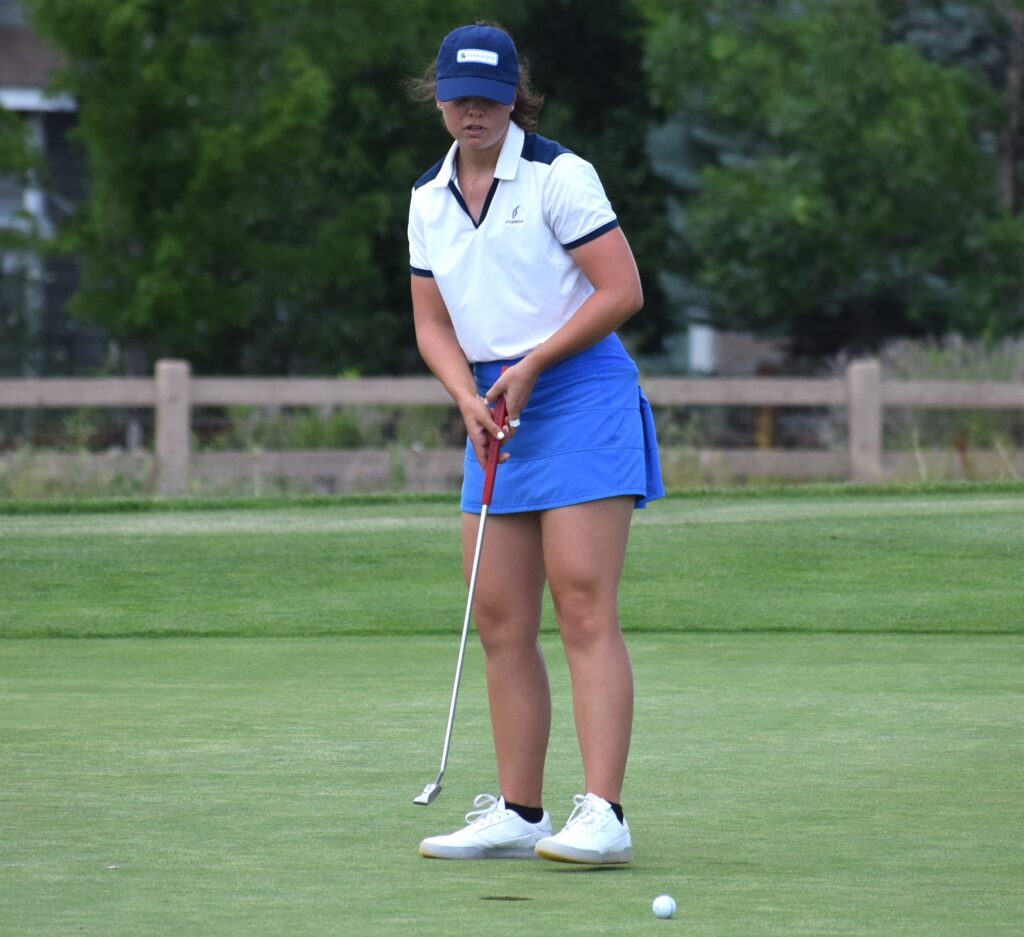 Webster carded three birdies and two bogeys through 13 holes, then parred the last six — including making an 8-footer on 16 — to score her first CGA championship victory. In the last 2 1/2 months, besides her low-am in the Colorado Women's Open and the victory on Thursday, she placed fifth in the women's Pac-12 Conference tournament.
Webster, no stranger to Colorado National as it's the home course for the CU golf teams and she spent three seasons with the Buffs, went 69-72-71 for a 4-under-par total of 212. It was her third top-six finish in the CGA Women's Stroke Play since 2019. Last year, she was fourth in the event at her home course of Boulder Country Club.
"It feels really good," she said. "I've definitely competed in a lot of these. I came up short last year playing in the final group so it feels good to finally get one under my belt."
All told for the week, Webster posted 12 birdies, six bogeys and one double bogey. On the final hole on Thursday, with a one-stroke lead, she inadvertently flirted with trouble by hitting a driver off the tee. The ball stayed short of the water that fronts the green on the 18th hole, but not by a lot. But it was an "all's well that ends well" for Webster as she wedged to 15 feet and made a routine par for the one-stroke victory.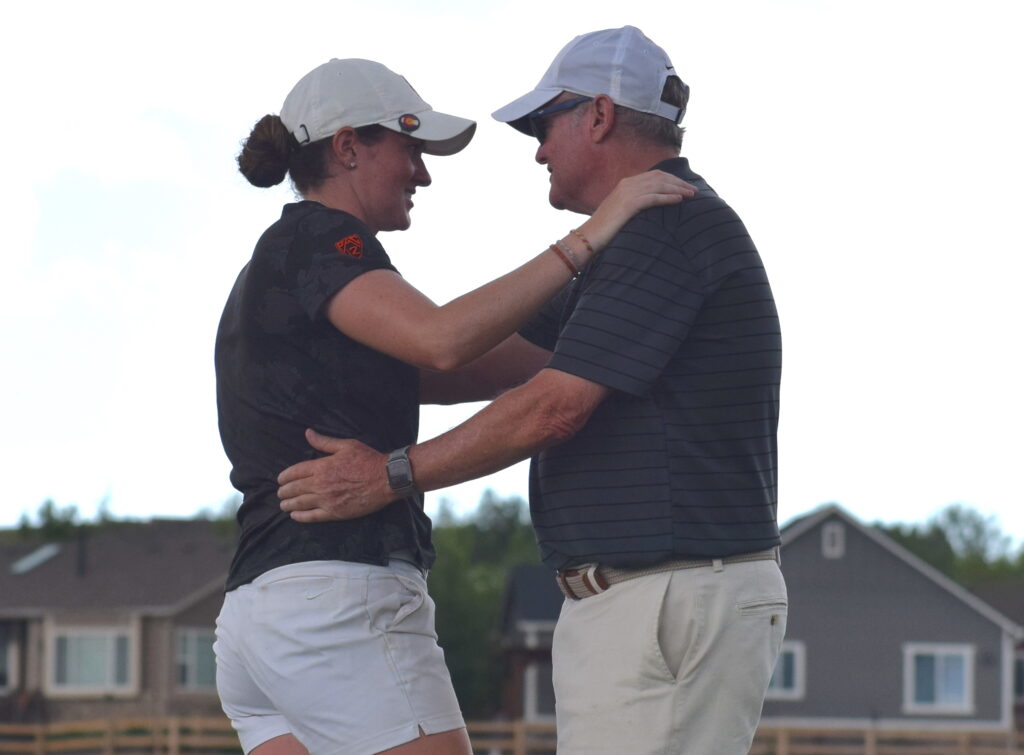 "Looking back on it, I probably should not have hit driver," she said with a smile. "I've been very accurate with my driver all week and it's the club I felt most comfortable with under that type of pressure. I did not take into account the adrenaline, I think, and I smashed it. It rolled down there perfectly. It's one of those where you're walking down the fairway, you think, 'Where is it, where is it?' In hindsight, good to know now. I probably should have hit 3-wood, but I'm glad I got away with it."
Devine closed with a Thursday-best 68 to finish second at 3-under 213. CU golfer Hailey Schalk, playing her home course, tied for third at 214 with U.S. Women's Amateur qualifier Charlotte Hillary of Cherry Hills Country Club. Schalk shot 70 on Thursday and Hillary 72.
As for Devine, she looks back fondly on the last four CGA women's majors as she owns three wins and a second place.
"It's been an incredible two summers for the Colorado Match and Stroke Play for me," the 21-year-old said. "Maybe I'll be back next year — we'll see what happens — but I'm happy to be out here. These tournaments are awesome.
"I'm proud of my play today, for sure. It's always easier to chase than to be chased. So I knew I had a little less pressure coming into the day. I could do what I could and see how the cookie crumbled. It didn't fall my way. I missed a couple of shots out there, but you can always say that. I'm happy with my game and how it's coming along."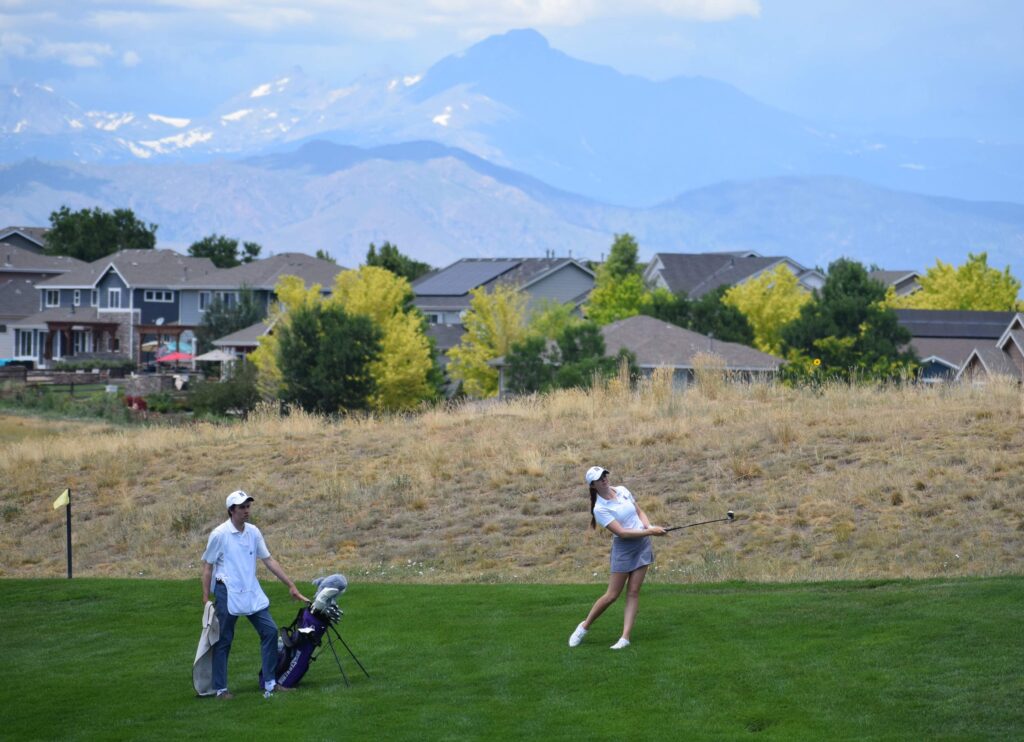 Meanwhile, while a fair number of the top competitors in this CGA Women's Stroke Play have aspirations of turning pro, Webster doesn't fall into that category. She'll play her final season of college golf at Oregon State in 2022-23, then plans to step back from competition, hopefully getting into the coaching scene.
"That's the plan unless something perfectly aligns or something crazy happens," she said. "I will be very happy with staying a step back from competitive golf next year. I'm hoping to start coaching."
Webster has already dabbled in the golf business, as in recent summers she's worked Junior Golf Alliance of Colorado-related events with the Colorado PGA and alongside the CGA.
In fact, that networking was somewhat apparent this week in the Women's Stroke Play as CGA staffer Brent Vasa caddied for Webster in round 1 and Colorado PGA staffer Scott Minta in rounds 2 and 3.
"I'm grateful they were able to help keep me calm," Webster said. "Scott was very clutch in keeping me calm."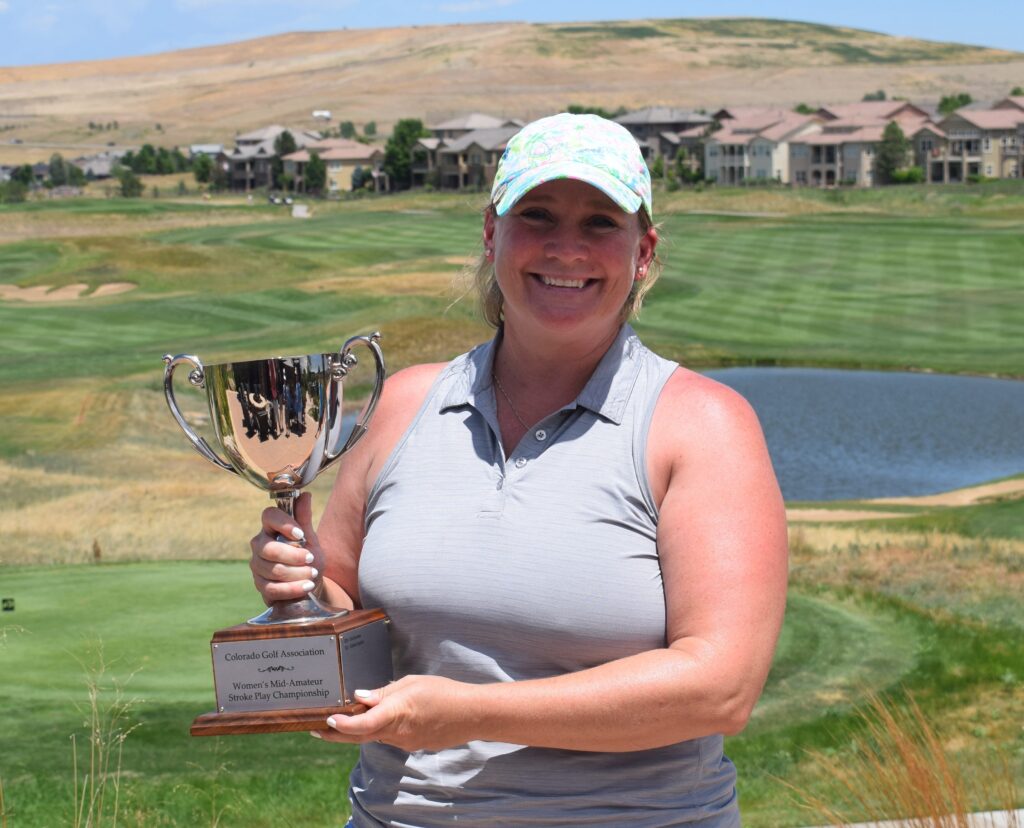 Erin Houtsma Easily Claims Another Mid-Am Title: The third annual CGA Women's Mid-Amateur Stroke Play was held at Colorado National concurrently with the open-age Women's Stroke Play. The title in the Mid-Am, limited to players 25 and older, went to former CU golfer Erin Houtsma for the second time in three years.
After winning the event by eight strokes in 2020, Houtsma prevailed by 10 this time around.
"It feels great," said Houtsma, a reinstated amateur who won the 2005 Colorado Women's Open. "Talking to my dad (and caddie, former CU golfer Steve Kerr) in preparation, it was really not about the winning or the losing, but staying in the process. We made this more a test of how strong I could be mentally through three days. I knew if I played well enough I'd have a lead, then the mental side becomes significantly more important. We talked a lot about that all three days."
The result was a 3-under-par total for 54 holes as Houtsma went 5 under the last two days. Houtsma's three-day total relative to par was seven better than when she won in 2020 at The Ranch Country Club.
Some of the difference may have been that Colorado National has long been the 42-year-old Houtsma's home course, though she resides in Denver. She estimates she's played hundreds of rounds at the facility.
It showed this week as Houstma shot rounds of 74-70-69 and had just three hole scores of worse than par (two bogeys and a double bogey) for the week. She sprinkled in seven birdies.
"I feel so comfortable out here," she said.
Houtsma, who twice has made match play at the U.S. Women's Mid-Amateur, particularly raved about Wednesday's 70, even though she shot even lower on Thursday.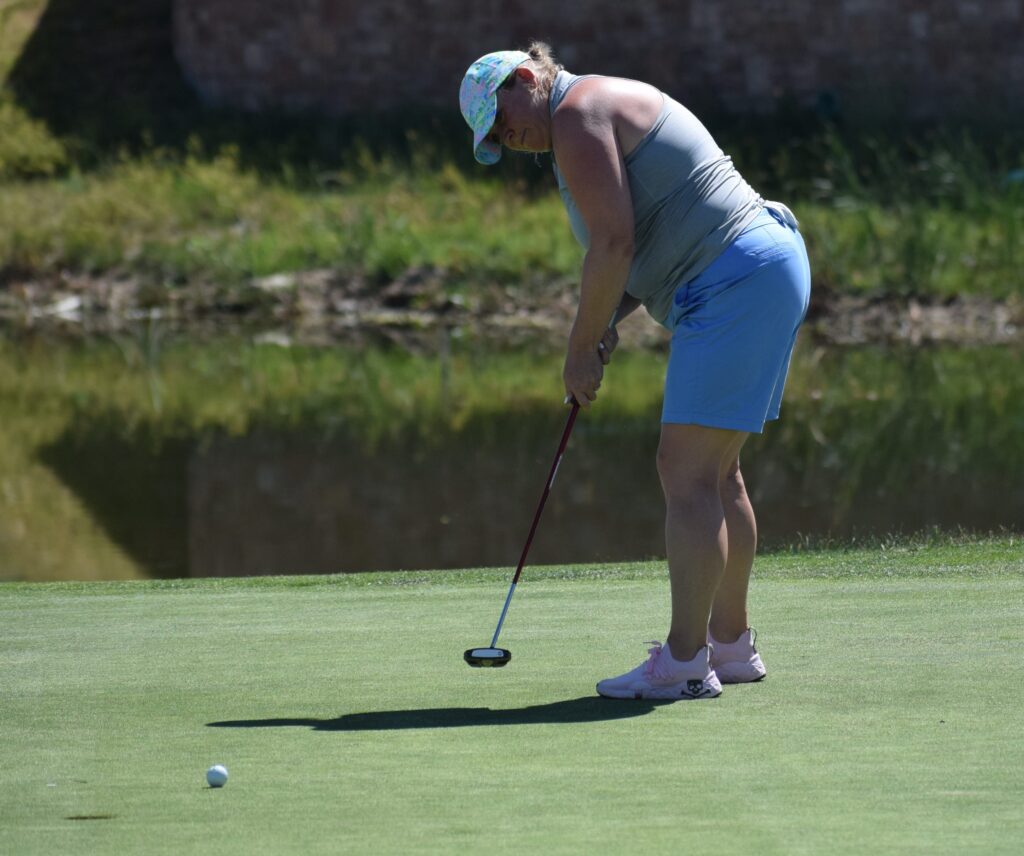 "Yesterday was probably one of my top five best tournament ball-striking rounds I've ever had," she said. "I hit the ball so good. I don't think I missed a fairway, I hit so many greens. I just hit it so, so well — and was so close to the hole so many times and had so many chances.
"I shot 70 and that's the worst I could have shot."
This week marked the third time the Women's Mid-Am Stroke Play has been decided by large margins. Besides Houtsma winning by eight and 10 strokes, 2021 champ Kris Franklin prevailed by 15.
Houtsma now has three CGA championship titles to her credit — two Mid-Am Stroke Plays and one Brassie team title with Schalk.
Finishing second on Thursday among the Mid-Ams was part-time Gunnison resident Marilyn Hardy, the 2020 CGA Women's Senior Stroke Play winner, who came in at 7-over-par 223 following a final-round 74. Colorado Golf Hall of Famer Kim Eaton was third at 232.
In the flighted divisions, Melissa Cooke of Murphy Creek Golf Course took home the gross title by one (81-83-77–241), while Alison O'Connor of Collindale Golf Course (67-74-77—218) and CGA junior member Ella Neuhauser (72-72-74–218) tied for net honors.
CLICK HERE to see photos from the week.
For all the scores from the CGA Women's Stroke Play and Women's Mid-Amateur Stroke Play, CLICK HERE.