Here's your inspiration to enter the CGA's Fall Fitness Finish

by Susan Fornoff
One night 30 years ago at Penn State, Suzie Frenchman started running. Her roommate had taken the phone call that shared terrible news: Suzie's high school boyfriend, playing football at Temple, had been paralyzed in an accident. He would not walk again.
Frenchman, now 50, ran that night and has been running races ever since. These days, she's also walking golf courses – sometimes two of them a day. "There's just not a day that I get up that I don't love, appreciate and have gratitude for my health, my fitness, my legs, the opportunity to be able to walk," she says. "It's really in my soul. People say, 'Why do you run every day?' Because I can. 'Why do you loop this golf course every day?' Because I can. You're walking these gorgeous, sun-filled fairways, and you have the legs to do it."
She's the poster child of the CGA's Fall Fitness Finish, where CGA members can win fabulous prizes for doing what comes so naturally to Suzie Frenchman: walking gorgeous fairways. After seven years away from the game, she had just started playing golf again last summer after her daughter decided to stay in San Diego, where she's a college senior. Coincidentally, that September CGA Communications Manager Jill Marks launched the new challenge to start on the first day of fall and end with the last day of posting in Colorado, always November 15.
"The idea was to encourage members of the CGA to post their golf scores and compete with other golfers to see who walks the most steps while playing," says Marks.
Colorado golfers know this period as the postseason, a time when leagues are mostly finished, kids have gone back to their schools and the weather can be naughty or nice. Typically, we don't post as many scores as in summer.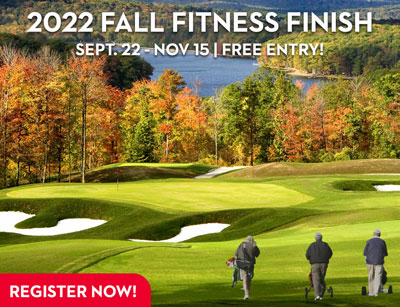 In the Fall Fitness Finish, which begins this year on Thursday, September 22, competitors receive 10,000 steps for every walking 18 posted and 5,000 steps for every walking nine. Of course, even riders get steps in, so cart golfers are given 5,000 steps for 18 holes and 2,500 for nine holes. (If you use a fitness tracker, you know that walking most golf courses requires closer to 12,000 or 13,000 steps, putting you well over the 10K that constitutes a healthy lifestyle.)
Last year's inaugural FFF attracted 355 CGA members, 31 of them riders, 203 both walking and riding, and 121 strictly walking. The walkers tallied more than 14 million steps! Frenchman snagged the nifty first prize – including Estes Park golf and a night at the Stanley Hotel – with 560,000 steps, nearly 100,000 more than the runner-up. That equates to 56 18-hole rounds in 55 days!
And, no, Suzie Frenchman is not retired. She's fractional CFO for a private aviation company – where she generally puts in her time in the evening – and does financial consulting for various clients.
"I do work hard, but fitness is my priority," she says. "I almost can't concentrate unless I started out the day with a run, or with golf, or with both. Exercising from the hours of 6 to 10 is the biggest priority in my life."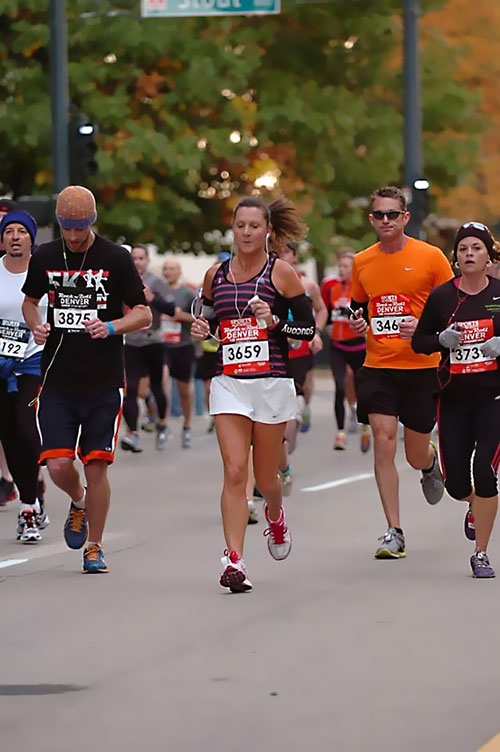 She likes to play early in the morning with some members of the senior men's club of South Suburban. She's a member of the South Suburban (Tuesdays), Saddle Rock (Wednesdays), Littleton (Thursdays) and Links at Highlands Ranch (Saturdays) women's clubs. She also runs and does yoga and Pilates. And many days, weather permitting, she'll shower, change clothes and shoes, and go out for another nine or 18.
It wasn't easy getting her on the phone for an interview.
"A lot of times I'll play league in the morning and then go over to South Suburban in the afternoon, because I just love that course," she says. "It's a hoof; there are some big hills. But it's laid out so well for walking."
Walking helps train Frenchman for her races, including half marathons. When she ran her personal best (1:42), her weekly training regimen consisted of running 40 miles and walking 40 miles. "I think walking," she says, "is the best form of exercise for women, by far."
"A guy from Fort Collins came up to me a couple weeks ago and said, 'My buddy tried to beat you and he just couldn't keep up,'" Frenchman says. "I told him it'll be even harder this year. I'm going to try to get to 650,000 steps, maybe even 700,000."
Good news for the rest of us: Prizes will be awarded to first, second and third places, so stay tuned to learn more and sign up today!
Veteran journalist Susan Fornoff has written about golf for publications including the San Francisco Chronicle, ColoradoBiz magazine and her own GottaGoGolf.com. She became a CGA member when she moved from Oakland, CA, to Littleton in 2016, and ghost-writes as "Molly McMulligan," the CGA's on-course consultant on golf for fun.