Colorado Golf Hall of Famer Kim Eaton completes sweep of 2022 CGA women's senior majors by winning Senior Stroke Play for a record-tying 6th time; overall, she now owns 48 state titles in Colorado, Arizona and California
By Gary Baines – 9/1/2022
It took a while for the floodgates to reopen for Kim Eaton, but now it's back to being a veritable waterfall of CGA championship victories for the Colorado Golf Hall of Famer.
After going four years without a statewide win in Colorado, Eaton has racked up three in the last six weeks alone, with the latest coming on Thursday in the 40th CGA Women's Senior Stroke Play at City Park Golf Course in Denver.
With this week's victory, Eaton:
— Tied Lynn Larson's record for most wins in the Women's Senior Stroke Play, with six. Eaton previously prevailed in 2009, '10, '12, '13 and '17.
— Pushed her record total for CGA/CWGA women's championship victories to 28.
— Swept the women's senior major titles — the Senior Match Play and Senior Stroke Play — in a calendar year for the fourth time (2010, '13, '17 and '22).
"I feel great about that," said Eaton, who was born in Greeley and lived much of her life in the area but now resides in Mesa, Ariz. "It's interesting. I've played well in state events — both here and in Arizona so far — but I've played terrible in national events (this year).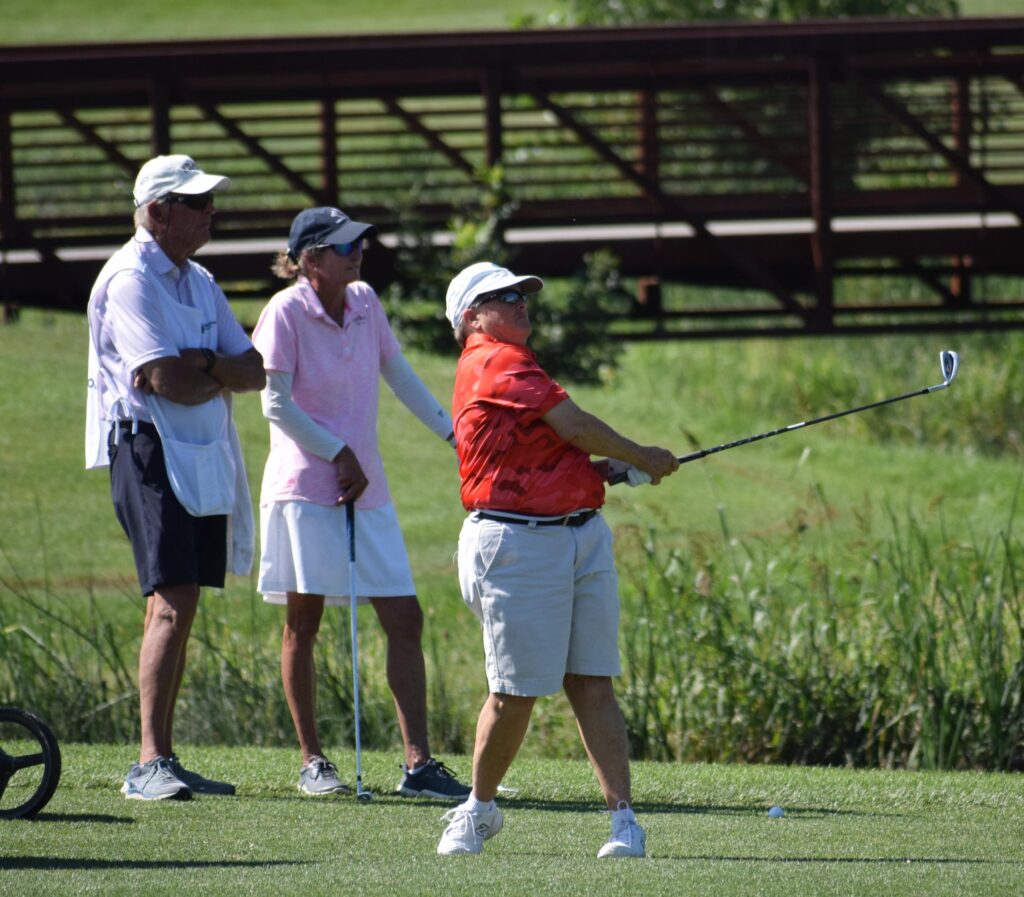 "I just kind of struggled a little today, but that's OK. A win's a win."
The 63-year-old, formerly both a golf professional and a police officer, made things more interesting down the stretch than she would have liked on Thursday. She was even par for the day through 15 holes and held a four-stroke lead overall, but bogeys on each of the last three holes left her with a one-shot victory. She three-putted both 16 and 17, and a chunked approach on 18 led to her needing to make a 2 1/2-foot bogey putt for the win.
"I'm happy but if I would to have gone to a playoff, I wouldn't have been happy because I had a four-shot lead with three holes to go," Eaton said. "That's just awful. … I have to tell you: I was a little nervous on that little one (on 18) because I've been known to (miss them on occasion). I feel like since I'm getting older I get a little bit more nervous over the shorter putts."
But that one went in, so Eaton's name will go on the Women's Senior Stroke Play trophy for the sixth time. Back-to-back rounds of 3-over-par 73 at City Park left her with a 6-over 146 total, one better than 2020 champion Marilyn Hardy of Dos Rios Golf Club and Stacey Arnold of West Woods Golf Club.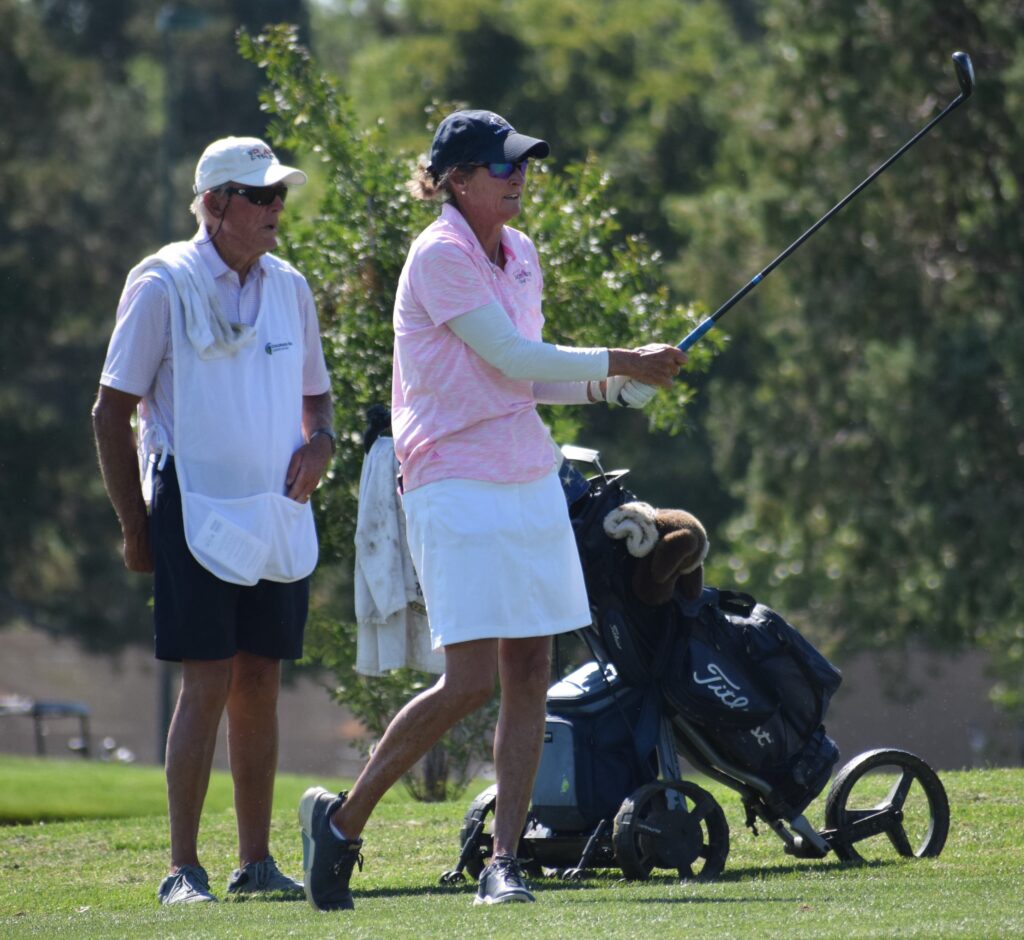 Hardy, who has competed in 44 USGA championships and advanced to the round of 32 at this year's U.S. Senior Women's Amateur, bogeyed three of her first five holes on Thursday, but went 1 under from then on, making a 20-foot birdie on No. 15.
"I played really well after the fifth hole; I got off to a poor start," Hardy said. "That's why I wasn't competitive until the end."
Thursday marked the 60-year-old Hardy's third runner-up finish in CGA women's championships this year as she was also second to Eaton in the Senior Match Play and placed a distant second to Erin Houtsma in the Mid-Amateur Stroke Play.
Meanwhile, Arnold, who finished fourth in this event in 2020 and third last year, moved up another spot on the leaderboard this time.
"Each year I guess I've done better," the 53-year-old said. "Every year climbing the ladder, so to speak."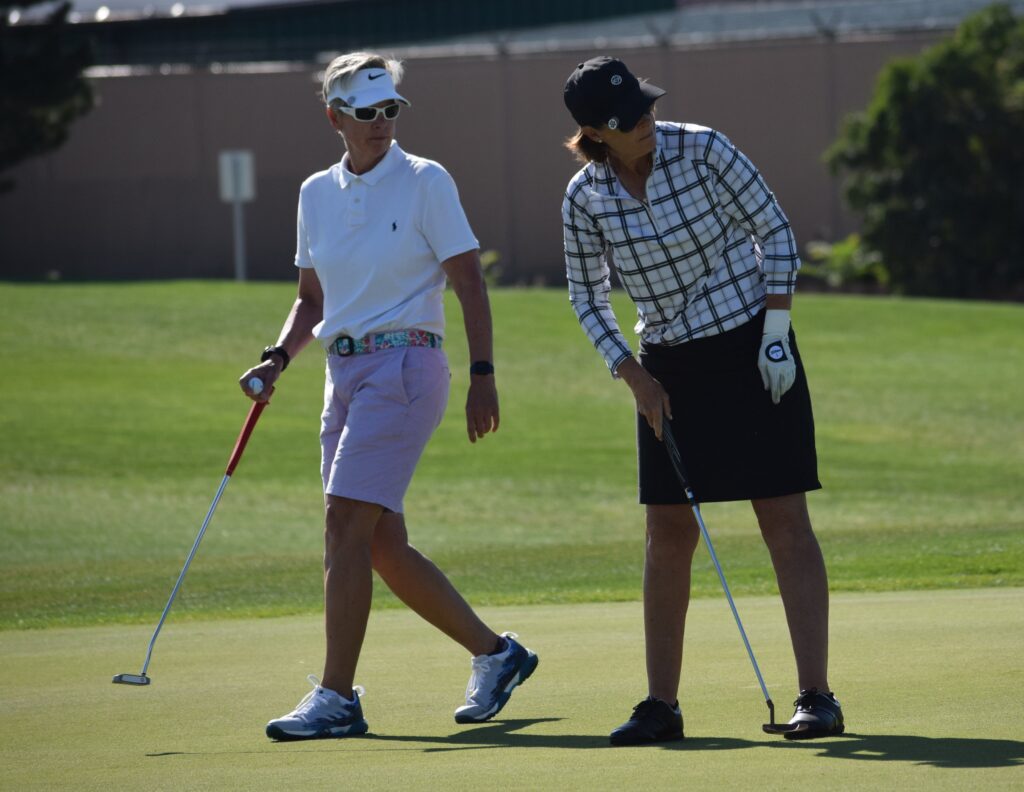 This time, Arnold matched Hardy for the low round of the day in the championship flight (2-over 72) and joined her at 7-over 147 overall. Arnold carded one birdie and three bogeys on Friday.
"On the front nine I had quite a few putts that I felt like could have fallen in," Arnold said. "I could have maybe gotten on a roll there. I hit the ball better today than yesterday. But my putts were right on the edge — I don't know how they didn't go in. I had some good opportunities.
"I don't play very much — this is my only (statewide championship) this year — so it's nice to compete with the big players who play all the time. I was happy (with the finish), but you always want to do better."
Kathy Malpass of Hiwan Golf Club, a two-time winner of the CGA Women's Senior Match Play, placed fourth on Friday, checking in at 12-over 152 after closing with a 77.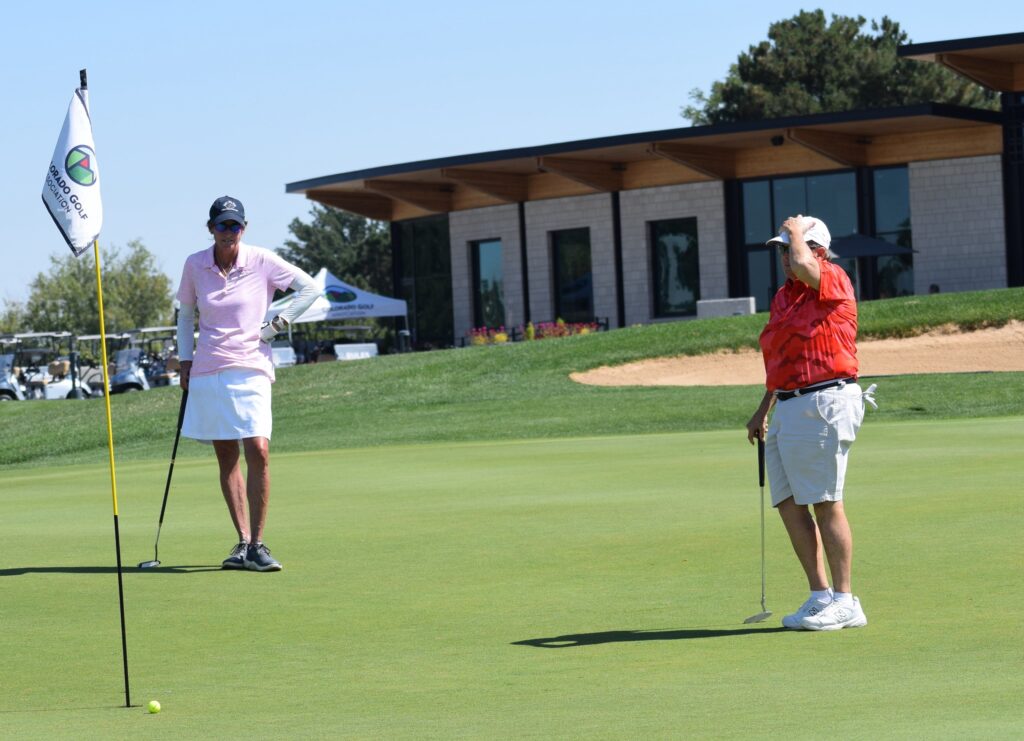 As for Eaton, she made two birdies — a 15-footer on No. 8 and a 2 1/2-footer on No. 13 — to go along with five bogeys. But thanks to a solid start, she had a multiple-shot lead for much of Thursday until her bogeys on 16, 17 and 18.
Eaton now has — by her count — 48 state championships to her credit: 28 in Colorado, 19 in Arizona and one in California. When asked if getting to 50 is something she's aiming for, she said, "I guess that's a good goal. I've never really thought about it."
She has a chance to get one win closer to the big 5-0 next week as she'll tee it up in the Arizona Golf Association's Women's State Senior Stroke Play in Rio Verde.

CGA Women's Senior Stroke Play
At Par-70 City Park GC in Denver
FLIGHT WINNERS
Championship Flight
Gross — Kim Eaton, Northern Colorado e-Club 73-73–146
Net — Stacey Arnold, West Woods GC 72-69–141
First Flight
Gross — Margaret Stanley-Gonzales, Antler Creek GC 79-72–151
Net — Jill Kirkpatrick, Foothills GC 72-71–143
Second Flight
Gross — Karen Storie, Murphy Creek GC 83-82–165
Net — Kimberley Rauh, Saddle Rock GC 73-73—146
Third Flight
Gross — Den Garcia, Broken Tee GC 86-84–170
Net — Annie Fox, Indian Peaks GC 71-72–143
Fourth Flight
Gross — Michelle Stanek, Homestead 87-87–174
Net — Kim Buck, Fossil Trace GC 75-74–149
Fifth Flight
Gross — Diane Max-Dechant, LPGA Amateur Golf Association 89-95–184
Net — Leticia Overholt, Fossil Trace GC 74-69–143
Rose Rimanchi, Springhill GC 76-67—143
MASTERS DIVISION (70 and older)
Gross — Jill Kirkpatrick, Foothills GC 78-77–155
Net — Carmen Barber, City Park GC 72-72–144
For all the scores from the Women's Senior Stroke Play, CLICK HERE.