Colorado Golf Hall of Famers Janet Moore and Kim Eaton add to their long list of USGA championships, while Louise Lyle of Colorado Springs qualifies for her first
By Gary Baines – 8/4/2021
While two of the golfers who qualified on Wednesday at CommonGround Golf Course for the U.S. Senior Women's Amateur were eminently predictable, one was more — to quote Bill Murray's character in "Caddyshack" — a Cinderella story.
Janet Moore of Centennial and Kim Eaton of Mesa, Ariz., are both Colorado Golf Hall of Fame inductees. Between them, they've now qualified for 19 Senior Women's Amateurs and 65 USGA championship overall. So it was no surprise that they finished 1-2 at CommonGround.
But along with those acclaimed veterans came a USGA newcomer. Not only had Louise Lyle of Colorado Springs never qualified for the U.S. Senior Women's Amateur before, but she'd never advanced to any USGA championship.
"I didn't feel like I had a chance," Lyle said of her prospects on Wednesday. "I wasn't stressing (over) it. It was like, 'I'm not going to qualify; don't worry about it.'"
But lo and behold, the retired Air Force Lieutenant Colonel made the grade by finishing third out of 16 competitors. So she, along with Moore and Eaton, are headed the the U.S. Senior Women's Amateur, set for Sept. 10-15 in Point Clear, Ala.
It was not only a notable personal accomplishment for Lyle, but an emotional one too given what she's going through.
"I wasn't expecting to go," the 55-year-old said. "It's very good for me because I'm putting my mother (Jan Lyle) into an assisted living place tomorrow. So this is going to mean a lot to her.
"I've never qualified for anything like this before. I literally just came to this because I was trying to get a bit of a break before I did the whole move of my mother. I was trying to have a good time before the stress hits. But now I get to go back and give her something she will really be happy about. She'll be 93 Aug. 9 so it's an early birthday present for her. It gives her something to look forward to and be happy about. So I'm happy about that."
Meanwhile, Wednesday marked more qualifying perfection for Moore and Eaton when it comes to the U.S. Senior Women's Am. Both have competed in every Senior Women's Am that's been played since they turned 50. Moore has now gone 7-for-7 in qualifying for the event, while Eaton is also 7-for-7 in qualifying, plus has been exempt five other times.
Eaton, who turned 62 on Tuesday, has been a quarterfinalist four times in the national championship and has advanced to match play in all 11 of her previous Senior Women's Am. And Moore has made the round of 32 in the event each of the last two years it's been played (2018 and '19 as the 2020 champion was canceled due to Covid-19 safety concerns).
On Wednesday, Moore earned medalist honors with a 1-under-par 71, marking her second time as a USGA medalist in the last month as she won the U.S. Senior Women's Open qualifier last month at City Park Golf Course.
"I'm very, very happy," said Moore, 57. "I love those little medalist medals.
"It means a lot (to keep her Senior Women's Am qualifying record intact). Kris Franklin (the CGA Women's Senior Player of the Year the past three years) told me once you hit seniors, you start to feel old. But then she reminded me that as seniors, we're in our prime. I thought that's a good way to look at it. I may be getting older, but as a senior I'm still competitive. So I try to approach it that way."
Meanwhile, Eaton was 1 under par through 11 holes Wednesday before finishing at 75, good for second place.
"It's kind of my goal" to annually advance to the Senior Women's Am, Eaton said. "I told myself the first time I don't qualify to go or don't qualify for match play, then I may be done. But the next two years I really want to play because next year it's in Alaska, and in 2023 it's in Scottsdale (not far from where she now resides). That's kind of a no-brainer."
Lyle gained the third and final berth on Wednesday by shooting a 78. But it wasn't easy as the player from Patty Jewett Golf Course went 4 over par in a stretch of three holes from No. 15 to 17. And on the par-5 18th, needing a par to avoid a playoff — but not knowing that was the case — Lyle hit her second shot behind some trees and left her third in the rough left of the green. But a stellar pitch rolled a foot from the cup and she made her par to earn the third berth in regulation.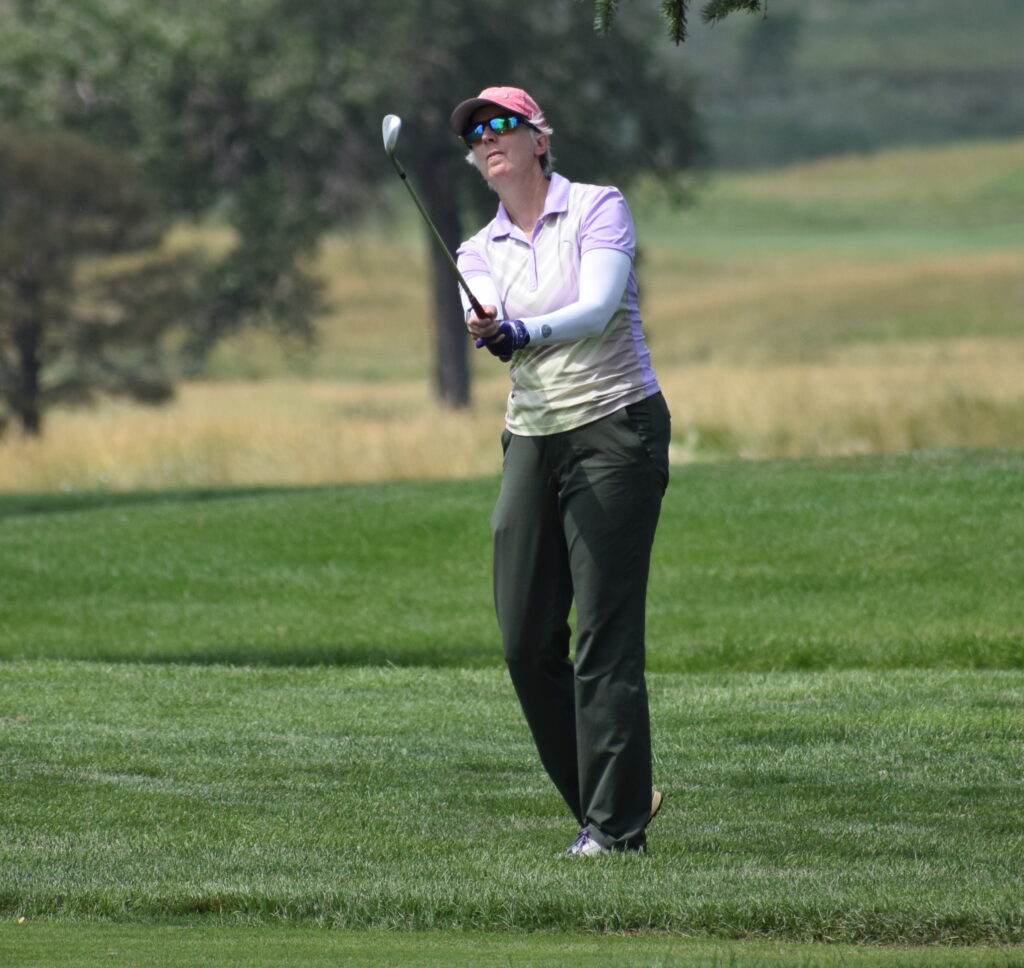 On 18, " I thought I was out of it. I had no idea (what I needed), which is just as well," Lyle said.
"I had had a couple of bad holes. I figured I had to get an eagle on the last hole to have a chance. I was in the fairway (off the tee). I hit a beautiful 4 hybrid, but aimed it too far left. Then I was like, 'Now, I don't have to worry about it.'"
But the 78 she shot was indeed good enough. And to a large extent, she attributed her success on Wednesday to a chance putting lesson given to her a couple of weeks ago by Australian Sue Wooster, the runner-up in the last two U.S. Senior Women's Ams. Wooster had beaten Lyle in the event — en route to the title — and had volunteered to give Lyle some tips after the match.
"She got me back into putting by feel, which I haven't done for about eight years," Lyle said. "So for two weeks I've been working on that — trying to feel the distance. And boy, I was putting the best I've ever putted today. I was rolling in long putts. I had four or five lip-outs from long distance. I was getting very close to holing every putt from distance. It was just insane.
"(Wooster) had me visualize the line of the putt and the ball rolling into the cup. I did that and it worked, which was amazing. It worked for the whole round today . Shocking. I was very surprised. I was very thankful that she took the time out to (help me)."
Lyle made two birdies on Wednesday — a 30-foot chip-in on No. 14 and a 25-foot putt on No. 2 — in addition to saving numerous pars from the 10-plus-foot range.
As for Moore, she noted that she's always had good vibes when playing at CommonGround. After all, she qualified for the inaugural U.S. Senior Women's Open at the course in 2018. Her daughter Sarah's Arapahoe team won the 5A girls state high school title at CommonGround in 2010. And Sarah and son Steven threw Janet and husband Kent a 30th-anniversary party at CommonGround in 2019.
"I truly love it here," Janet Moore said.
Moore, a member at Cherry Hills Country Club, made three birdies and two bogeys en route to her 71 on Wednesday. And, had she not missed birdie putts inside of 5 feet on both No. 16 and 17, she would have finished in the 60s.
Moore recently returned home after competing last week in the U.S. Senior Women's Open that Annika Sorenstam won. Though Moore missed the 36-hole cut, she very much enjoyed the experience — including getting a picture taken with Sorenstam, and playing a practice round with the two most recent U.S. Senior Women's Amateur champions: Lara Tennant (winner in 2018 and '19) and Judith Kyrinis (2017). Tennant was a University of Arizona teammate of Moore's.
"It was really fun to see their game and see how they play and how consistent they are," Moore noted. "They're so consistent and they have a strong mental game, plus they have the confidence in knowing they're one of the best in the country. I think that helps. It's good to learn when you play with them. My goal is to always get better and do the best I can."
While the Senior Women's Am will be Moore's 32nd career USGA championship, it's No. 33 for Eaton.
On Wednesday, Eaton was bogey-free through 11 holes and finished with one birdie, two bogeys and a double bogey.
Eaton has gone to the round of 64 in the past two U.S. Senior Women's Ams, but made it to the quarterfinals as recently as 2016.
Marilyn Hardy, a part-time resident of the Gunnison area, didn't  have to qualify this year as she's exempt into the Senior Women's Am by virtue of being ranked in the top 30 in the world among women's senior amateurs. She currently sits at No. 22.

U.S. Senior Women's Amateur Qualifying
At Par-72 CommonGround GC in Aurora
ADVANCE TO NATIONAL CHAMPIONSHIP
Janet Moore, Centennial 71
Kim Eaton, Mesa, Ariz. 75
Louise Lyle, Colorado Springs 78
ALTERNATES (In Order)
Stacey Arnold, Westminster 79
Kathleen Johnson, Broomfield 80
For all the scores from CommonGround, CLICK HERE.