Macdonald, Prater set to square off for title in 120th CGA Match Play
By Gary Baines – 6/18/2020
Colin Prater of Colorado Springs will attempt to become one of the oldest winners of the CGA Match Play in the 21st century, and he'll try to join the ranks of players who have won both of the CGA's major championships.
Meanwhile, University of Colorado golfer Ross Macdonald will compete in his second CGA Match Play final in three years, and hopes this one yields a championship.
In other words, there will be plenty at stake on Friday at Blackstone Country Club in southeast Aurora when the two tee it up for a scheduled 36-hole title match to conclude the 120th Match Play.
On a Thursday that saw 2018 champion AJ Ott of Ptarmigan Country Club lose when he missed a 3-foot par putt on the 18th hole of a quarterfinal match, Prater and Macdonald won twice for the second straight day to keep their hopes alive for the title in Colorado's oldest continuously-held statewide golf championship. Both prevailed 2-up in their semifinals as their opponents conceded them very similar birdie attempts — Prater's from 6 feet and Macdonald's from inside 5.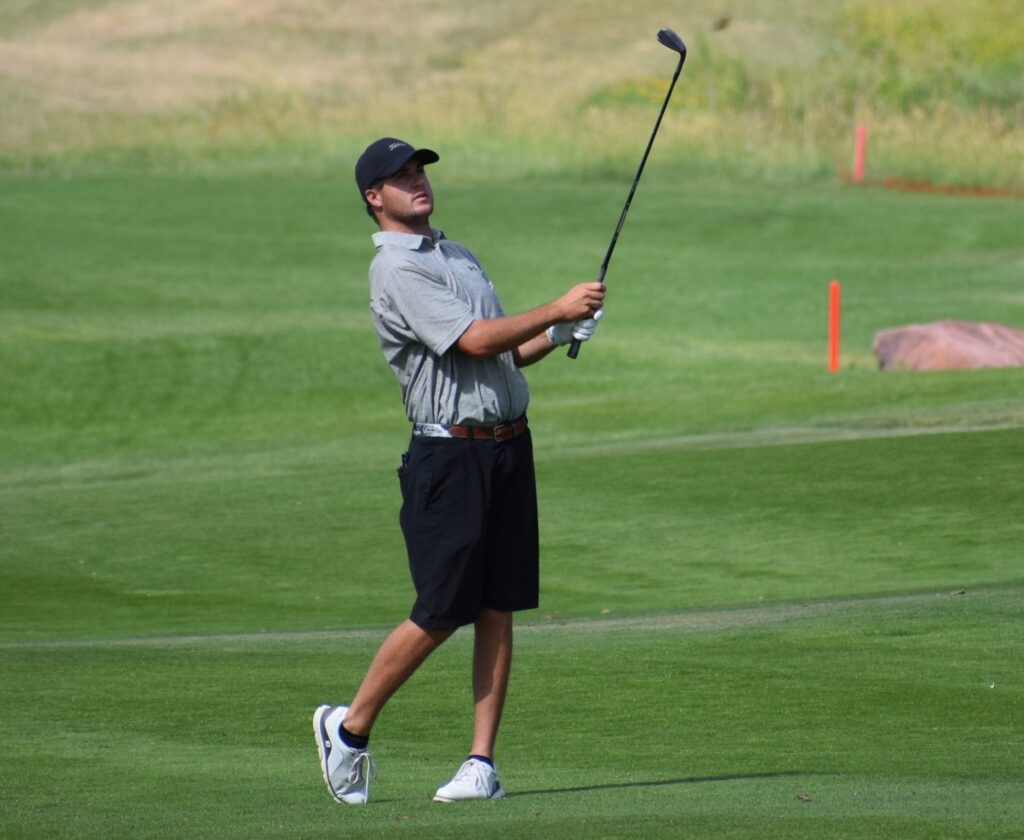 Prater, the 2016 CGA Amateur champion who plays out of The Broadmoor Golf Club in Colorado Springs, defeated Charles Sahlman of Cherry Creek Country Club 4 and 3 in the quarterfinals and CU golfer Jack Hughes of Aspen Golf eClub 2 up in the semis. Prater has been formidable all week, earning co-medalist honors in Monday's stroke-play qualifying, then winning five matches so far.
"I don't know if I have the mentality anymore, but I used to have the mentality that I was one of the best players in the state, that I feel like I can hang with anybody, that I feel like I can play golf with anybody in the state," Prater said Thursday afternoon. "That's amateur, that's professional, that's anybody. I feel like tomorrow I have to have confidence in myself and play like I am the best player in the state."
Macdonald, twice a winner of both the Colorado Junior Amateur and the CGA Western Chapter, and a runner-up in the 2018 Pac-12 Conference Championship, took down 2019 Match Play finalist Cal McCoy of Bear Creek Golf Club and the University of Denver 3 and 2 in Thursday's quarters. Then he fended off 48-year-old Michael Harrington of Garden of the Gods Club in the semis, 2 up. Macdonald played the final nine hole of the semifinals in 4 under par.
"I'm a pretty smart golfer," Macdonald said when asked about his success in CGA championships. "I like to hit fairways and greens. I know if I minimize bogeys — especially on a course like this when it gets windy and it keeps getting firmer and firmer every day — it's pretty hard to beat."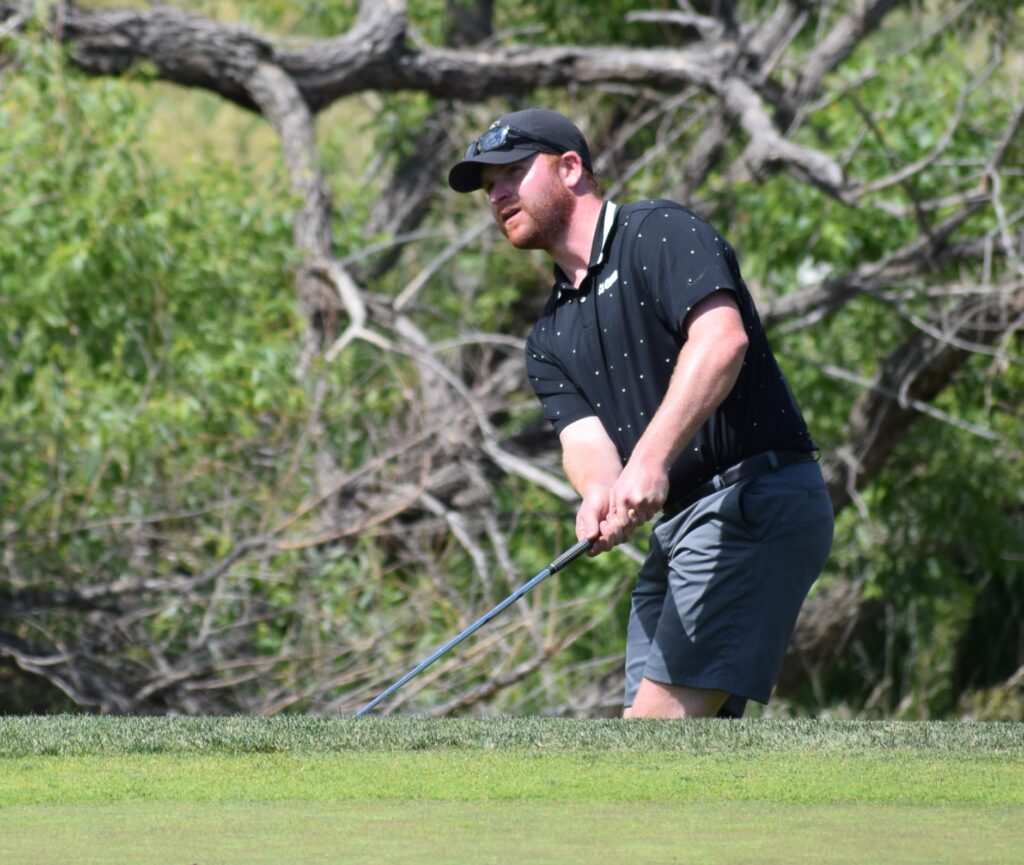 The Match Play marks the first tournament in months for many of the competitors this week. Macdonald was in his fifth year as a CU golfer when the season was halted for good in March due to safety concerns related to Covid-19. (The 23-year-old from the Country Club at Castle Pines will return for a sixth year for the Buffs — while pursuing a Masters degree — as the NCAA allowed for that opportunity under the circumstances.)
Meanwhile, Prater taught science this past year at Doherty High School in Colorado Springs and was the girls golf head coach — though his team didn't play a tournament this spring because of the coronavirus situation.
But both Prater and Macdonald have been sharp this week, and have overcome some taxing days as Wednesday, Thursday and Friday all feature two rounds — all while walking a course that is very hilly in places.
The fatigue "is not so much physical as it it mental. It's a mental grind," said Prater, a former college golfer at CU-Colorado Springs. "You've got to be strong mentally to focus on every shot and execute every shot and not make any silly mistakes. For the most part I've done a pretty good job of that this week."
Said Macdonald: Weariness "definitely sets in, especially with the heat this week and there's no cover."
Macdonald carried his own clubs from Monday through the first match on Thursday, then brought his dad in to caddie. Prater has carried his bag all week and plans to do so for Friday's final.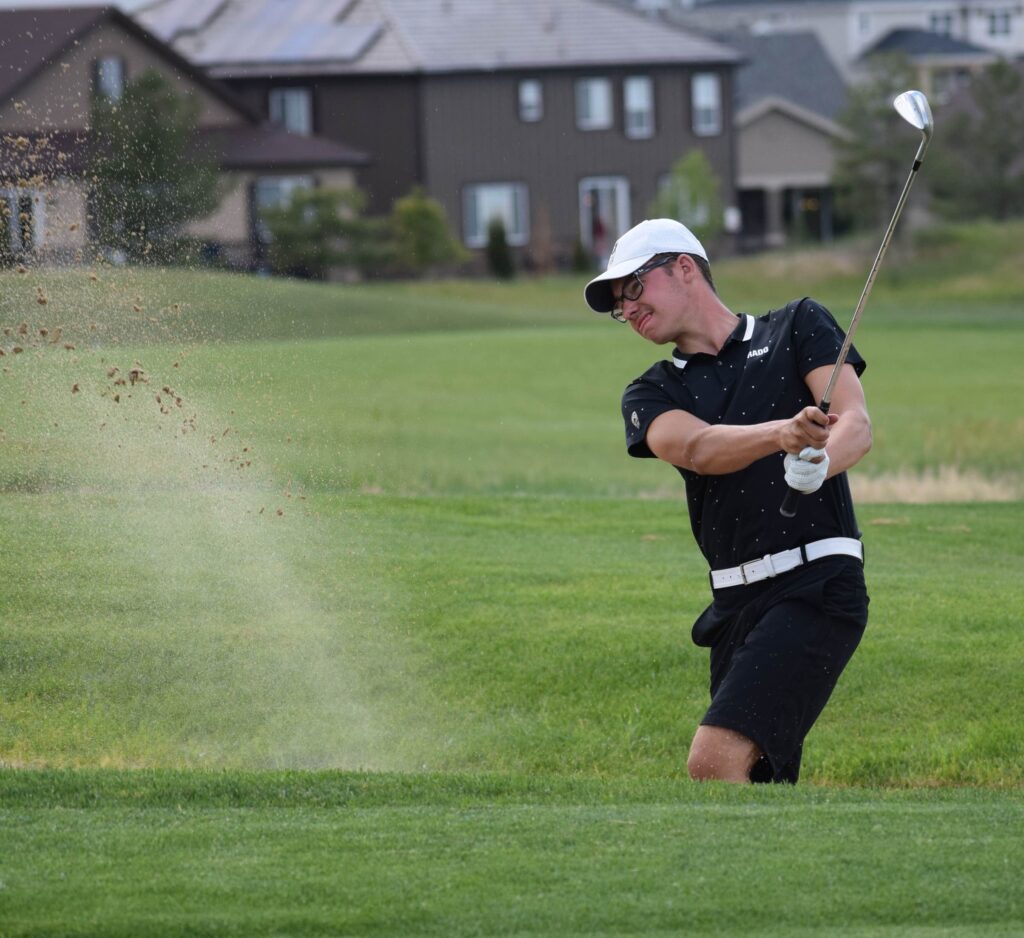 In Thursday's semifinals, Prater never trailed against Hughes, but a three-putt par on No. 17 — one of several three-jacks for Prater on Thursday — allowed the match to go to the 18th hole. But after Hughes pushed his approach shot into the sand and failed to hole his bunker shot, he conceded Prater's 6-foot birdie attempt. It was Prater's fifth birdie of the match.
"This was kind of my goal this summer: 'I've never won the match play. Let's see if we can go win it,'" said Prater, who qualified for last year's U.S. Amateur. "It would mean the world. I have so much fun out here trying to compete with these younger guys now that I'm getting up there (in age)."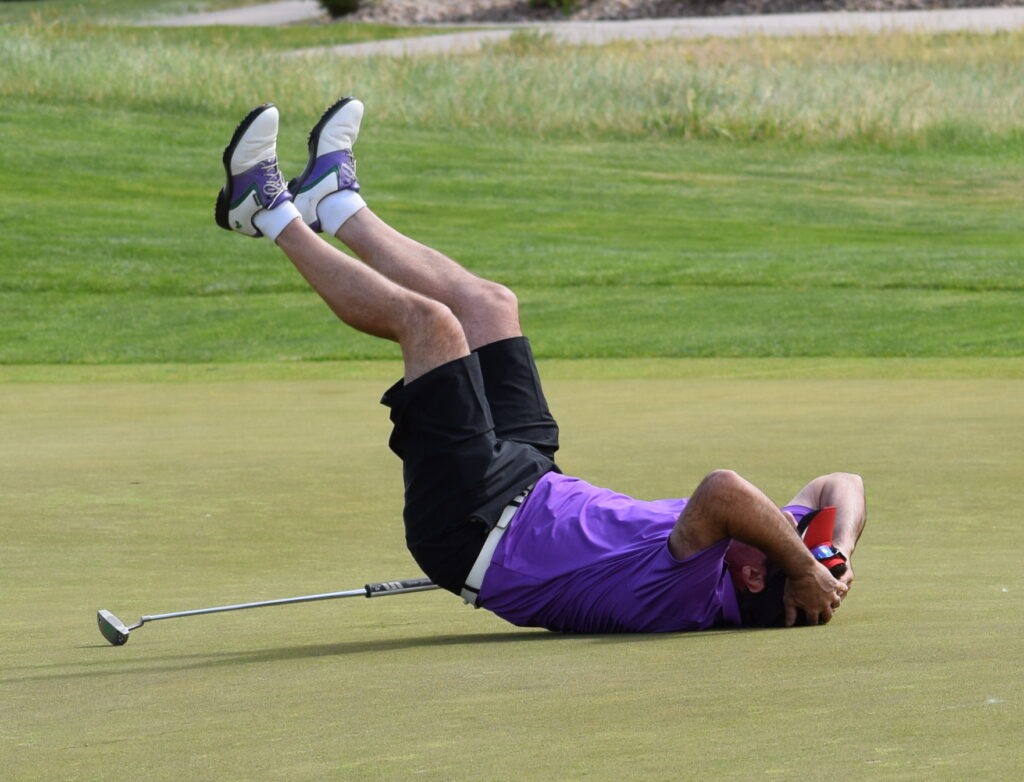 In the other semi, Harrington was 2 up after four holes following a couple of early birdies, but Macdonald won three holes in a row mid-round (with a par and two birdies) to take a lead he wouldn't relinquish. Still, Harrington birdied two of his last six holes, and his birdie try on No. 18 hit the flagstick dead-on and ricocheted 6 inches back toward him. And with Macdonald less than 5 feet away for birdie, the putt was conceded.
"It feels good to go back" to the 36-hole Match Play finals after losing 9 and 8 to Ott in 2018, Macdonald said. "My game has felt pretty good lately. You get those nervous feelings when you're going into a tournament for the first time in a while, but all week I've been hitting it pretty well and minimizing mistakes. To get all the way to the finals is a great feeling.
"I guess when you keep knocking on the door (by being in contention), you're going to blow through it eventually. I just try to keep putting myself in those positions. That's all you can do."
CGA Match Play
At Blackstone CC in Aurora
THURSDAY'S QUARTERFINALS
Michael Harrington, Garden of the Gods Club, def. Austin Harman, Bear Creek GC, 4 and 2
Ross Macdonald, CC at Castle Pines, def. Cal McCoy, Bear Creek GC, 3 and 2
Colin Prater, The Broadmoor GC, def. Charles Sahlman, Cherry Creek CC, 4 and 3
Jack Hughes, Aspen Golf eClub, def. AJ Ott, Ptarmigan CC, 1 up
THURSDAY'S SEMIFINALS
Ross Macdonald, CC at Castle Pines, def. Michael Harrington, Garden of the Gods Club, 2 up
Colin Prater, The Broadmoor GC, def. Jack Hughes, Aspen Golf eClub, 2 up
FRIDAY'S SCHEDULED 36-HOLE FINAL
Ross Macdonald, CC at Castle Pines. vs. Colin Prater, The Broadmoor GC, 7 a.m.

For the match-play bracket and all the results, CLICK HERE.