At 25, Colorado Springs' Colin Prater completes career sweep of CGA majors by capturing title in 120th Match Play
By Gary Baines – 6/19/2020
Colorado Springs resident Colin Prater joined some elite company in more ways than one on Friday.
The player from The Broadmoor Golf Club became just the third mid-amateur (age 25 or older) in the 21st century to win the CGA Match Play, a championship typically dominated by college golfers. Previously accomplishing that feat were Nick Nosewicz (2015) and Steve Irwin (2004).
And Prater was just the fifth player since 1990 to win both CGA major championships — the Amateur and the Match Play — joining Chris Korte, David Oraee, Steve Ziegler and Pat Grady. Prater captured the CGA Amateur title in 2016 at Boulder Country Club.
In addition, the 25-year-old scored one of the most lopsided victories in the recent history of scheduled 36-hole CGA Match Play finals with his 8-and-7 win Friday over Ross Macdonald of the Country Club of Castle Pines and the University of Colorado at Blackstone Country Club in southeast Aurora. The only bigger winning margins in the title match since 1990 were by AJ Ott in 2018 (9 and 8) and Zen Brown in 2007 (10 and 9).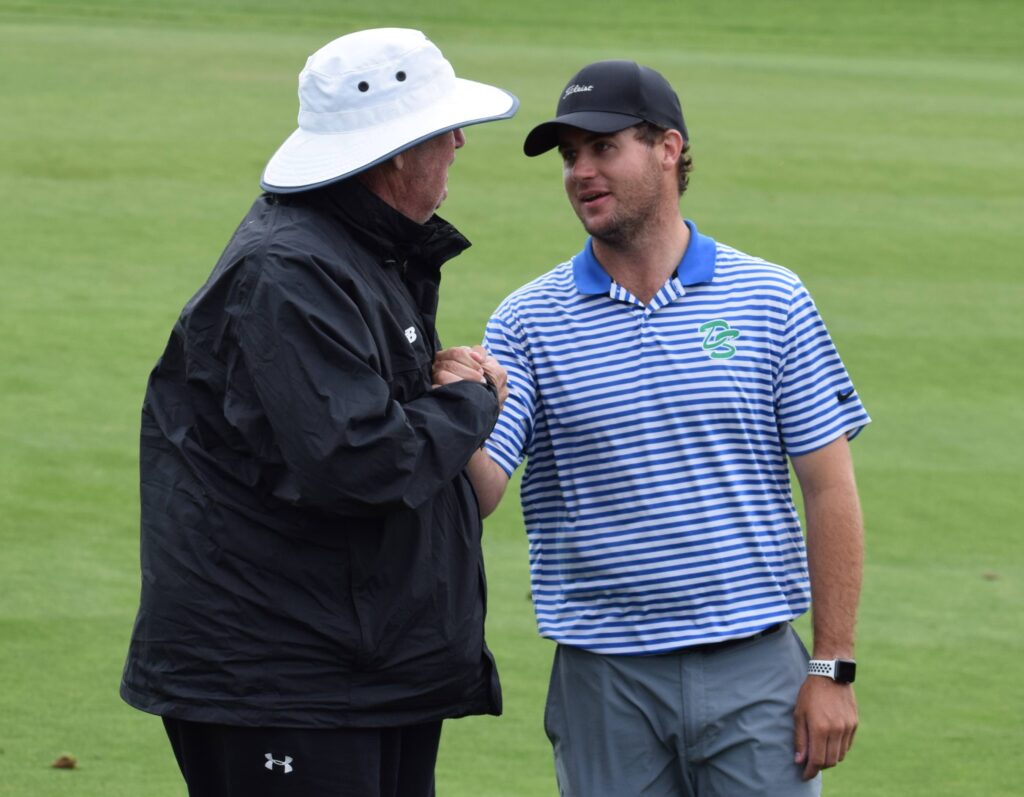 All in all, it made for a very satisfying week for Prater, a Doherty High School science teacher and girls golf coach.
"That's wicked cool," Prater said of the accomplishments. "No matter what it is, it's cool to win it. I'm super honored and super lucky to have been able to play forever. It's kind of goofy that I never won this event when I was still playing in college (at the University of Colorado-Colorado Springs). I had to wait until I got out of college and had a real full-time job in order to actually win it."
Prater has accomplished plenty in golf in the last year alone. Last year, he qualified for his second U.S. Amateur and earned a 3-0 record at his home course (The Broadmoor) in helping the CGA Amateurs defeat the Colorado PGA Professionals in the Colorado Cup Matches.
But Friday's victory was particularly satisfying — perhaps the most satisfying of his career, even though the 2016 CGA Amateur is right up there also.
"This one I might cherish it a little bit more because I did it at 25," he said.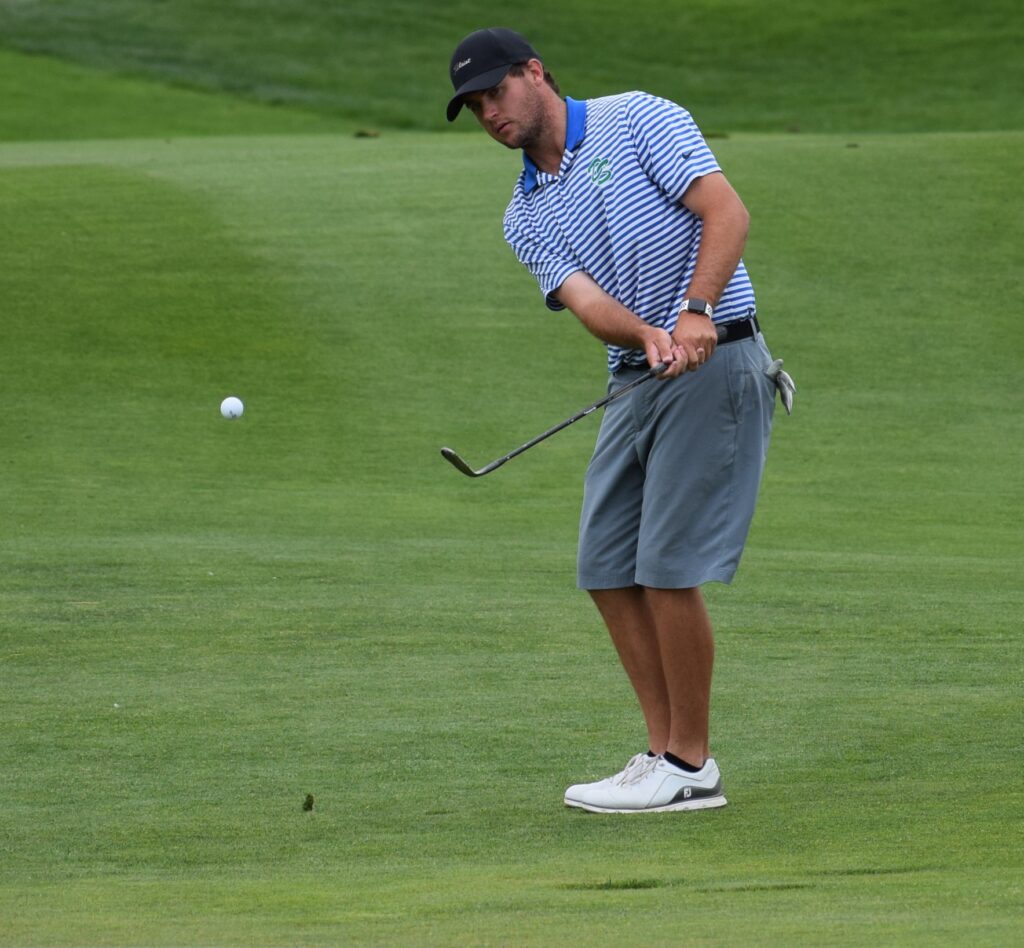 Making the victory even sweeter was a large family contingent watching the action at the 120th CGA Match Play on Friday. On hand were two grandparents, his mom and dad, and two uncles, along with a family friend. One of the uncles caddied for him after Prater had carried his own clubs for the first four days of the championship. "I had quite a few supporters out here today," he said.
Overall this week, Prater played some stellar golf. He was the co-medalist in stroke-play qualifying, then won six matches, some in very convincing fashion. He prevailed 7 and 5, 2 and 1, 3 and 1, 4 and 3, 2 up, and 8 and 7.
"If I'm going to lose to anybody, Colin is the guy I want to lose to because he played great," said Macdonald, a two-time winner of both the Colorado Junior Amateur and the CGA Western Chapter Championship. "He really was steady and he deserved that win."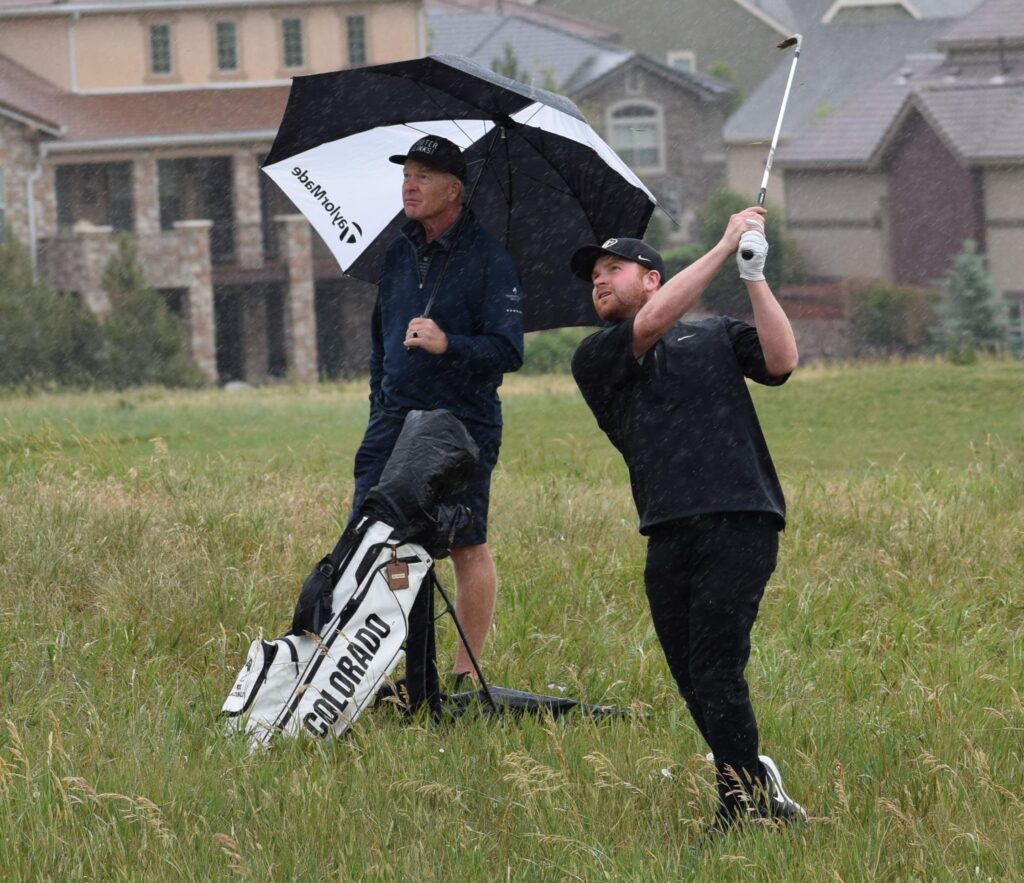 For Macdonald, it was his second trip to the finals in three years, meaning he finished with a 10-2 match play record combined for 2018 and 2020. Unfortunately for him, both times things ended in lopsided losses in the finals as he fell 9 and 8 to AJ Ott in 2018 and 8 and 7 this year.
"It's never easy making in that far and losing, but we play a game where you lose more than you win — 99 percent more," the 23-year from Castle Rock said. "I hold my head high knowing that I had a great week."
On Friday, Macdonald was in decent enough shape through 12 holes, sitting 1 down. But three bogeys in the next four holes led to Prater going 4 up. And when the latter sank a 12-foot birdie putt on the 18th hole, he increased that margin to 5 up.
"He kind of put the hammer down on me," Macdonald said of Prater.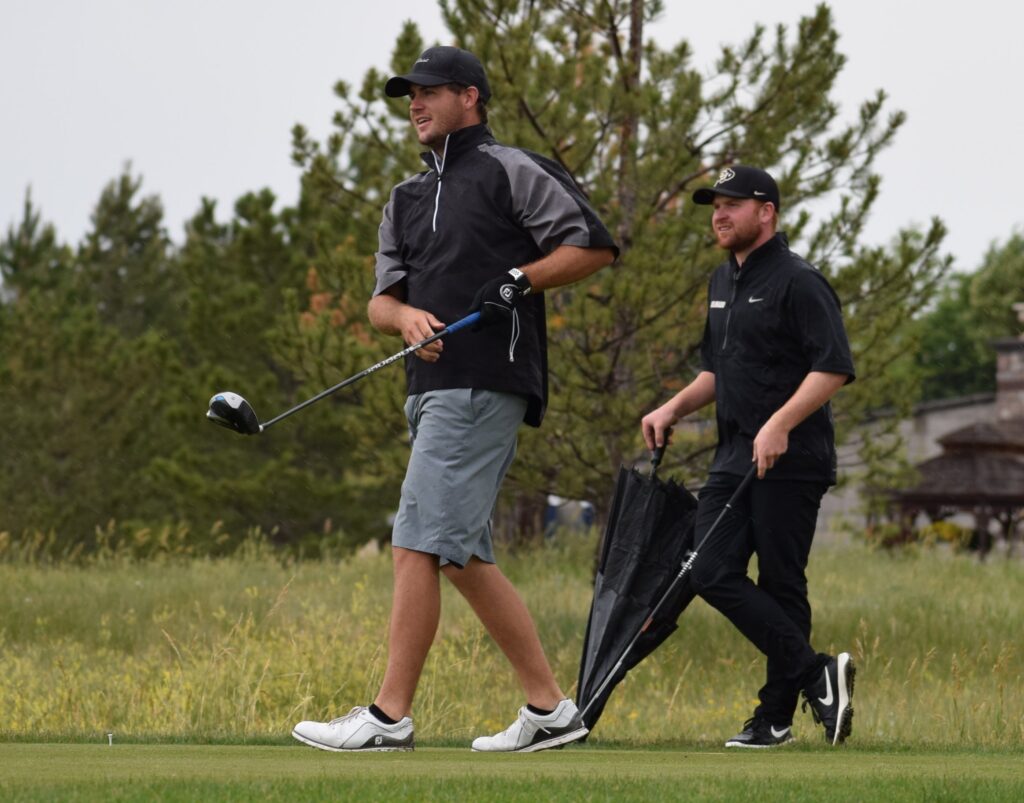 Then the CU golfer, hoping for a quick start on the second 18 to help turn things around, added to the hole in which he found himself with bogeys on the 19th and 20th holes, where he hit into bunker (on the 19th) and water and a bunker (on the 20th).
"Those four or five holes (on the back nine of the first 18) completely flipped the momentum," Prater said. "And I got super lucky and fortunate that I kept that momentum going. I won (holes) 19 and 20 as well, so in the span of (eight) holes I went from 1 up to 7 up. Then every hole after that, if you halve the hole it's almost like a win."
Late in the match, even a squall featuring plenty of wind and rain couldn't derail Prater. He lost the 26th hole — his first since No. 11 — when he hit his tee shot into the water and made bogey. But he rebounded to win the 29th hole with a routine par to end the match.
Macdonald said he had been a cumulative 12 under par for the week for the first four days, but on Friday he lost his sharpness, finishing 8 over par for 29 holes. In fact, he was 8 over for his final 17 holes.
"I think you just get a little fatigued" playing two rounds a day for three consecutive days, he said. "I think your body kind of shuts down a little bit. I felt like I was putting the same swings on it, but it wasn't doing the same thing.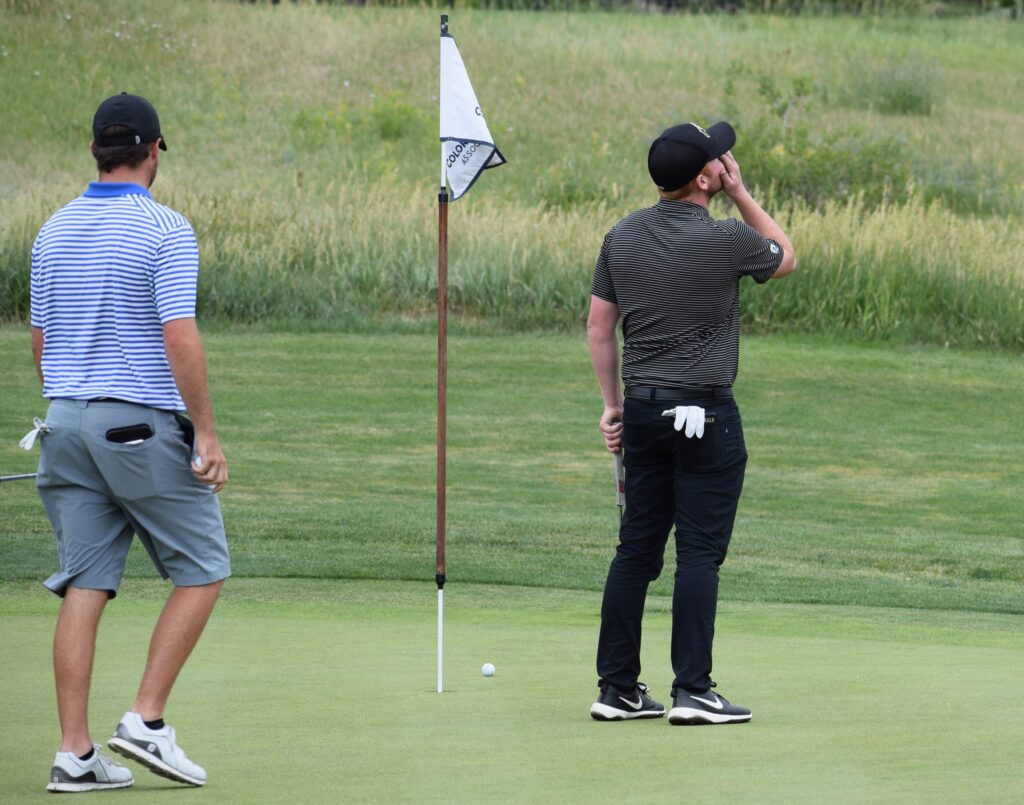 "I was just trying to play catch-up, and Colin didn't make any mistakes, so it was tough to catch him because his short game was on and he wasn't hitting it too bad. He definitely deserved that win. He was steady. He was hitting fairways and hitting greens. When he missed a green, he had some great chips and was rolling the putter. I didn't see him have a three-putt all day."
Prater finished 2 under par for the day.
So what was Prater's reaction to the five-day run of success?
"There's maybe a little bit of relief," he said. "It was a goal for me this summer to win (the Match Play). To be able to pull it off … I worked my butt off for the last couple of months. It's super nice to see the rewards of that. It's awesome. And it motivates me to work my butt off in preparation for the (CoBank) Colorado Open because I'd love to go play well there."
CGA Match Play
At Blackstone CC in Aurora
THURSDAY'S QUARTERFINALS
Michael Harrington, Garden of the Gods Club, def. Austin Harman, Bear Creek GC, 4 and 2
Ross Macdonald, CC at Castle Pines, def. Cal McCoy, Bear Creek GC, 3 and 2
Colin Prater, The Broadmoor GC, def. Charles Sahlman, Cherry Creek CC, 4 and 3
Jack Hughes, Aspen Golf eClub, def. AJ Ott, Ptarmigan CC, 1 up
THURSDAY'S SEMIFINALS
Ross Macdonald, CC at Castle Pines, def. Michael Harrington, Garden of the Gods Club, 2 up
Colin Prater, The Broadmoor GC, def. Jack Hughes, Aspen Golf eClub, 2 up
FRIDAY'S SCHEDULED 36-HOLE FINAL
Colin Prater, The Broadmoor GC, def. Ross Macdonald, CC at Castle Pines, 8 and 7
For the match-play bracket and all the results, CLICK HERE.