A year after losing in playoff at CoBank Colorado Open, Saunders earns title this time — and $100,000 that goes with it; Ott rallies past CSU teammate Bryant to take low-am honors
By Gary Baines – 07/28/2019
Ka-ching.
The CoBank Colorado Open has treated Sam Saunders of Albuquerque quite nicely in the two years he's competed in the event.
A total of $120,000 in prize money may be chump change by major tour standards, but it's a HUGE deal to most players who frequent state opens.
That's what a runner-up finish in 2018 and a victory on Sunday adds up to in the most lucrative state open around.
And, with just a slightly different script last year — a playoff victory instead of a sudden-death loss to Dru Love at Green Valley Ranch Golf Club, Saunders' total could be $200,000 for his two stops at the Colorado Open.
As it is, the former University of New Mexico golfer will have to "settle" for an average payday of $60,000 at GVR. 
Not exactly slumming it.
In fact, the two biggest paychecks of Saunders' four-year career as a pro have come from the Colorado Open.  
In posting a four-stroke victory on Sunday, Saunders (pictured at top) moved to No. 2 on the Colorado Open's all-time money list, behind only two-time champion Jonathan Kaye, who has racked up $159,768,
"It obviously helps financially a lot for me because that's always a struggle for us non-tour pros," Saunders said on Sunday afternoon. "That's huge to get some stress relief off of that. I think that's been a big hindrance for me in my career — always worrying about the money side of things."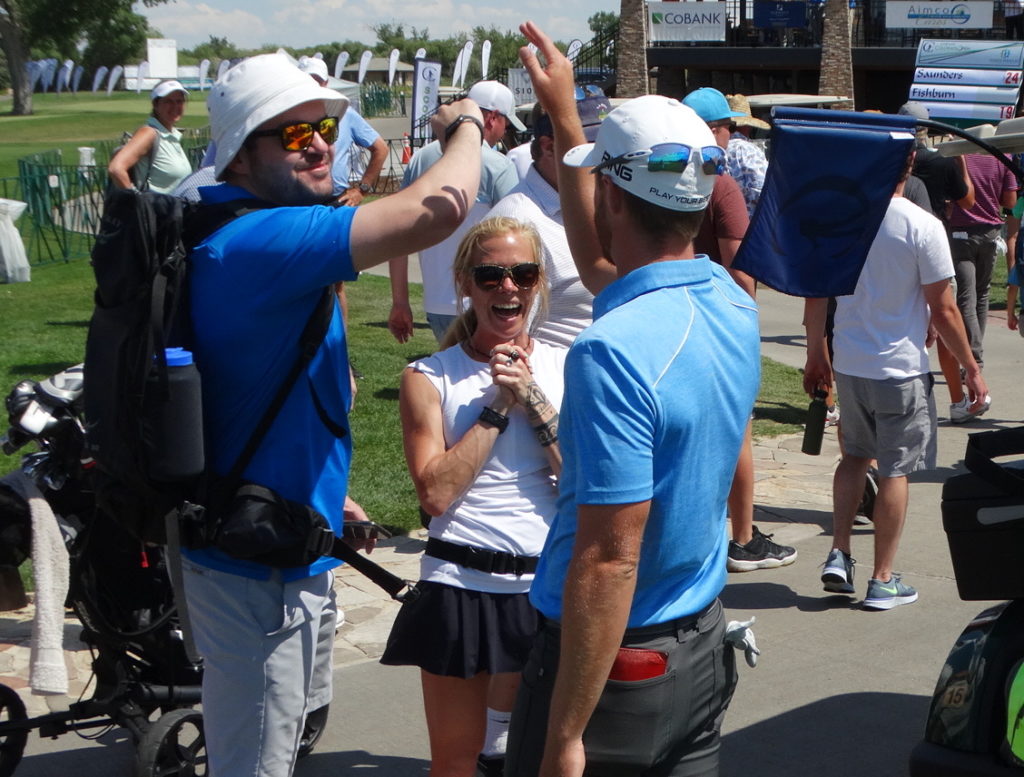 Now, he can easily afford paying for European Tour Q-school in the fall, "have a little cushion to keep playing this game for a while" and, perhaps most notably, reimbusing his parents for the support they've shown in good times and bad.
"I'm going to pay back my parents who have been generous to help me get by in golf — chasing my dream while I had no money," the 27-year-old said.
Under the circumstances, Saunders called Sunday "the most pressure I've probably ever felt", but still shot a bogey-free 2-under-par 70 to stake a claim to the Colorado Open's 72-hole scoring record relative to par.
Saunders finished at 24-under 264, a stroke better than the mark previously held by Neil Johnson (2016) and Kaye (2017). (It should be noted that Derek Tolan still owns the record scoring total numerically as he finished at 22-under 262 in 209, when No. 12 at GVR was played as a par-4 instead of a par-5.)  
"I think this is the best golf I've ever played," Saunders said. "That's awesome. I just love this golf course. I just sort of continued my great play from last year."
And, for good measure, Saunders went wire-to-wire this time, leading outright after each round. His four-stroke advantage was the largest winning margin at the Colorado Open since Ian Davis prevailed by five in 2014.
Oh, and by the way, Saunders now owns two victories in Colorado this year, having previously prevailed at the Navajo Trail Open in Durango. 
"It's really important that I played well (today)," said Saunders, whose previous victories also include the New Mexico Open and San Juan Open in 2018. "I'm really proud of myself for handling my emotions. I didn't get too upset today. I kept it pretty calm. That just proves that even under the most pressure I've probably ever felt that I'm still able to do it.
"Obviously there's extra incentive (with it being) the most money I've played for. It's awesome, and I'm really glad to have gotten it done this time."
Things were close for about two-thirds of the final round. Patrick Fishburn of Ogden, Utah, who won the 2017 Utah Open as an amateur, birdied the third hole to pull into a share of the lead and birdied No. 4 along with Saunders. But a bogey on 5 dropped him out of the lead for good.
Saunders' advantage was still just one through 12, but the 188-yard par-3 13th proved pivotal, with a two-stroke swing. We'll let Saunders narrate what happened there:
"It was pretty tough because the pin was way over on the right and there's the water over there," he said. "It's easy to bail way left but then you have a tough chip. I hit a little choked-down punch 7-iron and I hit a beautiful shot to about 3 feet. That was definitely the shot of the day. I hit a number of other good ones but missed the putts, but that was an excellent shot and it definitely gave me some breathing room. That was nice.
"Patrick, who was the closest one to me, made bogey, so that was a two-shot swing, taking it from a one-shot lead to three. I was able to sort of hang on from there and not make any mistakes."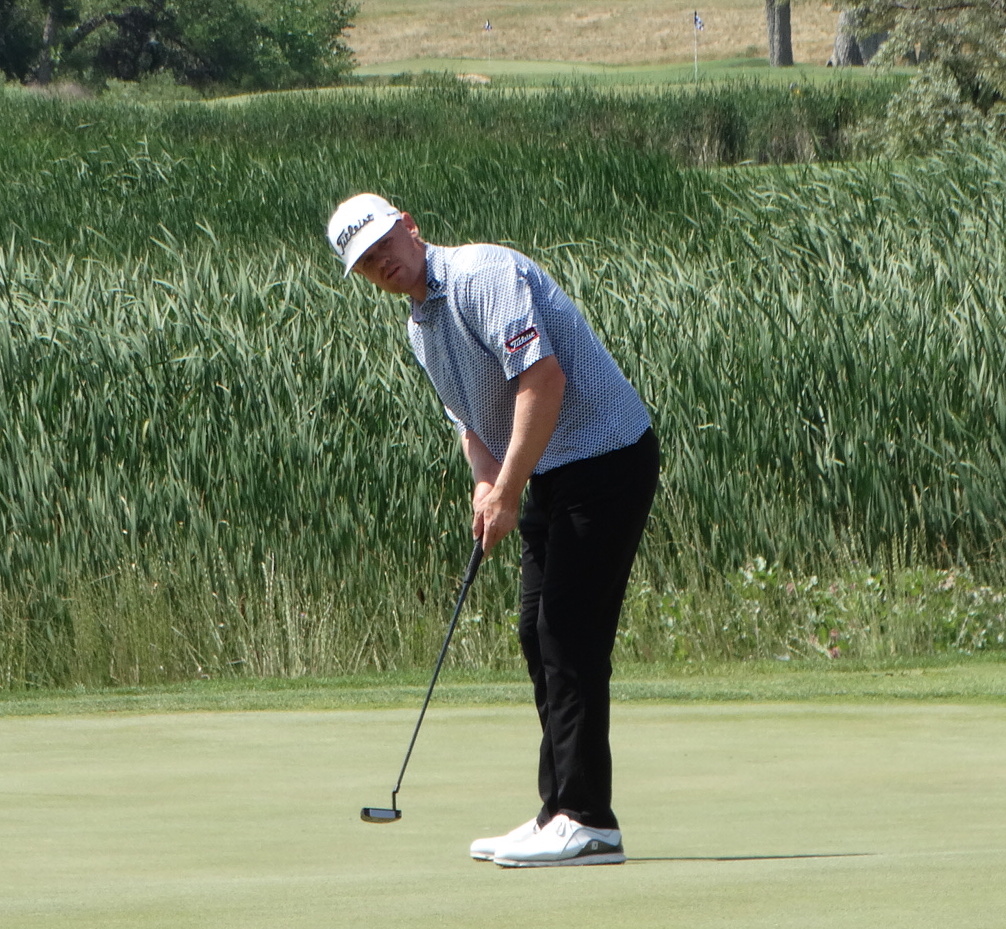 After going 64-66-65 the first three days, Fishburn carded a 1-over-par 73 on Sunday to end up at 20-under 268. He hadn't made a bogey for 53 straight holes entering the final day, but carded five of them on Sunday. 
Also tied for second place at 268 was Denver resident James Love, who closed with a 69. Both runners-up birdied the final hole and each earned $15,500.
"For my third tournament of the year, I played great," said Love, a former University of Denver golfer. "It's my best finish here."
Four players, including former Fort Collins resident and former Air Force Academy golfer Tom Whitney, tied for fourth place at 271. Whitney made eight birdies on Sunday and carded a final-round 66.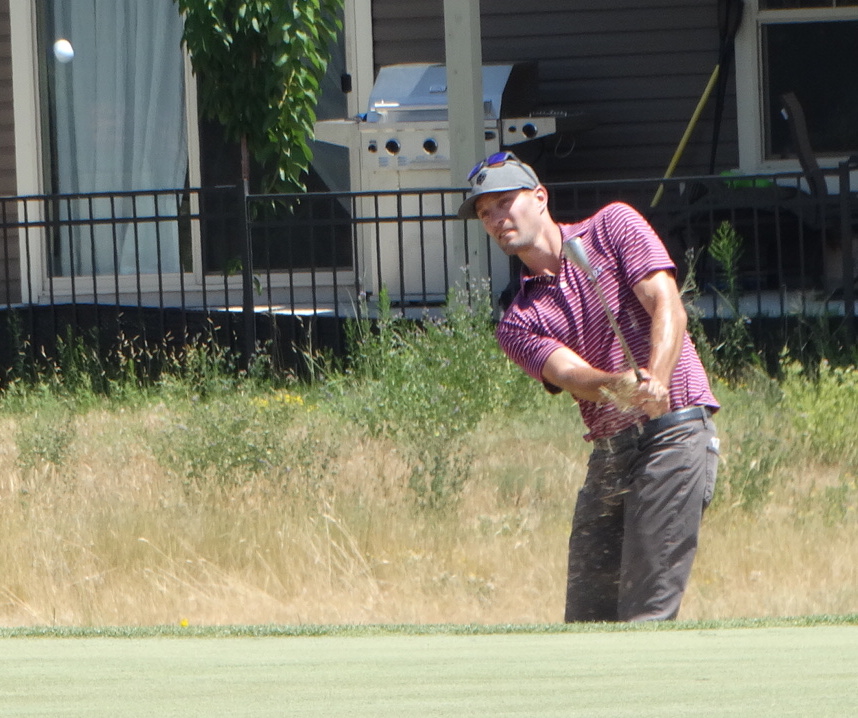 Off-Shelf Putter Pays Dividends for Love: For a guy who saw his putter break late in Saturday's round, Love certainly putted very well on Sunday. So well, in fact, that he challenged for the lead despite coming into the day five out of the top spot.
To review, Love's putter shaft snapped on the 17th hole on Saturday when he leaned on it while picking his ball out of the cup.
After the round, Love didn't think he could get that putter fixed in time — and indeed he didn't. So he improvised.
"I just went and grabbed one from Cherry Creek Country Club," he said. "I took four putters out on the putting green. I hit about 30 putts and I was like, 'I'm just going to use this one.' No sense in over-thinking it."
The result on Sunday?
Birdie on No. 1 from 45 feet. Birdie on No. 2 from 10 feet. Birdie on No. 3 from 6 feet. Birdie on No. 4 from 10 feet. 
That's right: four straight birdies to start the round. 
"I was like, 'Let's go,'" he said. "Then I three-putted the fifth hole. But I putted good. I made some good putts and I hit a couple good ones that didn't go in."
After three holes, Love was just two out of the lead. And after nine, he was still only two back. 
But then came the par-4 10th, which has a penalty area down the entire left side of the hole. Love pulled his tee shot and ended up in that penalty area, eventually finishing with a momentum-killing double bogey.
"I got exactly what I needed to have happen happen," Love said. "I wanted it to blow a little bit to throw (Saunders) off a bit. He shot the round (70) I needed him to shoot and I got off to the start I needed. I cut it to two pretty quick. But on 10 I hit a bad (tee shot). That pretty much did me in. 
"That really took the wind out of my sails because I birdied 9 to get within two and we had nine holes to play. I got right where I needed it after nine, then I hit that bad shot on 10."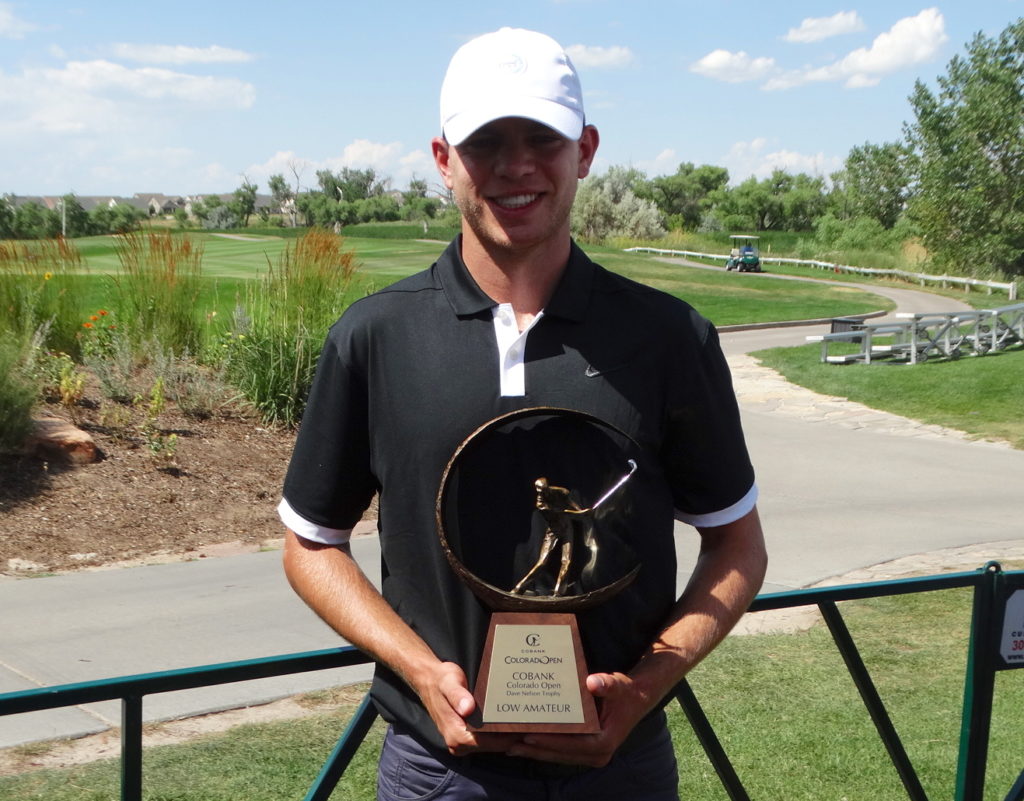 CSU Teammates Battle It Out; Ott Takes Low-Am Honors: It's an understatement to say that Colorado State University golfers have had a stellar run in the Colorado Open's low-amateur competition in recent years.
CSU player Jimmy Makloski was the top amateur at GVR in 2016, and Ram golfer Jake Staiano earned the honor in 2017 and tied for eighth place overall. Last year, Kyler Dunkle was low-am and placed ninth overall. Dunkle was by then a University of Utah golfer, but he started his career at CSU.
Then there's this year. Not only did a CSU player land low-am honors on Sunday, but Rams went 1-2 in the amateur division, with no one else even close.
AJ Ott of Fort Collins, winner of the Southern Amateur last week, overtook teammate Davis Bryant of Aurora to claim the top spot by one stroke. After hitting a 3-wood to the green with his second shot on the par-5 18th, Ott two-putted from 10 feet for birdie. Bryant later missed a 12-foot birdie attempt on that same hole that would have forced a playoff.
"It was fun," Ott said. "I was hoping Davis could have tied me. That would have been sweet. It's always nice to see Rams up there, especially with a bunch of college guys in this event from Colorado. I'm sure coach (Christian Newton) will be happy about that."
Ott made eight birdies on Sunday en route to a 3-under-par 69 that included a double bogey on 15. He finished with an 11-under-par total of 277 and tied for 20th place overall.
Bryant, playing in his first Colorado Open at his home course, hit his opening tee shot out of bounds on Sunday, but rallied to shoot an even-par 36 on the front nine before parring his final nine holes.
"It's disappointing," the sophomore-to-be said. "It hurts and it's not a good feeling. I felt like I played better today than even-par and I battled back after the double. But if I were to pick someone else to win it if it wasn't me, it would be AJ. I'm happy for him; he's playing great. But I obviously I wish it was me atop the amateur division."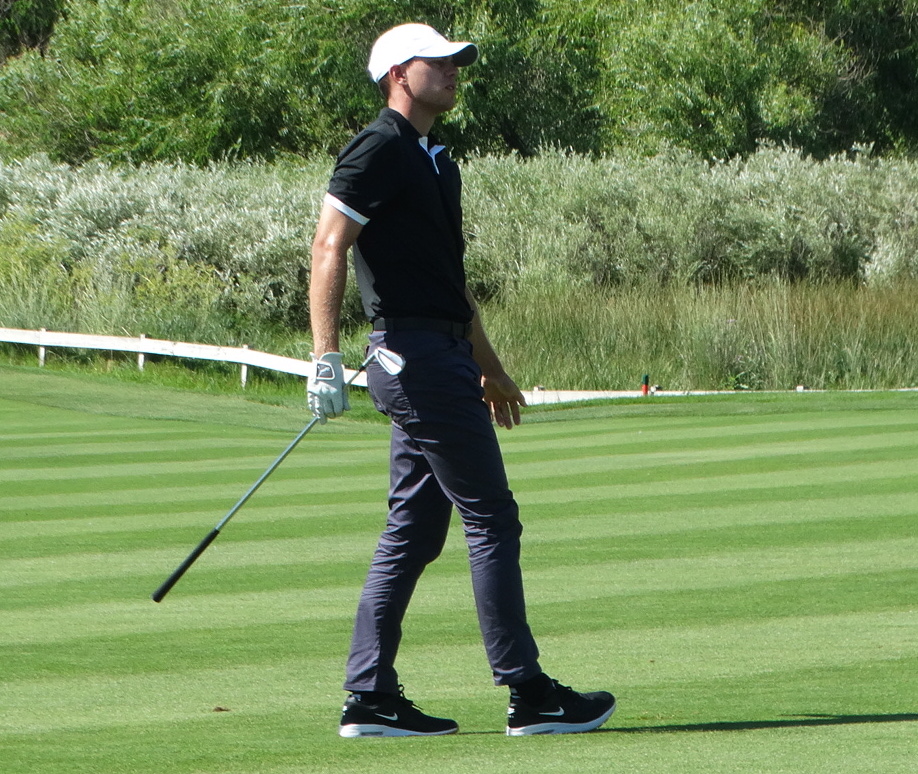 As for Ott, he continued his stellar summer of golf. He's played in just four significant competitions, and has won the Southern Amateur, placed second in the Southwestern Amateur, qualified for his third U.S. Amateur and took low-amateur honors in the Colorado Open.
 "I've played about half the tournaments I normally do in the summer, so I was a little skeptical about doing that," the 21-year-old said. "But I needed a break and it worked great. Getting more rest has been a huge key."
As for this week, "I love playing this event because you get to test your game against the professionals," Ott said. "But it's also some of the best ams in the state, so it's kind of like another local event for all of us, and we're all super competitive with it. It's awesome."
Where Eagles Dare: The golf gods were smiling on Chandler Blanchet on Sunday at the Colorado Open.
In one of those "what are the odds" moments, the golfer from Jacksonville Beach, Fla., recorded not one, but two hole-out eagles on par-4s during the final round of the Colorado Open. Not only that, but they came on back-to-back holes — and both were from at least 140 yards. And … they came with the same club, a 50-degree wedge.
On No. 6, Blanchet holed out from 140 yards. Then on 7, it was from 150.
"The first one I tried to land it 20 yards short because it was downwind and downslope," he said. "It took a massive hop right at it and disappeared. We weren't sure if it went over or not. We were taking bets to see where it was.
"On 7, I launched a 50 degree up in the air. We couldn't see the hole at all, but we heard it land and then clank the flag. I was like, 'I think that one went in.'"
Has anything like that happenend to Blanchet before?
"Back-to-back, no chance," he said. "I don't even think back-to-back chip-ins have happened. I don't know what the odds are on that, but that was crazy."
Blanchet ended up shooting a final-round 66 on Sunday and tied for fourth place at 271, earning $7,625.

Many Thanks: I try not to stray from straight journalism in my posts on ColoradoGolf.org, but I'm going to make an exception here.
The folks at the CoBank Colorado Open were kind enough to present me with the Robert M. Kirchner Award on Sunday following the conclusion of the tournament. I'd like to express my heartfelt gratitide for award, which is named in honor of the founder of the Colorado Open and is given to an individual "for having contributed greatly to amateur golf, professional golf, and/or tournament golf in the state of Colorado."
To receive an honor given in the past to such Colorado golf luminaries as Judy Bell, Jack Vickers, Pat Hamill, Ed Mate, Myron Craig, Les Fowler, Joan Birkland, Kent Moore, the CGA and CWGA, and Kirchner — and many others of similar stature — is humbling indeed. That's very heady company, and undoubtedly more than I deserve. Nevertheless, I'm grateful beyond words can express. And I'm honored to have been able to cover the last 36 Colorado Opens — as well as plenty of Colorado Women's Opens and Colorado Senior Opens — and hope there's plenty more to come.
Now back to the straight journalism …
For all the scores from the CoBank Colorado Open, CLICK HERE.