With $100,000 on the line, leader Saunders on record scoring pace at CoBank Colorado Open; major putter mishap rattles Denver's Love down stretch
By Gary Baines – 07/27/2019
Since 2016, the CoBank Colorado Open has had a noticeably different dynamic compared to other significant golf tournaments.
It all boils down to $$$$. Specifically, how they're allocated.
For instance, at a typical PGA Tour event, 18 percent of the purse normally goes to the champion, with 10.8 percent awarded to the runner-up.
But starting in 2016 when the Colorado Open bolstered its purse to $250,000, with $100,000 going to the winner, the percentages have been night-and-day different from that allotment. For instance, on Sunday at Green Valley Ranch Golf Club, 40 percent of the purse will go to the champion, with 8 percent going to the second-place finisher ($100,000 vs. $20,000).
It's not quite winner take all, but it has that feel to a certain extent.
And if you don't think that affects the mindset of golfers in contention coming down the stretch, you've got another thing coming.
"I kind of have a game plan for the course, but I'm definitely playing to win tomorrow," said Patrick Fishburn of Ogden, Utah, a former BYU golfer who trails leader Sam Saunders of Albuquerque by one after Saturday's third round. "Whatever the situation is going down the stretch, if I need to play a little more aggressive to make a run at the first-place check, for sure I'll adjust the game plan. I'm definitely playing for the win because there's such a big (pay) gap between first and second and third."
Saunders (pictured above), who's led after all three rounds of the Colorado Open this week, knows this all too well. Last year, he finished second at Green Valley Ranch after shooting a course-record 60 in the final round, then losing to Dru Love in a playoff. After both ended up with the same total in regulation, Love earned $100,000, while Saunders pocketed one-fifth of that amount.
While noting that $20,000 is a good payout by state open standards, Saunders knows that $100,000 has the potential to be a game-changer.
"You're obviously going to be a little bit aggressive because there's typically a pretty steep dropoff (in payout after the winner's share of any tournament)," the 27-year-old said Saturday. "But here a little moreso than other places."
Or, a LOT moreso.
The size of the purse and the $100K first-place paycheck no doubt are big contributing factors in how scores keep getting better and better at the Colorado Open. The money catches the attention of a lot of really good players, which has bolstered the depth of talent in the Open field.
This week, a relative lack of wind except for Thursday afternoon, near-perfect greens and that depth of talent has put Saunders and Fishburn — and perhaps others — in position to obliterate the all-time Colorado Open scoring marks.
The Open records for a 72-hole event are 23 under (on a relative-to-par basis) and 262 (on a strictly numerical basis). Neil Johnson in 2016 and Jonathan Kaye in 2017 shot 23 under for four days before last year's event was shortened to 54 holes due to weather issues. And Derek Tolan finished at 22-under-par 262 in 2009 when par at GVR was set at 71.
The way things are going, there's a good chance Saunders and/or Fishburn will be more than 23 under at the turn on Sunday during the final round.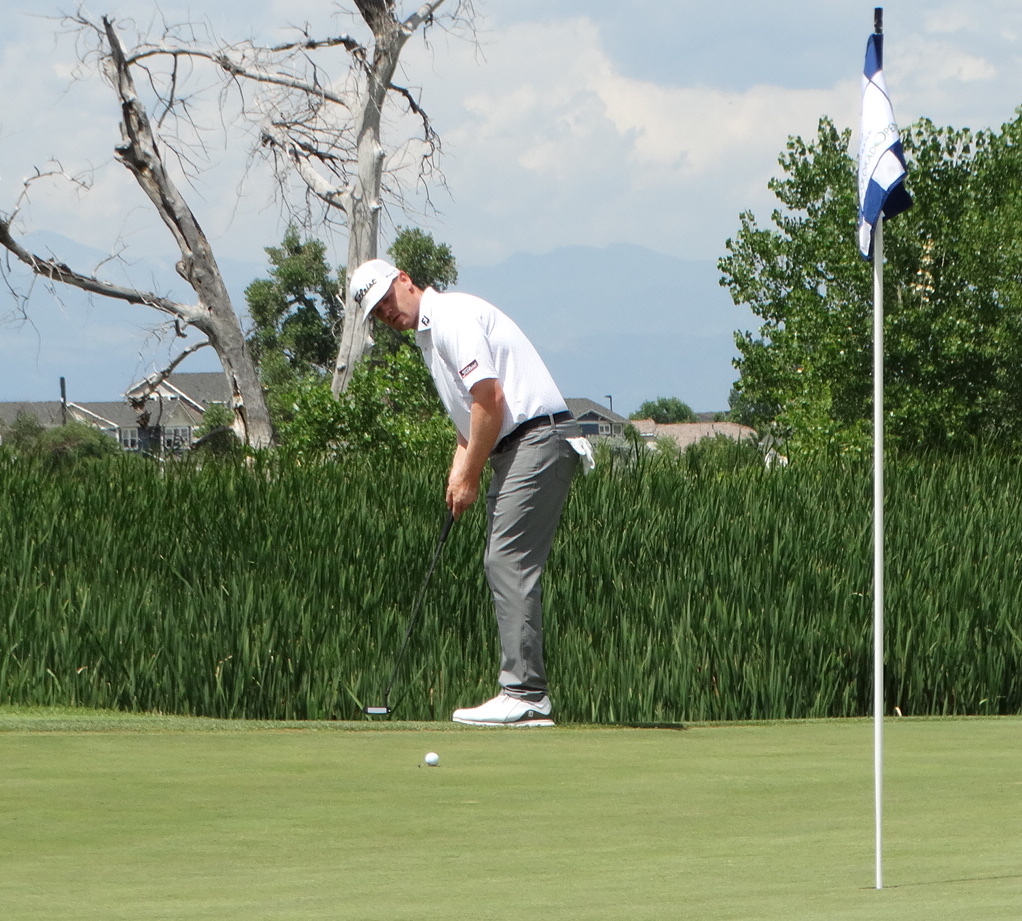 After a 6-under-par 66 on Saturday, Saunders sits at 22-under 194. And a 65 on day 3 put Fishburn at 195. The only other player better than 15 under is Denver resident James Love (17-under 199 after a third-round 69).
"It's been perfect weather the whole way," said Saunders, winner of the Navajo Trail Open this year and the New Mexico Open and San Juan Open in 2018. "There's no wind. The greens are firm but the fairways are soft so you don't get huge bounces that can get you in trouble. The course is in great shape and there's no wind, you've got good players, so someone is going to shoot low every day."
In his last four Colorado Open rounds, dating back to last year, Saunders has now shot 60-63-65-66 at GVR. For those of you keeping track, that's 34 under par for four rounds.
"That's pretty good," Saunders said with a smile.
"Today, watching Sam putt, I think he made just about every single putt inside 10-12 feet," said Fishburn, who won the 2017 Utah Open as an amateur. "Guys are just playing really good. It was kind of fun to play with Sam today. We were kind of feeding off each other with different birdies here and there. It was a lot of fun."
Saunders finished with seven birdies and a bogey on day 3, draining three straight 15-foot putts on 7, 8 and 9, and closing out his round with a 10-footer on 18.
Fishburn, meanwhile, hasn't made a bogey since his first hole of the tournament, meaning he's gone unscathed for the last 53 holes. On Saturday, he carded seven birdies. It's not unlike how he played in winning the Utah Open by nine in 2017.
"The way I'm controlling the ball tee to green is very similar to how I was back then," he said. "And I'm rolling the putter pretty good for the most part.
One more round tomorrow and make a few extra putts and see what happens."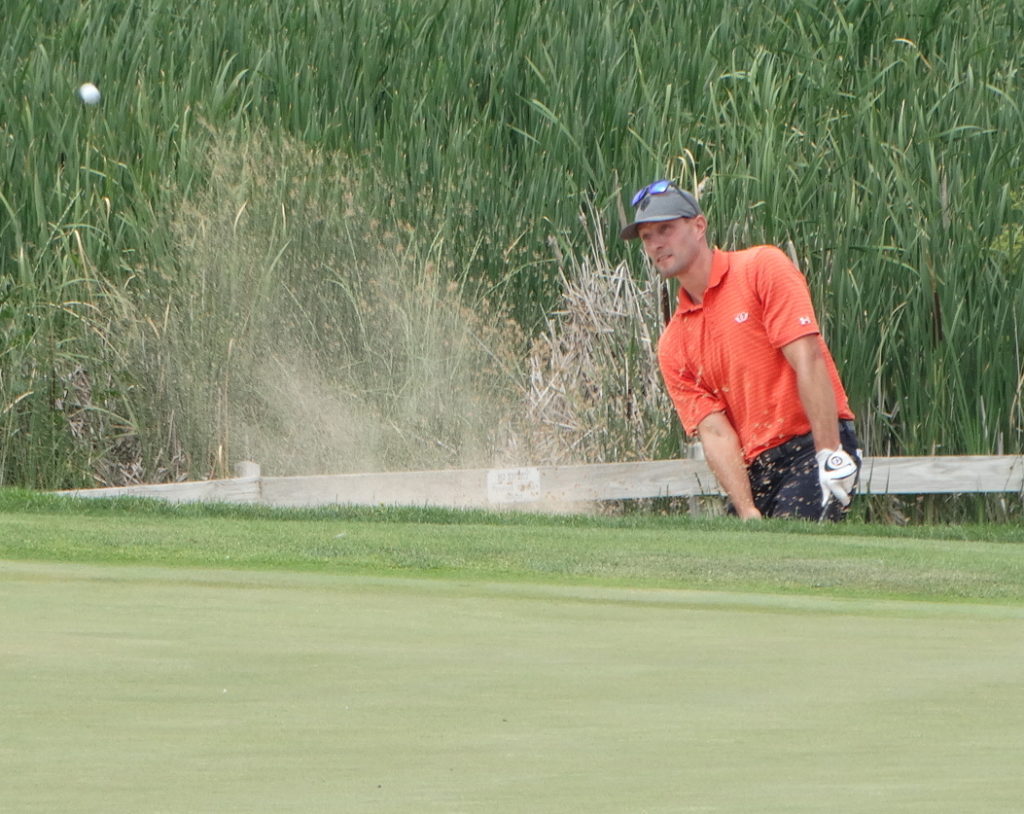 Putter Gives Out for Love — Literally: Even though his score was pretty good through 16 holes on Saturday, it was a struggle for Denver resident James Love. Then things really went south.
On the 17th green, while retrieving his ball from the cup after a par, the former University of Denver golfer was leaning on his putter when the shaft snapped.
"I fell right on my ass," he said.
"I had said to my caddie after 16, 'I can't wait to be done with this round.' Then the putter broke. It was like, 'What else could possibly go wrong?'"
After officials conferred about the matter, it was determined that a local rule that had been adopted allowed Love to replace the club mid-round because it was not broken in anger.
But Love was figuring this out on the fly. This is a putter he's used for the past year and with great success. On Friday, he said it was a huge reason he shot a tournament-best 62 at GVR.
The broken putter "totally rattled me and I bogeyed 18 (a par-5)," he said. "I didn't know if I could use a putter on a green or what the hell was going on. It totally rattled me. I hit a brutal tee shot, a brutal layup and a brutal third shot that plugged in the (front) bunker and made 6. It's a birdie hole all day.
"I knew (the putter broke) in the normal course of play, but I didn't know if I could get one in time (to putt on 18) so I was halfway playing slow so I could make sure I had a putter."
Love didn't have a backup in his car, but veteran rules official John Sova volunteered one he had, giving it to one of the spectators in the group to give to Love as he came onto the green.
"But I didn't tell him the (putter) doesn't work," Sova said with a smile afterward.
Love, who didn't even know at the time whose putter he was using, ended up two-putting for bogey with Sova's putter.
The end result was that Love backed up Friday's 62 with a 69 that left him at 17-under-par 199, five strokes back of leader Saunders.
"The whole day sucked," Love said. "It's tough to play a round after shooting really low. I kind of grinded to be 4 under but to bogey the last that way sucked."
As to what he'll putt with on Sunday, given how the shaft snapped he wasn't optimistic that the old putter would be ready. And that makes trying to rally from five behind a considerable task, especially considering how good Saunders has been playing.
"It's still doable," Love said. "But Sam is super solid. He didn't miss a shot (on Saturday). There's always a chance, but he's not going to shoot over 68, which means I've got to shoot a 63. And I've been using this mallet for like a year and I've been putting great with it. Yesterday I made everything I looked at. I'm going to have to shoot 63 with a putter I've never used before."
Other players with strong Colorado connections that remain in the top 10 after three rounds are Golden's Zahkai Brown (fifth place at 203) and fellow former Colorado State University golfer Blake Cannon (eighth place at 204).
GVR's Own Bryant Leads in Low-Am Competition: Davis Bryant, who has two parents that work at Green Valley Ranch Golf Club and who's been a longtime fixture at the course himself, is thriving in his first Colorado Open.
The CSU golfer shot a 5-under-par 67 on Saturday — after being 6 under through 12 holes — to take a one-stroke lead in the low-amateur competition heading into Sunday's final round. At 10-under-par 206, he's tied for 19th place overall.
"Through three rounds I feel great," said Bryant, who estimates he's played GVR more than 2,000 times in his life. "Hopefully I can finish it off tomorrow. If I do the same thing I did today and make good choices and hit the right shots and react to the golf course based on how it plays the first couple of holes, I feel very good about my chances."
After six birdies, Bryant was 6 under par through 14 holes. But he bogeyed both 15 and 16 before closing with a 2-foot birdie on 18.
"Six under through 12 was a pretty great feeling," he said. "But you're not going to hit every shot perfectly."
Three other competitors who play their college golf in Colorado are on Bryant's heels for low-amateur honors. University of Denver golfer Cal McCoy and CSU's AJ Ott, who both recently qualified for the U.S. Amateur, are second and third, respectively, at 207 and 208. And the University of Northern Colorado's Coby Welch is fourth at 209.
All had good scores on Saturday, with McCoy shooting a bogey-free 66 and Ott and Welch 67s.
Tee times for Sunday's final round will run 7:30 to 9:20 a.m., with the leaders teeing off on No. 1 at 9:20. CLICK HERE for Sunday's tee times.
For all the scores from the CoBank Colorado Open, CLICK HERE.