6 days after helping U.S. win Walker Cup, Hagestad, the No. 6-ranked amateur in the world, will tee it up as one of the favorites in U.S. Mid-Amateur
By Gary Baines – 09/13/2019
In the last five weeks, Stewart Hagestad has gone to some great lengths to both represent the U.S. in international team competitions and to subsequently compete in major individual national championships.
In the second week of August, he was part of a four-person team that won the mixed team gold medal at the Pan American Games in Lima, Peru. He then quickly flew across the Atlantic to Pinehurst, N.C. for the U.S. Amateur, which started the day after the Pan Am Games ended.
This week has been more of the same, albeit with not such an outrageously quick turnaround.
Hagestad played on the winning U.S. Walker Cup team in Holyoke England, where the biennial competition ended on Sunday. (Hagestad, pictured in a USGA photo by Chris Keane, was the only mid-amateur player — age 25 and older — on the U.S. squad.) And, after a quick trip home to Orange County in California, he was in Colorado on Thursday beginning his preparation for the U.S. Mid-Amateur, which starts on Saturday at Colorado Golf Club in Parker and CommonGround Golf Course in Aurora.
Following the Americans' comeback victory over Great Britain & Ireland in the Walker Cup on Sunday, Hagestad left his hotel at 5 a.m. on Monday and didn't get home to California until 25 hours later. The 28-year-old was planning to fly to Denver on Wednesday night and play an early practice round at CommonGround on Thursday, but opted instead to decompress, unpack and repack, get another night's sleep in his own bed and fly to Colorado on Thursday morning instead.
"I'm actually (feeling) a lot better than I thought it would be just because maybe I was ready for it and knew what was going on," the former University of Southern California golfer said in an interview on Thursday afternoon. "I'm not going to pretend my energy levels are as high as they have been in years past, if you know what I mean. But I'm actually a lot better than I thought I would be.
"Listen, I took a red-eye from Lima straight to the U.S. Am and was able to handle that. I literally don't know how that happened. Brandon Wu was medalist (at the U.S. Am after doing the same thing), so if he can do that, hopefully we can handle having a few night's sleep before the first round (this weekend). There won't be any excuses this week if we don't play the way we want to."
Hagestad is certainly one of the favorites at the U.S. Mid-Amateur. He not only won the Mid-Am title for players age 25 and older in 2016, but is now No. 6 in the World Amateur Golf Rankings, which is no small feat for a mid-amateur player. He's played in the last three U.S. Opens and in 2017 was low amateur at the Masters, placing 36th overall. Before that, the last winner of the previous year's U.S. Mid-Am to make the cut in the Masters was Jay Sigel in 1988. (For those into omens, Sigel won the only previous U.S. Mid-Am held in Colorado, in 1983 at Cherry Hills.)
Overall, this has been quite the busy and productive year for Hagestad competing in high-level competitions on the amateur and open level. Last weekend, he was the only mid-amateur player on the winning U.S. squad at the Walker Cup, and he posted a 2-1 record there in his second Cup appearance). As noted, he played in both the U.S. Open and U.S. Amateur, making match play in the latter after missing the cut in the Open at Pebble Beach. He also competed in the U.S. Amateur Four-Ball, advancing to the round of 16 with partner Derek Busby. And, as mentioned, he won a mixed team gold medal for the U.S. at the Pan Am Games.
"It's been awesome," said Hagestad, a semifinalist in last year's U.S. Mid-Am. "But I think for the first time in my life I've begun to find a couple of gray hairs — which I don't need and which isn't great. But it's been awesome. You work your tail off so you can put yourself in position to represent your country in any capacity. Obviously USGA events are the pinnacle of amateur golf. Any chance you can to try to balance all those things is the reason you practice. I wouldn't be trying to play in these events if I wasn't trying to compete in the big ones. Obviously it's been a busy year, but it's been a lot of fun too. We'll look back in a few weeks when we're back at a desk and think about how much fun it was. So it's all good."
Not only has Hagestad competed in some of the biggest amateur and open championships golf has had to offer in 2019, but he's done so as some of the world's top venues: Pebble Beach, Royal Liverpool, Pinehurst and Bandon Dunes, among others.
"I don't know if you could pick a slate of golf tournaments and venues that are much better than that at any level, so I'm pretty lucky," he said. Although 2017 was also a busy year for Hagestad in the same regards, "I think this has been the craziest (year) in recent memory just by virtue of how close together a lot of (the events) all are. When you red-eye from a different hemisphere to get to the U.S. Am, that's pretty outrageous."
At 28 years old, Hagestad certainly fits into the mid-amateur category in golf, but it's a designation he doesn't particularly like. In some ways, he thinks it can be limiting. After all, Hagestad is one of the world's top amateurs, regardless of age.
"I think if you were to ask any of the (top-level) guys labeled as a mid-amateur, they don't think of themselves as mid-amateurs," Hagestad said. "At its core, you're all golfers and amateur golfers. You put your game and your standard up against what the country has to offer in terms of the best players. If you begin to label it in that sense then maybe it puts you at a disadvantage.
"I certainly hope that it doesn't sound like I'm trying be cocky or overly confident, but I think if you keep your standards as high as they were when you were younger, that translates into a lot of work you put in in the offseason or even when you practice. I just don't think of myself as a mid-amateur, if that makes sense. I'm in much better shape now than I was in college, I'm much more experienced now than I was in college."
Speaking of college, the one previous time Hagestad has competed in Colorado was during his USC days, when he played in the 2012 U.S. Amateur that was held at Cherry Hills Country Club and CommonGround. He didn't make match play that week, but shot 69 in his stroke-play round at CommonGround.
That's no doubt part of the reason he felt OK with skipping a practice round at CommonGround on Thursday, though he did walk nine holes at the course that day.
"The biggest thing will probably be, as people have said, altitude and how far you hit certain clubs," he said. "A lot of that is just a percentage and adjusting it to whatever your numbers are. That will be important to figure out. I'm a big boy; hopefully I'll be able to figure it out."
So what is the state of Hagestad's game going into the U.S. Mid-Am?
"I like to think I'm in a good spot, but there's so many good players anywhere you go — especially in this field with half the guys either being established mid-amateurs or reinstated pros," he said. "I've heard nothing but great things about the golf course. You can't really take anything for granted (regarding the prospects for doing well). …
"If you play well and get beat, it's a heck of a lot easier than the alternative. Hopefully we can leave everything we have on the table this week, and hopefully that's good enough."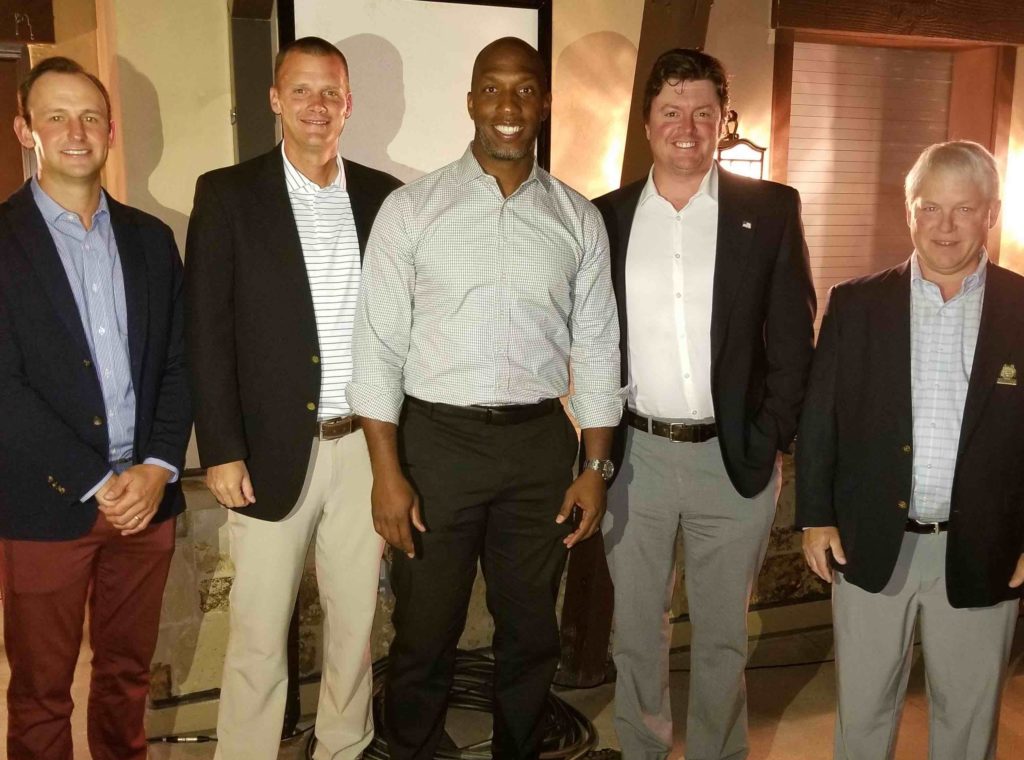 ****************************
U.S. Mid-Amateur Championship: The Essentials
What: 39th U.S. Mid-Amateur Championship.
When: Sept. 14-19.
Where: Colorado Golf Club in Parker Sept. 14-19, and CGA-owned CommonGround Golf Course in Aurora Sept. 14-15.
Field: 264 of the world's top amateur players 25 years of age and older. The USGA accepted 4,751 entries this year, the second-most ever for this championship.
Spectators: Fans can watch the event free of charge.
Day By Day Schedule:
Saturday, Sept. 14: First round of stroke play at both courses.
Sunday, Sept. 15: Second round of stroke play, with competitors switching courses from Saturday.
Monday, Sept. 16: After likely playoff to cut the field to exactly 64 players, the first round of match play at Colorado GC.
Tuesday, Sept. 17: Round of 32 and round of 16 matches, both at Colorado GC.
Wednesday, Sept. 18: Quarterfinal and semifinal matches, both at Colorado GC.
Thursday, Sept. 19: 36-hole title match, at Colorado GC.
At Stake: In addition to the U.S. Mid-Amateur title, a spot in the 2020 U.S. Open and likely a berth in the 2020 Masters.
USGA Champions in Field:
— Stewart Hagestad (2016 U.S. Mid-Amateur)
— Scott Harvey (2014 U.S. Mid-Amateur, 2019 U.S. Amateur Four-Ball)
— Tim Hogarth (1996 U.S. Amateur Public Links)
— Randy Lewis (2011 U.S. Mid-Amateur)
— Michael McCoy (2013 U.S. Mid-Amateur)
— Kevin O'Connell (2018 U.S. Mid-Amateur)
— Matt Parziale (2017 U.S. Mid-Amateur)
— Bob Royak (2019 U.S. Senior Amateur)
— Nathan Smith (2003, 2009, 2010, 2012 U.S. Mid-Amateur; 2015 U.S. Amateur Four-Ball)
— Todd White (2015 U.S. Amateur Four-Ball)
— Jeff Wilson (2018 U.S. Senior Amateur)
Residents of Colorado in Field:
— Ryan Axlund of Denver
— Matt Call of Castle Rock
— Mitch Donald of Vail
— Michael Harrington of Colorado Springs
— Steve Irwin of Golden
— Jay Livsey of Wheat Ridge
— David Lysaught of Denver
— Kent Moore of Centennial
— Nick Nosewicz of Aurora
— Stephen Powers of Denver
— Charles Sahlman of Denver
— Charles Santaularia of Lakewood
Yardage/Par for Each Course — Colorado Golf Club: 7,561 yards and par-72. CommonGround Golf Course: 7,470 yards and par-70.
Previous U.S. Mid-Amateur Held in Colorado: 1983 at Cherry Hills Country Club, where Jay Sigel won. Overall, this is the 33rd USGA championship held in Colorado.
Earlier Major Events Held at Colorado Golf Club: 2010 Senior PGA Championship, 2013 Solheim Cup.
Earlier Major Event Held at CommonGround Golf Course: 2012 U.S. Amateur (stroke-play companion course in conjunction with overall host Cherry Hills Country Club).