Extensive golf library donated by Colorado Golf Hall of Famer Dan Hogan finds its new home at the CGA's offices
By Gary Baines – 09/12/2019
Appropriately, top shelf, front and center, of the newly-christened Dan Hogan Library at the CGA offices in Greenwood Village are several books with the name "Hogan" in big letters on their spines.
It's not the same Hogan, of course. The books are about Ben Hogan, one of the greatest golfers of all time. But the library is named for Dan Hogan, a man whose lifelong collection of golf books made all this possible.
On Wednesday of this week, after many, many months in the works, the Dan Hogan Library had its grand opening, with 1,215 books on display at the CGA offices. Some are duplicates, but 966 unique titles are included.
Several dozen members of the Colorado golf community joined in the festivities for opening day on Wednesday.
"Every time I look at this collection, I think of Dan," said CGA executive director Ed Mate, who volunteered the space needed for the library. "It's an embodiment of him, his love of the game, his lifetime in the game. You see such an array of titles over a long period of time. He collected them all personally. And it's reflected in this.
"To me, if it wasn't Dan Hogan's collection, it frankly wouldn't have the same meaning. That's what makes it meaningly. It's an incredible collection. They were thoughtfully collected and accepted. To me, it's Dan Hogan. That's what puts a smile on my face every time I walk by these. Every time I pull a book off the shelf I can't help but think of him."
Retired USGA regional affairs director Mark Passey, a Utah Golf Hall of Famer who has long resided in Colorado, was part of a team that organized Hogan's collection.
"There are a lot of real gems, a lot of real classics that are no longer in print," he said. "There are some first editions here and there. As a comprehensive golf library that covers a broad range of categories, it's really good. There are a few golf libraries around the country. There's a really good one in Southern California and the USGA has one that's much more extensive than this. But I would put this in the top three or four golf libraries I've ever seen."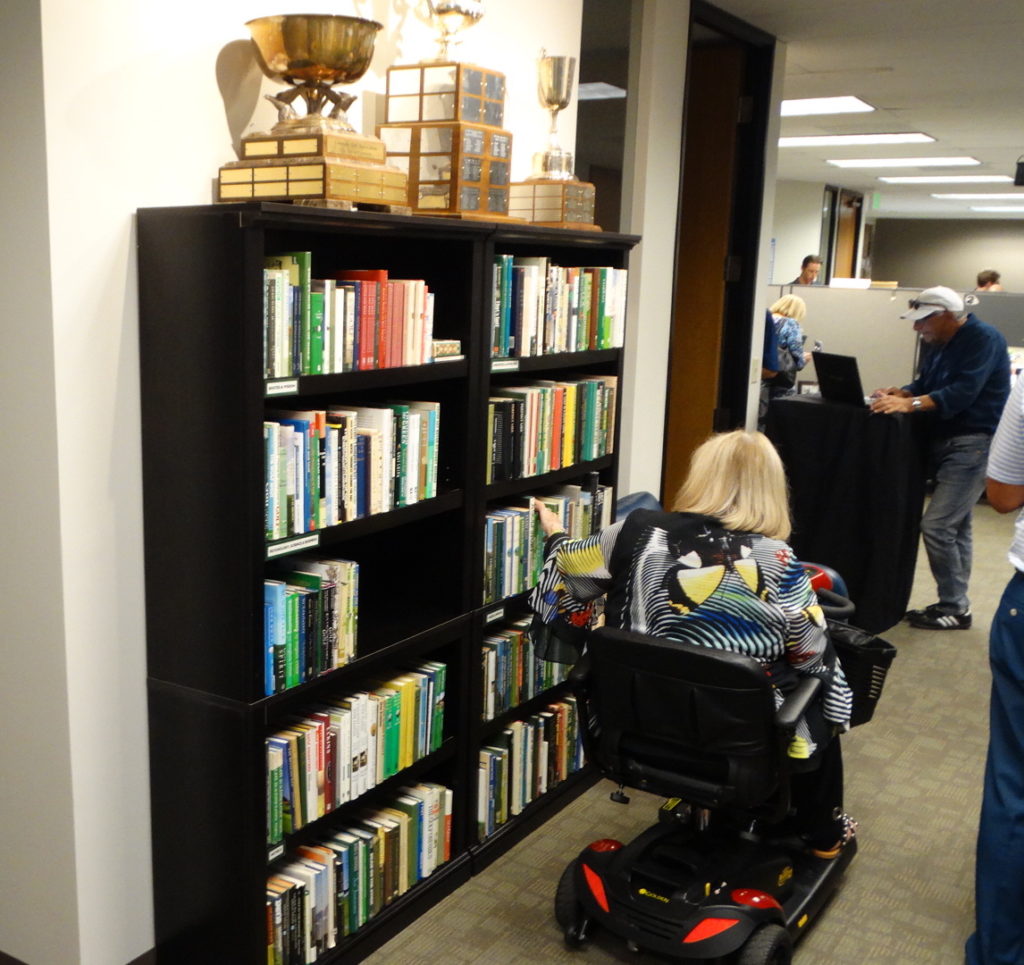 Hogan, one of the leading historians of Colorado golf, was inducted into the Colorado Golf Hall of Fame in 1998. He long served on the Hall of Fame's volunteer board, including four years as its president and decades as an unofficial historian/archivist. A railroad man by trade, Hogan also has served at various times as the local chairman of the USGA's Public Links Committee, on the CGA's board of directors, and on the Denver mayor's Golf Advisory Committee in the 1960s and '70s.
Hogan, who grew up as a caddie at Park Hill, was also an accomplished competitor, having played at Regis University and winning the Denver muni links championship three times, the club championship at City Park Golf Course 10 times, and ones at Los Verdes twice and Foothills once. He competed in the U.S. Amateur Public Links Championship six times and the British Amateur and Trans Miss twice each.
But a serious medical episode has sidelined Hogan in recent years.
Hogan hasn't yet seen the golf library named for him, but Mate hopes to rectify that soon on some quiet afternoon, over a cup of black coffee. After all, Hogan periodically visited the CGA offices over the years, usually unannounced, to share a golf book and have a cup of Joe.
Since the CGA isn't in the library business, the Dan Hogan Library will be open primarily to CGA board members and volunteers, member of the Colorado Golf Hall of Fame board and other friends of Colorado golf.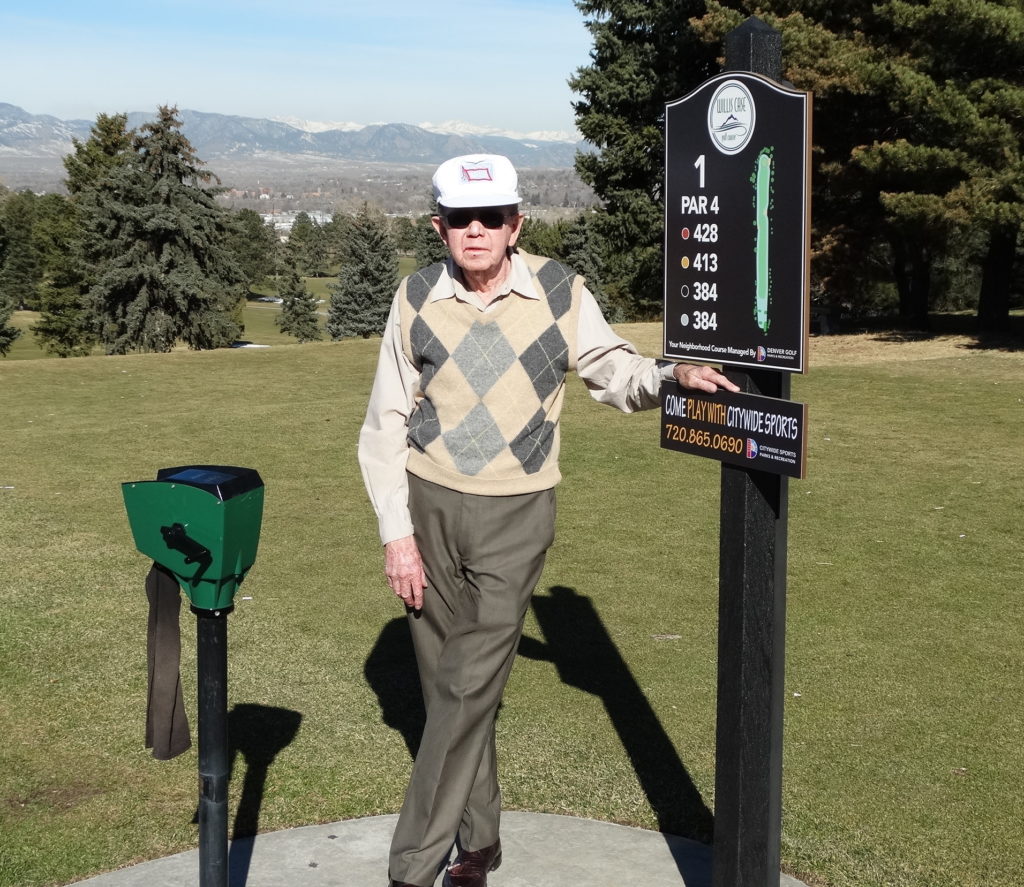 Hogan had long intended that his collection of golf books, located on bookshelves in the basement of his Denver home, would one day be donated to the Colorado Golf Hall of Fame. He told fellow Hall of Famer and longtime board member Gary Potter as much.
When Dan had his medical issues and couldn't return to his home, Potter and fellow Hall of Famer Kaye Kessler came to Hogan's house with the plan of trying to pack up the books and categorize them. But when it became apparent that that plan was no half-day affair, Potter and Kessler boxed up the books and Potter arranged to put the collection in a Pods storage unit. 
From there, one of Potter's next calls regarding the books went to Mate, a book lover who also has long served on the Colorado Golf Hall of Fame board.
"I asked if Ed had a place for them," Potter recounted. "Ed, you know, loves books. He said, 'Let's move them over here.' We did that one cold winter day."
 Then came making the collection into an organized library. 
"Ed had told me about this project and I kind of stared at him like he was crazy," said Ashley Barnhart, the CGA's managing director of golf operations. "I said, 'I know someone who can help.' I called on my mom and she came."
Barnhart's mom, Jean, is a school teacher in Sidney, Mont., who has considerable background working in school libraries. She came down during her spring break this year to visit Ashley and agreed to help out with the Hogan Library project. Mate asked Passey to become the third member of the library triumvirate.
"Ed Mate knew I liked this kind of thing," Passey said. "I'm a big collector myself and I love the history of our game, the architecture of our game.
"It was a labor of love for me. I loved every minute of it. It was a lot of fun."
Among the three of them, Passey, Barnhart and her mom logged about 100 hours over four or five days sorting, cataloging, inventorying and shelving the books. The books went from piles on the floor to nicely organized on bookshelves along the walls at the CGA offices.
"We both like tedious projects," Ashley Barnhart joked about herself and her mom.
"I think it's definitely a respected collection that a lot of people enjoy coming to look at and having the ability to take a book out, sit down and read it for a while and put it back."
The project was actually largely complete in the spring, but CGA officials decided to delay their library open house until after the meat of the Colorado golf season was complete.  
"It was a lot of work," Mate said. "Ashley was kind of the computer person, Mark was sort of the golf curator and Jean was the librarian. The three of them teamed up, came up with a system and worked for (several) solid days. And here it is."
Said Passey: "I think Ed and Gary deserve a huge amount of credit here."
In essence, after a long project that took many twists and turns, all's well that ends well.
"The whole story is, Dan wanted these books to be preserved and he wanted the Hall of Fame to have them, but it works out a hell of a lot better for them to be here," Potter said.
"It's the perfect situation. You have somebody who loves book, in Ed Mate. They found somebody to catalog them in Jean Barnhart. There are some treasures in there. It's special."