Mark Hubbard getting rare chance to compete in his native Colorado as he gears up for return to PGA Tour
By Gary Baines – 06/10/2019
Denver native Mark Hubbard will be one of the headliners for next month's inaugural TPC Colorado Championship at Heron Lakes in Berthoud, but don't look for him to return to the Web.com Tour event in 2020 — or possibly ever again.
It's certainly nothing personal. Hubbard is very much looking forward to competing in his old home state for the first time since the 2013 Colorado Open. It's just that he's almost certain to be returning to the PGA Tour later this year, and he hopes he'll be going up there for many years to come this time after being a regular there from the fall of 2014 to 2017.
"It'll be fun just to come out here," Hubbard told ColoradoGolf.org on a recent visit to TPC Colorado, which will host the Web.com Tour stop July 11-14. "I really haven't played golf (competitively) in Colorado in a long time, so I'm really excited." (Hubbard is pictured above at TPC Colorado with Cherry Hills Village resident David Duval, the former world No. 1 who will also compete in the new Web event.)
But after a very strong season to date for Hubbard on the Web.com Tour, the Colorado Academy graduate has set himself up to regain his PGA Tour card for the 2019-20 season, which will start in the fall. The top 25 performers in the 2019 Web regular season earn promotions to the PGA Tour, and Hubbard currently sits sixth on the season-long points list. By his reckoning, he's already earned enough points to return to the PGA Tour, though he's still trying to improve his status, which will help him get additional starts once he's back on golf's premier circuit.
So far this year, Hubbard won on the Web.com Tour for the first time — in February at the LECOM Suncoast Classic — and has played some consistently impressive golf since the beginning of May. In five starts during that period, he's recorded four top-15 finishes, including a third and a sixth late last month.
That coincided with hitting a personal milestone of sorts as he turned 30 years old on May 24.
In his 30s, Hubbard hopes to remain a regular on the PGA Tour. Going into the year, Hubbard said he felt accumulating 850 points or more on the Web.com Tour "was going to be safe" to earn a PGA Tour card. And he stands at 901 — with still nine tournaments left in the regular season, including the one in Berthoud.
"I'm feeling good about my position," he said on May 30. "That being said, 10th place vs. 25th place out of those 25 (spots) is a big deal in terms of getting into all the (PGA Tour's) fall events. If you want to get into a couple of fall events and don't play well, there's a reshuffle after that.
"They talk about the 25 (Web players from the regular season) getting their card — and it is a big deal — but it's more an opportunity because you still have to go out and play well. Getting as high as I can in that 25 is still important."
And while regaining a spot on the PGA Tour is a major first step, it's far from the be-all, end-all for Hubbard, who first broke onto the Colorado golf scene in a significant way when he swept the CGA Junior Stroke Play and Junior Match Play titles in 2007, then won the inaugural Mark Simpson Colorado Invitational college tournament in 2010.
You see, while Hubbard kept his PGA Tour card for three seasons, he didn't feel as equipped as he is now to be a contender at the PGA Tour level. While he recorded six top-20 finishes on that circuit, his best-ever showing is a 15th at the 2016 Puerto Rico Open.
Having gone from PGA Tour Canada in 2012 and 2013 (winning once in '13) to the Web.com Tour in 2014 to the PGA Tour for three years, then back to the Web circuit for the last two has given Hubbard some invaluable perspective.
"I think it makes me appreciate it more and want it more," he said. "What I will say is when I first got my (PGA Tour) card I think I was talented enough to be up there, but I don't think I was ready as a golfer. I think I needed to come back down to the Web to figure out how to get myself in contention and figure out what my game is.
"When you're growing up dreaming about being on the PGA Tour, you're dreaming about making the putt for the win. You're not dreaming of tapping in on 18 for 45th place. The money is great, everything is great, but that's not what you dream of. When I was up there the last time, I was ready to be there, but I wasn't ready to win and compete. I know the next time — hopefully this coming year — when I do get back up there, I will be ready to compete."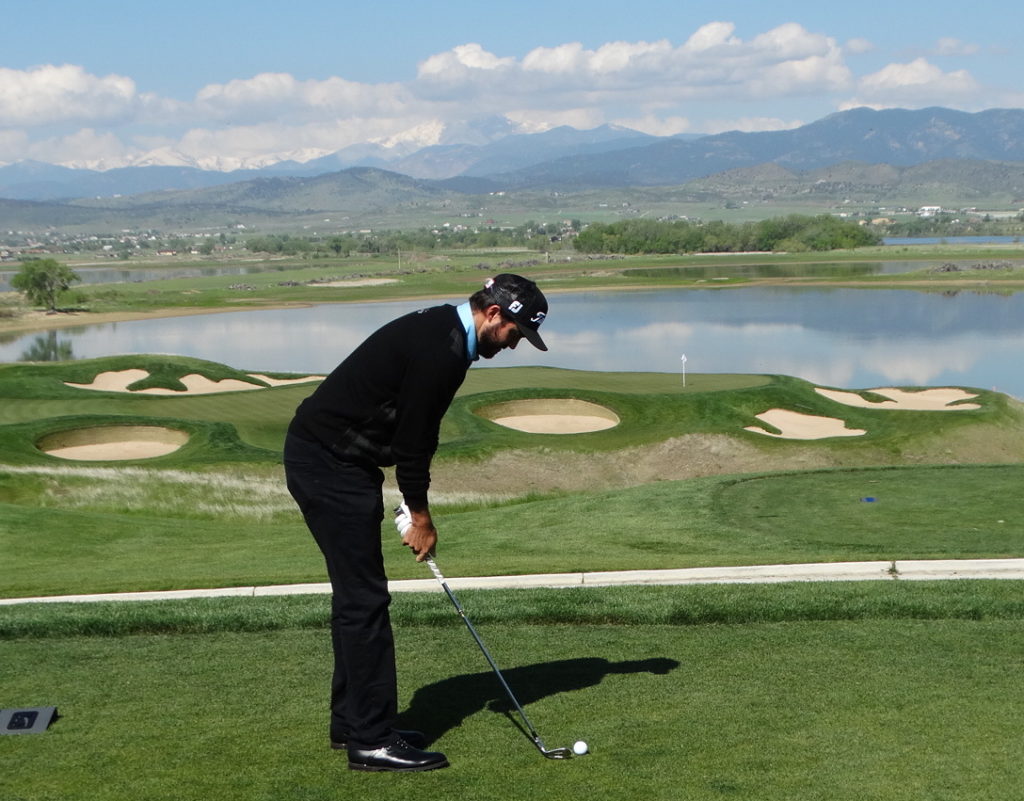 While Colorado will always be "home" in a way for Hubbard, for almost the last five years he's been living in The Woodlands north of Houston, with wife Meghan. He said he still gets back to the Centennial State a fair amount, but more during the cooler months of the year than the summer, which is the peak of his competitive season.
"I come back in the winter to ski and enjoy family stuff," he stuff. "Every once in a while we'll get a nice winter day where I can play nine over at Pinehurst (Country Club) with my brothers."
For ticket information for the TPC Colorado Championship at Heron Lakes, CLICK HERE.
For general informational about the tournament, CLICK HERE.