Saddle Rock/Murphy Creek squad defeats Meadow Hills 14-10 for second CGA Team Interclub title in the last five years
By Gary Baines – 10/30/2021
What's a tournament-winning team without a trophy?
Still champions, that's what.
Though the CGA Team Interclub trophy, given to the winner of the season-long championship, disappeared in the early afternoon on Saturday after being on display on the back patio at The Meadows Golf Club in Littleton — an apparent victim of theft — Saddle Rock/Murphy Creek emerged with the title. The combined club defeated fellow City of Aurora course Meadow Hills 14-10 in Saturday's Interclub finals.
The fact that there was no hardware to go along with the victory — at least not immediately — did little to dampen the spirits of those on the title-winning team.
Asked if it was weird not being presented with a trophy after the victory on Saturday, Saddle Rock/Murphy Creek's Alex Williams said, "I never thought I'd be asked that question. You can't believe you come up here and someone actually took the trophy while we were out there (playing). It's pretty crazy. But I'm sure we'll get the trophy back. We all know that we got the job done, so that's all that matters."
Teammate Joe Fabrizio was asked if the situation with the trophy took any luster off the victory?
"No, except I like getting the picture so I can send it to my friends back in New York, where I grew up," he said. "When we won it in '17, I believe that was the first thing I'd ever won in my life, so I was sending those pictures around."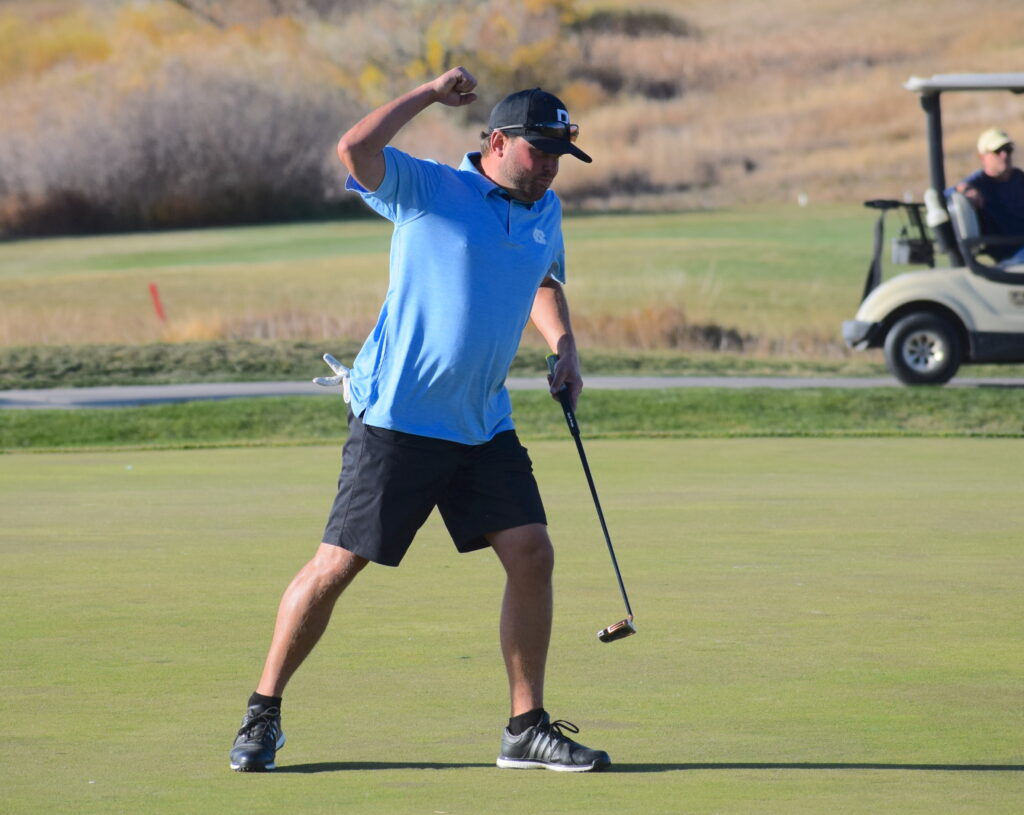 Indeed, this makes two CGA Team Interclub titles in the last five years for Saddle Rock/Murphy Creek as it defeated Glenwood Springs Golf Club in the finals in 2017. Fabrizio, who won both his singles and four-ball matches on Saturday, was among those who has represented SR/MC on both championship teams. Saddle Rock/Murphy Creek was also in contention for the title last year, when it lost in the semifinals to eventual champion Ute Creek.
"It feels great," Fabrizio said of playing on both SR/MC championship teams. "Everybody is out here having fun, but we're all trying to win. I don't think the bragging rights last — I've never heard anyone talk about it after 24 hours. We all enjoy the competition. It's a bummer when you lose your match; it's a lot of fun when you win it. And winning the Cup is awesome for our club."
The finals are the culmination of a season-long competition that started in the spring. Twenty-six teams from around the state — from Battlement Mesa in Parachute to Murphy Creek in east Aurora, and from Elmwood Golf Course in Pueblo to The Olde Course in Loveland — participated in the 2021 competition, seven more than took part in 2020. The record number of team entrants for the event was 64 in 2013.
The Interclub features a regular-season round-robin of geographically-linked groups of teams, followed by a 16-team single-elimination playoff held in late summer and early fall.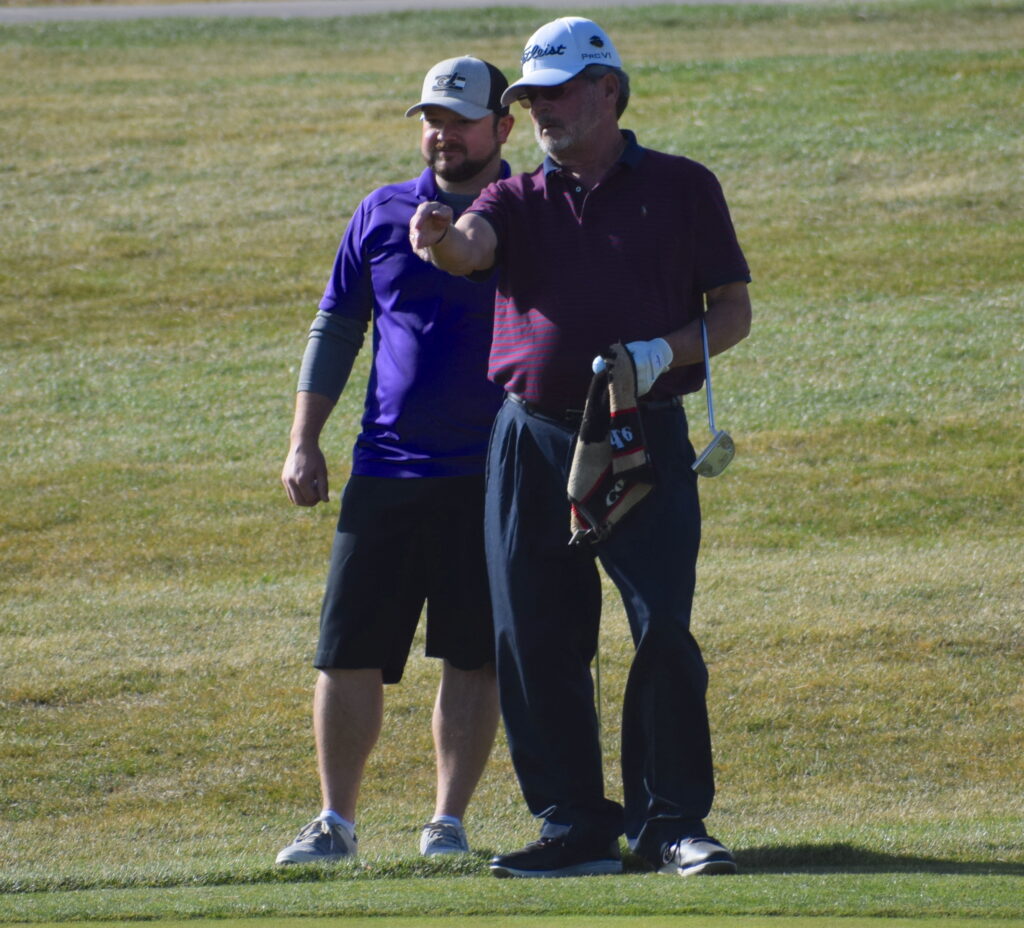 Both in the regular season and the playoffs, teams of eight golfers each — of widely varying abilities — square off, with net singles and net four-ball matches held concurrently. Each individual match is worth two points — two for a win and one for a tie. Rosters can vary throughout the season.
In Saturday's finals, the teams split the eight singles matches, but Saddle Rock/Murphy Creek prevailed in three of the four four-ball matches, making the difference.
"To be the last man standing, it's awesome," Williams said. "Golf is usually individual, but this was a team game and it was fun to be part of it. It's fun to be around these guys."
Four competitors ended up winning both of their matches on Saturday, with Saddle Rock/Murphy Creek's Bill Holinger and Julio Palacios joining teammate Fabrizio and Meadow Hills' Jeff Woods.
Saturday marked the first Team Interclub final for Meadow Hills. And while Woods certainly would have like to have claimed the title, he thought it was special that two Aurora teams were battling it out for the championship. It marked the first time that both Team Interclub finalists have come from the same city or town.
"It's nice to keep it local and not have somebody 100 miles away or whatever (come out on top)," Woods said. "I actually used to work at Murphy Creek a long time ago, so I know the course well. And I know the guy I was playing against today (Jeff Sweet). I've played with him many times. We play in a Thursday game that kind of travels around town.
"Obviously, this is about bragging rights, but it's fun. It's a blast. None of us have to rely on playing golf for a living, but I like match play and I like competition."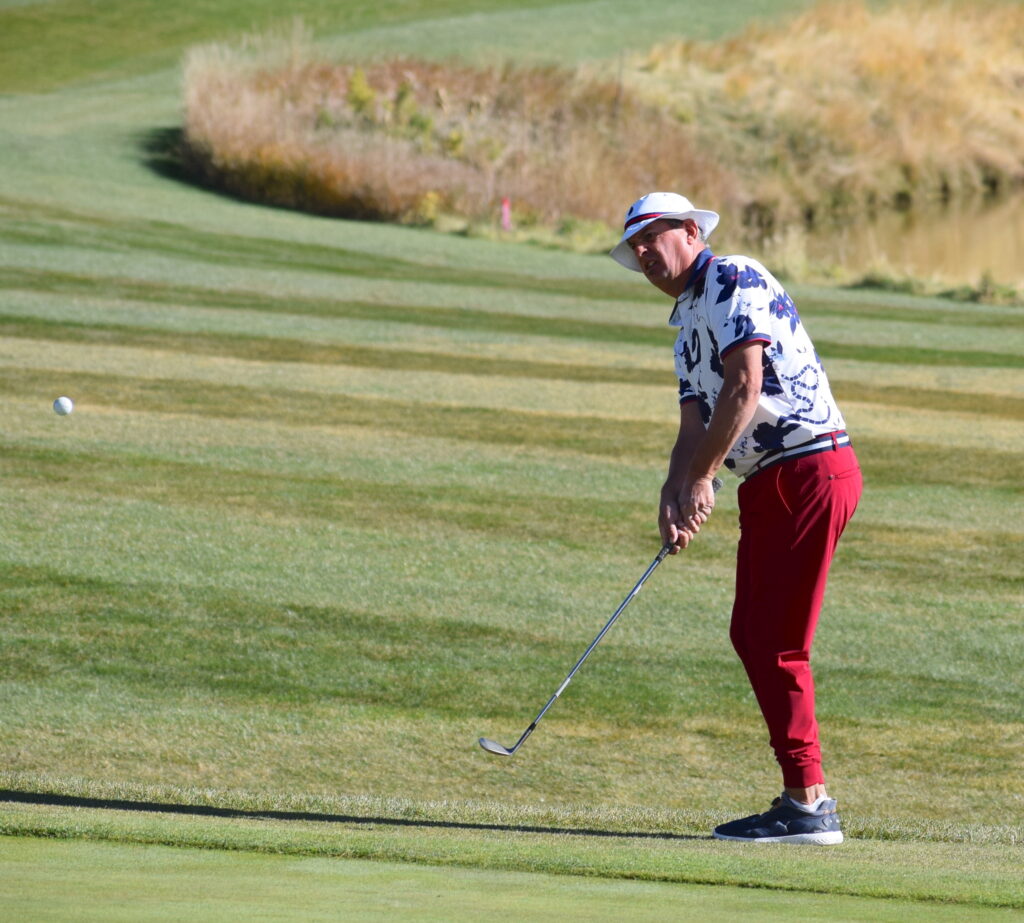 With Saturday's victory, Saddle Rock/Murphy Creek finished the season with a 5-1-1 record — its only loss coming to Red Hawk Ridge in the season opener — while Meadow Hills went 5-2.
"It was really cool that two Aurora teams made it this far," said Williams, who defeated Meadow Hills' Brian Richmeier in singles on Saturday. "Hopefully we'll see that again next year."
As for the apparently pilfered trophy, said the CGA's Matthew Walker, who oversees the Team Interclub, "That's a first."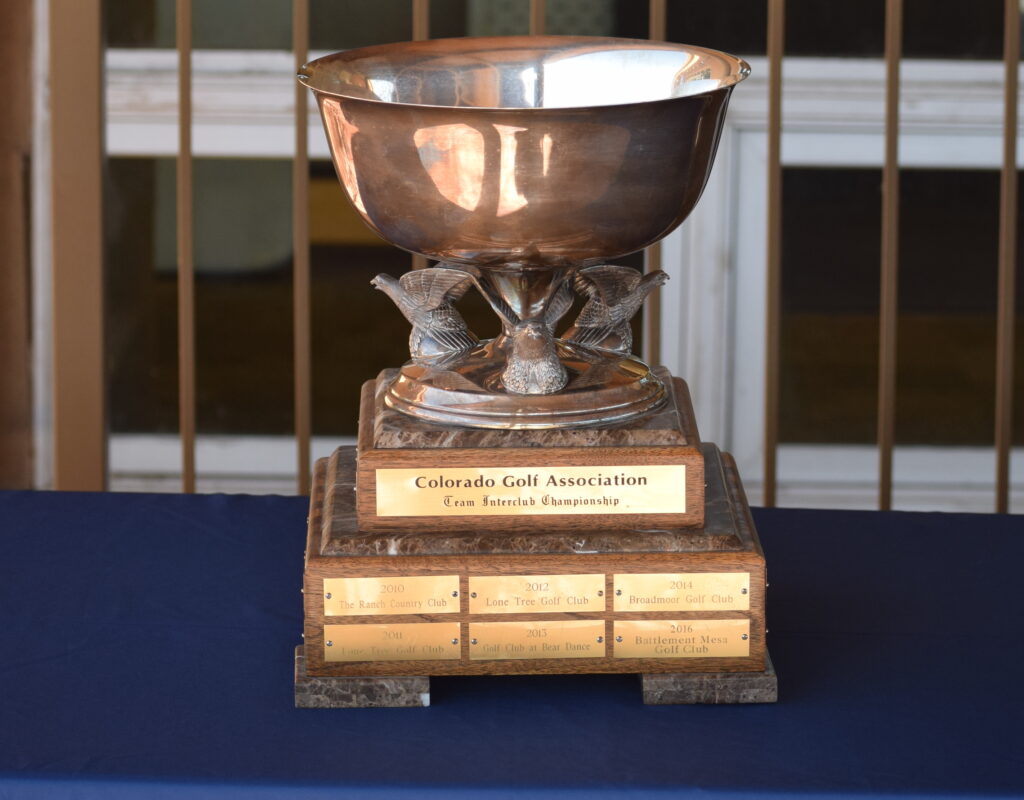 As part of the Team Interclub, the CGA will donate $500 to each of the junior golf programs at the clubs which qualified for the finals.
The Team Interclub finals concludes the 2021 CGA championship season.
For more information on the CGA Team Interclub, CLICK HERE.

SATURDAY'S CGA TEAM INTERCLUB FINALS RESULTS
(OVERALL SCORE: SADDLE ROCK/MURPHY CREEK 14, MEADOW HILLS 10)
Four-Ball (Saddle Rock/Murphy Creek 6, Meadow Hills 2)
Brian Richmeier/Jeff Woods (MH) def. Alex Williams/Jeff Sweet (SR/MC), 4 and 3
Rick Mandock/Joe Fabrizio (SR/MC) def. Kurt Miller/Michael Day (MH), 3 and 1
Bill Holinger/Ian Culverhouse (SR/MC) def. Cedric Keppler/Brian Gaul (MH), 4 and 3
Naga Prasad/Julio Palacios (SR/MC) def. Erin Swanson/Lenny Cardella (MH), 3 and 2
Singles (Saddle Rock/Murphy Creek 8, Meadow Hills 8)
Alex Williams (SR/MC) def. Brian Richmeier (MH), 3 and 1
Jeff Woods (MH) def. Jeff Sweet (SR/MC), 4 and 3
Michael Day (MH) def. Rick Mandock (SR/MC), 1 up
Joe Fabrizio (SR/MC) def. Kurt Miller (MH), 3 and 1
Bill Holinger (SR/MC) def. Cedric Keppler (MH), 4 and 3
Brian Gaul (MH) def. Ian Culverhouse (SR/MC), 8 and 7
Erin Swanson (MH) def. Naga Prasad (SR/MC), 3 and 2
Julio Palacios (SR/MC) def. Lenny Cardella (MH), 3 and 2

CGA TEAM INTERCLUB FINALS HISTORY
2021: Saddle Rock/Murphy Creek GC def. Meadow Hills GC, 14-10
2020: Ute Creek GC def. Riverdale GC, 18-6
2019: Rifle Creek def. Battlement Mesa GC, 17-7
2018: The Broadmoor GC def. Rifle Creek GC 13-11
2017: Saddle Rock GC/Murphy Creek GC def. Glenwood Springs Golf Club 22-14
2016: Battlement Mesa GC def. The Broadmoor GC, 26-10
2015: Todd Creek GC def. The Broadmoor GC, 23-13
2014: The Broadmoor GC def. Rifle Creek GC, 23-13
2013: GC at Bear Dance def. Todd Creek GC 20-16
2012: Lone Tree GC def. Rifle Creek GC, 28-8
2011: Lone Tree GC def. Battlement Mesa GC 24-12
2010: The Ranch CC def. Indian Tree GC, 22-14

ROAD THROUGH 2021 TEAM INTERCLUB
Saddle Rock/Murphy Creek (Record: 5-1-1)
Lost to Red Hawk Ridge 13-11 in group play
Defeated South Suburban 13-11 in group play
Tied with Lone Tree 12-12 in group play
Defeated Saddleback 14-10 in round of 16
Defeated Kennedy 15-9 in quarterfinals
Defeated Battlement Mesa 17-7 in semifinals
Defeated Meadow Hills 14-10 in finals
Meadow Hills GC (Record: 5-2)
Defeated Littleton Golf Club 20-4 in group play
Lost to Englewood Men's Club 13-11 in group play
Defeated The Meadows 17-7 in group play
Defeated River Valley Ranch 15-9 in round of 16
Defeated Hyland Hills 17-7 in quarterfinals
Defeated Elmwood 14-10 in semifinals
Lost to Saddle Rock/Murphy Creek 14-10 in finals

2021 CGA TEAM INTERCLUB SINGLE-ELIMINATION PLAYOFFS
Round of 16
Hyland Hills def. The Meadows, 13-11
Meadow Hills def. River Valley Ranch, 15-9
Englewood Men's Club def. Homestead, 16-8
Elmwood def. Red Hawk Ridge, 15-9
Battlement Mesa def. Ute Creek, 23-1
Walking Stick def. Lone Tree, 15-9
Saddle Rock/Murphy Creek def. Saddleback, 14-10
Kennedy def. Desert Hawk 17-7
Quarterfinals
Meadow Hills def. Hyland Hills, 17-7
Elmwood def. Englewood Men's Club, 15-9
Battlement Mesa def. Walking Stick, 13-11
Saddle Rock/Murphy Creek def. Kennedy, 15-9
Semifinals
Meadow Hills def. Elmwood, 14-10
Saddle Rock/Murphy Creek def. Battlement Mesa, 17-7
Final
Saddle Rock/Murphy Creek def. Meadow Hills, 14-10