With Hollis Stacy's help, Erin Houtsma medalist again in U.S. Women's Mid-Am qualifying; fellow Coloradans Haley Nist and Janet Moore also advance, but Moore may miss championship due to impending birth of grandchild
By Gary Baines – 8/11/2021
Hollis Stacy is becoming a bit of a golf whisperer in Colorado, where she resides part of the year.
Specifically, in recent weeks, she's helped a couple of Colorado amateurs get their games in order to qualify for USGA championships. And that seems appropriate given the career Stacy had in USGA events, winning six times — three U.S. Women's Opens and three U.S. Girls' Juniors.
Late last month, Robin Bradbury of Superior credited the World Golf Hall of Famer for giving him some tips that helped him share medalist honors in U.S. Senior Amateur qualifying.
Then on Wednesday, Erin Houtsma of Denver did much the same after winning a qualifying tournament and advancing to the U.S. Women's Mid-Amateur.
"I putted really, really well today," she said of her qualifying round at The Broadlands in Broomfield. "I've been practicing a little bit with Hollis Stacy. Her and I have talked a lot about putting — what she thinks about (while putting) and the feelings and stuff like that. We played out here in a practice round a few weeks ago and really worked on it. She was like, 'I think this is going to be a game-changer for you.' And it turns out that it has. She's been a great source of inspiration. I appreciate her so much sharing her knowledge with me."
On Wednesday, in her second time competing in U.S. Women's Mid-Amateur qualifying since getting her amateur status back three years ago, Houtsma earned medalist honors for the second time. The 2005 CoBank Colorado Women's Open champion birdied the last hole from 4 feet to shoot an even-par 72.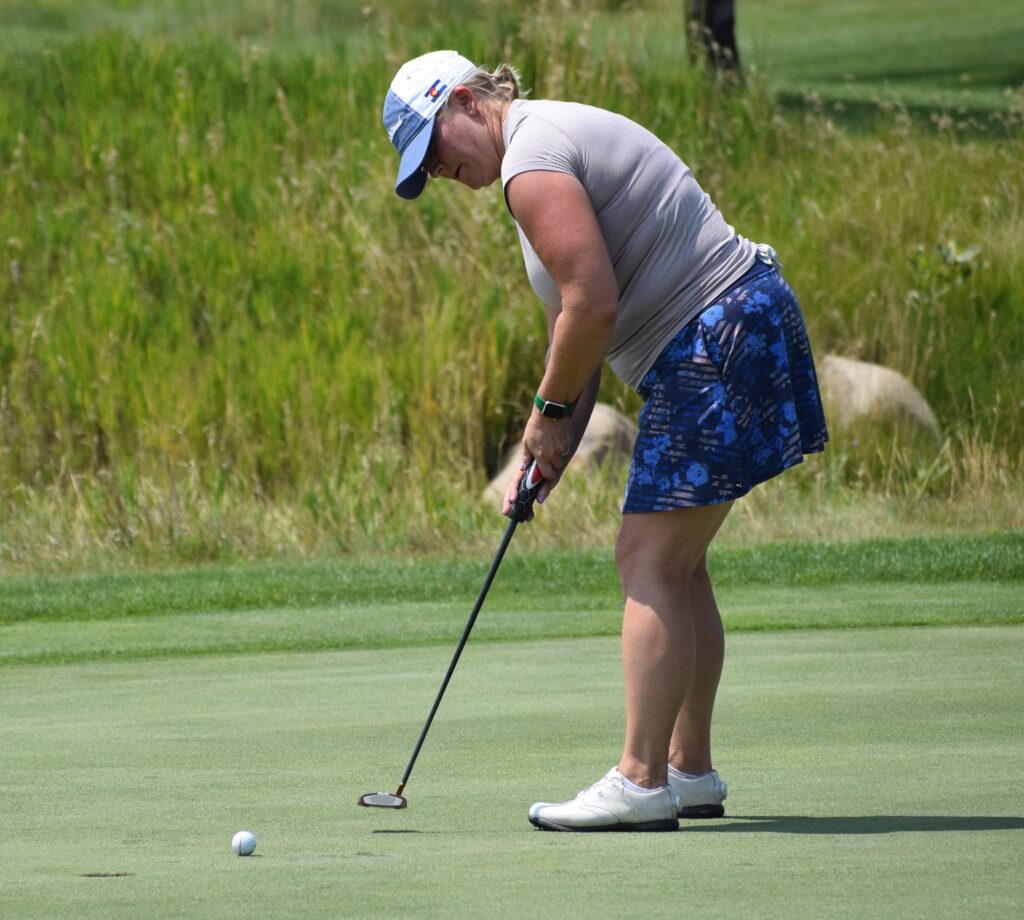 Joining her in advancing to the Women's Mid-Amateur — set for Sept. 25-30 in Bluffton, S.C. — were Haley Nist of Denver (75 on Wednesday) and Colorado Golf Hall of Famer Janet Moore of Centennial (77).
But Moore indicated there's a significant chance that she won't be taking her spot in the Women's Mid-Am because her daughter, Sarah, is expecting her first child on Sept. 24. If that date — or anything very close to it — holds true, Moore will be with her daughter and family and skipping the Mid-Am.
"I'm excited to qualify but more excited that my daughter is due on the 24th of September," said Moore, 57. "So I most likely won't be going. That's obviously the priority and I'm so excited about it. Whenever I get the call, I go.
"This wouldn't be the first time I've qualified for a Mid-Am and haven't gone. I remember (son) Steven had his first soccer game; I think he was 4 1/2 and I was the coach. I qualified for the Mid-Am and didn't want to miss his first soccer game. It's great being a mom and even better being a grandma. I'm very excited. If I don't go, it'll be because of a wonderful reason."
Moore, who earlier this summer was medalist in qualifying for both the U.S. Senior Women's Open and U.S. Senior Women's Amateur, has now qualified for 33 USGA championships overall, including 19 Mid-Ams, which are limited to competitors 25 and older.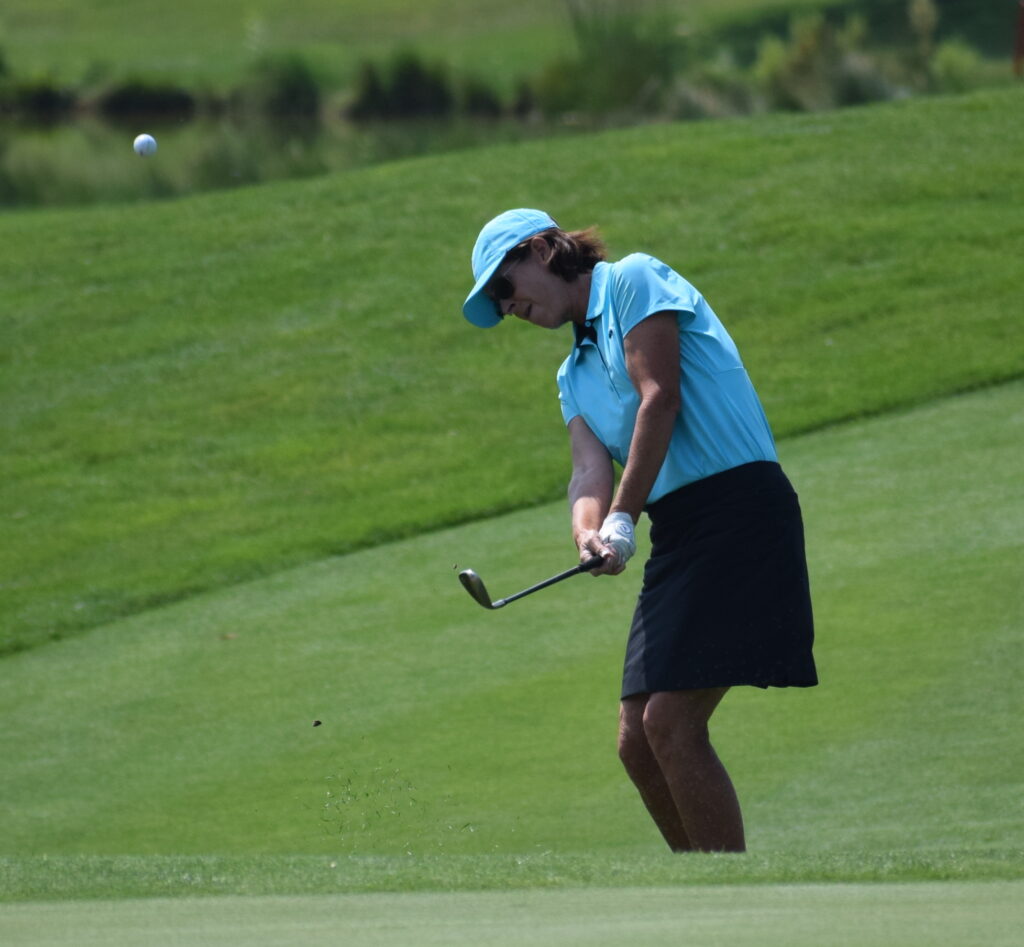 Houtsma, Nist and Moore were the three qualifiers out of the 11 players who teed it up on Wednesday at The Broadlands. If the dates don't work out for Moore, going to the national championship would be Jennifer Delgadillo of Horizon City, Texas, near El Paso. Delgadillo shot a 78 on Wednesday, but three-putted her final hole for bogey from the front fringe.
It will be the sixth USGA championship overall for Houtsma, a former University of Colorado golfer who has competed in three U.S. Women's Amateurs, and the first for Nist, who played her final season of college golf for CU after transferring from Oregon State.
Houstma finished Wednesday with two birdies to go along with a double bogey on the second hole. After missing a short birdie putt on 16, Houtsma made a 6-foot par on 17 and the 4-foot birdie on 18.
"I was reining it in and playing solidly instead of trying to shoot 59," said Houtsma, who gave credit to her dad/caddie, Steve Kerr, for keeping her from playing too aggressively under the circumstances.
In 2019 — the last year the U.S. Women's Mid-Am was held — Houtsma advanced to the round of 16 after beating 2009 champion Martha Leach in the round of 32.
"This (Mid-Am qualifying and championship this year) was the thing I planned everything else to prepare for," said the 41-year-old Houtsma. "I love playing in the mid-am events. I love playing with women who are around my age, in the same stage of life, having kids, doing all the juggling that goes into being able to play at a high level and also managing your life and your house and stuff like that.
"I have a lot of confidence going back. I know what it feels like to be there and play in that match play against some of those great players I read about and know about. I was bummed they canceled it last year" due to Covid-19 safety concerns.
Wednesday marked Nist's first tournament golf since she wrapped up her college career at CU in the spring of 2019.
"I'm excited to go out and compete," said Nist, who at 25 is a mid-amateur rookie. "It's my first tournament post-college. I was ready to get back out there.
"I took about a year off (after school). I didn't really touch a club. I was a little burned out after school, but I still have the love for the game and kind of missed it. This spring I dusted off the clubs and started practicing and playing here and there. What better way than going into a tournament to get back into it? I'm excited."
Nist, winner of two Idaho Golf Association Women's Amateur titles (2014 and '18) and two Idaho 4A girls state high school individual championships, failed to make any birdies on Wednsday, but did what she had to do to advance.
"My short game saved me," said Nist, who works in commercial real estate development. "I think I had 10 putts on the front nine and shot 1 over. That means something is not going right. I was scrambling to get up and down. It was a grind."
Moore carded three birdies on Wednesday, but also had four bogeys and two double bogeys.
"It's always good to get a round of competitive golf in," Moore said. "I always like to qualify and keep options open just in case. I thought I was going to play better today because I'm starting to hit the ball better, but it didn't happen. But I'm happy to have qualified."

U.S. Women's Mid-Amateur Qualifying
At Par-72 Broadlands GC in Broomfield
ADVANCE TO NATIONAL CHAMPIONSHIP
Erin Houtsma, Denver 72
Haley Nist, Denver 75
Janet Moore, Centennial 77
ALTERNATES (In Order)
Jennifer Delgadillo, Horizon City, Texas 78
Meredith Jameson, Amarillo, Texas 84
For all the scores from The Broadlands, CLICK HERE.