Fowler/Polk rally to win CGA Senior Four-Ball title for record-tying third time in last five years; Polk captures fifth championship in the event overall; Cloud/Reynolds repeat as super-senior champs
By Gary Baines – 5/28/2020
Maybe Thursday's result in the CGA Senior Four-Ball Championship should have been foreseeable, given that this is the year 2020.
After all, it was all in keeping with a pattern.
Bill Fowler of The Club at Rolling Hills and Robert Polk of Colorado Golf Club won Senior Four-Ball titles in 2016 and '18, and in keeping with the even-year trend, they were due.
And even though they faced a three-stroke deficit heading into Thursday's final round at Thorncreek Golf Course in Thornton, they rallied to win their third Senior Four-Ball championship in the last five years.
Fowler and Polk thus tied a record for most CGA Senior Four-Ball titles as a team, matching the marks of Jerry Kidney and Les Mattocks (1998, '99 and 2002) and Bert Welz and Mike Guetz (1994, '97 and '01).
"We did what we had to do," said the 64-year-old Polk, a longtime CGA Tournament Committee chairman. "We're pretty strong (as a team). Bill is so steady, and I make a birdie every now and then.
"With Bill being so steady, it kind of frees me up. I can make a birdie or two. He's not going to make X (on a hole). I'm going to make X every now and then. But it's a real good team. We've been good friends forever and we've played a lot of golf together."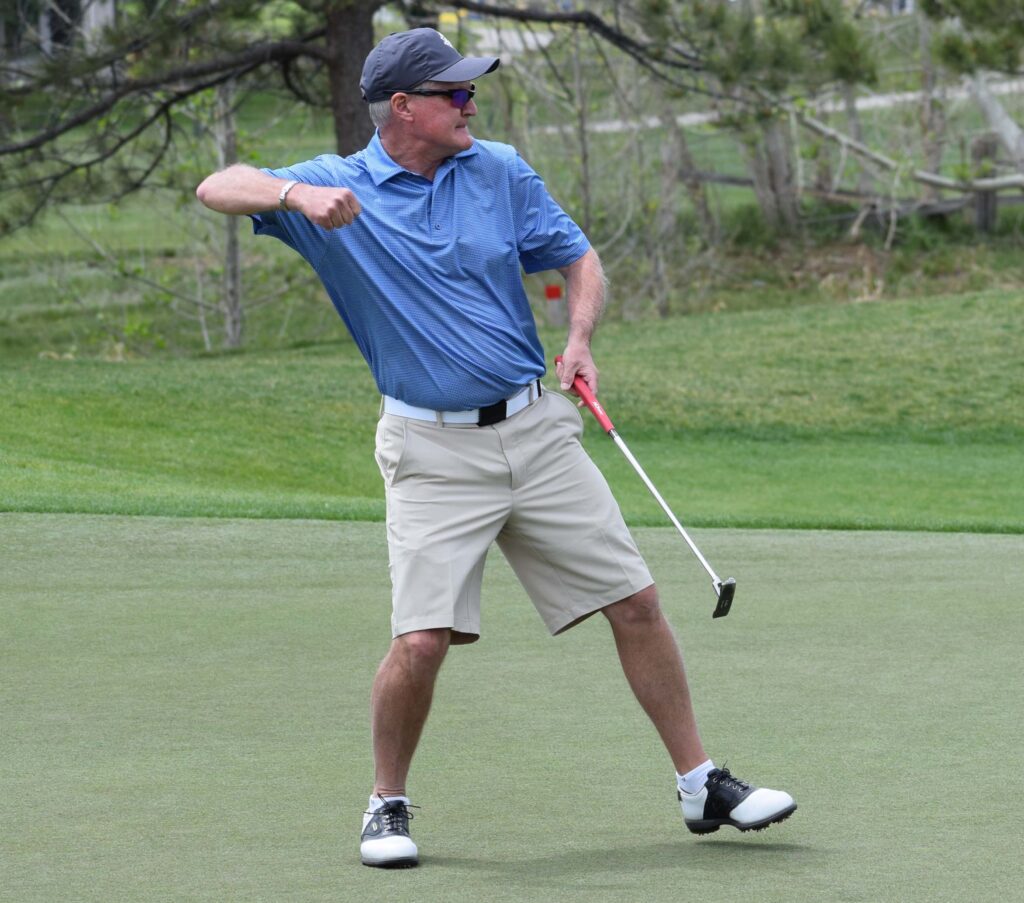 Even though Fowler carried the load for the team on the first day, he joked that he needed the team to win again this year to assure that he and Polk will remain a four-ball duo again in 2021.
"He's got to have me back for next year because we've got to defend (the title)," the 57-year-old former CGA president said. "That's my guarantee that we'll play again (together) next year."
But Polk gave much of the credit for the victory to Fowler, given how former struggled in Tuesday's opening round.
"If he could have found a new partner for the second day — and the rules had allowed it — I think I'd have been on the bench," Polk said with a laugh.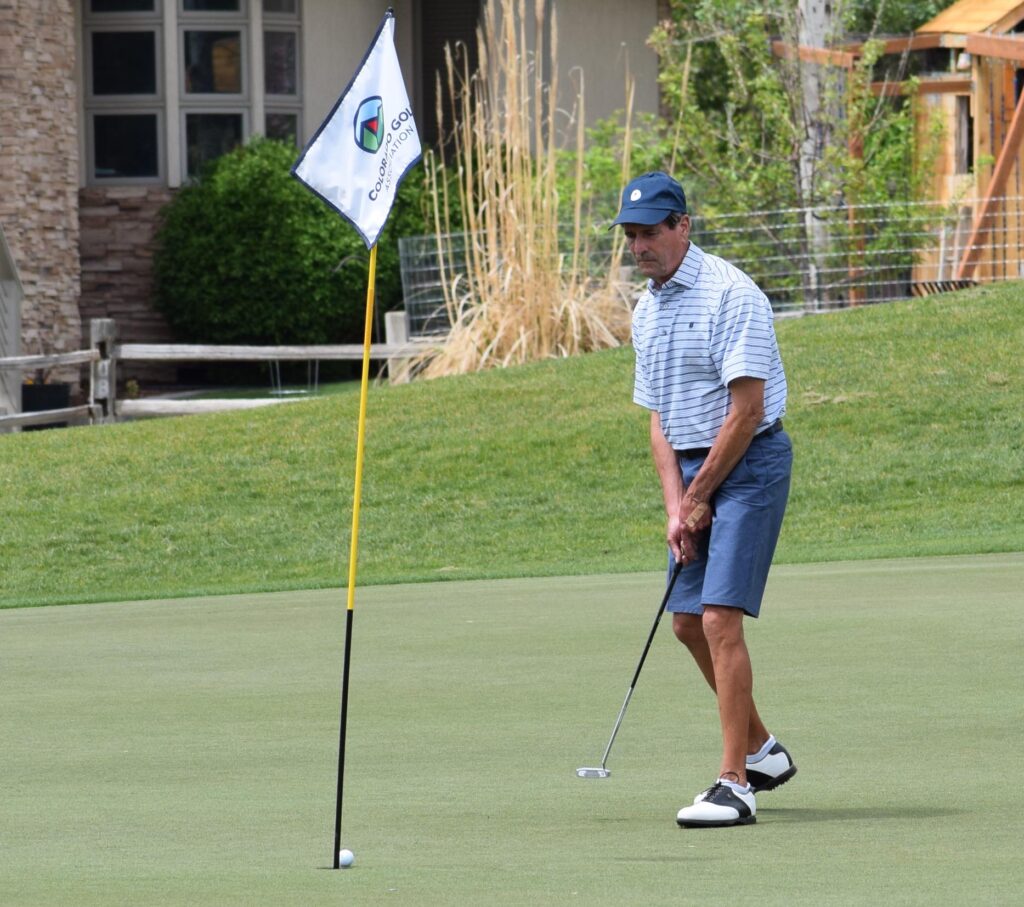 As it was, Polk captured his fifth CGA Senior Four-Ball crown overall — he also won with Jim Pierce in 2005 and with Steve Murphy in '07 — becoming the second five-time champ in the event, joining Welz (1989, '91, '94, '97 and '01).
Polk and Fowler never trailed after first- and second-round leaders John Hornbeck of Wyoming and Collindale Golf eClub and Victor Minovich of Foothills Golf Course made a best-ball double bogey on the sixth hole Thursday. And over the last seven holes, Fowler and Polk made two birdies each to keep Hornbeck and Minovich at bay.
Despite a final-hole bogey, Fowler and Polk prevailed by a stroke over the day 1 and 2 leaders. The champions closed with a better-ball score of 4-under-par 68 on Thursday, leaving them at 13-under 203 overall. The 13-under total was the best for the event since David Delich and Bruce Hogg went 14 under in 2014.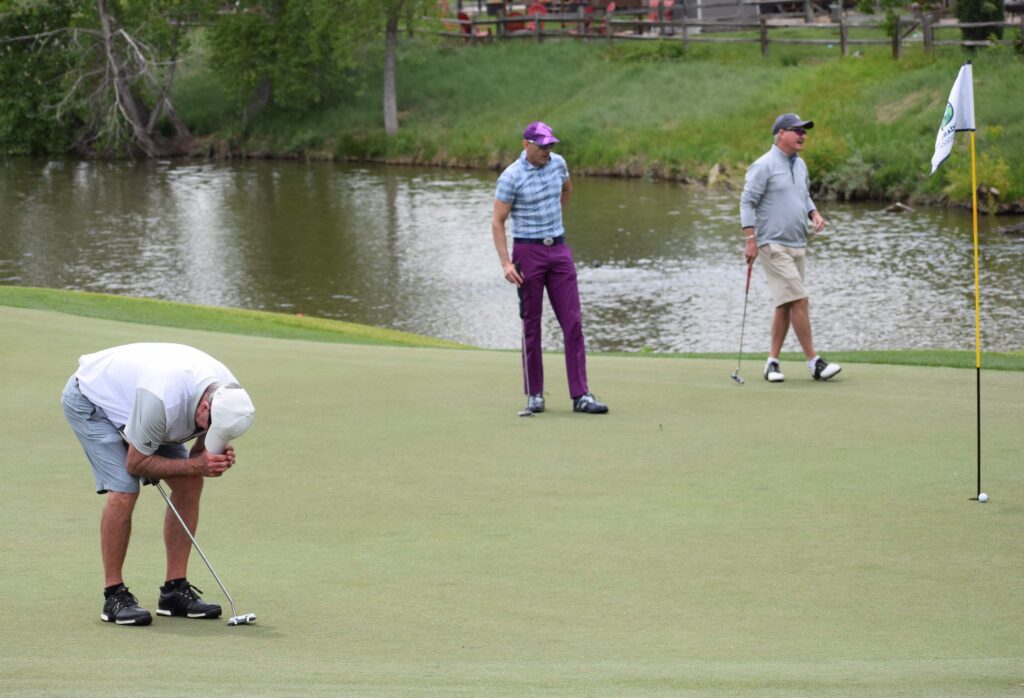 Hornbeck and Minovich birdied two of the last four holes to shoot an even-par 72 and place second at 204. But in the case of both of those birdies by Hornbeck — a 25-foot putt on 15 and a 30-foot chip-in on 17 — Fowler and Polk birdied right on top of them. Fowler drained a 20-foot birdie on No. 15 — after Polk hit his tee shot out of bounds — and Polk holed a 6-footer on 17 after missing from a similar distance on No. 16.
Defending champions Thomas Roos of Spring Valley Golf Club and Denny Fields of Walnut Creek Golf Preserve tied for third place at 207 with Robin Bradbury of Omni Interlocken Golf Club and Owen Ellis of Flatirons Golf Course. Bradbury and Ellis closed with a 68 and Roos and Fields with a 70.
Hornbeck and Minovich had gone 67-65 the first two days, but couldn't get anything going on Thursday. In fact, they didn't make their first birdie until No. 15. Both players made a mess of No. 6, with Minovich hitting his tee shot into a penalty area and Hornbeck mis-hitting a shot or two, then three-putting.
"The turning point was them both making double on No. 6," Fowler said. "We leapfrogged them on that hole, going from one down to one ahead."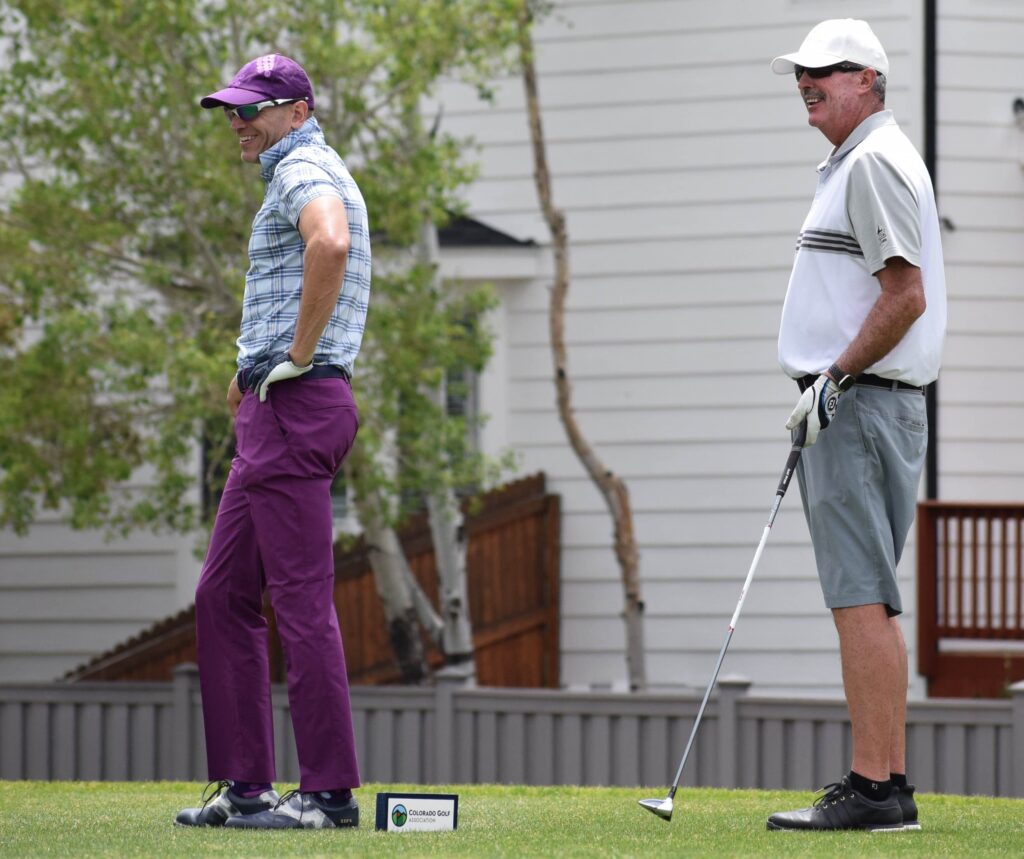 Hornbeck, the 2019 CGA Senior Amateur champion, would continue to struggle with his putter for much of the back nine, missing birdie putts of 3 feet on No. 10 and 8 feet on No. 11.
"We got off to a slow start," Hornbeck said. "We just didn't make any birdies. We've been 2-3 under after the first four or five holes (on previous days) so it's been easy. You just coast in. We just never got going, then Victor started hitting it a little crooked. And I came off greens rolling 12.5-13 (on the Stimpmeter) to these and I struggled on them. The greens are beautiful, but I just didn't get it to the hole. It was early-season golf."
Given how Hornbeck and Minovich had played the first two days, and that Fowler and Polk faced a three-stroke deficit going into Thursday, the latter weren't particularly confident they would emerge with the trophies.
"I didn't think we had a chance, to be honest with you," Fowler said. "But we played pretty well today. We needed to, and we needed them to help us a little bit — and they did.
"And down the stretch it was a team effort, no question."
Polk and Fowler have indeed been a formidable pair in the Senior Four-Ball, and that extends beyond their three wins. In fact, they've finished no worse than third together in their six appearances as a team starting in 2013. In addition, they also qualified for the first U.S. Amateur Four-Ball, played in 2015, and were one of the older twosomes in the field.
Overall, Polk now owns 13 CGA titles and Fowler nine.
The CGA Senior Four-Ball this year was limited to players 54 and older.
Cloud/Reynolds Repeat in Super-Senior Division: Those teams with both golfers 64 and older competed in the super-senior division of the event, and for the second consecutive year, Bob Cloud of CommonGround Golf Course and Jim Reynolds of Bear Creek Golf Club came out on top.
Both Cloud, 68, and Reynolds, 66, are former U.S. Senior Amateur qualifiers.
Cloud and Reynolds shot an even-par 72 on Thursday, leaving them with a 4-under 212 total, which was good for 18th place overall. Their highlight of the day was a better-ball eagle on No. 14.
Placing second among super-seniors were Dave Merritt and Bill Stevens of Meridian Golf Club, who checked in at 213 after closing with a 69.
For all the scores from the CGA Senior Four-Ball, CLICK HERE.