After defeating the No. 6-ranked amateur in the world, Australian Lukas Michel will face 2-time Canadian Mid-Amateur champ — and stay-at-home dad — Joseph Deraney for U.S. Mid-Am title at Colorado Golf Club
By Gary Baines – 09/18/2019
It was potentially a life-changing several hours for Australian Lukas Michel on Wednesday at Colorado Golf Club in Parker.
Or, at the very least, it was a day he won't soon forget.
The 25-year-old, the third-youngest competitor in the U.S. Mid-Amateur field, needed two extra holes to advance to the semifinals after once leading 4 up in his quarterfinal match. Then in the semis, he took down a former Mid-Amateur champion — and the sixth-ranked amateur in the world — Stewart Hagestad of Newport Beach, Calif., after being 1 down with three holes remaining on Wednesday afternoon.
The reward for that gritty play is keeping alive the hope for the bounty of riches that could come on Thursday. The winner of the 36-hole title match — which starts at 7 a.m. — can not only say he's the national champion among amateurs 25 and older, but he'll earn a berth in next year's U.S. Open and likely the 2020 Masters as well.
That's no chicken feed.
"A spot in the U.S. Open and an invite to the Masters hopefully," Michel said. "Pros can play their whole life and not get that opportunity. Nothing gets better than that, I don't think."
In addition, Michel (pictured above) would also be able to say he's the first non-American to win the U.S. Mid-Am. The previous foreign-born finalists are Canadians Warren Sye (1995) and Garrett Rank (2012) and Scott Mayne of Bermuda (1988).
Also going for all the same U.S. Mid-Amateur champion goodies on Thursday will be Joseph Deraney of Tupelo, Miss. Deraney has won the 2018 and '19 Canadian Mid-Amateur, so he could add the most prestigious Mid-Am title there is to his ever-growing collection.
"I'm pretty jacked up about" making the finals, he said. "I don't really think about (the implications). I had to turn down a PGA Tour event to be here. I won our Mississippi state amateur and they get an exemption to the Sanderson Farms Championship (which takes place this week in Jackson, Miss.).
"From a planning standpoint, it wasn't that tough (to turn down a spot in a PGA Tour event). This event is more important on our list. If I play well here, I can win. If I play well at Sanderson Farms, I can't win. That's a different level. To play so well here — and get to the finals — really feels good regardless of what happens tomorrow."
In semifinals that featured four golfers who were playing their fourth round of competitive golf in two days — while walking some very hilly terrain at Colorado Golf Club — Michel overcame U.S. Walker Cupper Hagestad 2 up in the final four, while Deraney held off former Korn Ferry Tour winner Jason Schultz of Allen, Texas, 1 up.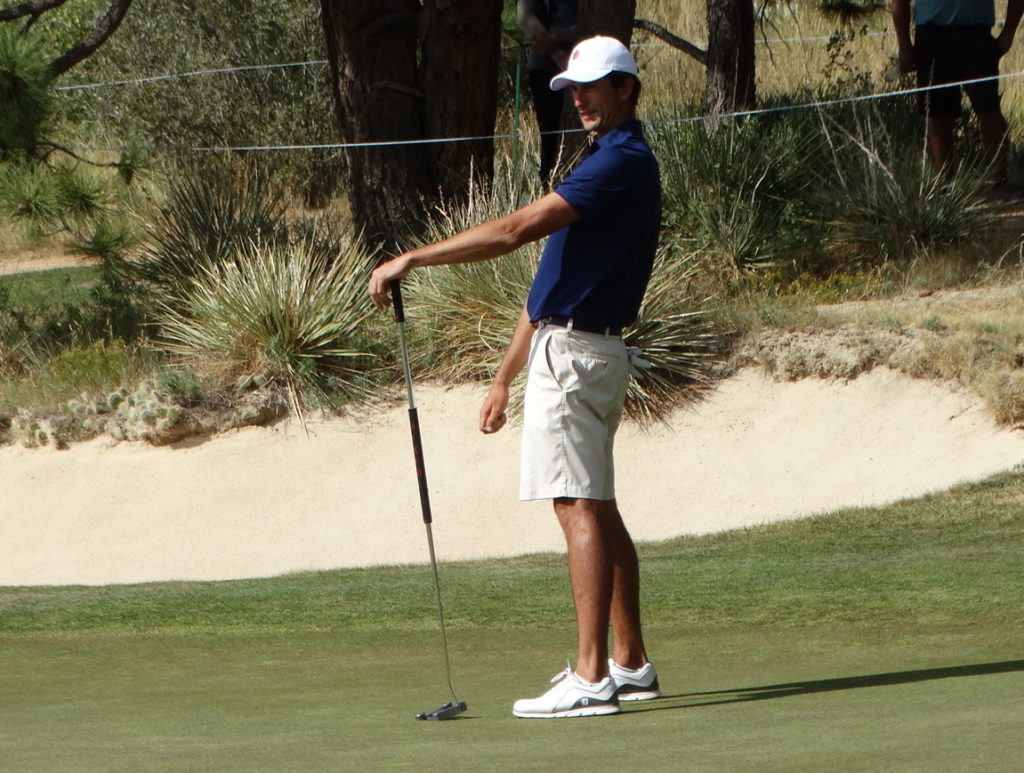 Hagestad, the 2016 U.S. Mid-Am champ, was ousted in the semifinals of this event for the second straight year.
He had won his earlier matches this week 5 and 3, 5 and 4, 5 and 4 and 4 and 2. In the semifinals against Michel, he rallied after being 3 down after 9, winning Nos. 10 and 12 with pars, No. 14 with a birdie and No. 15 with a par to go 1 up.
But after Lukas knotted the match with a two-putt birdie from 10 feet on No. 16, Hagestad lost No. 17 with a bogey when his tee shot on the par-3 got caught up in a squall and went left into a penalty area, where he had to hit his third with his feet in the water. Then after his tee shot on 18 went left into a fairway bunker, his approach shot bounced over the green and he couldn't make a 12-foot par putt. Lukas won the hole — and the match — with a two-putt par from 9 feet.
"I mean, it sucks," Hagestad said of falling in the semis for a second straight year. "What do you want me to say? Yeah, I'm super bummed to be that close. I really like this golf course. I played great the whole week. I had a lot of confidence going into it.
"I knew this would be my toughest match, especially after the way I played this morning (winning 4 and 2 and going 5 under par for 16 holes). It's tough to kind of back it up after you go out and pretty much go lights out."
Hagestad's match-play record in the U.S. Mid-Amateur is still a stellar 14-3 all time.
Said Michel: "Obviously, he chipped away at the lead. He played pretty well and I made a few mistakes coming home. But then he made his share of mistakes on the last couple of holes, so I sort of capitalized on that."
The semifinals marked the second time on Wednesday that Michel had lost a big lead, then bounced back to advance. In the quarterfinals against Jacob Koppenberg of Bellingham, Wash., Michel was 4 up through 13, but Koppenberg won four of the last five holes in regulation, including one with an eagle and two with birdies. He forced extra holes with a routine par on the 18th when Michel bogeyed after being in the trees with both his tee shot and second shot.
After the two tied the par-5 19th hole with two-putt birdies, Michel prevailed on the 20th with a regulation par as Koppenberg missed the green left on the par-3, saw his pitch trickle off the front of the green, then couldn't hole his next pitch and made bogey.
"It was obviously a really good day," Michel said.
So, after all that, what does it mean to be going to the U.S. Mid-Am finals on Thursday?
"It's definitely the biggest accomplishment probably I've had in my career so far," said Michel, who at age 25 is obviously competing in his first U.S. Mid-Am. Michel is currently No. 287 in the World Amateur Golf Rankings. His round-of-32 victory came against Nick Nosewicz of Aurora.
Michel's caddie in recent rounds has been William Davenport of Palm City, Fla., who made match play but lost in the round of 64 to Hagestad.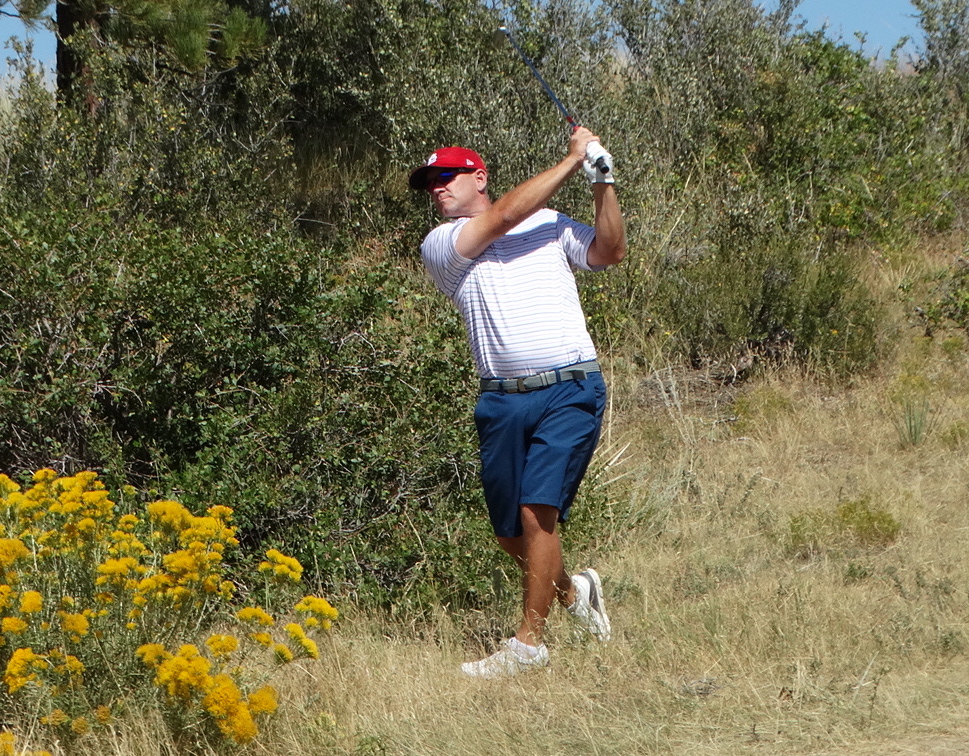 In Wednesday's other semifinal, Deraney, a 36-year-old stay-at-home dad who is a reinstated amateur, held a 3-up lead through 12 holes against Schultz. But the latter made an improbable birdie on No. 13 after hitting an approach shot out of the trees to 8 feet from the cup. Then he won No. 16 with a par to get to within 1 down.
After both players made pars on 17, they had birdie attempts along the same line on 18 — Deraney from 15 feet and Schultz from 8. Both missed, giving Deraney the 1-up victory.
Deraney, who played in this year's RBC Canadian Open by virtue of his first Canadian Mid-Am victory, was asked if he was concerned when Schultz cut so much into his lead.
"I wasn't too nervous," he said. "When I was teeing off in front of Rory (McIlroy) and Dustin (Johnson at the Canadian Open) … that kind of puts it in perspective. This is just a shot."
Being a stay-at-home down is an unusual situation for a high-level amateur player, but Deraney obviously makes it work. He's married to a physician and has kids age 5, 3 and 2.
"My 5-year-old just started kindergarten," Deraney said. "My two girls go to day care Tuesday and Thursday from like 9 to 2. So I've got 2 1/2 to 3 hours Tuesday and Thursday if I need to get some practice done before soccer and ballet and Ninja Warrior. It's helped me in the sense of, when I go practice, I practice. There's no tomfoolery. I don't play much recreational golf. I don't have a Saturday game. Maybe I get out twice a month on a weekends.
"I love golf, but they're my family. They come first."
For scores and pairings from the U.S. Mid-Amateur, CLICK HERE.
*********
U.S. Mid-Amateur Championship: The Essentials
What: 39th U.S. Mid-Amateur Championship.
When: Sept. 14-19.
Where: Colorado Golf Club in Parker Sept. 14-19, and CGA-owned CommonGround Golf Course in Aurora Sept. 14-15.
Field: 264 of the world's top amateur players 25 years of age and older. The USGA accepted 4,751 entries this year, the second-most ever for this championship.
Spectators: Fans can watch the event free of charge.
Day By Day Schedule:
Saturday, Sept. 14: First round of stroke play at both courses.
Sunday, Sept. 15: Second round of stroke play, with competitors switching courses from Saturday.
Monday, Sept. 16: After playoff to cut the field to exactly 64 players, the first round of match play at Colorado GC.
Tuesday, Sept. 17: Round of 32 and round of 16 matches, both at Colorado GC.
Wednesday, Sept. 18: Quarterfinal and semifinal matches, both at Colorado GC.
Thursday, Sept. 19: 36-hole title match, at Colorado GC.
At Stake: In addition to the U.S. Mid-Amateur title, a spot in the 2020 U.S. Open and likely a berth in the 2020 Masters.
Yardage/Par for Each Course — Colorado Golf Club: 7,561 yards and par-72. CommonGround Golf Course: 7,470 yards and par-70.
Previous U.S. Mid-Amateur Held in Colorado: 1983 at Cherry Hills Country Club, where Jay Sigel won. Overall, this is the 33rd USGA championship held in Colorado.
Earlier Major Events Held at Colorado Golf Club: 2010 Senior PGA Championship, 2013 Solheim Cup.