Australian Lukas Michel rallies at Colorado Golf Club to become first non-American to win U.S. Mid-Amateur; victory earns him spot in 2020 U.S. Open and a likely berth in Masters
By Gary Baines – 09/19/2019
There must be something in the water at Colorado Golf Club.
The last time the course hosted an international championship, the European Solheim Cup team defeated the U.S. on American soil for the first time.
Fast forward six years to Thursday, when another big championship concluded in Parker, and Colorado Golf Club once again proved a groundbreaking site for the international set.
This time, Lukas Michel of Australia became the first non-American to win the U.S. Mid-Amateur, a championship for players 25 and older which dates back to 1981.
"Being the first international to win, it's a massive thing," he said. "Being the first of anything to win something is always a great feeling.
"And American golf is the best golf in the world. There's no question about it. So coming over and playing great golf and beating a really strong field of mostly America's best mid-amateurs, that's everything."
Michel led only briefly in the scheduled 36-hole title match against Joseph Deraney of Tupelo, Miss., but did when it mattered. He won the 33rd and 34th holes — both par-5s — with birdies after the match was tied through 32, and went on to notch a 2-and-1 victory.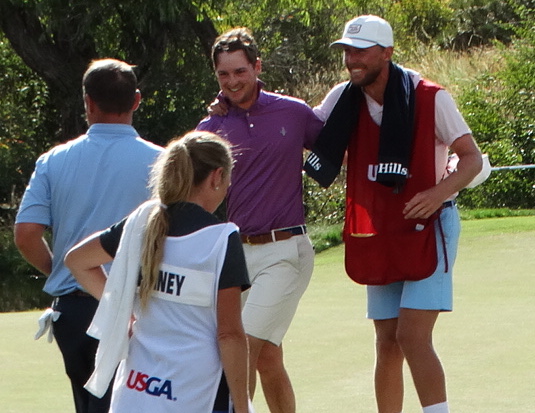 Michel, who got into the field based on a recently modified exemption given to the top 30 mid-amateurs in the World Amateur Golf Rankings, was the third-youngest player in this year's Mid-Am field as he turned 25 in January. He's currently No. 281 overall in the WAGR.
With the victory in his first U.S. Mid-Am, Michel captured some very coveted exemptions into some of the biggest tournaments in the world, most notably the 2020 U.S. Open at Winged Foot but also including the 2020 and 2021 U.S. Amateurs. And — this one may be an even bigger deal than the U.S. Open given its more limited field size — but U.S. Mid-Am champs have traditionally in recent years landed invitations to the following year's Masters.
Winning the Mid-Am "sounds almost too good to be true," Michel said. "I guess it will sink in in the coming hours or days. I'm looking forward to what comes with it in the future for my golf.
"I wore a Winged Foot sweater for the first nine holes today. It's unbelievable (to get that U.S. Open exemption). Many, many golfers, the best in the world, don't get the opportunity to play a major, let alone the U.S. Open. I can't wait."
Michel led 1-up for one hole twice very early in the match, the last of those occasions after the fourth hole.
After that, Deraney, who has won the last two Canadian Mid-Amateurs, won three of four holes starting on 7 to take a 3-up lead through 10. Michel returned the favor by winning three straight starting on 13 — two with birdies — to tie the match. But Deraney had the upper hand for most of the day, including after making a 4-foot birdie on No. 18 to take a 1-up edge heading into the lunch break.
On the second 18, Deraney built a 3-up lead on two more occasions — after 21 and 23 holes. But Michel, like he has all week — including in the round of 32 against Nick Nosewicz of Aurora, who led 2 up through 10 before falling 2 and 1 — proved ever-resilient. 
After being 2 down through 27 holes, Michel didn't lose another hole. Deraney uncharacteristically three-putted No. 10 in the afternoon from long range, losing that hole. "I made a bad bogey on 10," he said. "That was not one I wanted to lose after being in good position (off the tee)." Then on No. 12, Deraney hit into two bushes and conceded Michel a birdie, tying the match. 
Both players birdied No. 14 after driving the 331-yard par-4, with Michel putting around a bunker on what he called "a boomerang green" and sinking a 3-footer.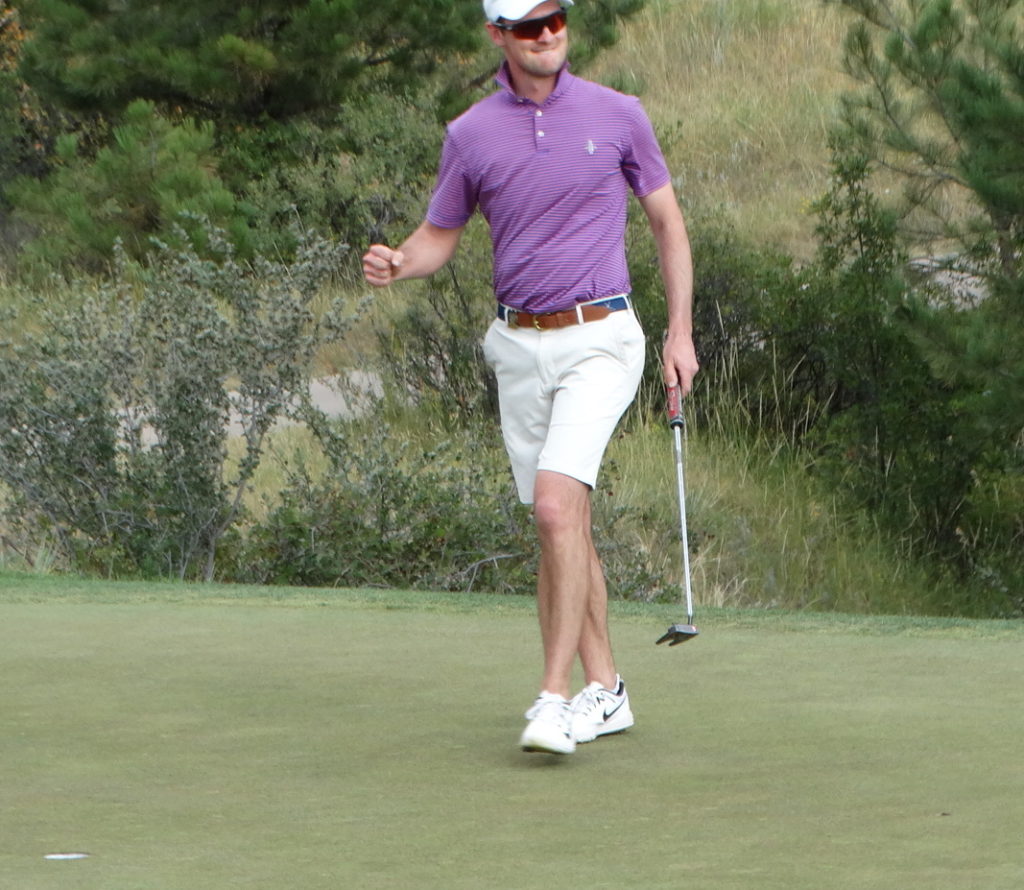 On No. 15, Michel took his first lead in 29 holes when he drained a 12-foot birdie putt after hitting his second shot over the green with a pitching wedge from 176 yards on the 591-yard hole.
"I think the putt that I holed there was the real crucial moment in the match," Michel said. Deraney's 17-foot birdie attempt after being in a greenside bunker just missed on the low side.
On the par-5 16th, Michel made his third straight birdie, two-putting from the back edge — 42 feet from the cup — after hitting a 6-iron in for his second shot. After being in another bunker, Deraney missed his 13-foot birdie attempt, leaving Michel with a 2-up lead.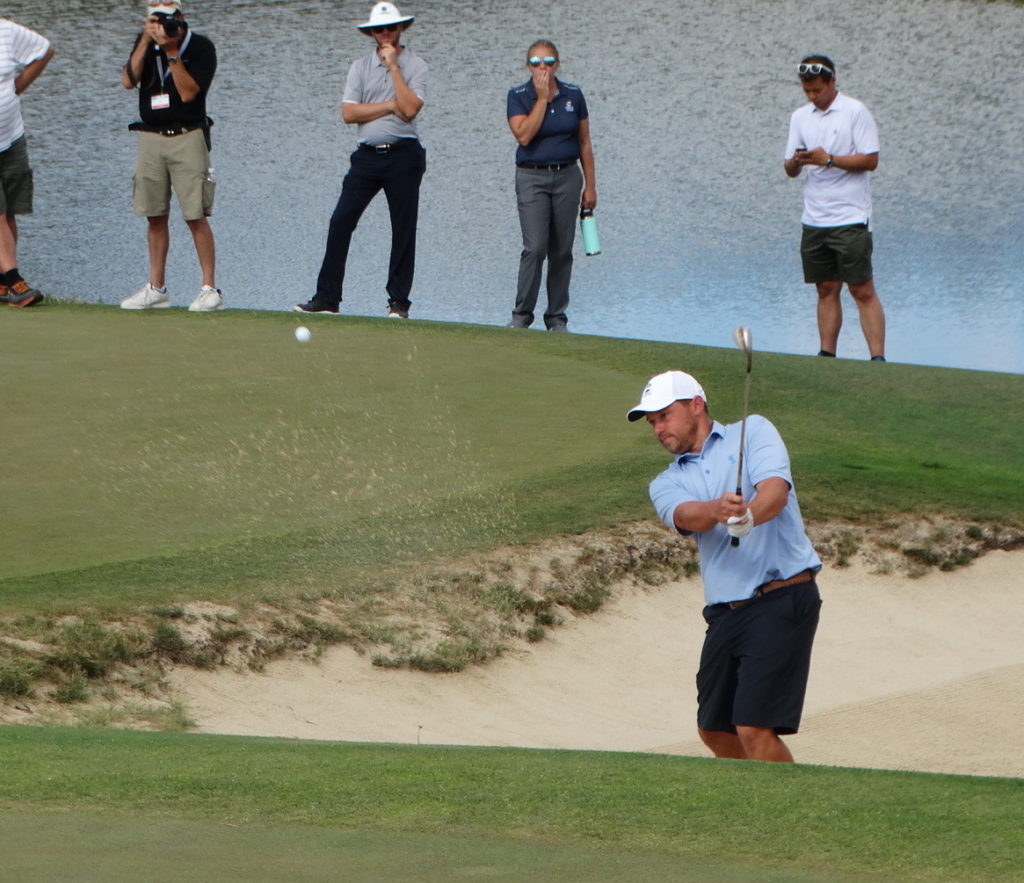 The par-3 17th produced an awkward moment. After Michel's birdie attempt from 40 feet ended up 2 1/2 feet from the cup — and Deraney missed a 10-foot birdie try — Deraney removed his cap, which normally indicates a concession and the end of the match. The crowd around the green applauded, thinking that was the case, but Deraney then took another look at the length of Michel's par putt.
"I just assumed I had to make the (birdie) putt," Deraney said. "I took my hat off, but I never said 'good'. Then I looked at his putt, and it was a little longer than I first thought. But when I took my hat off everyone started clapping so I told him, 'Hey man, it's not good. You need to putt it.' It was my fault. I took my hat off. But after I took my hat off, I looked at it and was like, 'Well, he needs to make that to win the championship.' It's a moment he'll never forget. You've got to make a 3-footer."
As it turned out, Michel's subsequent par putt needed to sneak in the right side of the cup to go down, but the match was over.
"It wasn't my best ball-striking day," Michel said. "It was mediocre. Joe hit the ball way better than me. When you're putting good, it always looks like you're sort of coming from behind and making it happen."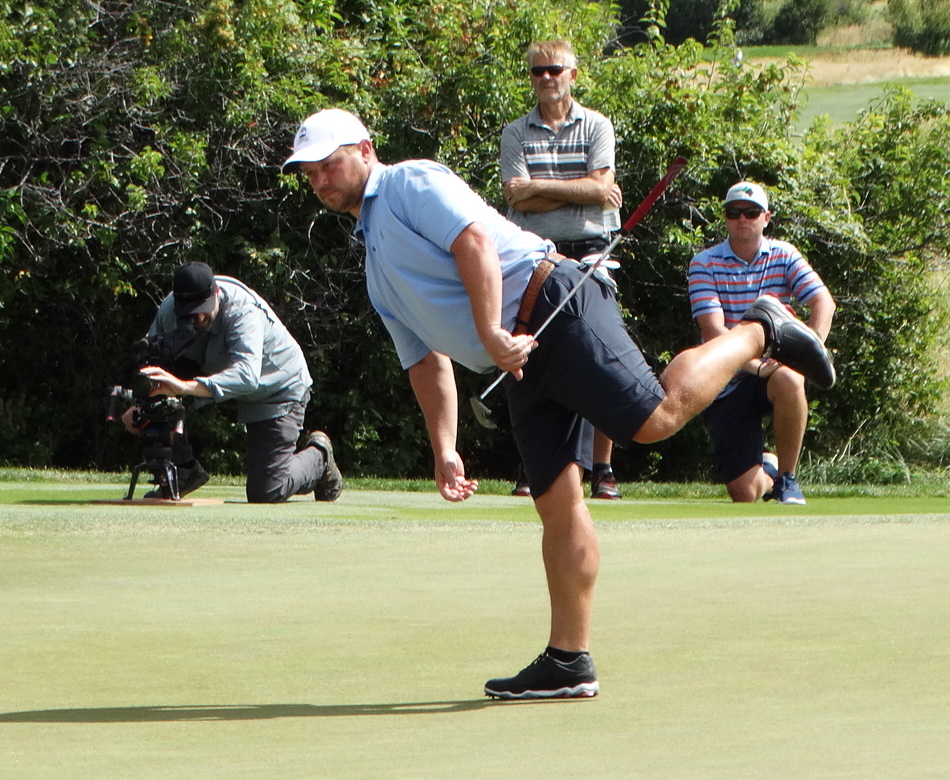 Despite losing 3-up leads on the first and second 18 on Thursday, Deraney held his head high after the match.
"You want to win, right? But the biggest thing you want to do is show up," he said. "You get to the final and show up and play well. And I did. I showed up and played well. 
"Over the course of 35 holes, when a guy (Michel) misses like one putt inside of 10 feet, he's tough to beat. He has such a large margin of error to hit his shots in there. 
"But I went out there and did the best I could and it just didn't go my way. Life is about perspective. I've got three wonderful kids and a wonderful wife. I've got a pretty good attitude. I don't get too bitter about it. I did the best I could and at the end of the day that's all you can do."
Both Deraney, who turned down a spot in this week's PGA Tour event in favor of competing in the Mid-Am, and Michel played six rounds of competitive golf over the last three days, walking a hilly course at more than a mile-high altitude. By the end of it all, Deraney had a nasty blister on one of his toes that led him to limp a bit on Thursday.
"It was big enough to sting a little," he said, adding that the cumulative effect of three straight 36-hole days was "brutal."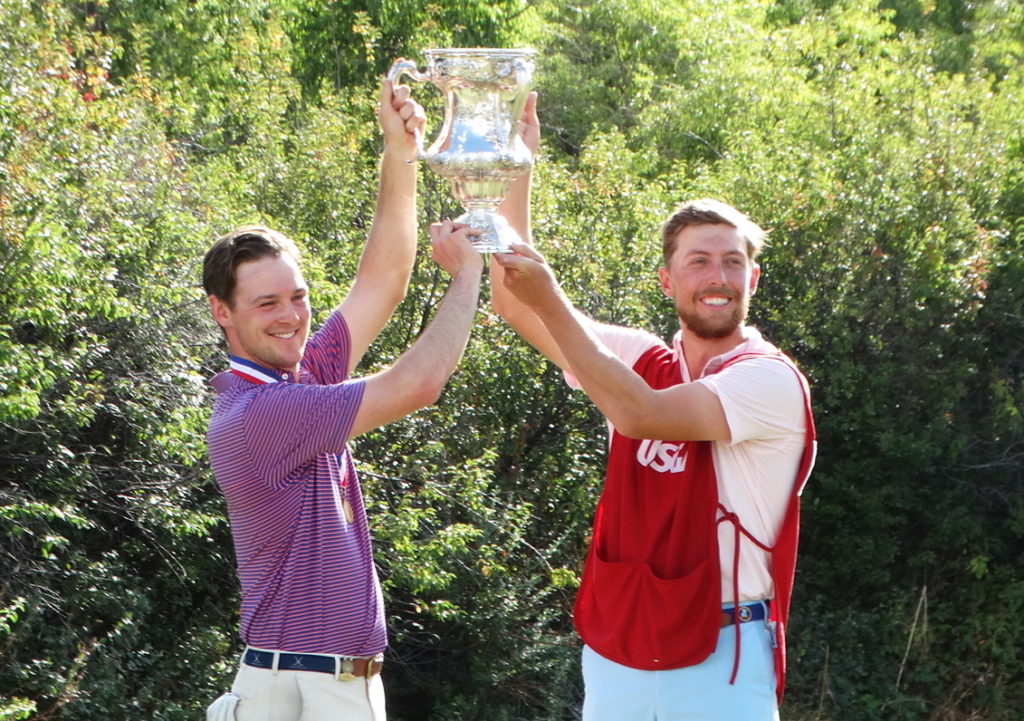 Alongside Michel as his caddie for his last five matches — played over the course of three days — was William Davenport of Palm City, Fla., who made match play but lost in the round of 64 to Stewart Hagestad, who Michel beat in the semifinals. Michel and Davenport have been friends since the latter lived in Australia for parts of 2017-18, and they played practice rounds together for the U.S. Mid-Am.
"I lost my match (on Monday) and we're setting there over cold beers, and I saw Lukas coming up 18 in his match and he's lugging his only bag," Davenport recalled. "I said, 'Dude, you're playing 36 tomorrow, you can't lug your own bag. I'll carry it for you.' We had a good day that day. Then it was like, 'Let's see it through.' So we had another two fantastic days. It was easy with the way he plays. You just carry the bag and get out of his way. The hole had to look basketball-sized to him the way he was putting. It was fun to watch.
"I couldn't feel luckier. I went from out of the tournament to standing right next to the winner, and having made some contribution. In the likely event he goes down to Augusta, I reckon I'll be there with him, and that will be the treat of a lifetime. I'm very excited."
Competing in the U.S. Open and potentially the Masters is hopefully a preview of things to come from Michel's perspective, who admits he has professional aspirations.
"I'm sort of taking a slow approach about it," he said. "I'm not in a massive rush. I'm just enjoying being myself while I'm going about it."
For scores from the U.S. Mid-Amateur, CLICK HERE.