Final-hole eagle gives UNC's Castiglia men's lead, while DU's Jordaan 2 ahead in women's tourney at CGA Fall Amateur
By Gary Baines – 10/10/2020
University of Northern Colorado golfer Jack Castiglia eagled the final hole and University of Denver player Caroline Jordaan birdied No. 18 to take the men's and women's lead, respectively, on Saturday in the CGA Fall Amateur Championship at CommonGround Golf Course in Aurora.
Castiglia, a Lakewood resident who was runner-up in the 2019 CGA Amateur, used his eagle on 18 to shoot a 3-under-par 67, giving him a two-day total of 8-under 132. The UNC junior finished the day with an eagle, three birdies and two bogeys.
Two fellow college golfers in this collegiate-heavy field are right on Castiglia's heels heading into Sunday's final round: Colorado State University's AJ Ott, of Fort Collins, and the University of Denver's Jackson Solem, of Longmont.
Solem, runner-up in a playoff in last month's Fort Collins GCAA Amateur, posted a 5-under 65, tying Saturday's best score. He carded an eagle, four birdies and a bogey on day 2.
Ott, the 2018 CGA Player of the Year, fired a 66. He birdied five of the first 11 holes, then posted six pars and a bogey the rest of the way.
Chris Thayer of Golden, the 2020 CGA Mid-Amateur champion and one of s smattering of non-college players in the field, shares fourth place with DU's Esteban Missura, four behind Castiglia. Thayer posted a 68 Saturday, though he played the last three holes in 3 over par, while Missura had a 69 after being 4 under par through seven holes.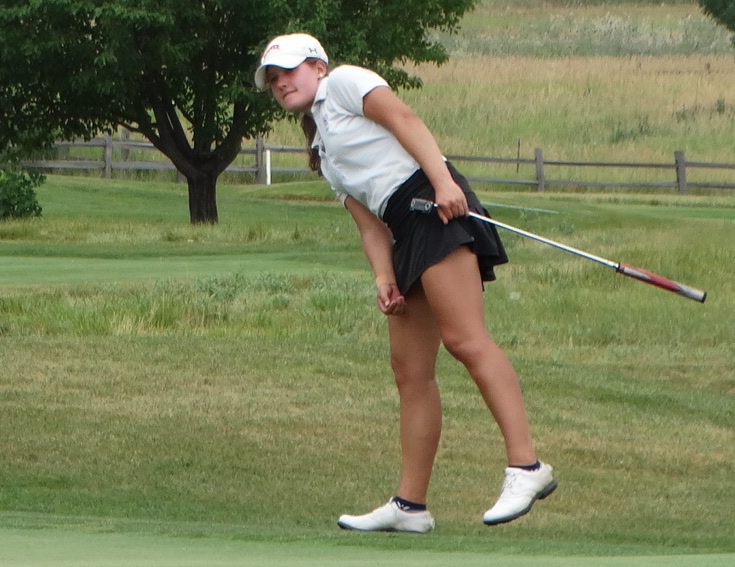 In the women's event, DU teammates remained 1-2 on the leaderboard, but Jordaan took sole possession of the top spot on Saturday.
The Denver resident who won the Colorado Junior Match Play and the 3A girls state high school title last year, shot a 2-under-par 70 in round 2, giving her a 36-hole total of 3-under 141. Jordaan was 2 over par for the day through five holes, but kicked it into gear starting on No. 8, playing her final 11 holes in 4 under.
Three-time CGA Women's Player of the Year Mary Weinstein of Highlands Ranch, who shared the lead with Jordaan after round 1, now trails her DU teammate by two after posting a 72 on Saturday. The difference was accounted for by the 18th hole, where Jordaan birdied and Weinstein bogeyed. For the day, Weinstein carded four birdies and four bogeys.
University of Colorado golfer Kelsey Webster, from Boulder, holds third place at 145 after a 73 on Saturday. Webster placed second last Sunday at the Colorado National Women's Amateur.
The 54-hole CGA Fall Amateur will wrap up on Sunday for both the men and women.
For the scores from CommonGround, click on the following: MEN, WOMEN.