DU's Cal McCoy bounces back from rough start to score individual victory at inaugural Les Fowler Colorado Invitational, hosted by CU at Boulder Country Club
By Gary Baines – 10/21/2019
The college golf season, which won't conclude until early June, is less than seven weeks old, yet Monday marked the final NCAA Division I tournament that will be held in the state during the 2019-20 campaign.
The inaugural Les Fowler Colorado Invitational — named in honor of the longtime University of Colorado volunteer head golf coach (and Colorado Golf Hall of Famer, former CGA president and state senator) — was conducted on Monday at Boulder Country Club, where Fowler was a member for decades before passing away in 2003.
Thirty-three golfers, all from local schools, teed it up for a 36-hole individual event in which there was no team competition. When all was said and done, a Coloradan who has had an outstanding year so far added another feather to his cap.
University of Denver sophomore Cal McCoy, a 19-year-old who resides in Highlands Ranch, claimed the individual victory, his second in less than a year and a half as a college golfer.
So far in 2019, McCoy (pictured above) has won the Summit League individual title and the Fowler Invite, placed second in the Canadian Men's Amateur and the CGA Match Play, and qualified for the U.S. Amateur. In four college tournaments so far this season, McCoy owns three top-eight finishes.
"I try to stay in the moment and keep grinding and do my thing," McCoy said. "Obviously it's been working out. I try to stay focused and play the best golf I can. Some days it works and some days it doesn't.
"Today I played really well. A win's a win."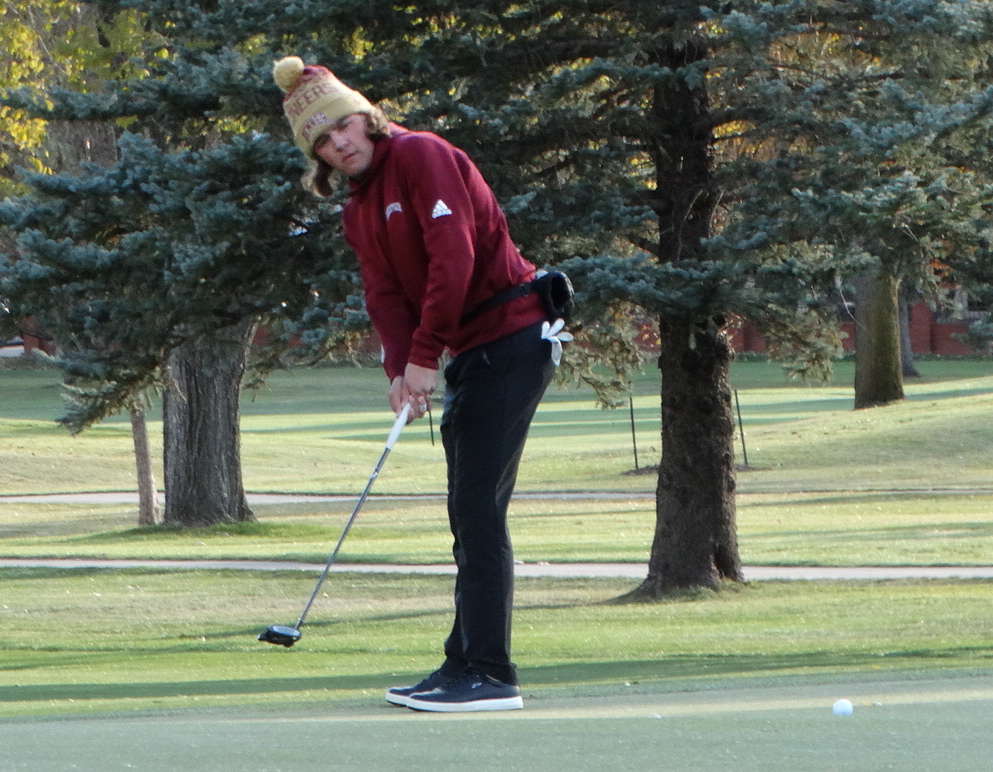 McCoy was 3 over par after four holes on Monday, but righted the ship and went 70-71 for a 1-over-par total of 141. He finished the day with six birdies, five bogeys and a double bogey.
"I'm proud of him," DU coach Erik Billinger said of McCoy. "He's been playing well all fall. And a win always breeds confidence. He's a joy to coach, so it's always fun to see."
CU senior Daniel O'Loughlin, who tied for first place in regulation before losing in a playoff at the Buffs' Mark Simpson Colorado Invitational earlier this month, tied for second place on Monday at 2-over 142 with DU's Carson Griggs.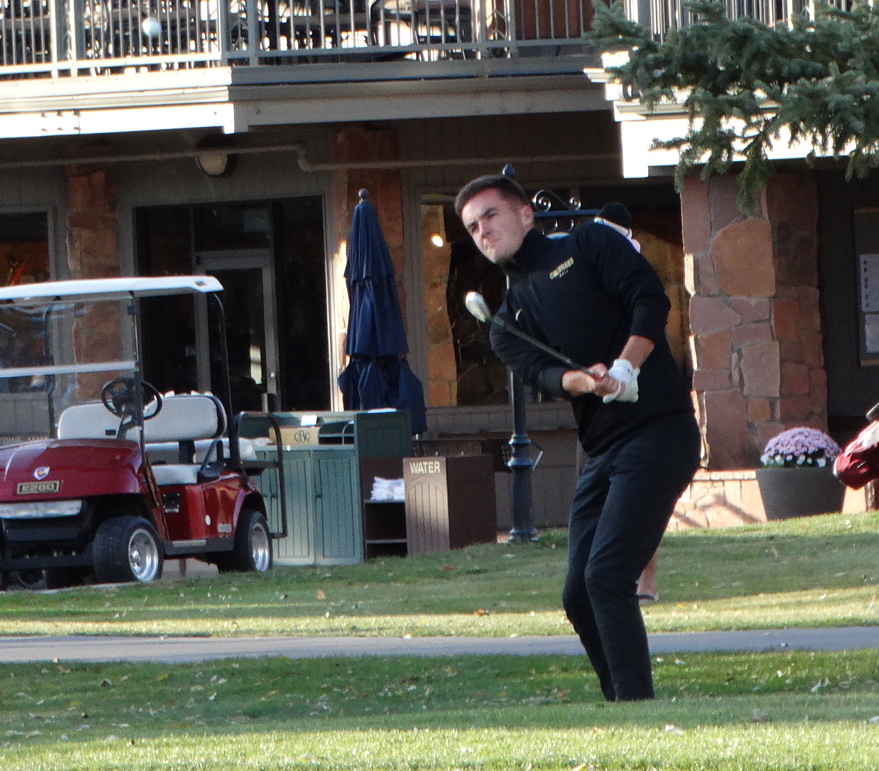 O'Loughlin led by four after round 1 with a 4-under-par 66, but struggled to a 76 in the afternoon, when he played the final three holes in 3 over par. O'Loughlin and McCoy were paired in the same group all day, and both closed with a bogey, with O'Loughlin going over the green and missing a 10-foot par putt, and McCoy three-putting from long distance.
"I just grinded the whole day," McCoy said. "It was really cold, and the wind started picking up in the afternoon, which made it tough to make birdies. I just tried to hit as many fairways and greens as I could. I did that pretty well other than my first few holes."
DU put four players in the top five on Monday. Following McCoy, O'Loughlin and Griggs (69-73) were Denver's Esteban Missura (71-72) and Connor Jones (72-73).
Earlier this month, DU claimed the team title at its own Ron Moore Intercollegiate, while CU won its Mark Simpson Colorado Invitational. Buffs coach Roy Edwards said the Simpson Invite, which is normally held at Colorado National Golf Club in Erie, will be played at BCC next season.
Since the beginning of September, nine Division I tournaments have been held in Colorado. And, not surprisingly, local teams and players have fared very well in those events. With only six of the nine events featuring team scoring, four Colorado-based programs claimed individual titles in those events. And nine players from Colorado schools earned at least a tie for the top spot individually in the nine tournaments. 
Here's a rundown of the Colorado-based team and individual winners of Division I tournaments held in Colorado this season:
— Sept. 6-8: Gene Miranda Falcon Invitational at Eisenhower Golf Club's Blue Course at Air Force Academy north of Colorado Springs. Champions: CU men (team); Jack Castiglia, UNC, and Coby Welch, UNC (both tied for first individually, but lost in a playoff).
— Sept. 16-17: Ram Masters Invitational at Fort Collins Country Club. Champion: CSU men (team).
— Sept. 22-23: Colonel Wollenberg Ptarmigan Ram Classic at Ptarmigan Country Club in Fort Collins.
— Sept. 23-25: Golfweek Conference Challenge at Red Sky Golf Club in Wolcott. Champion: Anna Zanusso, DU (individual).
— Sept. 30: UNC individual tournament at Highland Hills Golf Course in Greeley. Champion: Connor Jones, DU (individual).
— Oct. 4-6: Men's Ron Moore Intercollegiate at University of Denver Golf Club at Highlands Ranch. Champions: DU men (team); Jackson Solem, DU, and Jack Castiglia, UNC (individual).
— Oct. 6: Women's Ron Moore Intercollegiate individual tournament at University of Denver Golf Club at Highlands Ranch. Champion: Erika Danielsson, DU (individual).
— Oct. 7-8: Mark Simpson Colorado Invitational at Colorado National Golf Club in Erie. Champions: CU men (team); Daniel O'Loughlin, CU (tied for first individually, but lost in a playoff).
— Oct. 21: Les Fowler Colorado Invitational individual tournament at Boulder Country Club. Champion: Cal McCoy, DU (individual).

Les Fowler Colorado Invitational Scores
At Par-70 Boulder Country Club
Cal McCoy, Denver 70-71—141
Daniel O'Loughlin, Colorado 66-76—142
Carson Griggs, Denver 69-73—142
Esteban Missura, Denver 71-72—143
Connor Jones, Denver 72-73—145
Joseph Crisostomo, Air Force 71-75—146
Kyle Spencer, Air Force 73-73—146
Adam Matteson, Colorado 72-75—147
Eric Hagen, Denver 70-77—147
Joshua Wu, Air Force 76-71—147
Andre Leveque, Colorado 76-72—148
Victor Bjorlow, Colorado 75-74—149
John Paterson, Colorado 73-76—149
Luke Trujillo, Air Force 77-72—149
Ross Macdonald, Colorado 73-77—150
Jun Ho Won, Denver 70-80—150
Anson Kuznik, Air Force 77-73—150
Colter Baca, Air Force 72-78—150
John Sand, Denver 79-72—151
Jack Ainscough, Colorado State 75-76—151
Brady Arnett, Denver 73-78—151
Cole Krantz, Colorado 74-78—152
Roy Kang, Denver 75-78—153
Jonathan Farmer, Air Force 73-80—153
Kristoffer Max, Colorado 80-74—154
T.J. Shehee, Northern Colorado 74-81—155
Blake Danni, Northern Colorado 78-78—156
Sam Legaretta, Air Force 77-79—156
Andrew Lafferty, Colorado State 80-76—156
Akedanai Ponghatkaikul, Colorado State 82-75—157
Jackson Solem, Denver 79-80—159
Dino Degotardi, Northern Colorado 84-76—160
Patrick Erwin, Air Force 82-80—162