2018 champ Colorado places ninth at boys Junior America's Cup; Stewart leads way by finishing 11th individually
By Gary Baines – 07/25/2019
After four straight years of finishing in the top third of the team standings at the boys Junior America's Cup, the squad representing the Junior Golf Alliance of Colordo had to settle for top half this year in Edmonton, Alberta, Canada.
A year after winning the team title for the first time in this event, the Coloradans tied for ninth place out of 18 teams from the western U.S., Canada and Mexico.
Playing with a three-man team instead of four the last two days after Walker Franklin of Broomfield was disqualified, the Colorado squad posted a three-day total of 23-over-par 662. That put the JGAC representatives 19 strokes behind co-champions Utah and San Diego.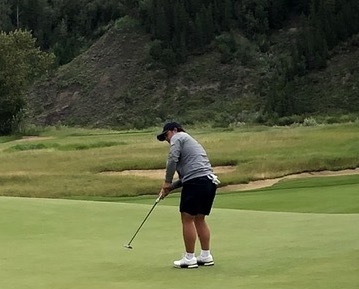 A year after earning the individual title at the JAC, Dillon Stewart of Fort Collins placed 11th in the 72-player field. With the scores generally quite a bit higher on Thursday, Stewart shot a 2-over-par 73 to check in at 4-over 217, ending up 10 strokes behind individual winner Ian Siebers of Bellevue, Wash. Stewart, who will begin his college golf career at Oklahoma State in the fall, made two birdies and four bogeys in round 3.
TJ Shehee of Mead, who's headed to the University of Northern Colorado, placed 28th at 224 after a final-round 78. And University of Colorado-bound Jack Hughes of Snowmass Village finished 44th at 230 after firing a 74 on Thursday.
(The Coloradans are pictured at top, from left: Franklin, Shehee, Stewart and Hughes.)
Here are the round-by round scores of the Colorado team members:
9. Colorado 214-223-225–662
11. Dillon Stewart, Fort Collins 72-72-73–217
28. TJ Shehee, Mead 74-72-78–224
44. Jack Hughes, Snowmass Village 77-79-74–230
Walker Franklin, Broomfield 68-DQ
For all the scores from the Junior America's Cup, CLICK HERE.