Golf whisperer Mickelson and partner Barkley score upset in The Match 3, which had its share of Colorado flavor
By Gary Baines – 11/27/2020
Friday's nationally televised "Capital One's The Match 3: Champions for Change" certainly didn't lack for Colorado angles. And we're not just talking about the fact that all the players involved have competed in the Centennial State numerous times over their careers.
There was Peyton Manning, who quarterbacked the Broncos to their third Super Bowl victory and was inducted into the Colorado Sports Hall of Fame in 2018.
Meanwhile, Phil Mickelson has recorded four notable victories in Colorado — The International PGA Tour event at Castle Pines twice, the 1990 U.S. Amateur at Cherry Hills, and the 1990 University of Colorado-Fox Acres Invitational in Red Feather Lakes.
And Stone Canyon Golf Club in Oro Valley, Ariz., the course that hosted Friday's match, was designed by the late Jay Morrish, a 2007 inductee into the Colorado Golf Hall of Fame. Morrish was born in Grand Junction and earned a degree from Colorado State University. Morrish's course design work in Colorado includes Ravenna, Colorado National, River Valley Ranch and Blackstone.
But make no mistake: Though there were four competitors out there on Friday, there was only one PGA Tour player, and he ruled the roost.
Not only did Mickelson, a 44-time Tour winner, play his share of impressive golf, but he served as a very effective golf whisperer for partner and 25-handicapper Charles Barkley. Mickelson willed he of the hitched swing to play some decent golf — even good at times — particularly early on in the match.
"What I'm watching is you turning water into wine," TNT guest Deion Sanders said to Mickelson at one point.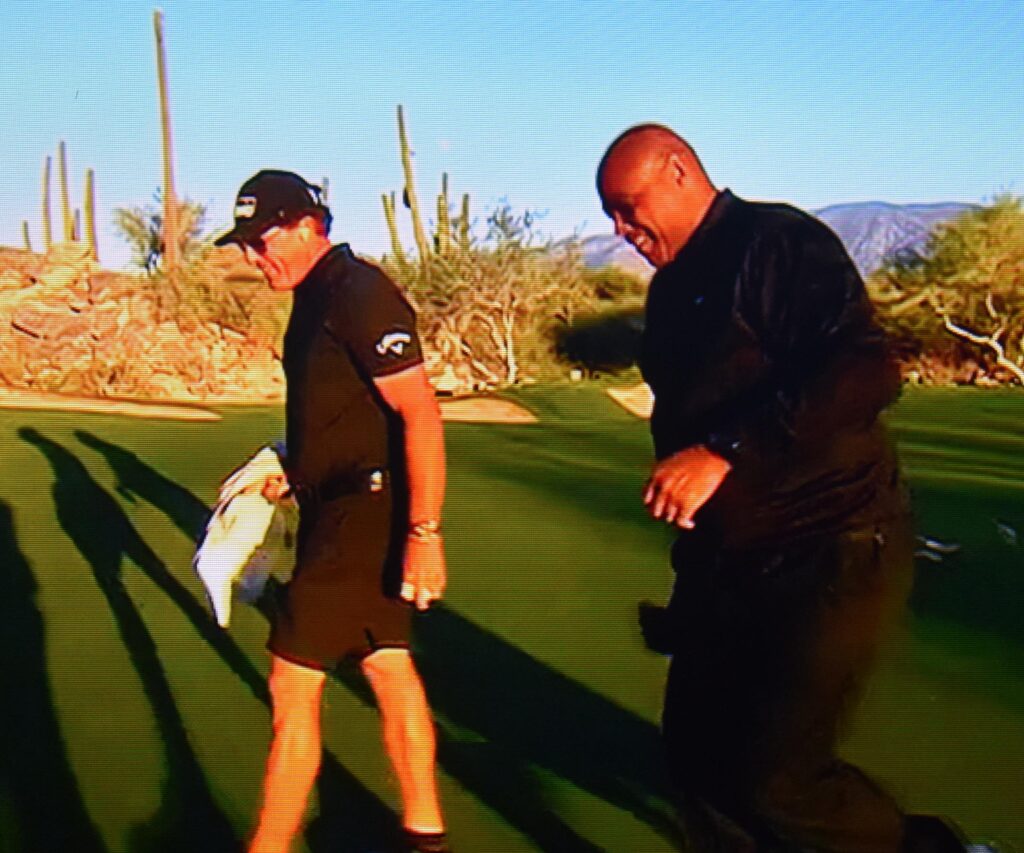 The result was Mickelson and the Basketball Hall of Famer building a big early lead and earning a 4-and-3 victory over Manning and Steph Curry in an event that raised $5.455 million for Historically Black Colleges and Universities. In addition, 3.79 million meals were donated to the needy through Feeding America.
"Two people thought we were going to win this — you and me," Mickelson said to Barkley after Phil drained the title-clinching 10-foot birdie putt on the 15th hole.
In the modified-alternate-shot match-play format in which each player teed off then the team selected a ball to play into the hole, the competition fell well short of going the full 18 holes at Stone Canyon.
In giving the loquacious Mickelson the needle during one segment, TNT's Ernie Johnson said, "I'm a little worried you're going to lose your voice before it's over."
Retorted Mickelson without missing a beat: "We'll be done well before that."
Added Barkley a hole latter, playfully requesting the powers that be at TNT get some alternate programming ready with the match possibly ending early: "Tell them to get some of those 'Law and Order' episodes ready in four or five holes."
And so it went.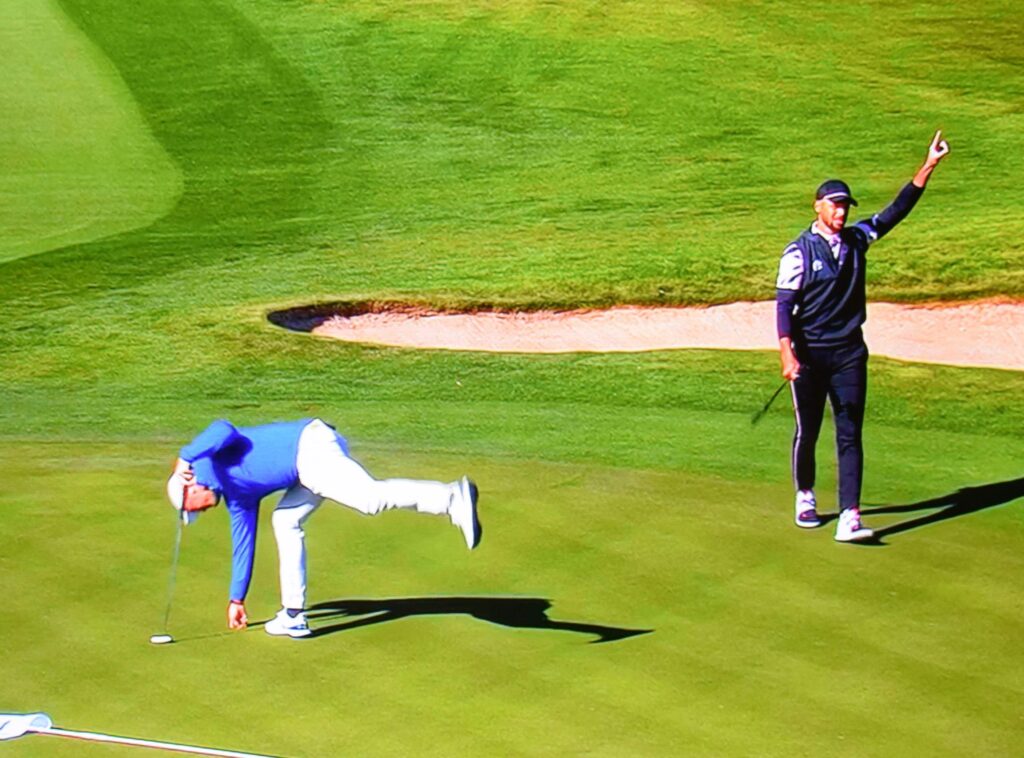 After Manning and Curry won the first hole with a par, Mickelson and Barkley reeled off five hole wins in the next six holes to go 4-up.
When it was noted that the Mickelson team had found an ideal formula — with Barkley hitting the fairway off the tee, usually with an iron, and Mickelson hitting the approach onto the green — the World Golf Hall of Famer said, "We're no dummies."
Mickelson, owner of the Stone Canyon course, was constantly coaching Barkley — on his full swing, having the correct mentality, and on reads on and around the greens — much to good effect. All told, the two were 1 under par through 10 holes before encountering a rough stretch.
"Zen is not for everybody but it's for us," Mickelson said.
Even though Curry was on the opposing team, he was duly impressed.
"I'm really enjoying Phil's breakdown of the swing, green reading … ," Curry said sincerely on the ninth hole.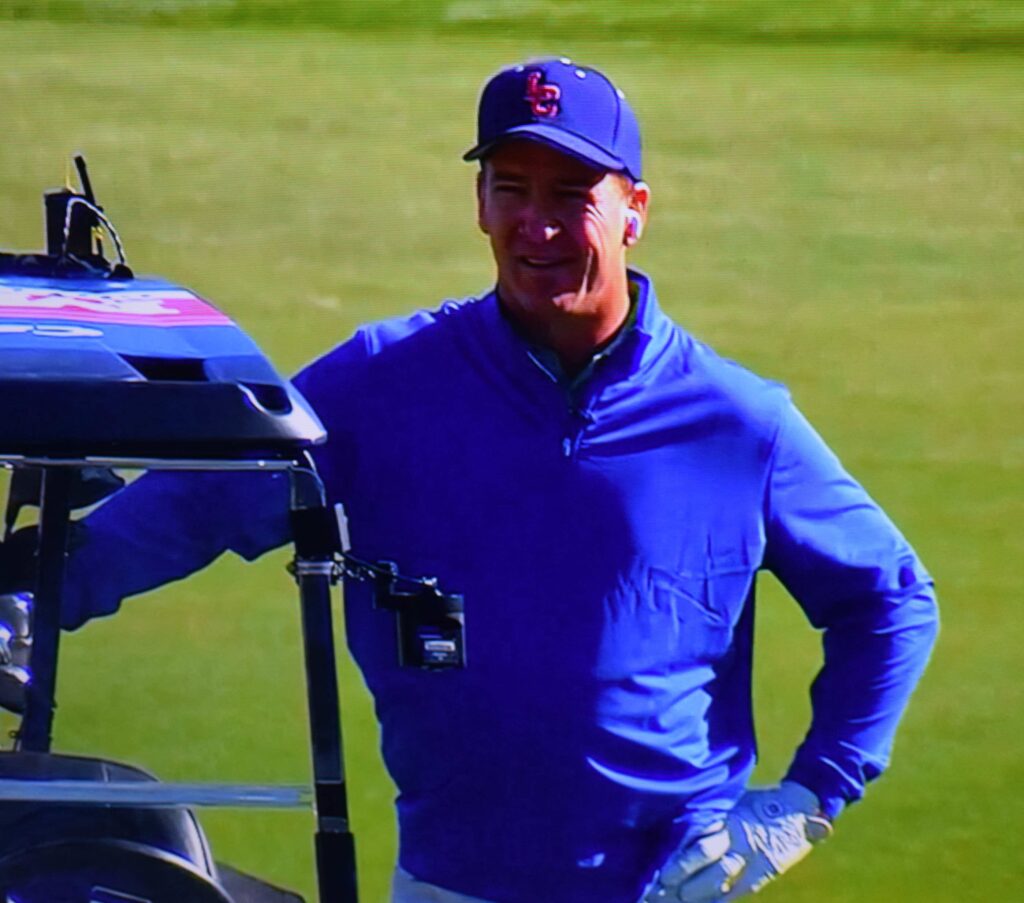 Manning, who paired with Tiger Woods six months ago to beat Mickelson and Tom Brady in The Match 2, and Curry were big favorites going into Friday. But with Curry — he of a plus-2.1 handicap — struggling and neither player putting well, a repeat win wasn't in the offing.
On the 11th hole, when he and Curry were 4 down, Manning called it a "28-nothing deficit".
Manning, a five-time NFL most valuable player, owns a 4.8 USGA handicap index at Castle Pines Golf Club and Cherry Hills Country Club. But on Friday, his bunker player was a little sketchy and his putting left something to be desired.
"A lot of lessons we're learning today," Curry said.