773-yard par-5 attracts plenty of attention for this week's TPC Colorado Championship at Heron Lakes
By Gary Baines – 07/10/2019
Last week, the European Challenge Tour's D+D Real Challenge was held at a course in Slovakia that featured a 783-yard hole. 
Golf Digest called it the "longest hole in professional golf."
The catch is that the 15th at the Penati Golf Resort's Legend Course played as a par-6.
By contrast, the 13th hole at TPC Colorado — where the inaugural TPC Colorado Championship at Heron Lakes in Berthoud will be played Thursday through Sunday — will check in at "only" 773 yards. But … it's a par-5.
"I think the players may have a little sticker shock just seeing that number," said Korn Ferry Tour rules official Pete Lis, a former CGA staffer.
For the record, the 13th at TPC Colorado will be the longest hole the Korn Ferry Tour plays this year. In fact, according to Korn Ferry Tour communications specialist Preston Smith, it'll be the longest hole on the 2019 schedule by more than 100 yards. The next-longest is the third hole at Nashville Golf & Athletic Club, which checks in at 660 yards.
Now, TPC Colorado is at a mile-high altitude, so hitting it 10 percent further makes the 13th the equivalent of a little under 700 yards at sea level. But still …
"That's a lot of real estate," 13-time PGA Tour winner David Duval noted in late May when he committed to compete at TPC Colorado.
"Our staff is excited because it's actually going to finally be a legitimate three-shot par-5," Lis said. "In this day and age, so many of the (long) par-5s at least a few guys can get to. But this is a true three-shot par-5."
But the yardage at the 13th hole is hardly the only eye-catcher at TPC Colorado. The next hole, the par-3 14th, will play 273 yards this week. There's also two 624-yard par-5s (Nos. 1 and 5), and two par-4s more than 515 yards (No. 4 at 518 and No. 18 at 531).
All told, the yardage for the TPC Colorado Championship will be 7,991 yards for the par-72 layout. That's the longest course the Korn Ferry Tour has ever encountered; the previous record was 7,808 yards at El Bosque Golf Club in Mexico in 2009. And don't forget about the many stacked-sod-faced bunkers that distinguish the course.
As former Fort Collins resident — and onetime Air Force Academy golfer — Tom Whitney tweeted last week, "@TPCColorado is absolutely stunning with its views of the foothills and lakes, driveable par-4s, 773-yd par-5, and a 273-yd par-3! The players are going to love it here."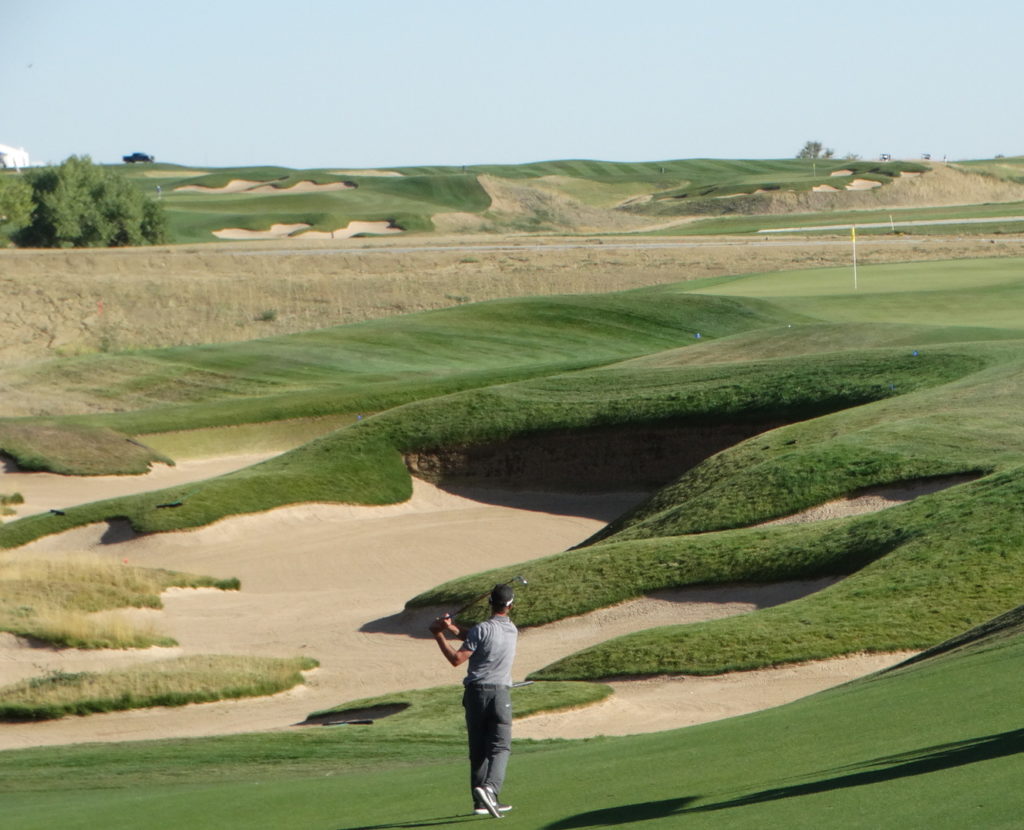 Tee Times for Locals/Other Notables: Almost a dozen players with strong Colorado connections will be competing this week at TPC Colorado. Here are their tee times for Thursday's first round:
7:01 a.m. No. 10 — Denver native Mark Hubbard
7:23 a.m. No. 1 — Former Golden resident Andrew Svoboda
8:18 a.m. No. 10 — Boulder native George Cunningham
8:51 a.m. No. 1 — Cherry Hills Village resident David Duval
9:02 a.m. No. 10 — Golden resident Zahkai Brown, Denver resident James Love, Denver resident Michael Schoolcraft
1:15 p.m. No. 10 — Part-time Boulder resident Jonathan Kaye
1:26 p.m. No. 1 — Cheyenne native and former CU golfer Joshua Creel
2:21 p.m. No. 10 — Former Fort Collins resident Tom Whitney, Lone Tree resident Tom Gempel.
Thursday tee times for other notables:
12:20 p.m. No. 10 — Former U.S. Open and Masters champion Angel Cabrera
12:31 p.m. No. 1 — Two-time PGA Tour winner Frank Lickliter
For all of Thursday's tee times, CLICK HERE.
In Short: Some past CGA major champions have been out at TPC Colorado caddying for contestants — 2009 CGA Amateur and Match Play winner Steve Ziegler (for Joseph Bramlett) and 2017 CGA Amateur champ Glenn Workman (for Zahkai Brown, who won the 2011 CGA Amateur). Interestingly, the player who Ziegler beat in the finals of the 2009 CGA Match Play — Tom Gempel — is in the 156-man field this week. … One major reason Brown is in the field this week was a 90-yard hole-out for eagle he recorded during Monday qualifying on the 15th hole at Riverdale Dunes. Brown shot 65 to qualify on the number… Eight players who have won PGA Tour events are in the field at TPC Colorado, including four who own two or more PGA Tour titles: David Duval (13), Angel Cabrera (three), Jonathan Kaye (two) and Frank Lickliter (two). … This week will mark Duval's first tournament on the Korn Ferry Tour (or its predecessors) since the 1994 Nike Tour Championship. "It certainly will be different, but these guys (on the Korn Ferry Tour) are eager, these guys are incredible players," Duval said in late May. "You still have to go out and compete and shoot wonderful scores to have a chance against them." … This week will be the fifth-to-last tournament of the Korn Ferry Tour regular season. At the end of the regular season, the top 25 season-long performers will earn PGA Tour cards for the 2019-20 season. … The purse for this week's event is $600,000, with $108,000 going to the winner. … Former PGA Tour regular Graham DeLaet is playing in his first Korn Ferry Tour event since 2011 as he's coming back from back surgery last year.
For ticket and general information about the TPC Colorado Championship at Heron Lakes, CLICK HERE.