Colorado Christian University teammates Donaldson/Andersson rally to defeat Cohen/Schaefer in 19 holes for CGA Women's Mashie title
By Gary Baines – 6/10/2020
Seven of Wednesday's 10 title matches that preceded the CGA Women's Mashie championship flight final went at least 18 holes — which is no small feat. But it seemed only fitting that the big guns would follow suit at Todd Creek Golf Club in Thornton.
And, in fact, 18 holes wasn't enough in the championship flight, so a little overtime was in order.
Colorado Christian University teammates Emily Donaldson and Courtney Andersson completed their rally on the 19th hole with Andersson sinking a 15-foot par putt that gave the two the title in the first CGA women's championship of 2020.
The result was the first CGA title for the two CCU golfers, while Holly Schaefer of Columbine Country Club was denied a second straight Mashie championship. A year after winning with Tiffany Maurycy, Schaefer teamed up with former 5A girls state high school champion Mackenzie Cohen, but they had to settle for the runner-up spot after both players three-putted the 19th hole to post a bogey in the better-ball match play event.
It was all in keeping with how the entire Mashie went for Donaldson and Andersson, who won 1 up in the quarterfinals, 1 up in the semifinals and in 19 holes in the final.
"This is our first tournament in (eight) months, so we were so excited to get out and play," said Andersson, an 18-year-old who just completed her freshman season at CCU. "It's hard at first to get back in competitive mode when we've been out for so long. But as soon as we were back in it, we were all good."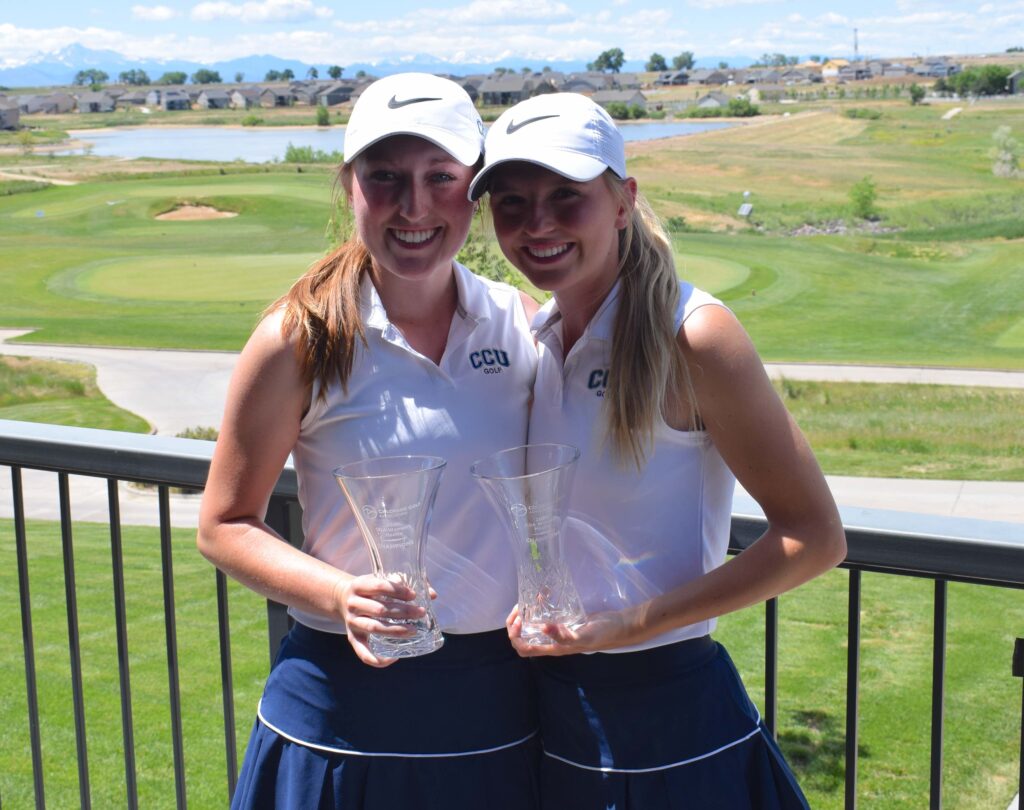 In fact, the Mashie was a large-scale team affair for Colorado Christian as three two-person teams of Cougars competed in the event. The championship flight consolation final was an all-CCU affair as Hannah Doran and Lainie Terrell defeated Gabi Cortez and assistant coach Barb Wendell, 1 up.
"It was fun to be together as a team because in (NCAA Division II college) tournaments we're all separated," said Donaldson, a 20-year-old junior-to-be. "To actually get to play together with our teammates was really fun — a good change of pace for us."
Donaldson and Andersson are both from out of state — Topeka, Kan., and Las Cruces, N.M., respectively — but are staying in Colorado for much of the summer.
The champions started out with a bang in Wednesday's title match, winning the first two holes with Andersson parring No. 1 and Donaldson making a 3-foot birdie on No. 2.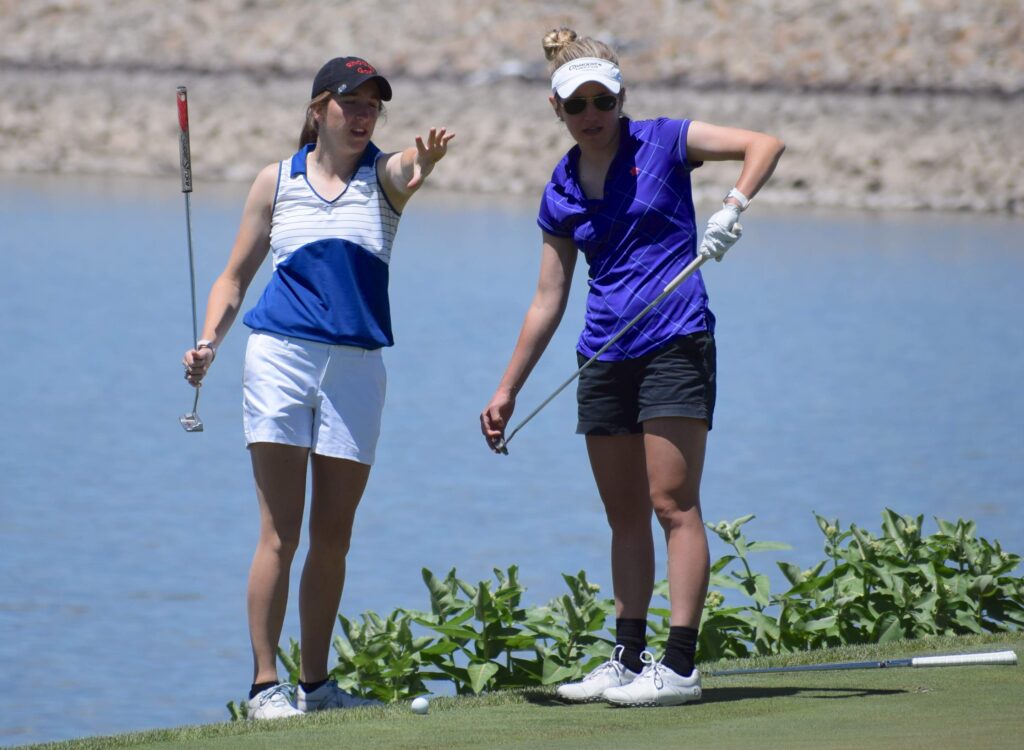 But Cohen and Schaefer, two former high school rivals (for Cherry Creek and Arapahoe, respectively, from 2010-13), bounced back in a big way by winning four consecutive holes starting on No. 4 to go 2 up. Schaefer made two birdies during that stretch.
And when Schaefer drained a 20-foot par putt on No. 11, she and Cohen were 2 up again. But that would turn out to be the last hole they'd win.
Donaldson and Andersson prevailed on No. 12 with Donaldson's par. And Cohen and Schaefer's putters went cold down the stretch, which proved costly. Cohen missed an 8-foot birdie attempt on No. 16 and three-putted No. 17 for bogey, the latter squaring the match.
After both teams parred No. 18, they went back to the par-4 10th hole. There, both Schaefer and Cohen three-putted for bogeys — the latter from 30 feet — and Andersson's 15-foot par putt proved the difference.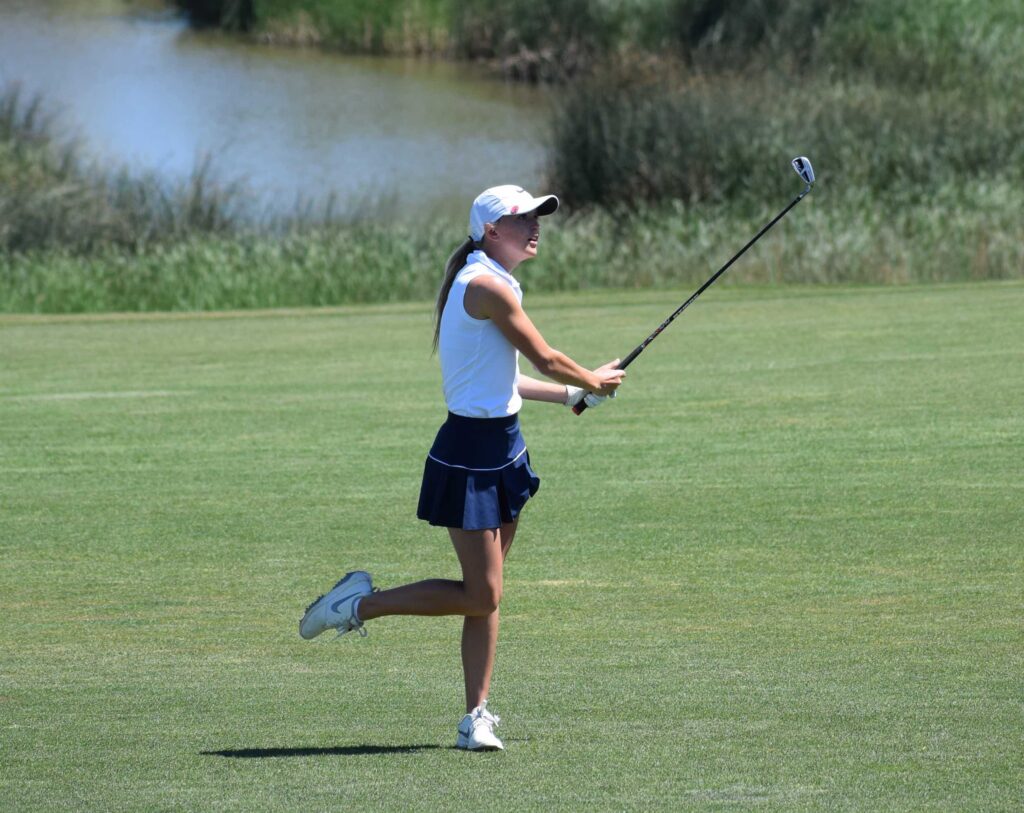 That putt "definitely did feel good," said Andersson, a former New Mexico state high school champion. "My putting wasn't very good at all until there was pressure on us. Then my putts just started to drop."
Meanwhile, the runners-up, who had won their previous matches 6 and 5 and 5 and 4, felt like they had let opportunity slip through their fingers.
"'Kenz' and I felt like we had a really good shot today," Schaeffer said. "We were 2 up and played well on the front. We just couldn't put the final nail in the coffin. When that happens in match play it gets really dangerous because the tide can change. Things go south quickly."
Indeed, going 2 over par best ball over the last three holes of the match resulted in a 1-up lead turning into a 19-hole loss.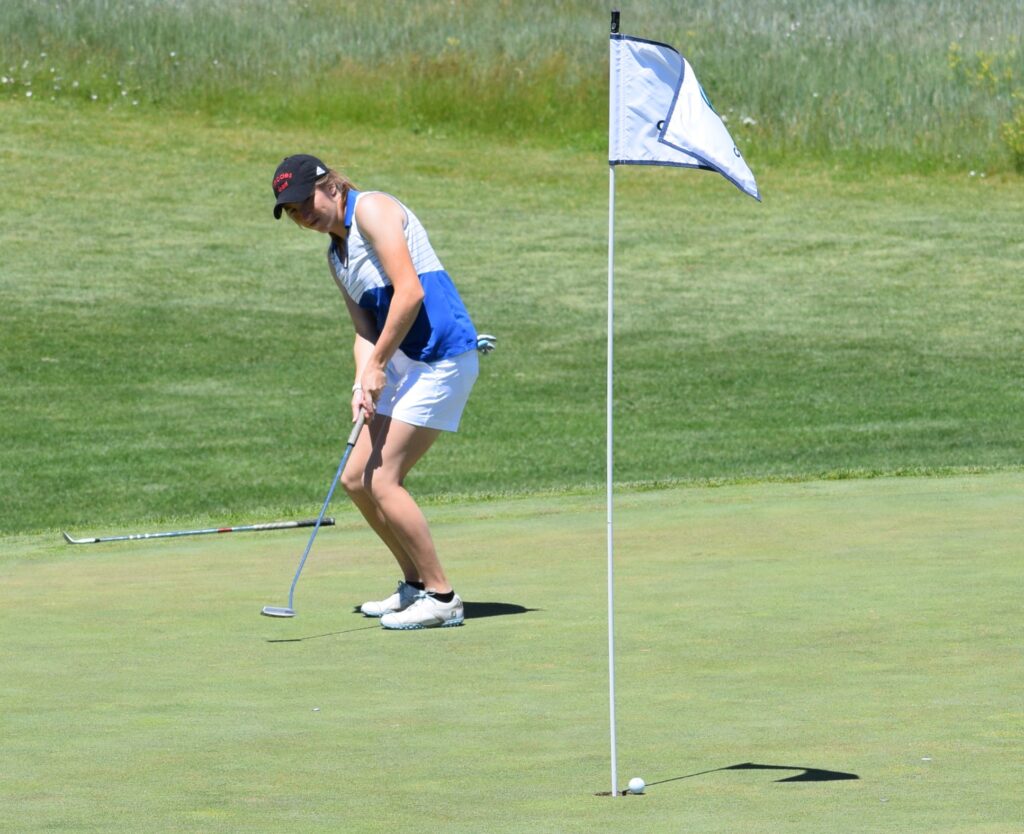 "Just a couple of bad whatevers when it counts … It happens," said Cohen, who now works for Youth on Course in Monterey, Calif. "It's a bummer. We'd actually been putting well the last few days. The greens were a lot faster today, which took some getting used to. But I wouldn't blame it on that. It was just a couple of bad putts.
"But we had a blast. I always love playing with Holly."
As for the winners …
"We kind of hit pressure shots when we needed to," Donaldson said. "I didn't make a lot of putts outside of 5-6 feet, but I made those 5-6 footers when they mattered.
"It felt so good (to rally for the victory) because we knew we were playing well. We just weren't getting the putts to fall. We weren't getting close enough, but we could feel it was coming. It was finally nice to see our hard work pay off in the end."
Said Andersson: "It was a bit of a struggle — and it was definitely nerve-wracking, especially going into the 17th hole down 1 — but we never lost hope. We were just taking it one shot at a time, saying, 'We'll get 'em this hole. We'll play our game, they'll play theirs.' That helped us win in the end."
The championship flight was one of 11 flights contested at this year's Mashie. Here are the results of all of Wednesday's finals:
CHAMPIONSHIP FLIGHT
Championship final — Emily Donaldson/Courtney Andersson def. Holly Schaefer/Mackenzie Cohen, 19 holes
Consolation final — Elaine Terrell/Hannah Doran def. Barb Wendell/Gabi Cortez, 1 up
FIRST FLIGHT
Championship final — Susan Hartwell/Jean Miller def. Bev Hoffenberg/Nancy Ziereis, 20 holes
Consolation final — Laura Stuto/Paul Zwemke def. Karen Leuschel/Laura Wetzel, 3 and 2
SECOND FLIGHT
Championship final — Anne Wesley/Nina Dulacki def. Carla Stearns/Linda Raunig, 1 up
Consolation final — Kayla Kothe/Sarah Sisneros def. Cindy Lantz/Corrina Ruttkar, 3 and 1
THIRD FLIGHT
Championship final — Lisa Buhlinger/Vickie Brown def. Kelly McCormick/Paula Noonan, 2 up
Consolation final — Barbara Whinery/Lynda McManus def. Cindy Joos/Den Garcia, 19 holes
FOURTH FLIGHT
Championship final — Brenda Horn/Gwyn Wheeler def. Gina DeLarber/Tanya Saavedra, 5 and 3
Consolation final — Michell Irving/Pagie Rodriguez def. Christy Tinsley/Kerri Williams, 7 and 5
FIFTH FLIGHT
Championship final — Beckie Harkey/Darlene Evans def. Jenny Elliott/Juna Orr, 19 holes
Consolation final — Berta Thimmig/Dot Lindsey def. Joan Miller/Marie Schriefer, 20 holes
SIXTH FLIGHT
Championship final — Tammy Voegele/Trudy Cocroft def. Bernadette Liley/Nanette Neelan, 8 and 6
Consolation final — Linda Loveland/Linda Powell def. Barbara Ingledue/Connie Garcia, 2 up
SEVENTH FLIGHT
Championship final — Margy Ferris/Rhonda Fink def. Mary Smith/Suzanne Elkins, 2 and 1
Consolation final — Barbara Fagan/Deb Sneed def. Claudia Svarstad/Rochelle Tisdale, 20 holes
EIGHTH FLIGHT
Championship final — Barbara Harrison/JoAnn Smith def. Ro Troia/Toni Mench, 21 holes
Consolation final — Denise Van Huele/Monita Pacheco def. Judy Maillis/Lyndon Lieb, 3 and 1
NINTH FLIGHT
Championship final — Bunny Ambrose/Sandra Schnitzer def. Jan Kardatzke/Tina Reeves, 1 up
Consolation final — Margie Miller/Tammy Hitchens def. Jeanette Paone/Lucille Moreno-Peacock, 2 and 1
TENTH FLIGHT
Championship final — Kay Boyle/Kim Ellison def. Candi Coppola/Harlene Bowman, 2 up
Consolation final — Lesley Ackerman/Rhona Sparlin def. Marcia Hall and Susie Goldberg, 3 and 2
For all the results from Mashie, CLICK HERE.