PGA Tour cards on the line for leaders in final round of TPC Colorado Championship at Heron Lakes; Colorado birthday boys were paired up on Saturday
By Gary Baines – 07/13/2019
This is why the Korn Ferry Tour's catch phrase is "the path to the PGA Tour."
With just four weeks left in the Korn Ferry Tour regular season after this week's stop at the TPC Colorado Championship at Heron Lakes, it's crunch time as far as earning PGA Tour cards for next season.
The top 25 on the regular-season points list a month from now will be awarded coveted PGA Tour cards for the 2019-20 season. It's expected that about accumulating 800 points or more for the 2019 Korn Ferry season is the magic number to finish in the top 25 and get a promotion to the world's most prestigious tour.
And, going into Sunday's final round at TPC Colorado, the top four on the leaderboard are under the 800-point mark, but would be assured a PGA Tour card with a victory, which is worth 500 points.
"It would be really cool (to lock things up tomorrow)," said Michael Gellerman (pictured above), who is one out of the lead after going 40 straight holes without a bogey. "I'd be lying if I said I hadn't thought about it, but it's not going to be my main focus. I'll be trying to play as well as I can and see where that puts me."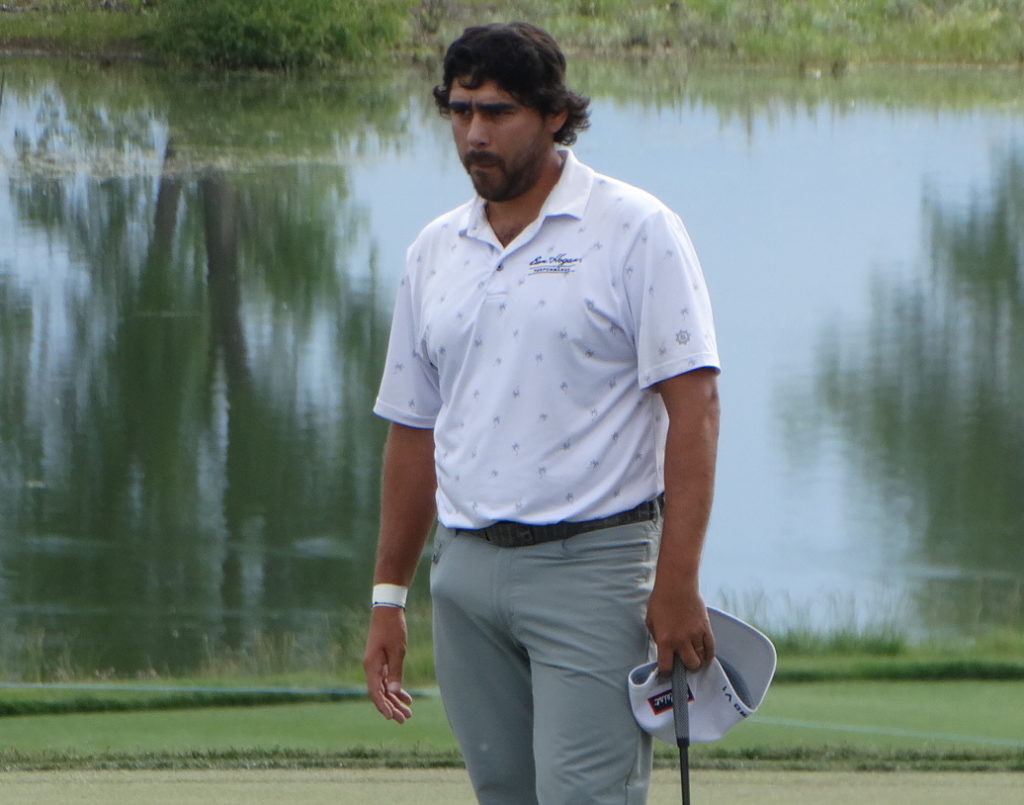 Added Argentina's Nelson Ledesma, who has led outright or shared the lead after all three rounds this week: "Obviously we all play to get that card and we want to get that card, but I can't think about that. I've just got to focus on tomorrow and keep playing my game."
Ledesma, winner of one Korn Ferry Tour event last year and owner of 688 points this year (good for 18th on the points list), eagled the par-5 15th hole from 7 feet on Saturday en route to a 3-under 69 that left him at 13-under 203 overall.
At that same mark is 23-year-old Australian Brett Coletta (309 points, 66th on points list), who carded a 65 on Saturday with a nine-birdie day that included a chip-in on 17. On Thursday, Coletta made a hole-in-one on the signature 16th hole.
"I'm ecstatic to make the weekend and then play in the final group on Sunday," said Coletta, who will tee off with Ledesma at 12:50 p.m. on Sunday. "I'm proud of myself for bouncing back."
Gellerman, a former University of Oklahoma golfer who has 664 points (20th place), set the competitive course record for TPC Colorado, which has only been open for less than two years, with a bogey-free 8-under 64 on Saturday, which put him one behind the co-leaders.
"Obviously I hope every round that I tee it up is going to be a big round, but that's just not the case," said Gellerman, who has won once on tour this year. "But (this one) turned out to be pretty good."
Tied with Gellerman at 204 is fellow American John Oda (349 points, 55th place), who shot a bogey-free 68 on Saturday.
Besides PGA Tour cards being on the line on Sunday, a $600,000 purse will be up for grabs, with $108,000 going to the champion.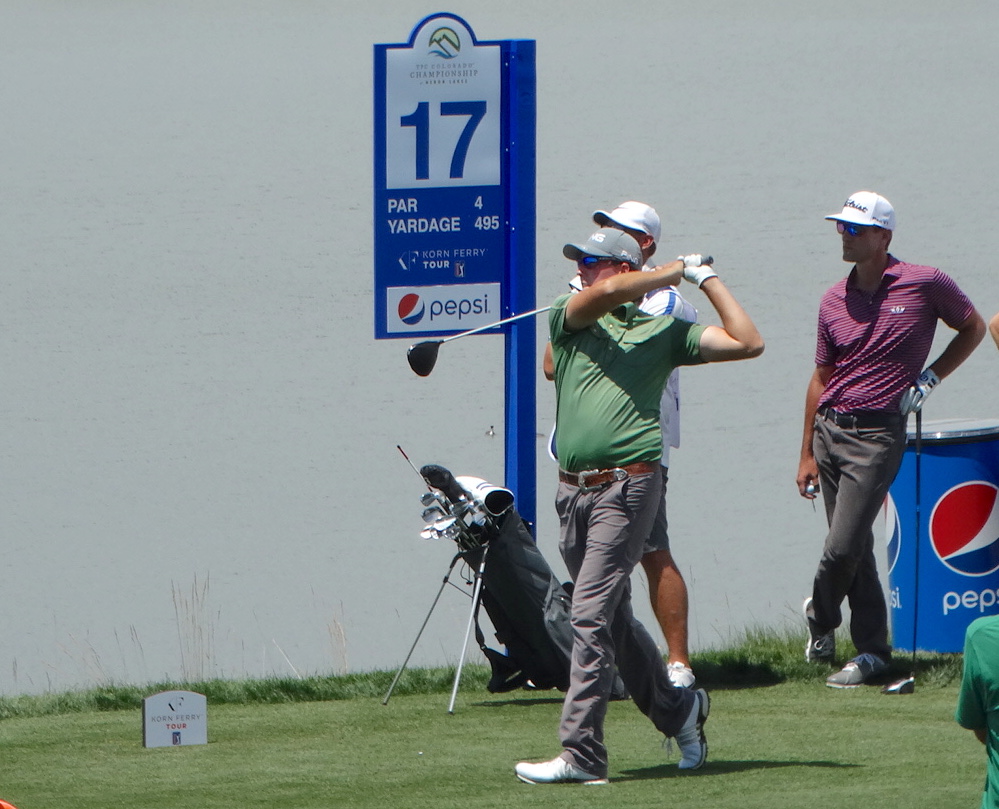 2 Colorado Birthday Boys Paired: Zahkai Brown and James Love seem to have a lot in common, particularly this week.
They both Monday qualified for the TPC Colorado Championship. They played the first three rounds of the tournament together. They both made their first cut on the Korn Ferry Tour in many years — Brown since 2013 and Love since 2012. They're both Coloradans — Brown lives in Golden and Love in Denver. And they both played golf for Division I college programs in the Centennial State — Brown at Colorado State and Love at the University of Denver.
But on Saturday during the middle of their round, they both found out something they shared that was really odd.
Someone shouted out "happy birthday" to Brown, who turned 29 on Saturday. At which point Love noted that, against all odds, it was also his birthday on Saturday (his 36th).
"He looked right at me and said, 'It's your birthday too?'," Brown relayed later. "I said, 'Yeah it is. Is it yours?' So it's his and my birthday and we've played together the last three days so I thought that was funny."
And, to add another twist, the last time before this week that the two had played together was the first two rounds of the CoBank Colorado Open in 2013, when Brown went on to win the tournament.
On Saturday, Brown shot his second straight 2-under-par 70, leaving him at 3-under 213 and in a tie for 41st place. Love fired a 71 and is in 49th place at 214.
"It feels really good," Brown said. "Today's my birthday so it's nice to give myself a little present, making the cut and then hitting it really well today. I only missed two greens today and hit it pretty close most of the day. It could have gone really well. It my putts go in, I could have easily shot 64 today."
By the way, Brown said he sent out 200 tickets for the tournament in hopes that he'll get a big crowd following him on Sunday.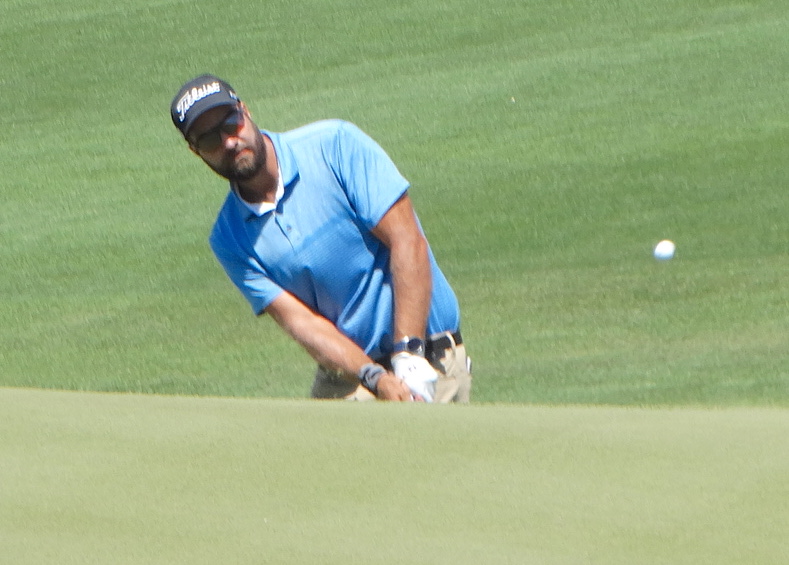 Preview for Whitney?: Tom Whitney hopes to be competing full-time on the Korn Ferry Tour in 2020, just as he did in 2017 — and he's in position to do just that — but this week he's happy with making the cut on the KF Tour for the first time in 2019 and hopes to have a good showng on Sunday.
The former Air Force Academy golfer, who lived in nearby Fort Collins for seven years until moving to Texas at the end of 2017, is the top performer so far among the players with strong Colorado ties competing at the TPC Colorado Championship. A 3-under-par 69 on Saturday put him at 4-under 212 overall and in 34th place.
"I bogeyed two of the par-5s, but I made some great putts and some entertaining shots," Whitney said. "I almost holed out (for a hole-in-one) on 16 and then I made a 40-footer on 18 (for birdie) so I guess I just needs crowds to be watching me for me to perform. All in all, I'm happy. It's moving day and I moved up the leaderboard and I'm in good position for tomorrow."
And Whitney has a good chance of being on the Korn Ferry full-time next year as at mid-season he leads the money list on PGA Tour Latinoamerica. And if he remains in that position following the final eight events of the season, starting in mid-September, he'll be fully exempt on the Korn Ferry in 2020.
"I'd love to (finish in the top 25 this week) and get out to Omaha (for next week's Korn Ferry event), but honestly I'm just taking the summer easy," he said. "My priority is on Latinamerica. For now I'm just enjoying playing some good golf and I want to be rested and ready by the time mid-September comes along for Latin."
Though Whitney lives in the Dallas area now, given his background at the Air Force Academy and in Fort Collins, this feels like old-home week in several respects.
"My schedule has been jam-packed with seeing old friends," the 30-year-old said. "Every hour of the day has been accounted for since I've been here. It's been busy and fun at the same time. I've probably had 30-40 different people coming out to watch me during the week. It's been great."
And he's taken advantage of a sponsor's invitation by making the cut and now being in the top 35 going into the final round.
"You hate to waste those (invites) by missing the cut," he said. "I made it on the number yesterday and moved a little closer today. At least I can be out here and the fans have a chance to watch me. It's all good."
Here are the results at the TPC Colorado Championship for all the players with strong connections to the Centennial State:
34. Former Fort Collins resident and Air Force golfer Tom Whitney 70-73-69–212
41. Golden resident and former CSU golfer Zahkai Brown 73-70-70–213
49. Denver resident and former DU golfer James Love 68-75-71–214
49. Denver native Mark Hubbard 74-67-73–214
Missed 36-Hole Cut
Boulder native George Cunningham 72-74–146
Former Golden resident Andrew Svoboda 73-73–146
Cherry Hills Village resident David Duval 77-72–149
Cheyenne resident and former CU golfer Josh Creel 70-79–149
Denver resident Michael Schoolcraft 73-80–153
Lone Tree resident and former CU golfer Tom Gempel 73-80–153
Part-time Boulder resident and former CU golfer Jonathan Kaye 79-76–155

For all the scores from the TPC Colorado Championship, CLICK HERE.
For Sunday's tee times, CLICK HERE.