Owen Cornmesser of Fort Collins, past high school teammate of 2018 champ Dillon Stewart, shares boys lead with fellow Coloradan Will Kates in AJGA Hale Irwin Colorado Junior; Littleton's Sofia Choi tied for 2nd in girls tourney
By Gary Baines – 6/15/2021
The past five AJGA Hale Irwin Colorado Junior tournaments have produced a grand total of three winners from Colorado — boys and girls combined. So what are the chances of two Hale Irwin champions coming from the same high school?
Owen Cornmesser of Fort Collins made that a real possibility after firing a 3-under-par 69 on Tuesday at Walnut Creek Golf Preserve in Westmister, which earned him a share of the boys lead with Will Kates of Centennial after round 1 of the 54-hole event.
Cornmesser just graduated from Fossil Ridge High School, which also produced 2018 Hale Irwin Colorado Junior winner Dillon Stewart. In fact, that same year Fossil Ridge swept both the team and individual state high titles in 5A, with Stewart claiming the latter.
"Ever since I've been alive, Colorado has not really been a hot spot for junior golf," Cornmesser said. "My teammate, Dillon, won out here three years ago. That was pretty big for Colorado golf. It just puts us on a map and shows that there's good golf being played in Colorado."
As for Cornmesser himself, this is his second time competing in the Hale Irwin Colorado Junior. His first time still stings a little as Cornmesser finished 57th out of 60 boys in 2019, the last time the event was played. He went 79-88-78 that year, ending up at 29 over par.
"I did extremely bad two years ago so it felt really good to get a good round out here," Cornmesser said following his six-birdie, three-bogey day. "I think two years ago I finished second to last (among players who didn't withdraw or weren't disqualified). So this tournament has been on my list for the past year. I've really been wanting to do well at it, so this was a good first day."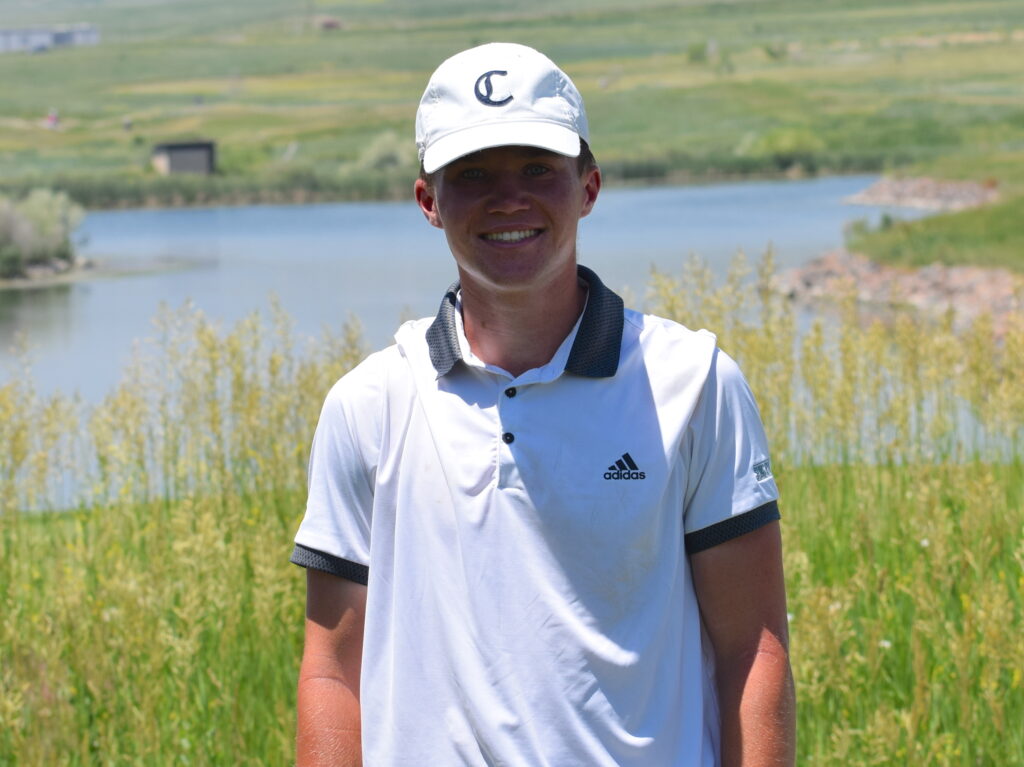 A total of six players shot under par in the boys competition on Tuesday, and three of those were from Colorado. Jeffrey Nelson II of Commerce City joined Texans Ryan Shellberg and Matthew Spaulding, and Camden Braidech of Scottsdale, Ariz., in posting 70s on Tuesday.
Cornmesser was even par through 14 holes, but played his last four in 3 under. The 18-year-old, who will play his college golf at the Colorado School of Mines beginning in the fall, proved the king of sand play the last two holes as he holed out a 20-yard bunker shot for birdie on No. 17 and got up and down from the sand for another bird on 18.
"It was pretty wild," he said. "I felt like 3 under was really good for how I played out there. I had a good closing stretch coming in, which basically saved me. It's a tough course with fast and firm greens, so I'm good with that round."
As for Kates, he's competing in the Hale Irwin Colorado Junior for the first time, and didn't take long to catch on. In fact, he hadn't ever played Walnut Creek before last Friday, but still shot in the 60s on Tuesday.
"It was a good round. I played good (all day) actually," the 17-year-old said. "My game has been pretty solid, so I was hoping to play well. I know I can play well and I'm happy with how I did today."
Kates, the 2019 5A state high school individual champion from Arapahoe, was dialed in throughout the round. He made two birdies from a foot or less, another from 2 feet and another from 4 feet. His longest birdie conversion of the day was from 10 feet on No. 16.
Though this event attracts some good golfers regionally and beyond — besides many of the elite junior players from Colorado — Kates took it all in stride on Tuesday.
"It's a little bigger than the local (Junior Golf Alliance of Colorado) events, but it's still golf at the end of the day," he said. "It can't be that much different."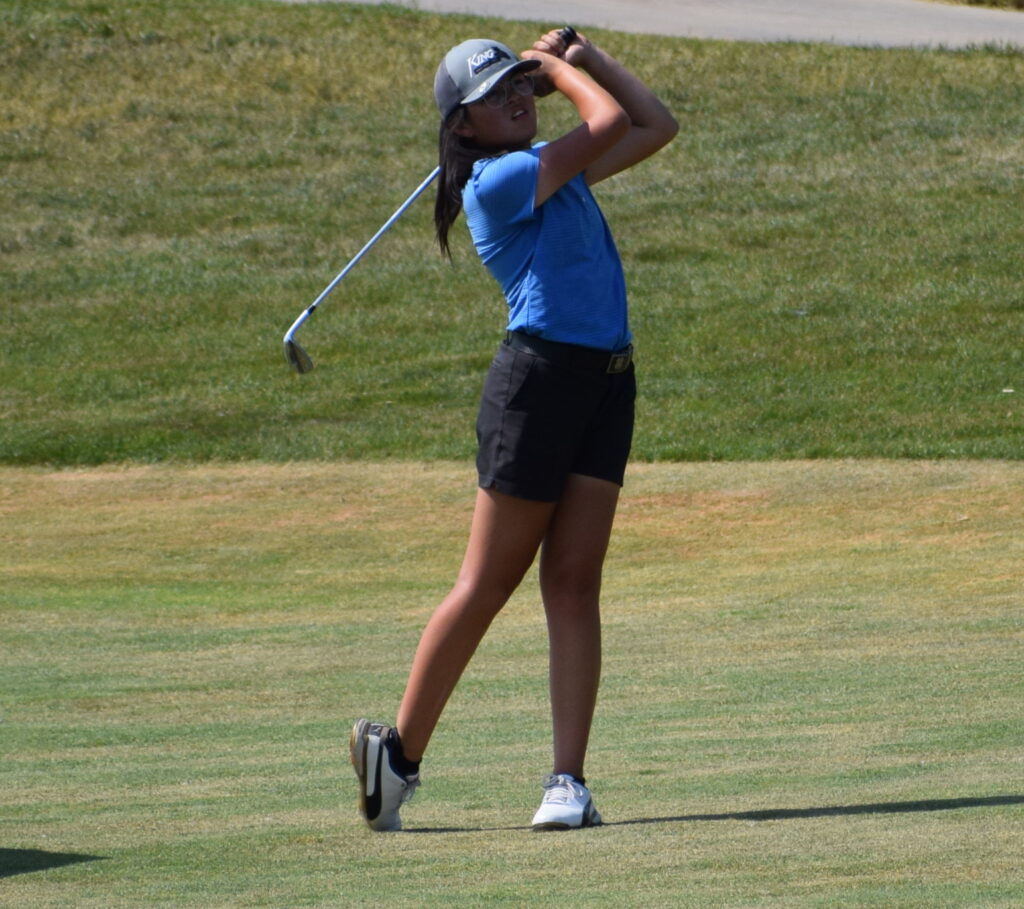 In the girls tournament, three players out of the field of 24 broke par on Tuesday, including one Coloradan.
Sophie Dalfonsi of Bend, Ore., grabbed a two-stroke lead with a 3-under-par 69 that included a 3-under 33 on the back nine. Overall she carded five birdies and two bogeys.
Sofia Choi of Littleton, a senior-to-be at Mullen High School, shares second place with Canadian Lauren Kim at 71.
Choi, a member of the CGA's Hale Irwin Player Program at CommonGround Golf Course, made quite a comeback on Tuesday. The 17-year-old bogeyed her first three holes, but didn't make a bogey the rest of the way and played her final 11 holes in 4 under. She saved par with a 40-foot putt on No. 15, which kept her momentum going.
"That was good" the 2019 4A state high school runner-up said of her day 1 rally. "My start wasn't actually too bad. I just didn't make my putts to save par."
Choi has competed in quite a few AJGA tournaments in recent years. In fact, she won an event in Williamstown, Mass in 2018, the AJGA Preview at Waubeeka. Preview tournaments are generally limited to players making their AJGA debuts.
Kaylee Chen of Parker, winner of the 2019 girls Colorado Junior Amateur, was also among the girls leaders for much of the day at Walnut Creek. But after being 1 under for her first 12 holes, she carded a quintuple-bogey 10 on the par-5 13th and finished with a 77, which left her in a tie for 12th place.
For scores from the AJGA Hale Irwin Colorado Junior, click on the following: BOYS, GIRLS