Selected weekend action at TPC Colorado Championship at Heron Lakes will be live streamed next month; down the road, TV at scenic site a possibility
By Gary Baines – 6/15/2021
It's a natural question for anyone who has attended the TPC Colorado Championship at Heron Lakes over the past two years: Why isn't this event on TV?
After all, the backdrop — with three large reservoirs in the foreground and snow-capped peaks in the background — is pretty spectacular, and would make for some nice eye candy for golf viewers.
But the short answer is, only five or six Korn Ferry Tour events each year are televised, and while the tournament in Berthoud isn't one of them, that could change.
In the meantime, tournament officials announced on Tuesday that the 2021 TPC Colorado Championship will feature some live streaming of the event during the final two rounds — Saturday, July 10 and Sunday, July 11. It will be available those dates on PGA Tour Live and GolfChannel.com, with featured-hole and featured-group coverage. (Overall, tournament rounds are July 8-11, preceded by two practice rounds that are open to the ticketed public.)
"This first step truly shows that everybody believes in this opportunity to get this place on TV — and get Colorado showcased to the world, to the masses," TPC Colorado Championship tournament director Drew Blass said.
"The PGA Tour, they made that first step and said, 'Hey, let's get it on PGA Tour Live on Saturday and Sunday. To first say, 'Hey, we've got something special here. And let's grow to them putting it on TV where everybody is seeing it around the world. It comes down to financials a little bit and getting a title sponsor (for the tournament). And if it makes sense for that title sponsor — we've got the views, we've got the golf course, then it's a great fit for everybody. It would be a great show to put on TV. We're all working together to get it done."
Currently, two regular-season Korn Ferry Tour events — last week's BMW Charity Pro-Am in South Carolina and the Utah Championship early in August — are televised on Golf Channel. And all three Korn Ferry Tour Finals events, spanning Aug. 19 through Sept. 5, are also on TV.
But the TPC Colorado Championship and the Korn Ferry Tour qualifying school are the only KFT events scheduled for live streaming in 2021.
"This is kind of a test for us," said Bo DeHuff, director of tournament business and sponsor relations for the PGA Tour and Korn Ferry Tour. "We're calling it a franchise we want to grow — where, when you think of the Korn Ferry Tour, you think, 'Oh, I can pick that up on PGA Tour Live and GolfChannel.com.
"We would love to televise more events. We think there's a really good path forward with this streaming model. If you look at all the TV windows, there's a lot of golf competition Thursday through Sunday. There's the PGA Tour, LPGA, Champions, sometimes European. So with this streaming, we think there's a unique niche we can carve out. That's one of the reasons we're testing it out here."
And, down the road, if things can be worked out with a potential title sponsor and withTPC Colorado, TV "is definitely a possibility," DeHuff said. "It's the perfect backdrop. We'd love to put this event on TV. … I will absolutely say this is in our top five best events (on the Korn Ferry Tour). We're very proud of that."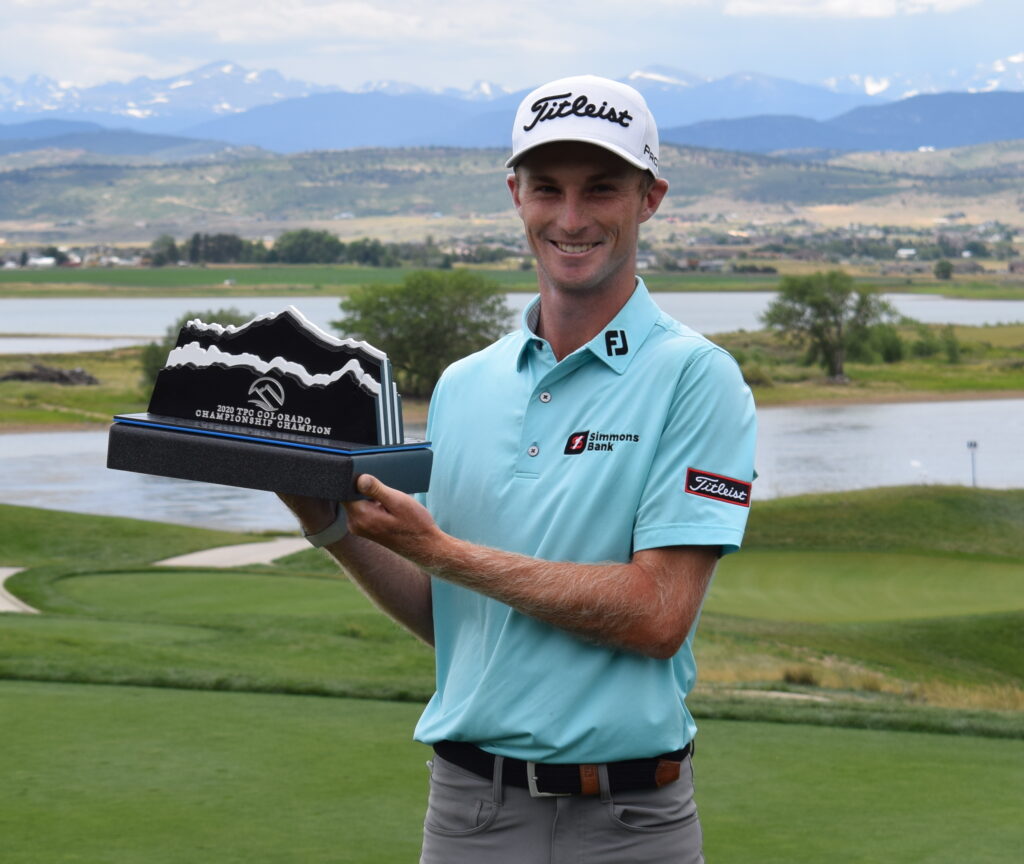 The Zalatoris Factor: It was an odd situation.
Last year, Will Zalatoris made the TPC Colorado Championship at Heron Lakes his first professional victory. He has since parlayed his success in a remarkable way, finishing sixth in the 2020 U.S. Open, second in the 2021 Masters and eighth at the 2021 PGA Championship. (And, by the way, four other top-10 performances on the PGA Tour during the 2020-21 season.)
Yet, the general public didn't get to see Zalatoris win at TPC Colorado last year due to Covid-19 safety concerns.
Now, tournament officials are understandably trying to use Zalatoris as the perfect example of how good the players are on the Korn Ferry Tour — and how he did what he did right here in Colorado.
"Will Zalatoris is part of our family," Blass said. "If you look at his Instagram, his Instagram photo is still him holding our trophy. It's his first professional victory. There's so much great talent out here. Will Zalatoris just needed that opportunity, and look what he did. Sixth at the U.S. Open, second at the Masters, eighth at the PGA Championship, (and) he's playing at the U.S. Open this week. We're always saying, 'Who's going to be the next Will Z?'
"A lot of our promotions are trying to say, 'You guys can be here now to see that next Will Zalatoris. Who is going to be that next one this year and in the years to come?'"
And perhaps that pitch is working as tournament officials say ticket sales are double what they were in 2019, the only previous time the general public was allowed to purchase tickets for the TPC Colorado Championship at Heron Lakes. An estimated 20,000 people attended the tournament sometime during the week two years ago.
For the record, DeHuff said 11 current Korn Ferry Tour players are competing in the U.S. Open this week at Torrey Pines in San Diego.
For ticket information and other details regarding this year's KFT event at TPC Colorado, CLICK HERE.

Notable: While the Korn Ferry Tour is owned and operated by the PGA Tour, the last actual PGA Tour event played in Colorado was the 2014 BMW Championship, held at Cherry Hills Country Club. As noted in the 2021 Colorado Golf Economic & Environmental Impact Report that was released recently, the BMW Championship is expected to return to Colorado in the not-too-distant future. This time, Castle Pines Golf Club, home of The International from 1986 through 2006, is expected to be the host facility, likely in 2024. … Tom Whitney, a former Air Force Academy golfer who lived in Fort Collins from 2011-17 before moving to Texas, took time out of his Korn Ferry Tour tournament preparation to come to TPC Colorado to promote next month's event. Whitney has posted two top-10 KFT finishes in the last three weeks. … After drawing 550 volunteers in 2019 and 200 in the Covid year of 2020, Blass said the TPC Colorado Championship has 700 volunteers this year. To put that into perspective, typical for a Korn Ferry Tour event is about 300. … As Blass noted, the TPC Colorado Championship continues to boast the longest hole in a PGA Tour-affiliated event, the 777-yard 13th at TPC Colorado.