At 62, Ron Vlosich becomes oldest winner of Colorado PGA Professional Championship and claims his fourth title in the event, but first since 1993
By Gary Baines – 09/11/2019
For a guy who's eligible to receive Social Security, Ron Vlosich certainly plays a mean game of golf.
How mean?
On Wednesday, the Colorado Golf Hall of Famer from Lakewood won the Colorado PGA's most prestigious tournament — its Professional Championship — at the age of 62, in the process beating some players about a third of his age.
Remarkably, Vlosich became the sixth player older than 50 in the last seven years to claim the Colorado PGA Professional Championship title. But he took it to another level this week at Meridian Golf Club in Englewood.
Prior to Wednesday, the oldest champion in this event — which dates back to 1958 — was believed to be Doug Rohrbaugh, who won at age 53 in 2015, when he completed a three-peat in the championship. But this week Vlosich set a new age standard by a L-O-T — as in nine years.
"It's unbelievable. I mean, it is unbelievable," said John Ogden, who won the 2017 title at age 50. "Ron Vlosich is one of the 10 best players ever to play in this state, I guarantee you. He is so talented. For him to go out and win this Section championship at his age is unbelievable. He loves to compete. That's the thing about him."
Not only did Vlosich become the oldest champion, but he tied the record for most victories in this event, with four, joining fellow Colorado Golf Hall of Famers Fred Wampler (1966, '68, '73 and '74) and Jack Sommers (1980, '82, '88 and '95). And in Vlosich's case, it had been 26 years since his last title in this tournament, having previously prevailed in 1991, '92 and '93.
"There's not much to say. It was a miracle," Vlosich said, perhaps only half-jokingly, after being presented the trophy on Wednesday.
"It's a good crowd," he later said of becoming a member of the four-timers club. "It's nice to be listed in that company for sure, especially at my age. Those are all bonuses. Three days in a row is usually pretty hard to feel halfway decent."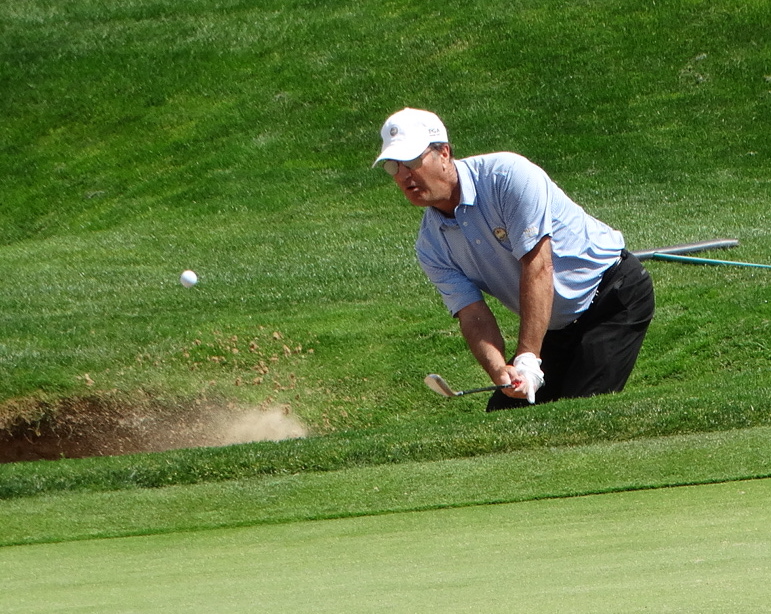 Thanks in large part to a spectacularly good bunker shot at No. 17 on Wednesday, Vlosich prevailed by one stroke at Meridian, earning a $10,000 check in the process.
Vlosich, a five-time Colorado PGA Player of the Year, went wire-to-wire at Meridian as his even-par 72 in Wednesday's final round gave him a 4-under 212 total.
Only Micah Rudosky from Conquistador put up a significant challenge to Vlosich down the stretch on Wednesday. The 49-year-old, who won this championship in 2001, posted one of the best scores of the final round, a 70, to finish one behind. They were the only two players to break par for the 54-hole event.
Tying for third on Wednesday were University of Denver men's golf coach Erik Billinger and Ben Honaman of Lakewood Country Club, who both checked in at even-par 216.
Eight players qualified on Wednesday for the 2020 national PGA Professional Championship, set for April 26-29 in Austin, Texas. As a PGA Life Member, Vlosich isn't eligible for a spot, so the next eight finishers will advance.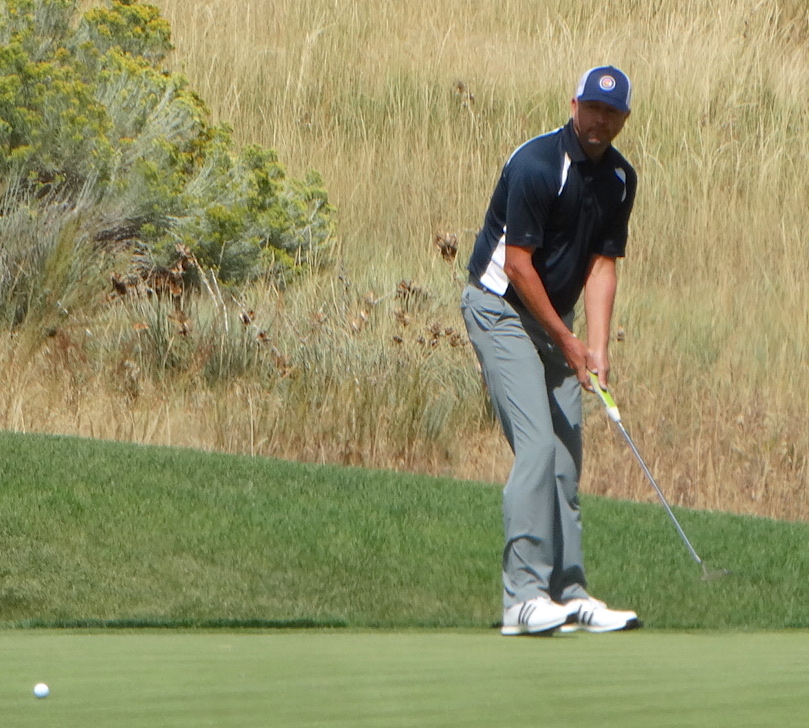 Joining Rudosky, Billinger and Honaman in earning berths to the national championship will be Mike Zaremba of Desert Hawk (217), Seth Terpstra of GolfTEC-DTC (217), Ryan Wroblewski of Cherry Hills Country Club (217), Rohrbaugh (218) and Geoff Keffer of Lakewood CC (218).
Rohrbaugh and Keffer prevailed in a three-person playoff for the final two national berths, with Sherry Andonian-Smith of Valley Country Club being the odd player out and thus the first alternate.
Keffer, by the way, is the only player under 50 to win the Colorado PGA Professional Championship in the last seven years, prevailing in 2016.
As for Vlosich, becoming the oldest winner of the event ever — by a considerable margin — was no small matter.
"It means a lot actually," said the five-time U.S. Senior Open qualifier, a former head professional at Green Gables Country Club. "We have so many good players. To come through and win — I don't win that often anymore — so it was a real treat to be a Section champion."
And to win 26 years after his last victory in this event is significant for him as well.
"I've probably finished second six or seven times at least" in the Professional Championship. "It was nice to squeeze out (another win). I've played in probably 30 of them. There were times where I putt pretty bad, I chip pretty bad, my back is killing me and my feet hurt — when I was thinking I'd probably wouldn't get another shot. But I did and I'm just very pleased and very happy."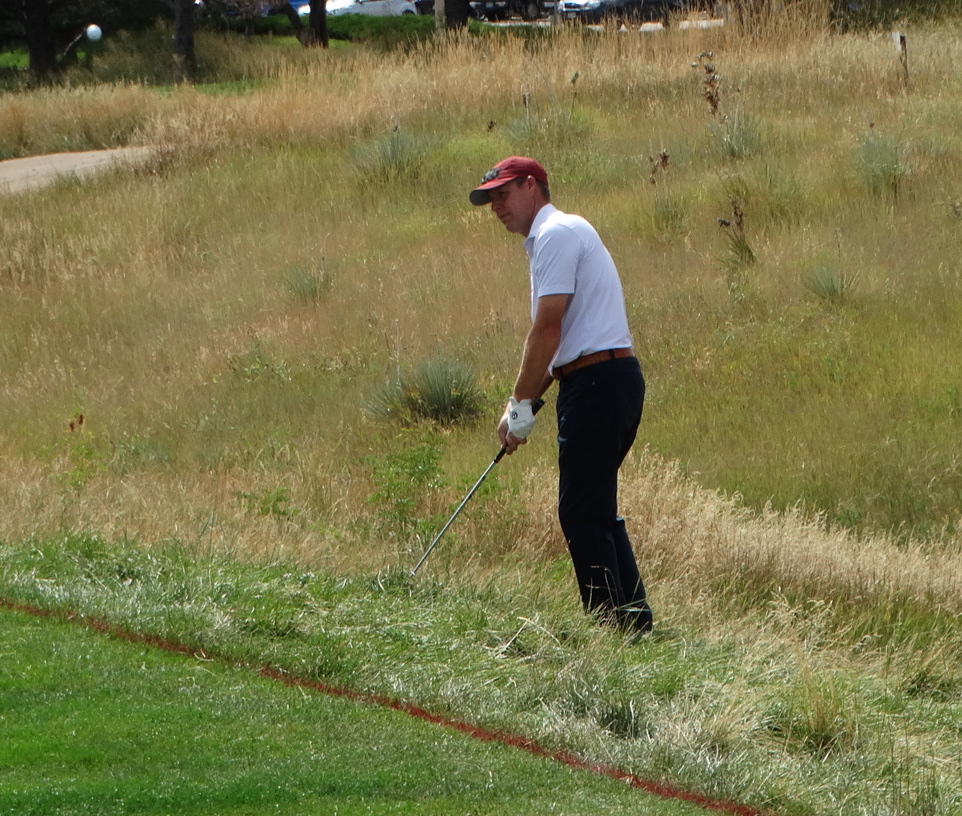 At the turn on Wednesday, Vlosich shared the lead with Rudosky at 3 under par overall. But Rudosky hit his tee shot on No. 10 out of bounds right and had to get up and down for a bogey.
Then Vlosich had a crucial stretch from No. 11 through 13. On the par-5 11th, he hit a 5-wood from 260 yards over a pond to the back fringe and two-putted for birdie. On 12, he hit his approach shot well right into deep grass, but then pitched up and sank a 15-foot par putt. And on 13, after facing a lengthy birdie putt from down in a swale, he drained a 5-footer to save par.
"My putting did really well for me," he said. "It's not my strong suit. To make those putts for pressure is pretty good.
"The second shot on 11 was key for me. I said, 'I've got to make something happen. I'm 1 over (for the round) and I think I'm going to have to shoot under par to win this. I hit a beautiful 5 wood — my adrenaline was going pretty good — and it flew to the back of the green. That was huge to kind of get me going."
Rudosky made a birdie on 14 to get back within one of the lead. Vlosich ended up parring the final seven holes, but the par-3 17th proved huge. With the wind having picked up, Vlosich mis-clubbed and hit an 8-iron into the left bunker, near the back lip. He faced an awkward stance and swing, and a shot that was downhill with not much green to work with.
"A lot could go wrong," he said. "Even by my standards — and I'm really, really hard on myself on praising or anything — it was an amazing up and down under the circumstances and the funny stance and the lip. It was just really, really fortunate to get it up and in."
When he first saw where his tee shot ended up, he thought "This has definitely got some implications that could very negative — more than likely a bogey and maybe a double because I had to try to get cute. It was just a great shot, I have to say. I'm thrilled. I can't get over it.
"It landed just where I wanted it, I nipped it just enough because I had to get some spin. Hell, halfway there I'm saying, 'Geez, that might go in.' That was one of the better short-game shots I've ever hit under pressure, that's for sure."
The ball finished 2 feet below the cup, and he rolled that in for par.
"That up and down on 17, that was a 10 out of 10," Ogden said. "He didn't have a bit of nerves."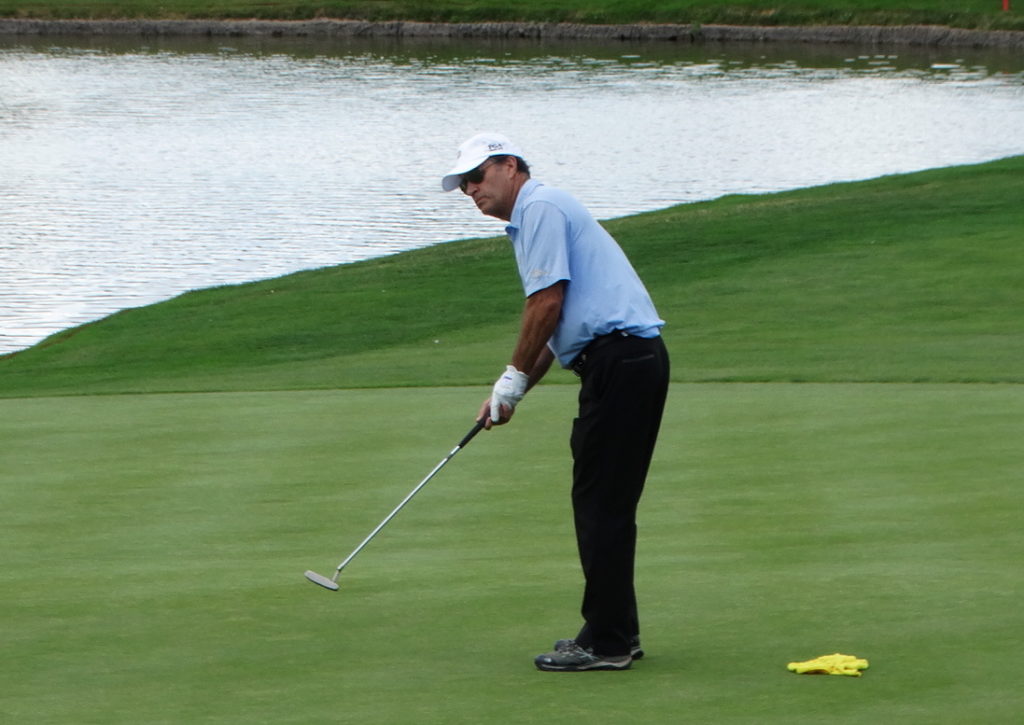 Another par from a similar length on 18 and Vlosich was the Colorado PGA Professional champ for the fourth time.
"Ronny is tough. He gets out there and is steady," Rudosky said. "He doesn't miss many shots at all. You've got to go get him. He played very well."
So what does the 49-year-old Rudosky think about a guy 62 years old winning the Colorado PGA Professional Championship?
"It's pretty awesome," he said. "It inspires me — and I'm sure a lot of others as well — to keep going."
Everybody in the field obviously wants to win the title in big events such as this, but judging from all the heartfelt congratulations Vlosich received on Wednesday afternoon, he's a well-received champion.
"He's a great gentlemen, a great friend," Ogden said. "Everybody loves Ron Vlosich. He's a popular winner."
Asked how this victory ranks among his golf accomplishments, Vlosich put it among the top three or four of his career. Winning in his pro debut at the Wyoming Open in 1980 was right up there too. And there's plenty more on Vlosich's golf resume, including qualifying for a U.S. Open and a PGA Championship.
"I probably should just retire now and say I've got the bookends," he said. "I won the 1980 Wyoming Open and the 2019 Colorado Section Championship and call it a day. … But I probably won't."
For all the scores from the Colorado PGA Professional Championship, CLICK HERE.