Schalk aims to become just third golfer to win title three times; Bryant tries for 2 in a row in 5A
By Gary Baines – 05/16/2019
Next week will mark the 30th playing of the girls state high school golf tournaments — at least since they were sanctioned by the Colorado High School Activities Association.
Appropriately enough, the first one, held in 1990, was won by one of the very best female golfers to have grown up in Colorado, Jill McGill. The Colorado native and Cherry Creek High School product would go on to win the 1993 U.S. Women's Amateur, the 1994 U.S. Women's Amateur Public Links and earned more than $2.3 million in a long LPGA Tour career. She was inducted into the Colorado Golf Hall of Fame in 2009. 
There are now three classifications for girls golf in Colorado — and have been since 2017. On Monday and Tuesday, all three state tournaments will be conducted well outside the Denver metro area. The 5A state meet will be played at Harmony Club in Timnath, east of Fort Collins; the 4A at Pelican Lakes in Windsor; and the 3A at Eagle Ranch in Eagle, west of Vail.
There will be plenty of notable storylines, including of potentially record-tying nature:
— Speaking of which … Holy Family junior Hailey Schalk (pictured above) will be attempting to win her third state high school title in as many tries. The only difference is that, after two years of claiming the 3A individual championship, she'll be going for the 4A victory this time, at Pelican Lakes.
Schalk, the Junior Golf Alliance of Colorado's Girls Player of the Year in 2017 — and a verbal commitment to the University of Colorado — will be attempting to become just the third three-time girls state high school champ, joining Cherry Creek's Lynn Ann Moretto, who won three times from 1995-97 and Mullen's Ashley Tait, who landed her three titles from 2002-05. 
No one has ever won four Colorado girls state high school individual championships, though Schalk has that opportunity. Moretto fell short in her senior year and Tait as a sophomore.
As it stands, Schalk is one of eight players in history to have won at least twice at the girls state high school tournament. That lists includes two players who have — or will have — LPGA Tour cards in 2019 — Jennifer Kupcho and Becca Huffer.
Schalk, a two-time Colorado Junior PGA champion, prevailed in 3A by seven strokes in 2017 and by six last year.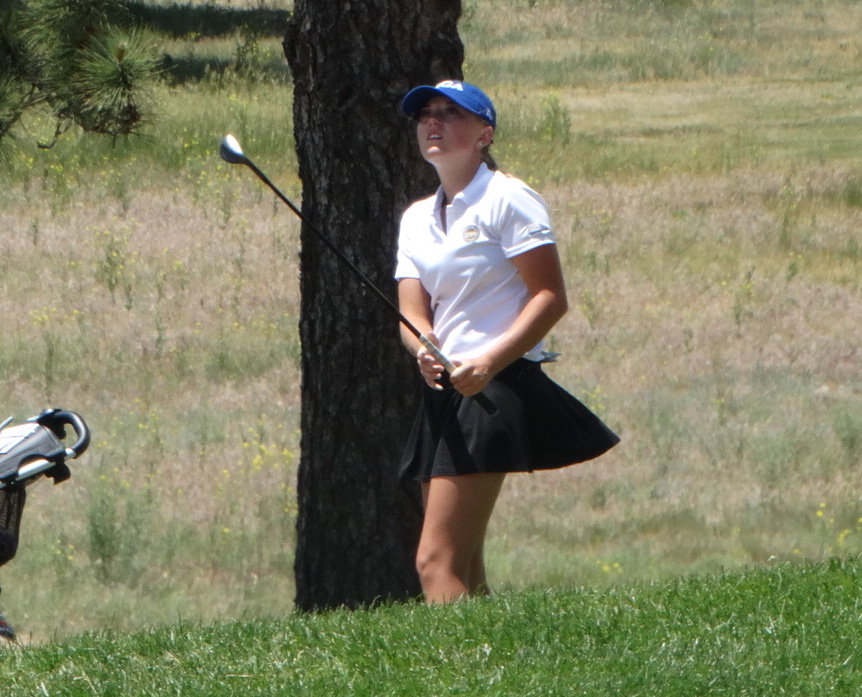 — Schalk isn't the only player in this year's fields that won a state title as a freshman. Last year, Eaglecrest's Emma Bryant joined Schalk as the only golfers since 2002 who have accomplished that feat in Colorado girls high school golf. Besides being a state high school champ, Bryant won the Colorado Junior Match Play in 2017.
— All told, four former champions — who have accounted for five state titles — will be in the fields next week. Joining Schalk and Bryant are two 2017 winners, Grandview's Amy Chitkoksoong (5A) and Loveland's Lauren Lehigh (4A). 
After placing ninth in 5A as a freshman, and first and second in 4A as a sophomore and a junior, Lehigh will be back at 5A state next week. Lehigh was the JGAC's Girls Player of the Year in 2018.
Lehigh will play her college golf at New Mexico starting in the fall, while Chitkoksoong will be at the University of Northern Colorado.
— By far the best state-qualifying score shot this month was by Kent Denver junior Charlotte Hillary, a two-time winner of the JGAC Tour Championship. A verbal commitment to Northwestern, Hillary fired a 7-under-par 64 at CommonGround Golf Course to win the 3A Region 2 crown by a whopping 16 strokes. She carded an eagle, seven birdies and two bogeys that day. Hillary has finished second and third in her two previous state tournaments.
The only other players to shoot in the 60s at regional state-qualifying events were Katie Berrian of Regis Jesuit, who posted a 4-under-par 67 at the 5A Western Regional at Tiara Rado in Grand Junction, and Lehigh, who had 68 at the same site. Berrian won the Colorado Junior Amateur in 2018 and Lehigh the Colorado Junior Match Play.
— Perhaps the player that goes into next week with the best state high school record without having yet won is Colorado Academy's Caroline Jordaan. In three previous appearances at the state meet, Jordaan placed second in 4A in 2016, third in 3A in 2017 and second in 3A last year. Jordaan, who will play her college golf at the University of Denver, will be back at the 3A tournament next week.
— Team-wise, Colorado Academy will defend its title in 3A, having won five state championships in the sport since 2007, including three in a row.
Windsor (4A) is coming off its first state title in girls golf.
In 5A, Cherry Creek last year won its record 11th state championship in girls golf, but its first since 2013.
For tee times for Monday's opening round in 5A, 4A and 3A, CLICK HERE.
Here are the team and individual winners of the regional state-qualifying tournaments held earlier this month:
5A Southern at Foothills GC — Team: Cherry Creek +19; Individual: Emma Bryant, Eaglecrest, 2-over-par 74.
5A Central at Kennedy GC — Team: Arapahoe +17; Individual: Leigha Devine, Fossil Ridge, 2-over-par 74.
5A Western at Tiara Rado GC — Team: Loveland +12; Individual: Katie Berrian, Regis Jesuit, 4-under-par 67.
5A Northern at Aurora Hills GC — Team: Rock Canyon +20; Individual: Amy Chitkoksoong, Grandview, and Morgan Ryan, Grandview, 2-over-par 74.
4A Region 1 at Kissing Camels CC — Team: Coronado +43; Individual: Kylie Severin, Vista Peak, and Kate Griffin, Coronado, 9-over-par 80.
4A Region 2 at Eisenhower Silver Course — Team: Palmer Ridge +57; Individual: Ashlee Sample, Palmer Ridge, 4-over-par 76.
4A Region 3 at Club at Fox Hill — Team: Windsor +31; Individual: Hailey Schalk, Holy Family, 6-over-par 78.
4A Region 4 at Adobe Creek — Team: Golden +28; Individual: Sofia Choi, Mullen, 4-over-par 76.
3A Region 1 at Hollydot — Team: The Classical Academy +44; Individual: Kenzie Fontana, The Classical Academy, 10-over-par 81.
3A Region 2 at CommonGround — Team: Kent Denver +25; Individual: Charlotte Hillary, Kent Denver, 7-under-par 64.
3A Region 3 at Highland Hills — Team: Jefferson Academy +43; Individual: Aubri Braecklein, Jefferson Academy, 6-over-par 78.
3A Region 4 at Dos Rios — Team: Colorado Academy +10; Individual: Caroline Jordaan, Colorado Academy, 1-over-par 72.