63 by amateur Connor Jones leaves him 1 out of lead at Colorado Open, with fellow Coloradan Zahkai Brown; 2005 champ Wil Collins and Rico Hoey share top spot with 1 round left
*****For the scores from the Inspirato Colorado Open, CLICK HERE.*****
By Gary Baines – 7/23/2022
A victory on Sunday in the Inspirato Colorado Open would be a life-altering accomplishment for many of those in contention — though not in the same way for all of them.
For many of the pros, winning the $100,000 — believed to be the biggest first prize for any state open in the country — would do the trick.
But if Connor Jones of Westminster were to prevail, he'd receive none of that cash as he's an amateur. It would instead go to the low pro finisher. But the Colorado State University golfer would go down in history as just the third amateur in 58 years to win the Colorado Open overall title, joining Gary Longfellow and Brian Guetz — and the first since 1994.
"On Monday, my dad said something about (potentially being) the low am," Jones said on Saturday. "And I told him I feel like I can win this week — not just the low am but (the overall title). It's all about playing your own game and if I play my own game, it's just as good as anybody's."
And there's this: No amateur in the history of the Colorado Open has finished more than 15 under par for the tournament. Jones currently sits at 16 under.
However things play out, plenty will be on the line Sunday at Green Valley Ranch Golf Club in northeast Denver. Wil Collins of Albuquerque, who won the Colorado Open title in 2005 and finished second in 2016, gained a share of the 54-hole lead with Rico Hoey of Rancho Cucamonga, Calif., who has been no worse than tied for the top spot after rounds 1, 2 and 3. And 2013 champ Zahkai Brown of Golden is a shot back, along with Jones and Colin Monagle of Jacksonville.
For most of the pros in contention, a $100,000 payday from their performance in a single golf tournament would be a personal best — in some cases by a lot.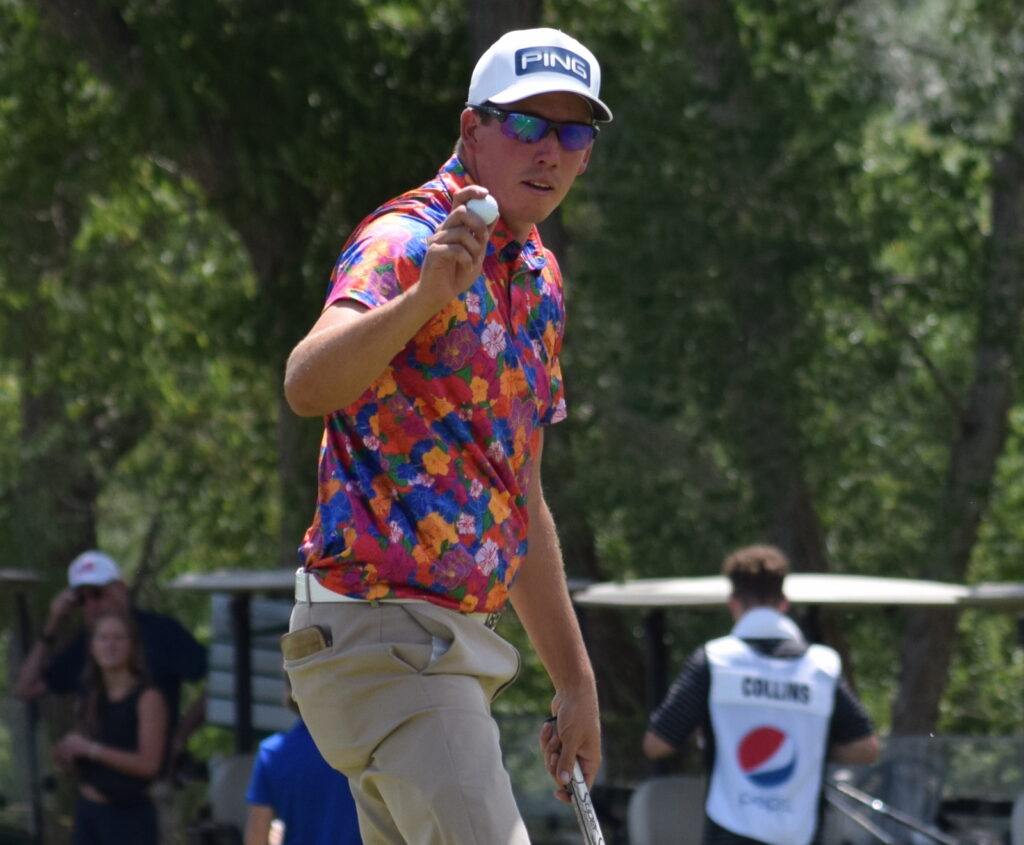 "That would be awesome," said Brown, who won $23,000 for his Colorado Open victory and $30,000 for a Dakotas Tour victory. "My wife and I are trying to build a house — we have two little girls — so that would be a life-changer for me for sure. Colorado housing is absolutely absurd, so that would be huge."
Collins, who likewise won $23,000 for his Colorado Open victory, no longer plays golf for a living; he's a mortgage broker. He's competing in just his third multi-round tournament of the year.
"It would be the biggest check for sure" of his golf career, he said. "But I'm just trying to stay free and have fun. Life is a lot different when you're working. I know one thing for sure — I'll be working Monday morning in my office. That's kind of what I'm trying to take with me and keep me free."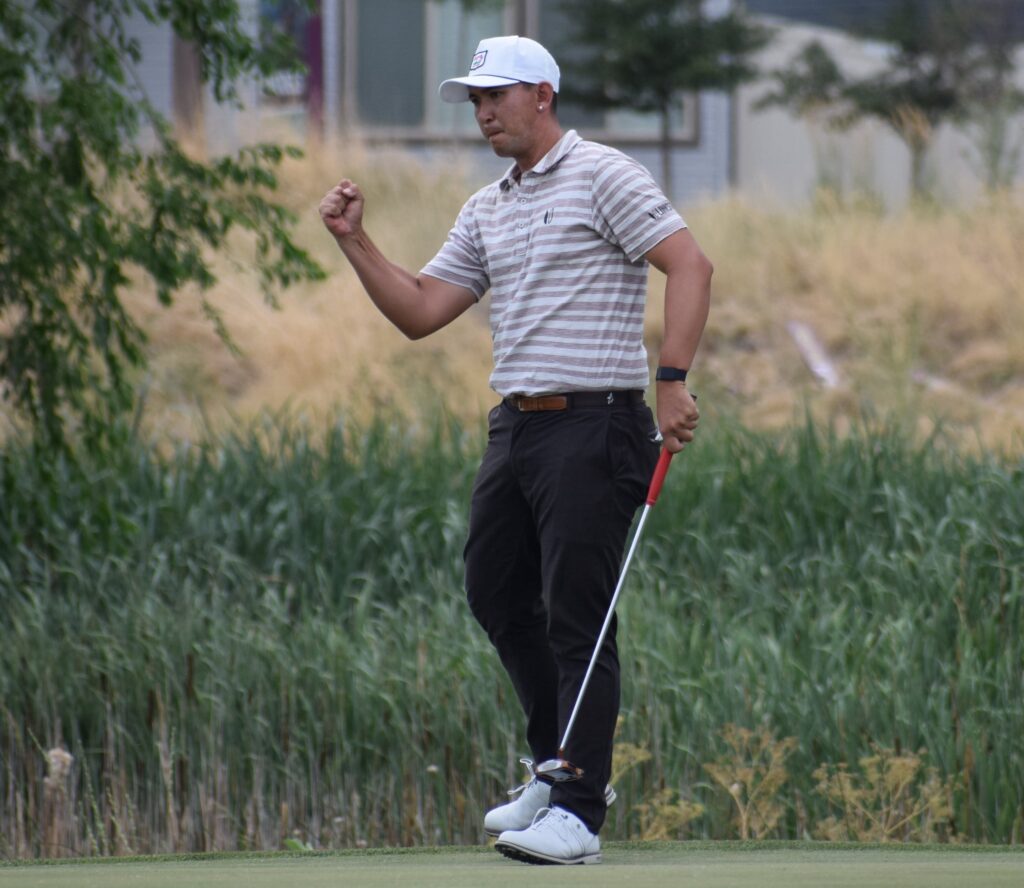 Hoey played three full seasons on the Korn Ferry Tour and has won three times on the Golden State Tour just this year. But $100,000 likewise would be a new zip code for him.
"It would mean the world, but at the same time, it's golf," the 26-year-old University of Southern California alum said. "We're just really lucky to have a purse like this ($250,000 overall). It would mean a lot but I'm just going to go out there and play golf."
On Saturday, Hoey took a four-stroke lead into the day, but needed an 18-foot birdie on the final hole to gain a share of the top spot through three rounds. After going bogey-free through the first 40 holes of the tournament, he made two on Saturday in a round of 2-under 69 that put him at 17-under 196 overall.
"It was nice to end with a birdie today," Hey said. "It was kind of a tough day, but I can't complain. … Anytime you have a chance to win, you can't complain. I'm going to give it all I've got tomorrow."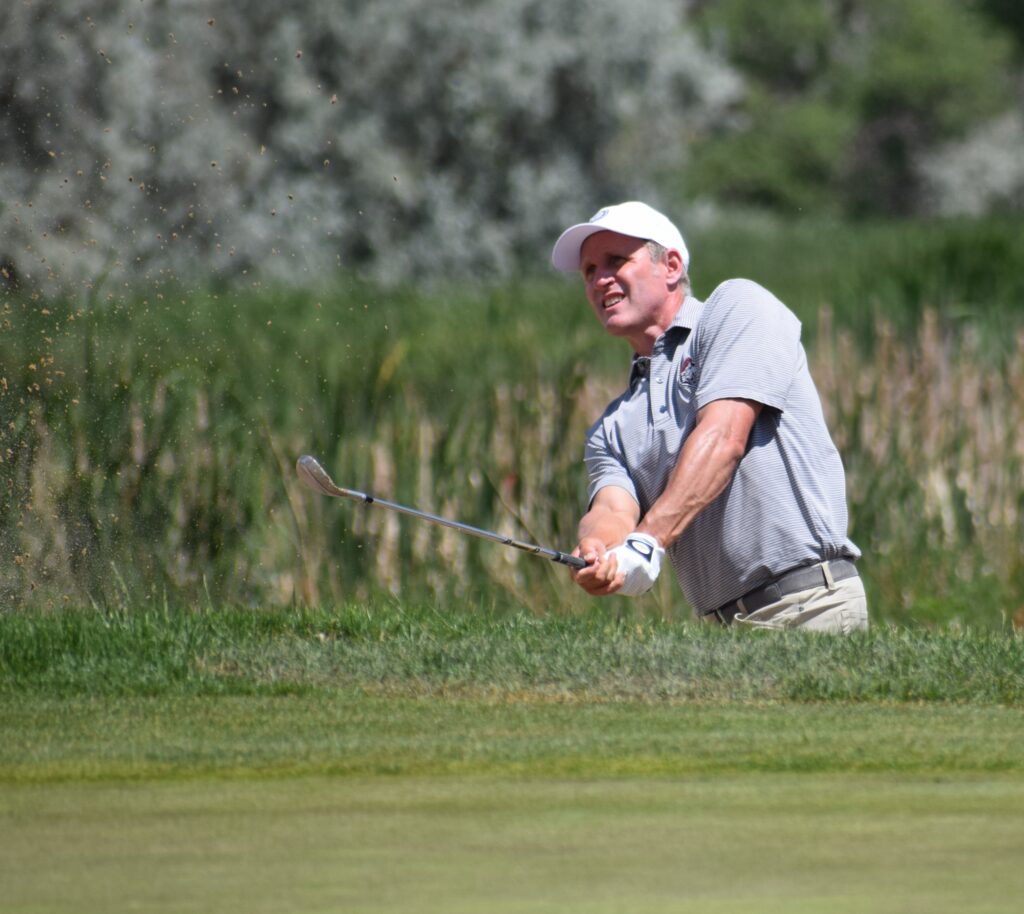 Including his victory in 2005, Collins owns five top 10s at the Colorado Open over the last 17 years. He shot an eight-birdie, one-bogey 64 on Saturday. He capped it off by nearly holing a wedge from 124 yards on the par-5 18th, his ball finishing just 6 inches from the hole for a tap-in birdie.
"I know this course well," Collins said. "And I've been able to keep my game semi sharp. I've just begun to look at it as not how many (tournaments) I've played this year or last year but how many I've played in my life — and that's a lot of golf. I'm just trying to stay happy and be grateful for the opportunity to compete. There are so many great players anymore."
When it comes to Brown and Jones, they're attempting to become the first Colorado resident to win the Open since 2017, when part-time Boulderite Jonathan Kaye prevailed. On Saturday, Jones rallied in a big way, shooting an 8-under-par 63 that included an eagle (a 35-foot putt on No. 9) and a bogey (a water ball on the par-3 13th). He played the four-hole stretch from No. 7 through 10 in 5 under par. Meanwhile, Brown, a former CSU golfer, carded six birdies and a bogey for a 66. That leaves both at 16 under par overall with Monagle, who fired a bogey-free 63.
Jones all but locked up low-amateur honors on Saturday as he's nine ahead of second-place Griffin Barela of Lakewood. But the golfer from The Ranch Country Club is hoping to make noise in the overall competition on Sunday, despite being a 20-year-old amateur playing against some veteran pros.
"I think I'm just going to do the same thing I've been doing," Jones said regarding his approach to the final round. "Just try to hit the first fairway and take it from there. I'll definitely watch the leaderboard periodically throughout the day. It's harder definitely on the final day, but I'm going to stick to my process as much as I can and see where that puts me."
Jones has put together a stellar run of golf since the mid-spring, winning the Mountain West Conference individual title and the CGA Match Play, finishing second in a playoff at the prestigious Trans-Miss, being the first alternate in 36-hole U.S. Amateur qualifying, and now being in contention at the Colorado Open. It's quite a feat for a player who had to scratch and claw to get a spot on a Division I college golf team just a few years ago.
"It's just a slow development as a player," said Jones, who transferred to CSU from the University of Denver a year ago. "A bunch of the changes over the last three years with coaches. I've always been able to hit it pretty good, but in my freshman year (at DU) I learned a lot about the short game from (then-DU coach) Erik Billinger. In my second year when we got Trake Carpenter (as coach) I learned a lot about the mental game. The culmination of all those things is finally starting to show."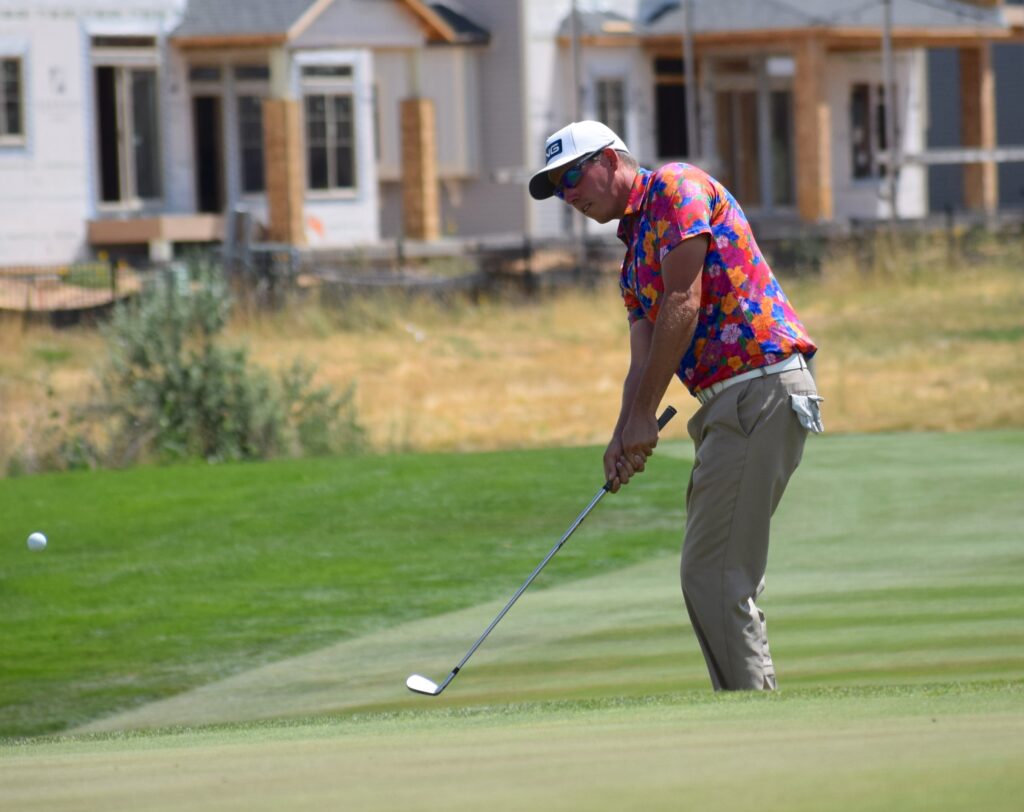 Meanwhile, Brown has often been in contention at the Colorado Open over the years, and has 20 victories in state opens/mini tour events to his credit. Besides winning the tournament by five in 2013, he finished second in 2012 and '15, and placed fourth in 2016.
"Most of my wins are from behind," the 32-year-old noted. "For some reason I do better when I'm chasing than (when I'm trying to) hold onto a lead. In 2012, my first year as a pro, I had the lead going into the last day but ended up losing by one to Derek Tolan. I played conservative. From there on out, I didn't do that again.
"I like that (coming from behind) position really because then you don't feel like you have something to lose. (Instead) you have something to win. It's just like a different mentality and a different kind of play style. But I'll still play smart shots. Coming down the stretch, we'll see if we play a little more aggressive shots" if a potential victory is on the line.
Through 54 holes, Brown has made few big mistakes. He's recorded just three bogeys so far. The former CGA Player of the Year said he feels more and more comfortable in contention as time goes on.
"I've been doing it for 10 years (as a pro) so it doesn't really bother me anymore like it did when I was first turning pro and trying to win," he said. "Each win helped me get more calm."
All told, 15 players will go into Sunday's final round either in the lead or within six shots of it.

Notable: In the low-amateur competition, 2021 CGA Amateur champion Griffin Barela of Lakewood is nine behind Jones despite making six birdies and carding a 67 on Saturday, leaving him 7 under overall. Dillon Stewart of Fort Collins is next best at 4 under after a 70 on Saturday. … Speaking of amateurs, 2021 U.S. Amateur champion (and current pro) James Piot stands in 40th place after rounds of 68-70-69 left him with a 6-under total. … Other Coloradans — or former Coloradans — besides Jones and Brown who are in the top 25 after three rounds at Green Valley Ranch are Chris Korte (16th place, 65-72-66), Gunner Wiebe (16th place, 67-66-70), AJ Ott (23rd place, 64-71-69) and James Love (23rd place, 69-69-66). … Joining Collins and Brown as former Colorado Open champions in the top 10 after Saturday is 2018 winner Dru Love, who stands in ninth place at 11 under par. … The final threesome (Hoey, Collins and Jones) will tee off in Sunday's final round at 8:55 a.m. TEE TIMES