Wil Collins of Albuquerque, 43, becomes 8th multiple-time winner of Colorado Open; Connor Jones finishes 3rd and breaks event's amateur scoring record by 4; fellow Coloradan Zahkai Brown also shares 3rd place
*****For the scores from the Inspirato Colorado Open, CLICK HERE.*****
By Gary Baines – 7/24/2022
Wil Collins may make his living these days as a mortgage broker, but this week he transformed, Superman-style, back into Wil Collins, tournament champion.
The 43-year-old from Albuquerque — competing with many players half his age, most of whom essentially play golf full time — emerged on top Sunday at arguably the most prestigious state open in the country, the $250,000 Inspirato Colorado Open. It was a feat to behold for a person who had previously competed in just two multi-day tournaments in 2022.
"It was probably the best club in my bag that my expectations were low," Collins said. "Nothing is going to change, whether I win or lose. I tried to take that freedom and allow that to flow through me."
And it was mission accomplished on Sunday at Green Valley Ranch Golf Club in northeast Denver as Collins teed off on the par-5 18th hole with a three-stroke lead and, despite a bogey there, posted a one-shot victory.
Collins, who previously won the Colorado Open in 2005, thus became just the eighth multiple-time winner of the event, joining Dave Hill (4 victories), Bill Loeffler and Bill Bisdorf (3 each), and Jonathan Kaye, Derek Tolan, Brian Guetz and Jim Blair (2 each).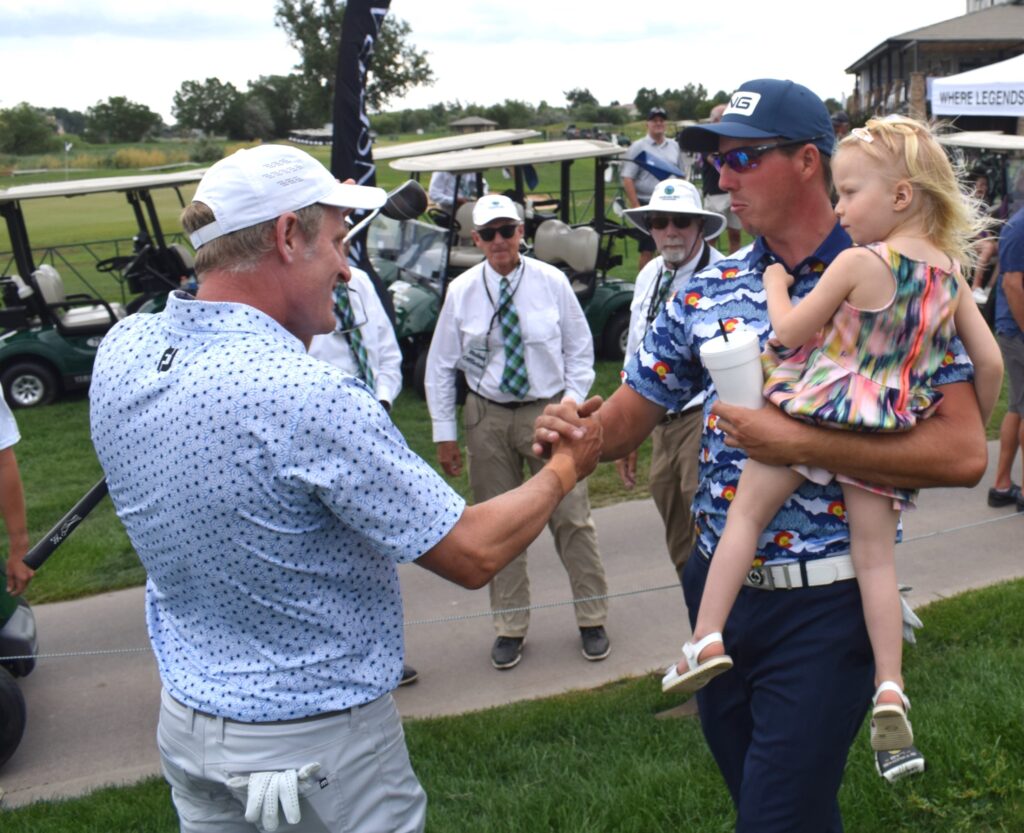 Few people have won the Colorado Open at an older age, and only Kaye went a longer period between victories in the championship (21 years from 1996 to 2017), earning his second title just short of age 47.
"Jonathan and I finished tied for second together" at the Open in 2016, Collins noted. "He came out the next year when I didn't play, and I saw him win. I pretty much root for all older athletes in every sport because that's who I am now. So that's where I look for my inspiration. It's fun to compete with these young guys because they're so good."
But Collins was the one who put on a clinic of consistency this week, posting scores of 66-66-64-65 for a 23-under-par total, which was one better than Rico Hoey of Rancho Cucamonga, Calif., who had led — or shared the lead — after each of the first three rounds.
At the end of the day, Collins earned the check for $100,000, the most paid to the winner of any state golf open in the country. For those wondering, that's more than four times as big as the $23,000 he received for his 2005 Colorado Open victory.
Collins played the PGA Tour basically full-time in 2009, and though he made five cuts that year, his best showing was 26th place. He scored a victory on PGA Tour Canada in 2013, but the check there was for less than $30,000.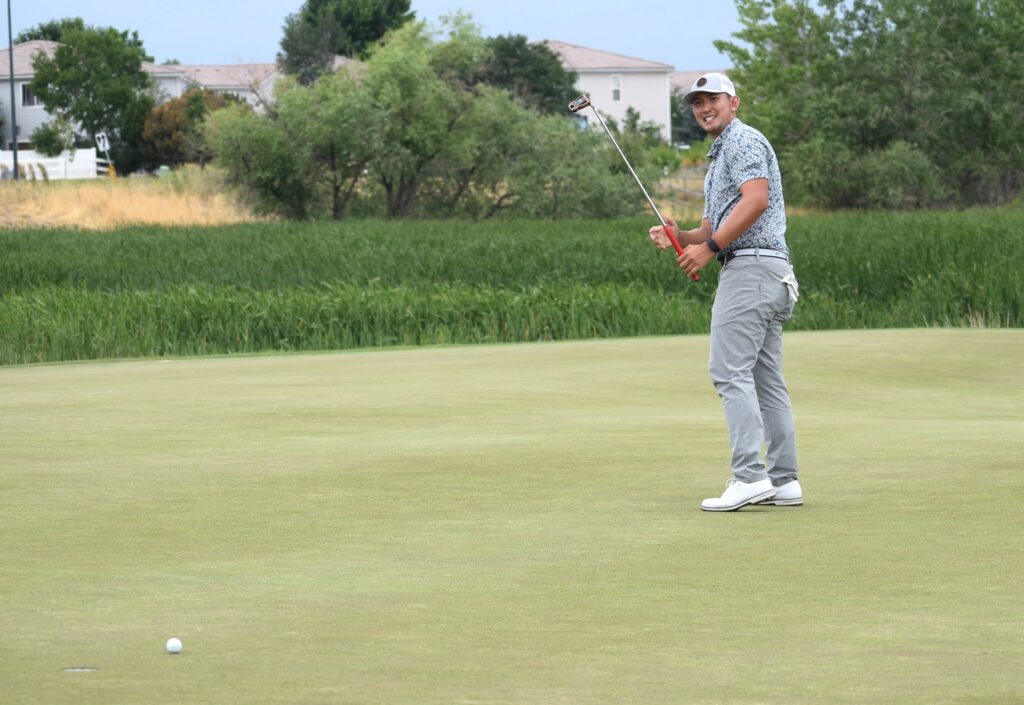 But while the $100,000 for claiming this Colorado Open title is certainly very nice — and will go to good use — winning a big event was very satisfying regardless of the amount of money.
"I think that's the beauty — I just wanted to win," Collins said. "My wife asks me all the time: 'What's with golf? What's the deal?' You just want to win. The money is obviously a huge blessing. This versus a tournament I won last year that was $5,000 (first prize) is obviously a big difference. But I was just thrilled to death to win. But the money is a huge blessing, and I hope to put it to good use.
"I'll have to take my wife somewhere because she had to stay at home and dog sit (this weekend). And she was pissed because she was going to fly in Friday night. 'You better not win,' (she said). So I'll take her somewhere special."
Sunday turned out to be a two-man shootout as Collins and Hoey, the 54-hole co-leaders, pulled away by mid-round. Collins birdied the last four holes of the front nine to go one ahead of Hoey, who competed on the Korn Ferry Tour from 2018 through '21. Hoey birdied No. 10 from 2 feet to tie it up again, and both players birdied 12 and 13.
The stretch from 14 through 17 proved pivotal as Collins converted a 12-foot birdie on 14 to go ahead for good, then added another birdie on 16, while Hoey bogeyed 17, falling three behind.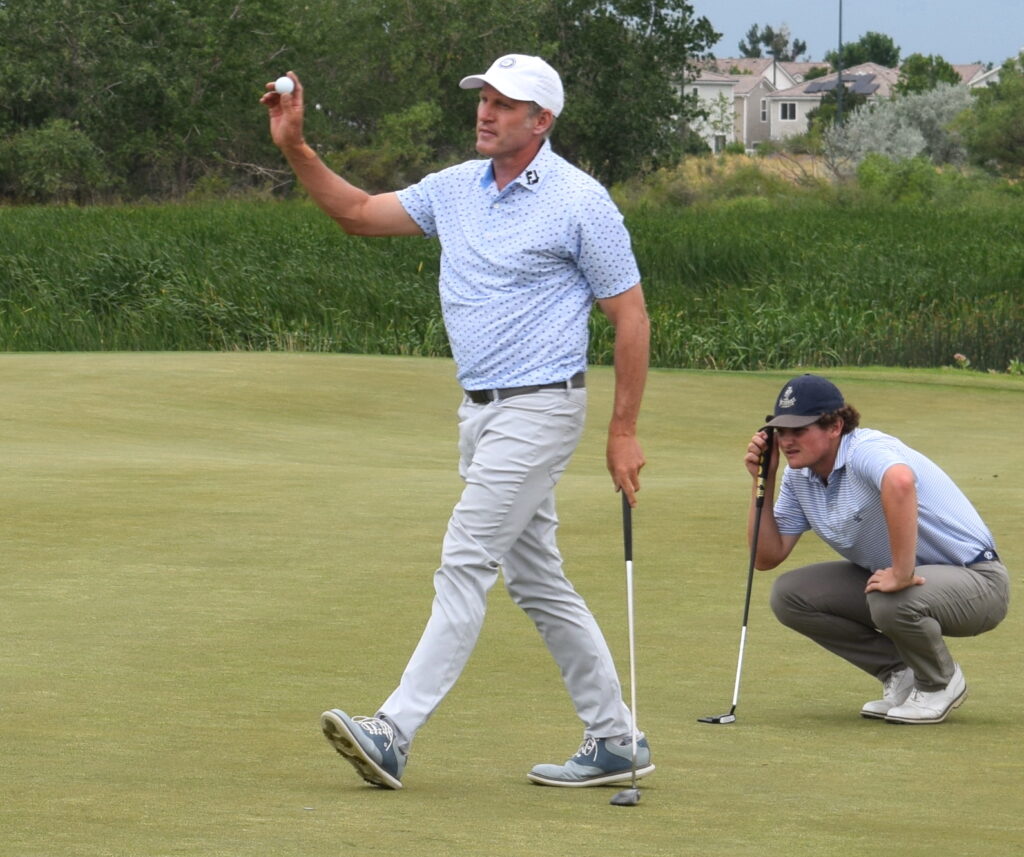 "I did not hit a great drive on 14 (a short par-4), and I had a dicey lie — dry and crusty," Collins said. "That was easily the chip of the week for me. It was not a lie that I liked, but I got it up there — 12 feet was about the best I could do from there — and made the putt. That was huge for me."
On the par-5 18th, Hoey hit the green in two, leaving him a 25-foot eagle attempt. Collins played the safer route, but went just over the green with his third shot. Hoey missed his eagle try low of the hole and Collins couldn't convert his 14-foot par attempt, but tapped in for bogey, giving him the victory despite Hoey's birdie.
It marked Collins' sixth top-10 finish at the Colorado Open since 2007. In addition to the two victories, there have been a second, a sixth and two eighths.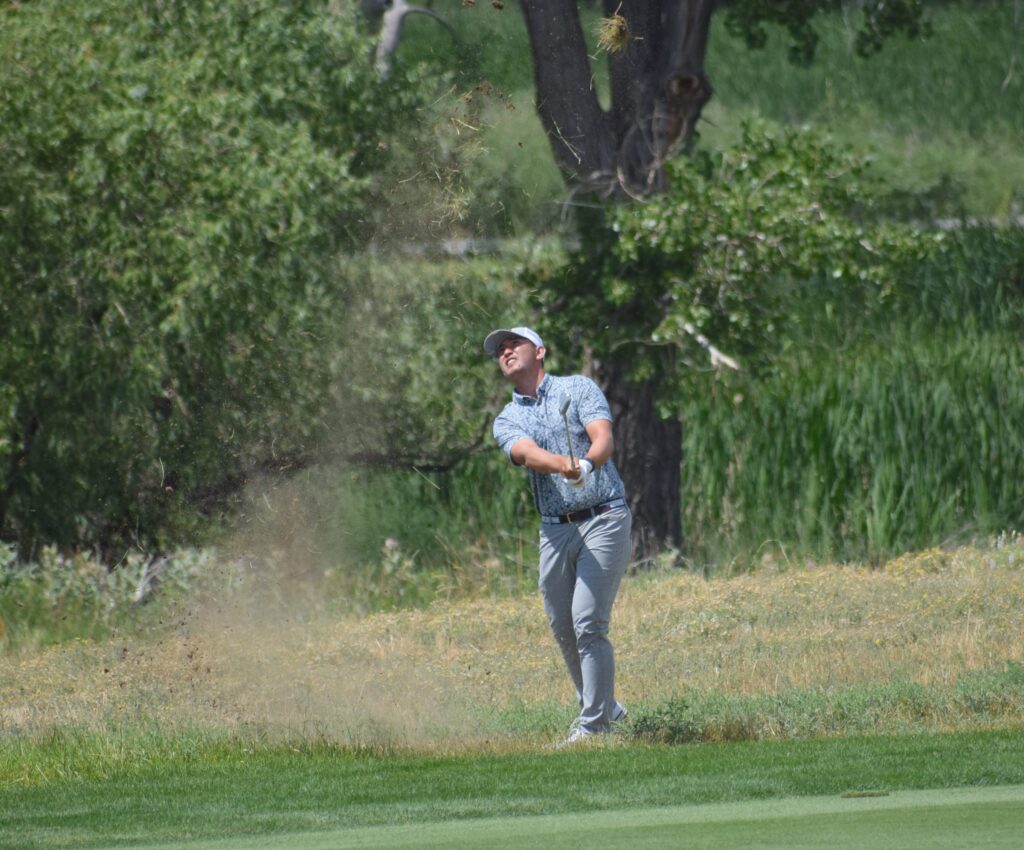 Caddying for Collins this year — as well as in 2020, when he finished sixth — was Aden Cariveau, whose dad, Josh, has been a good friend of Collins' since youth and who went to the University of New Mexico with Collins.
"Aden was in a stroller the last time I won," Collins noted during the trophy ceremony. "This time I got him to caddie, so it was pretty sweet."
Hoey closed with a 66 that featured just one bogey (No. 17) and finished one back. He earned $20,000 for being runner-up.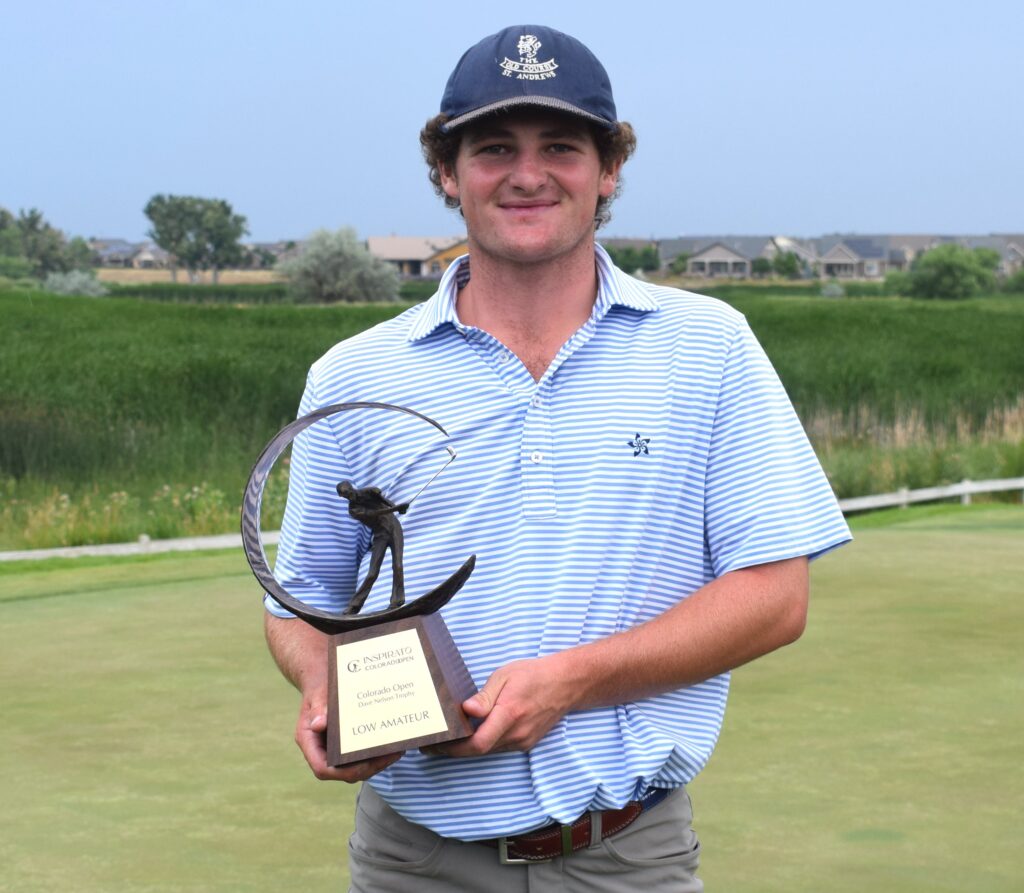 Amateur Record for Coloradan Connor Jones: Connor Jones of Westminster had hoped to become just the third amateur to win the Colorado Open outright as he entered the final round a stroke out of the lead. Two bogeys in the first five holes largely put the kibosh on that idea, but the Colorado State University golfer still left Green Valley Ranch with plenty to show for his week.
Jones ended up finishing in a third-place tie, the best overall showing by an amateur at the Colorado Open since Gunner Wiebe placed second in 2010. Even more impressive, Jones' 19-under-par total set the all-time scoring mark by an amateur in the Colorado Open — by four strokes. Jake Staiano (2017) and Easton Paxton (2021) shared the previous mark of 15 under.
"That's pretty cool," said Jones, who has won the CGA Match Play and the Mountain West Conference individual title so far this year, while finishing second in a playoff at the prestigious Trans-Miss.
"I know there's been a bunch of good players come through Colorado so it's pretty cool to be up there with them."
Jones rebounded from his slow start Sunday to shoot a 3-under-par 68, playing his last 10 holes in 5 under. For the week, he went 67-67-63-68. Next best among amateurs was 2021 CGA Amateur champion Griffin Barela of Lakewood, who finished 12 back of Jones after a final-round 71.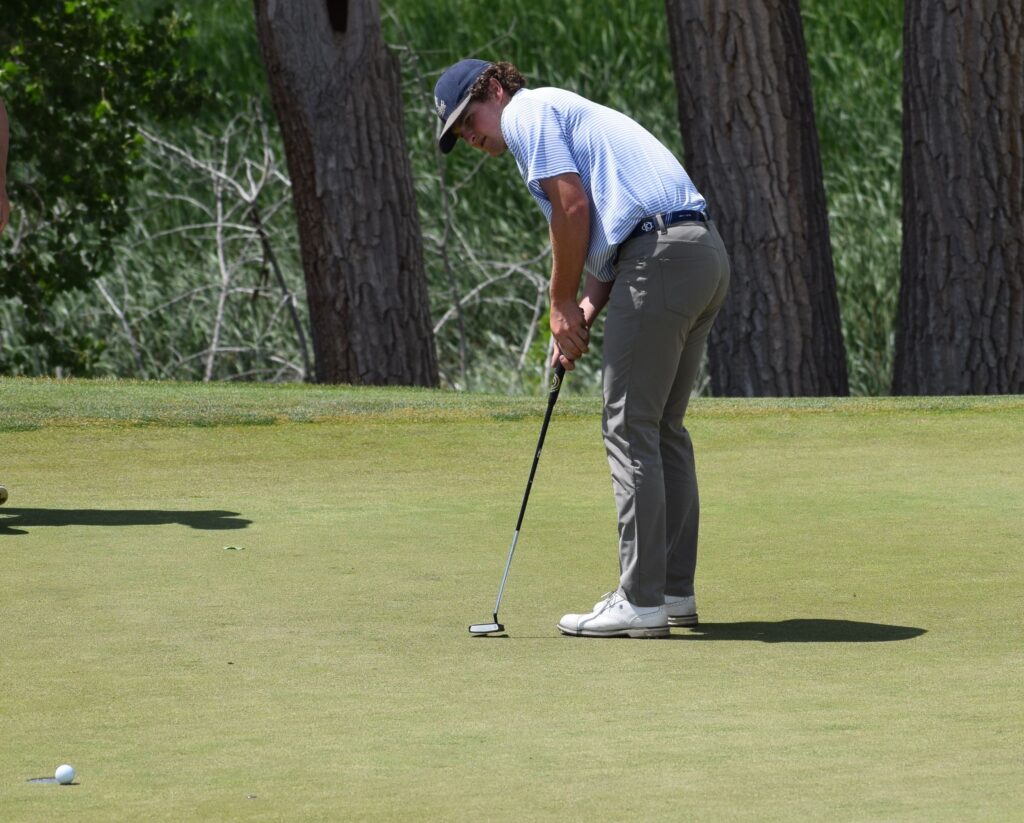 But to place third out of a 156-man field that included many accomplished pro players was no small feat for Jones.
"This is a special event and it's fun to play in," the 20-year-old said. "And it gives me confidence that if I play good I can play with the older guys. It was kind of a disappointing day (today) but it was fun (overall)."
The only two amateurs to have won the Colorado Open outright are Gary Longfellow (1974) and Brian Guetz (1994).
Next up for Jones is the CGA Amateur, which starts on Thursday at River Valley Ranch in Carbondale.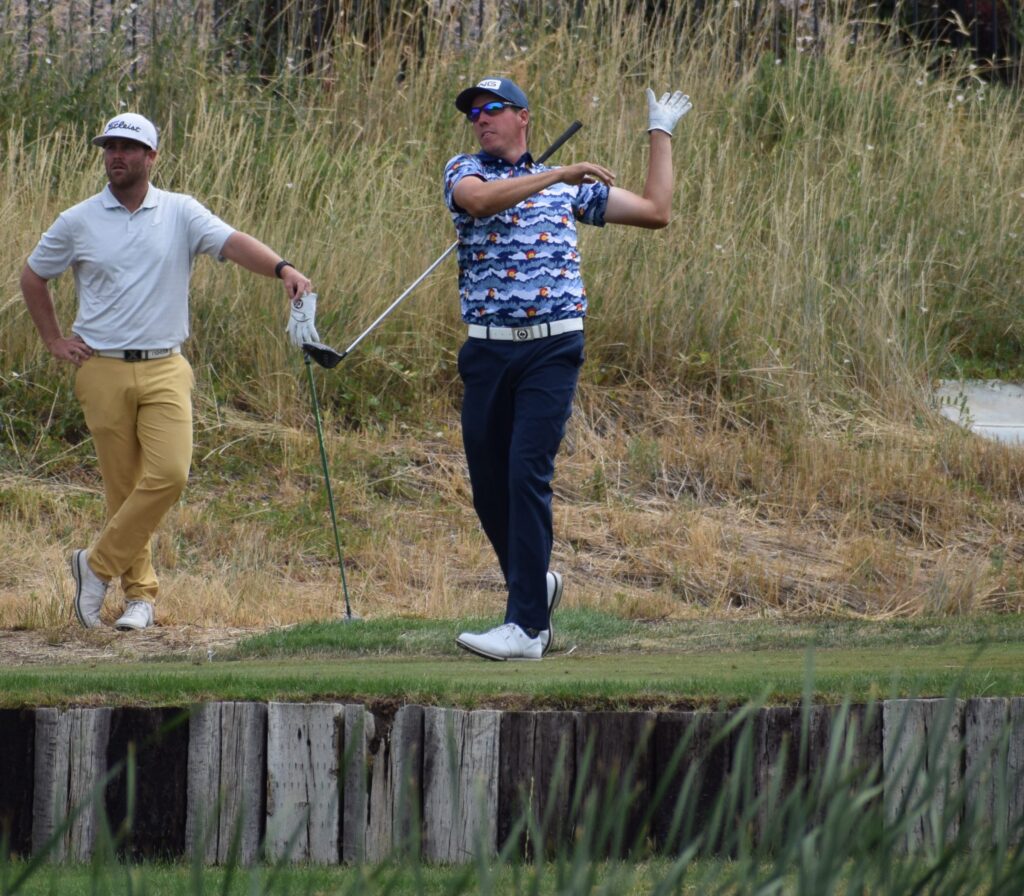 Locals Zahkai Brown, Gunner Wiebe, James Love Also Place in Top 10: A Coloradan hasn't won the Colorado Open since part-time Boulder resident Jonathan Kaye prevailed in 2017, but several locals finished in the top 10 on Sunday.
In addition to Jones tying for third place, 2013 champion Zahkai Brown of Golden also shared third place, while Kent Denver graduate Gunner Wiebe tied for sixth, and James Love of Denver was ninth.
Brown played his front nine in 1 over par on Sunday, but got rolling on the back, where he posted four birdies en route to a 68 — and a 19-under-par total, good for a $11,500 payday.
"Overall it was a really solid week," said Brown, winner of 20 state opens/mini tour events in his pro career. "It was definitely frustrating to start out missing some putts, but I had a solid week. I had my kids out and all my local friends. That's always good. And I really know where my game is at, and I learned a lot. So I want to parlay it into Q-school (starting in September) and get to the Korn Ferry Tour."
Since 2012, Brown has recorded five top-4 finishes at the Colorado Open: a win, two seconds, a third and a fourth.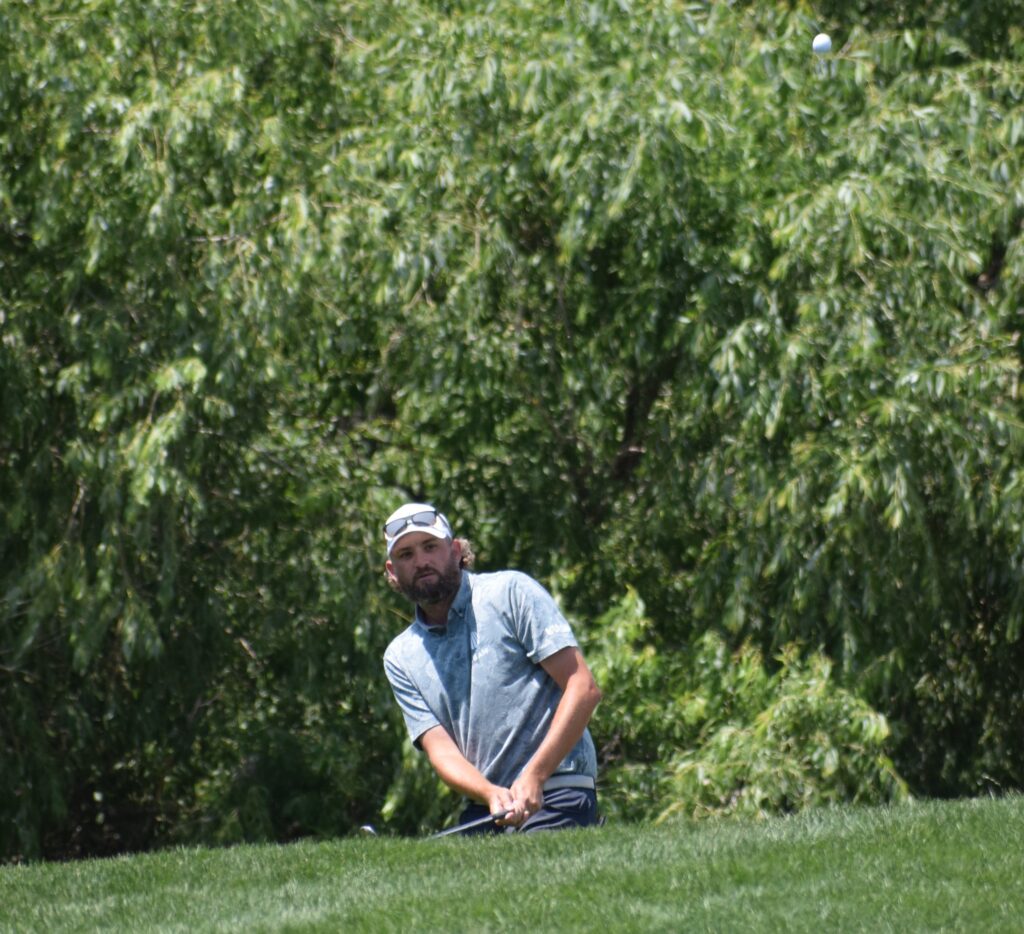 Wiebe shot a bogey-free 64 on Sunday, giving him four top-six showings at the Colorado Open since 2010.
"My mind is sharp. My will, desire, toughness — all that — is really good," said Wiebe, who now lives in Phoenix. "Execution, I'm still lacking a little. That's why I came up a half a dozen (shots) short. But it's still nice to finish on a good note."
Dad Mark Wiebe, a longtime PGA Tour and PGA Tour Champions player, and Gunner "have been trying to figure out my swing stuff for it seems like all year," Gunner said. "Today may be a step in the right direction. I hit some quality shots. For the first time in four days, I hit a shot I was expecting to hit. In that sense I love today's round because I got to see some semblance of what I remember. I really haven't had it this year."
Wiebe, like Brown, is planning to compete in Q-school starting in September.
Then there's the case of Love, a former University of Denver golfer and current Denver resident, who played tour golf for many years but now only competes in the Colorado Open (unless you want to count the Cherry Creek Country Club member-guest).
Despite no longer being tournament tested on a regular basis, Love has found himself on the Colorado Open leaderboard more often than not in recent years. He tied for second in 2019, placed fourth in 2020 and finished ninth on Sunday.
In this year's case, Love followed up two straight 69s with 66-64 on the weekend to check in at 16 under par. He made 14 birdies in the last two rounds combined.
"Sixty-four is pretty good for once a year," he said with a smile. "I enjoy playing this every year and I'll play it as long as I keep finishing in the top 30 (and earning an exemption). If I would have putted similar to today the first two days it would have been a different story. But I was obviously too far back after barely squeaking in the cut. Shooting 66-64 (on the weekend) is pretty good."
The 39-year-old is in the midst of a planned project to build an indoor golf facility at Lowry that will include 10 bays with a bar and a restaurant.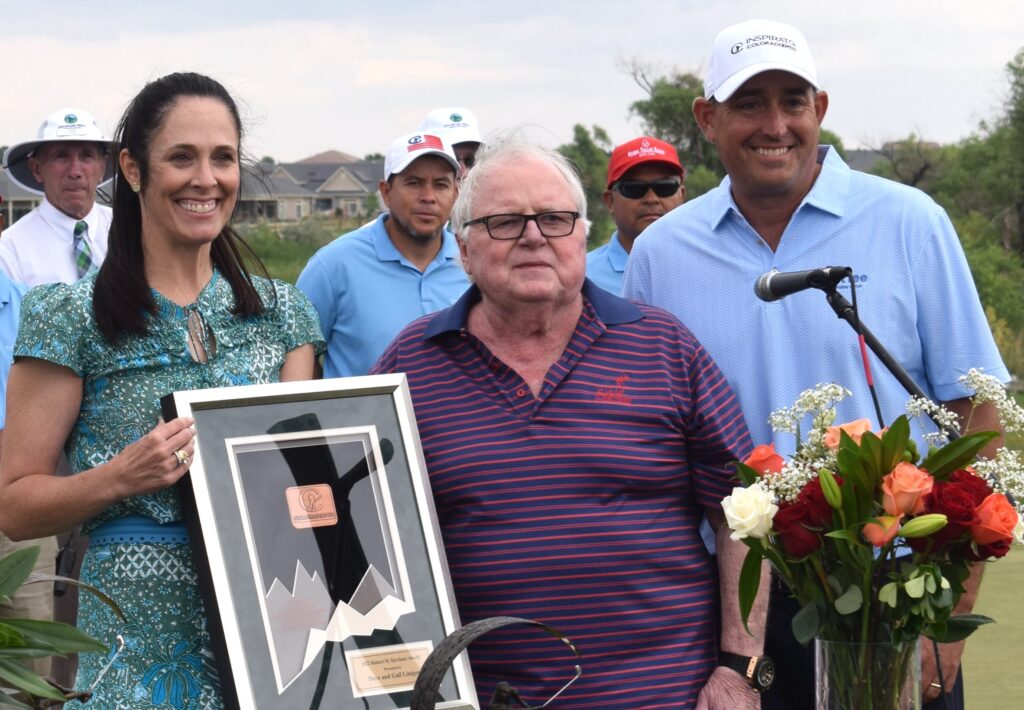 Linigers Receive Honor for Philanthropic Efforts: At Sunday's trophy ceremony, Dave and Gail Liniger, the co-founders of RE/MAX, were presented the Robert M. Kirchner Award, which goes to individuals who have greatly contributed to golf in Colorado. The Linigers built Sanctuary Golf Course in Sedalia, which is devoted to hosting charity golf tournaments.
In fact, over the last quarter-century, tournaments at Sanctuary has hosted 545 tournaments that have netted $118 million for charity.
"We sincerely appreciate this," Dave Liniger said of the Kirchner honor. "Golf is a magic vehicle for raising money for philanthropies in the local communities. … Almost every course in the state has some sort of charitable function. It's amazing to look at the hundreds of millions of dollars raised by golfers for the local community. We appreciate this (award), but really it belongs to all the golfers who paid all the money (that goes to charity)."
Kirchner founded the Colorado Open and is a member of the Colorado Golf Hall of Fame. He passed away in 2019.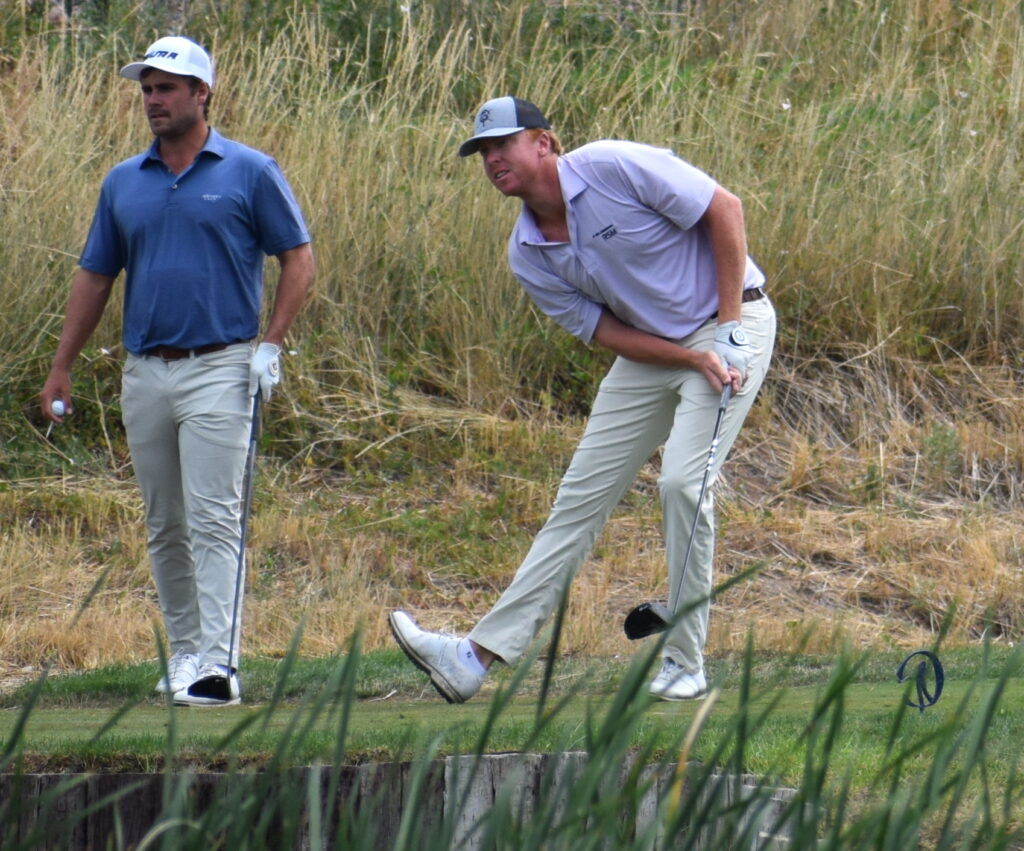 Notable: In all, four past Colorado Open champions finished in the top 10 on Sunday: Collins (2005, first place this year), Brown (2013, third), Sam Saunders (2019, sixth) and Dru Love (2018, sixth). … With the $100,000 he earned on Sunday, Collins has now racked up $159,335 from the Colorado Open in his career. … This year marks the first year Inspirato is the title sponsor of the Colorado Open Championships. Its title sponsorship deal runs five years. … 2021 U.S. Amateur champion James Piot finished in 42nd place on Sunday (68-70-69-71).