Coloradans Christie and Bob Austin receive prestigious appointments as referees for the title match at the U.S. Girls' Junior at Eisenhower GC; defending champ ousted on 20th hole
By Gary Baines – 7/20/2023
Married couples talk about all sorts of things — and so do longtime Coloradans Bob and Christie Austin. But it's probably a good guess that not a lot of couples chat about the Rules of Golf the amount — or with the interest — that the Austins do.
"We love doing it together. We love talking rules scenarios. It's kind of weird, I know," Christie Austin said this week during a rare break in her duties at the U.S. Girls' Junior being hosted by the Air Force Academy's Eisenhower Golf Club. "Strange things come up. It's intellectually challenging. And since we both enjoy it …
"It's not like we talk about it all the time. But if we're in the middle of a championship and something comes up, we hash it out. It's fun that we're married and we both enjoy it. We can quiz each other: 'What about this, what about that?'"
It's been that way for quite a while now, as the Austins first took a beyond-casual interest in the rules almost two decades ago.
Nowadays, they're both very experienced at these topics, with Christie having officiated at 70 USGA championships and Bob 45. And with the 74th U.S. Girls' Junior having come to Colorado — where the Austins live about five months of the year (they reside in southeast Denver; along with northern Scottsdale, Ariz.) — it's a given that they're very involved at Eisenhower Golf Club.
In fact, because of their substantial officiating experience and the fact that they're Coloradans, the Austins have been given the prestigious positions as referees of Saturday's scheduled 36-hole final of the Girls' Junior, parts of which will be televised by Peacock and the Golf Channel. Bob will be the referee for the first 18 holes and Christie for the remainder of the match. Championship director Tracy Parsons made the final call on the assignments. It should also be noted that Christie Austin is serving as co-chair of the local Planning Committee for the Girls' Junior, along with Ashley Harrell, the CGA's chief operating officer.
While both of the Austins have long been involved with officiating at both USGA championships and other golf majors, this will be their first time serving as referees of a USGA championship final. Referees have the final say on questions of facts and applying the rules for the match.
"Bob and I were thrilled to get the finals," Christie said. "That's the icing on the cake for being here this week really. It's really a treat for both of us. It's a treat no matter what championship you're at."
Said Bob: "Certainly a finals is a little extra special because we're walking with somebody who's going to be a USGA champion. But that comes with some responsibility — to get what we do right."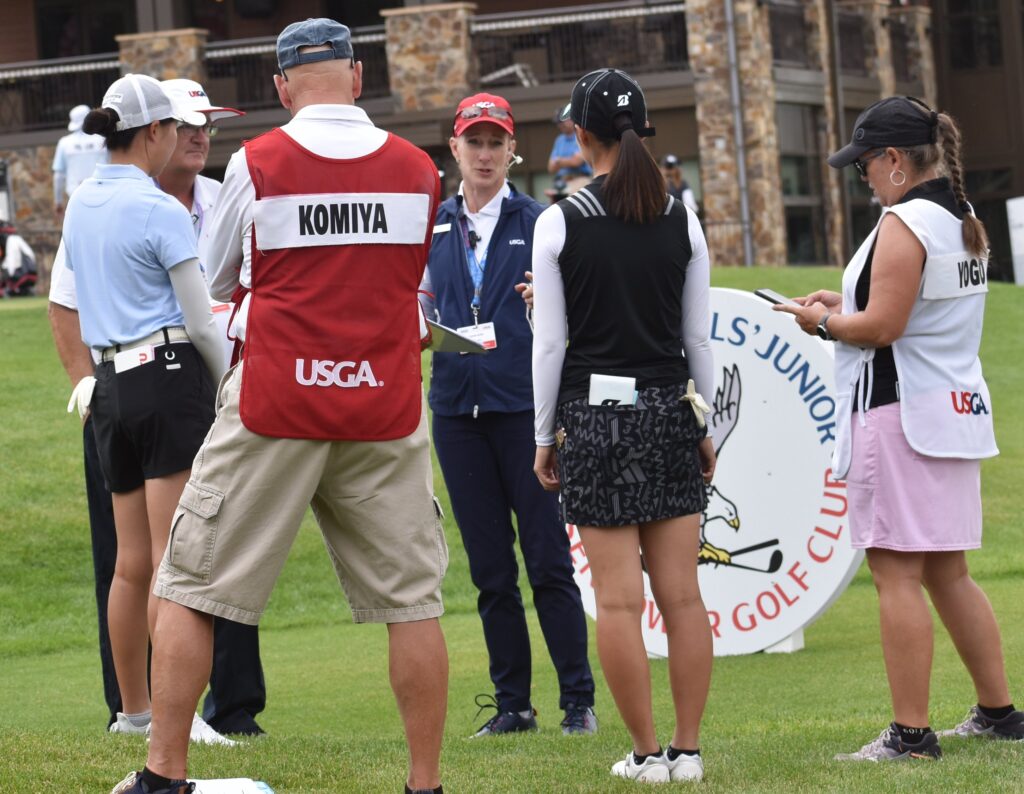 Christie Austin (center) instructs competitors about the rules of match play this week at Eisenhower GC.



The Austins have been on site throughout the week at Eisenhower, taking care of all sorts of duties, including instructing players before they tee off on the rules of match play, and handling various rules issues. That's in addition to all the pre-championship work Christie Austin and Harrell did with the CGA serving as a host group for the championship — the first USGA championship held at a military base. Their job, in conjunction with the folks at Eisenhower, is to help make the experience of the competitors at the Girls' Junior very special.
But now that the competition is getting down the nitty-gritty, much of the focus is on what happens "inside the ropes." In other words, the referees and other officials want to make sure there are no glitches on the rules end of things.
Neither of the Austins is by any means a stranger to all of this. As noted, combined, they've officiated at about 115 USGA championships. And Christie, a Colorado Golf Hall of Famer, has also competed in 20 such championships. She's also served on the USGA Executive Committee from 2007-13 and as the first female chair of the USGA Rules of Golf Committee, in 2012.
Both Bob and Christie do rules officiating for many other golf championships, including the NCAA nationals and (this fall) the World Amateur Team Championships in Abu Dhabi. Christie has worked Masters, U.S. Opens and a British Open, U.S. Women's Opens, U.S. Senior Opens, U.S. Amateurs — you get the picture. She was the first female referee at a Walker Cup match held in Great Britain & Ireland. Bob has worked many U.S. Senior Opens and other championships. Both walked with the final of the 2012 U.S. Amateur at Cherry Hills Country Club, where they're members, but they didn't serve as the referee for that particular match.
"We've worked a lot on USGA championships, so we're pretty seasoned," Christie said. "But that doesn't mean that we necessarily get a final match, so we were both very excited."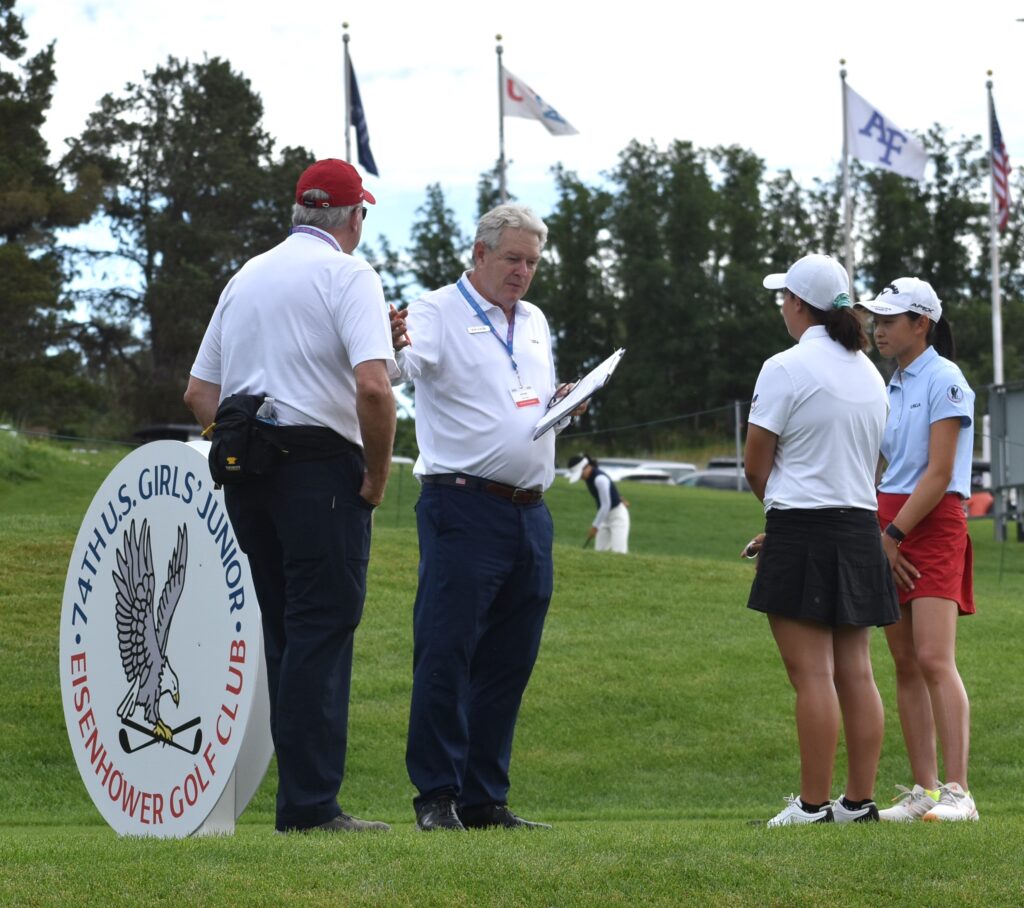 Both Bob Austin (center) and Christie have been kept very busy this week at the U.S. Girls' Junior.



Both Austins work hard to keep sharp on the rules, regularly taking classes as well as rules exams. Christie went to her first rules school about 18 years ago.
"I didn't play golf until I was 26," she said. "And I didn't really study the rules until I was on the (USGA) Executive Committee. But I was a player so I thought, 'I have a good handle on this.' You quickly find out when you go to rules school that you might have a slight handle on the generic stuff, but there's a lot to it. And it's a process to become an expert; it really is."
As for Bob, who's long served as the boys golf coach at Kent Denver, this year he attended his 20th 3 1/2-day seminar. He goes annually.
"I actually enjoy it," he said. "But my friends think there's probably something wrong with me. But I sit there and enjoy and learn.
"To be involved in golf at that high of a level, that's why I put in all the work and the studies. You enjoy it, and you enjoy dealing with the players. The more it gets to the end of any event, the more you want to be involved. And I really appreciate (officiating the Girls' Junior finals). It's really something I look forward to. I look at it as an honor.
I'm very excited about it."
Asked in general about his love of studying the Rules of Golf, Bob gets a big smile on his face.
"It's an interesting academic study," he said. "Look at it this way: you have one little round ball, 1.68 inches in diameter, and you have a huge golf course. That ball can be in a lot of different places. When you get to this level, it's really important that if you have two balls on the same blade of grass that they have the same results under the rules. Every time I go to an event, a championship, a rules class, I always learn something. There's always different things. I read about different things people say about rules. I know what the answers are but I like how they explain it.
"Every ruling I make — I'm not questioning I got it right — but I still to this day read the rule just to make sure I'm using the words correctly. That's very important to me. It keeps me fresh understanding the rules."
And it's no mystery what the rules officials discuss when they gather at USGA championships like this one at Eisenhower.
"You come to one of these, there's 15-20 other of the best rules officials in the country," Bob noted. "So what do you think you talk about at lunches and dinners? It's painful if you don't like rules. But it's interesting to hear different stories."
The fact that their USGA finals refereeing opportunity comes for the Austins in their home state is no small matter. They enjoy officiating anywhere they volunteer, but it's particularly special in the Centennial State.
"We love this part of the game and we love giving back," Christie said. "And this championship has been incredibly special to have in Colorado. And to have it at the Air Force Academy, everything about this has been wonderful. Then we have Cherry Hills (for the U.S. Amateur) in August, so it's been a dream summer from the standpoint of officiating and working with the USGA."
The fact that Christie is handling the second 18 of the schedule 36-hole final on Saturday is only appropriate, Bob said.
"Christie is the co-chair (of the Planning Committee). It's fitting that she's going to be (working) the finals and to be there when (the winner is decided). To win a USGA championship is a special deal."
And so is refereeing a USGA title match, one might add.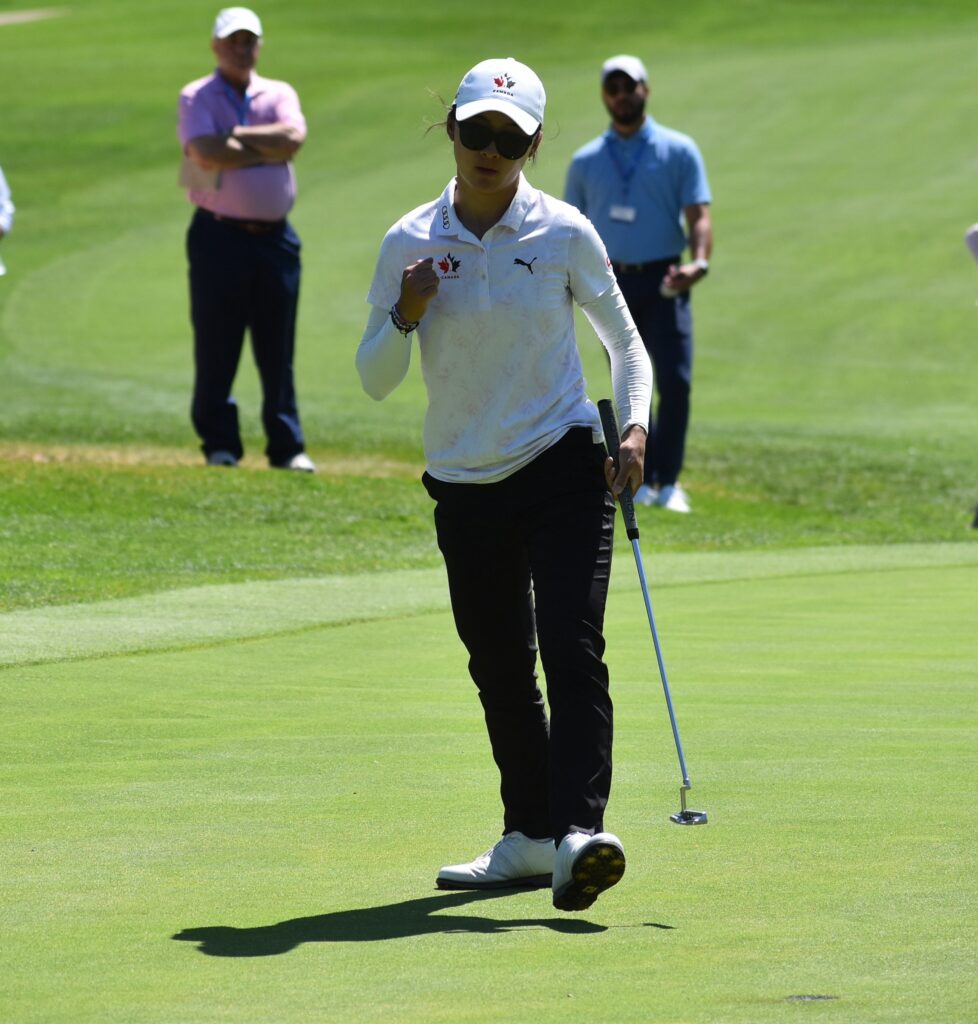 Yeji Kwon celebrates her winning birdie putt on the 20th hole as she defeated defending champion Yana Wilson.


Defending Champ/Medalist Ousted in Round of 32: Yana Wilson's seven-match win streak at the U.S. Girls' Junior went by the wayside in a round-of-32 match that more than went the distance on Thursday morning.
The defending champion and this year's stroke-play medalist, from Henderson, Nev., was ousted on Thursday by 32nd-seeded Yeji Kwon of Canada. Kwon sank a 6-foot birdie putt on the 20th hole — No. 2 at Eisenhower's Blue Course — to prevail after Wilson narrowly missed her 18-foot birdie try.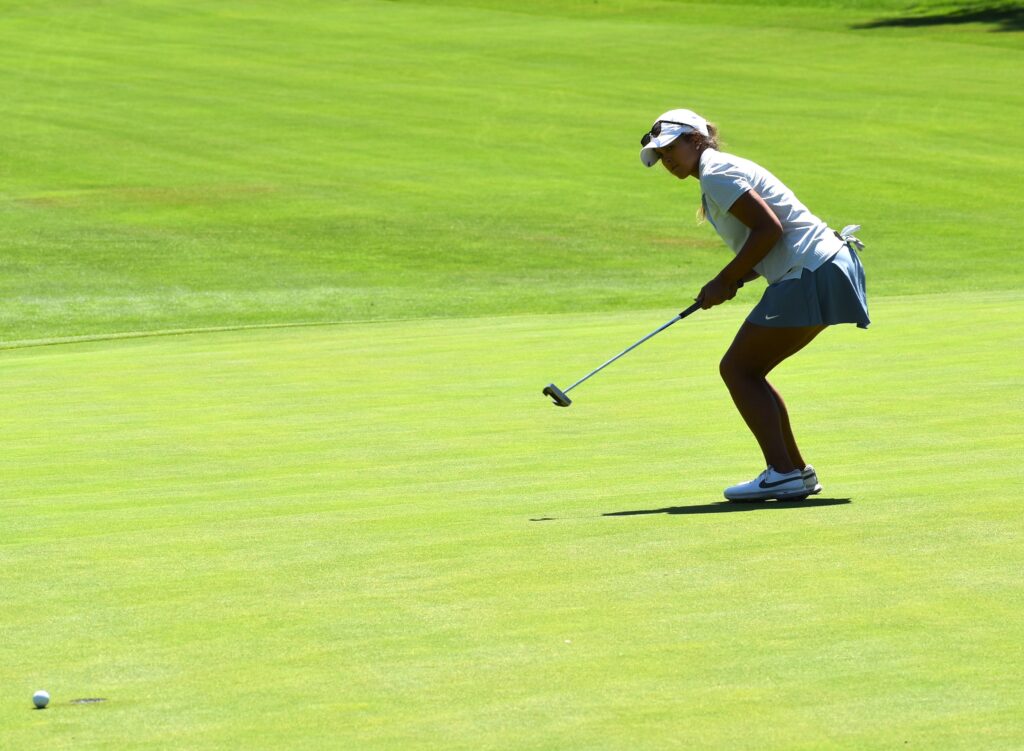 Wilson just missed her birdie try on the 20th hole.



Wilson had battled back after being 2 down through eight holes, and had to convert a pretty tough up and down for par on 18 to extend the match. But Kwon stuck it close with her approach on the par-4 second hole and made the putt to move on.
"I can't say I'm too upset," the 16-year-old University of Oregon recruit said. "Obviously I am because I'm not playing the rest of the week. I feel like I played pretty decent; I just left a couple out there. My mindset coming into the tournament wasn't anything directed toward being the defending champion. I was just trying to play my game to the best of my ability, and I didn't really do that today, but you live and you learn."
Later in the day, Kwon lost in the round of 16, 3 and 2, to Farah O'Keefe of Austin, Texas.

Final 16 Not So Sweet for 2022 Augusta National Women's Amateur Champ: Also not advancing to the final two days of action was second-seeded Anna Davis of Spring Valley, Calif., who was ousted in Thursday evening's round of 16 by 2022 Girls' Junior runner-up Gianna Glemente of Estero, Fla., 3 and 2. Davis, the 2022 Augusta National Women's Amateur champion, is the No. 4-ranked women's amateur in the world.
Clemente, winner of the 2023 U.S. Women's Amateur Four-Ball title with partner Avery Zweig, won the first hole with a birdie on Thursday and never trailed, though Davis tied things with a birdie on 7. But Clemente bounced back by winning the next three holes (8-9-10) with a par and two birdies that gave her a relatively comfortable lead from there on out.
Clemente thus advances to the quarterfinals, which will be held Friday morning after two round-of-16 matches that were suspended due to darkness on Thursday evening will conclude. The semifinals are in the afternoon, while the 36-hole final is scheduled for Saturday.
Tarapath Panya, who qualified for the U.S. Girls' Junior in Colorado, was satisfied with making the final 32 this week.



Thai Golfers Who Qualified in Colorado See Their Runs End: Thai golfers Tarapath Panya and her "best friend" Pimpisa Rubrong have spent six weeks in the U.S. together and both accomplished plenty in Colorado during that time. So maybe it was appropriate that on Thursday morning they equaled one another's accomplishments at the U.S. Girls' Junior.
Both were among the golfers who lost in the round of 32, with fifth-seeded Payna falling 2 and 1 to Kennedy Swedick of Albany, N.Y., and 27th-seeded Rubrong losing 3 and 2 to Reese McCauley of Inver Grove Heights, Minn.
Neither Thai player ever led in her round-of-32 match.
"This is over my expectations," Panya said. "I just wanted to make the cut to make match play, so I'm satisfied with the outcome."
Rubrong won the CGA Women's Match Play last month after beating Panya in the semifinals at Columbine Country Club. Then Panya finished second and Rubrong third in U.S. Girls' Junior qualifying at the Country Club of Colorado. And then both made match play and won their first match at the national championship at Eisenhower.
Now after six weeks away from home, the two will travel back to their home city of Bangkok on Monday.
"We'll travel back together," Panya said. "We're all together all the time. We're best friends."

TV Plans: Peacock and the Golf Channel will televise the U.S. Girls' Junior on the following schedule (MT):
Friday — Semifinals 3-5 p.m. (Peacock); 6-8 p.m., tape delay (Golf Channel)
Saturday — Championship match, 3-5 p.m. (Peacock); 6-8 p.m., tape delay (Golf Channel)

Results/Tee Times: For all the results from the U.S. Girls' Junior, CLICK HERE.
For pairings and tee times at Eisenhower, CLICK HERE.

About the Writer: Gary Baines has covered golf in Colorado continuously since 1983. He was a sports writer at the Daily Camera newspaper in Boulder, then the sports editor there, and has written regularly for ColoradoGolf.org since 2009. He was inducted into the Colorado Golf Hall of Fame in 2022. He owns and operates ColoradoGolfJournal.com