Eisenhower GC member, AFA Athletics Hall of Famer, and the leading goal scorer in NCAA Div. I hockey history helps Kiara Romero make final 32 at U.S. Girls' Junior; 9 of top 10 seeds advance in opening matches
By Gary Baines – 7/19/2023
Chuck Delich has been intertwined with the fabric of the Air Force Academy for much of the last half-century.
He was a cadet at the Academy during the mid-1970s and played hockey for the Falcons, becoming — and remaining — the leading goal scorer (156) in team history and NCAA Division I hockey history, for that matter. He served as head coach of the team from 1985-97, and, since last year, has been a volunteer assistant coach at AFA.
Delich was inducted into the AFA Athletics Hall of Fame in 2011, just the school's third induction class. Enough said.
Beyond that, he's a good golfer — he competes in CGA championships on a semi-regular basis — and estimates he's played 2,500 rounds at the Academy's Eisenhower Blue Course since 1973. Given all that, it seemed like a natural for Delich to play some role at the U.S. Girls' Junior Championship this week.
In anticipation of the event, the club sent out an email seeking caddies, and the 68-year-old Delich signed up, despite some plantar fasciitis in his right foot. So did 70 other Eisenhower members, including multiple CGA champion Gary Kephart, who's looping for defending champion Yana Wilson.
Last week, Delich received a text from 17-year-old future University of Oregon golfer Kiara Romero of San Jose, Calif., saying he had been assigned her caddie, and they met up for the weekend practice rounds.
Suffice it to say that given Delich's experience at the course, he's been no small help for Romero, the No. 139-ranked women's amateur in the world.
"I just kind of followed her around," Delich said on Wednesday. "'You tell me what you want. When you need help, I'll be here.' She's a pretty quick learner. She figured things out pretty fast. It was kind of fun to watch. She's a good ball-striker. She had her struggles on the greens just like everybody initially. But she's pretty comfortable now."
Indeed, Romero not only finished third — out of 156 players — after the two days of stroke play (68-72), but she won her round-of-64 match on Wednesday at Eisenhower. After being tied with Claire Wan of Austin, Texas through 14 holes, Romero won two of the next three with pars to close out the match.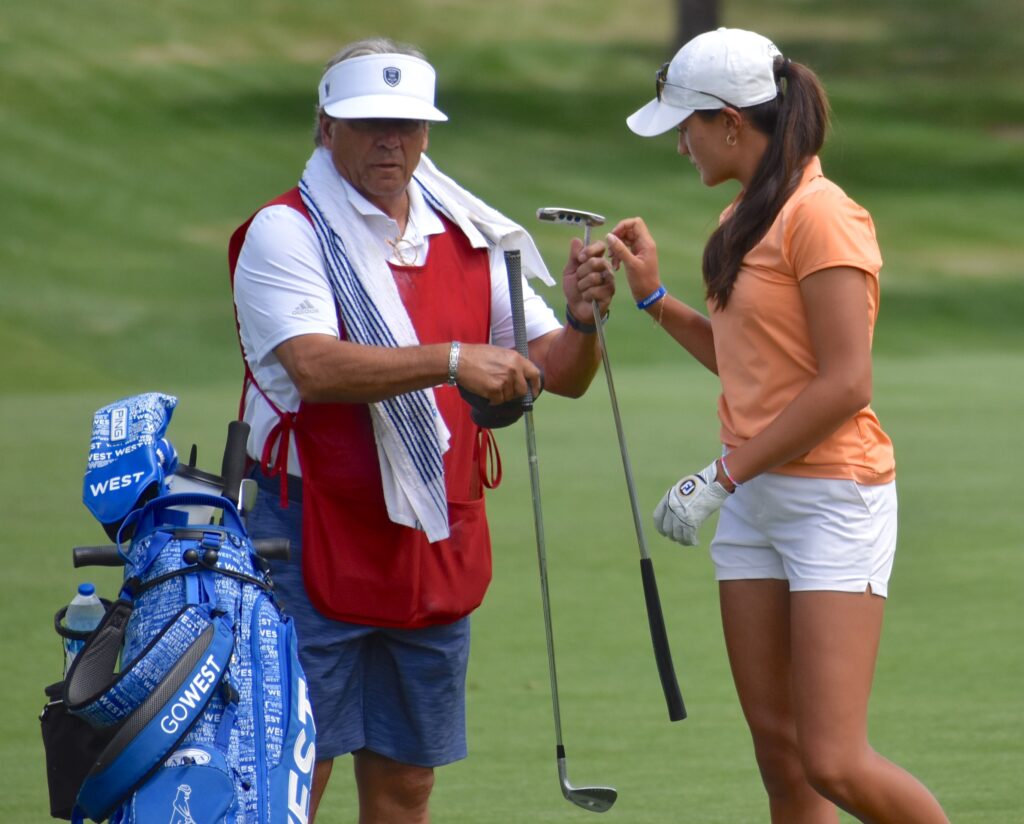 Delich, an Air Force Athletics Hall of Famer, does his caddying duties for Romero on Wednesday.



"The greens are really tricky to figure out, especially with the (effect of the) mountains," Romero said on Wednesday. "That always plays a big part in the break (of putts. Delich) knows a lot about that stuff.
"It's nice to have a caddie who's familiar with playing sports and being competitive. So that's nice."
Essentially, Delich is using his substantial local knowledge of the course to give Romero subtle, but valuable tips.
"My advice to her is, let's keep it on the right side of the hole, don't give ourselves any of those really nasty ones if we can avoid it, then we talk about speed," Delich said.
"She manages her game. She's dialed in on her distances, which is really good. Sometimes they have trouble when it comes to altitude. (Advice-wise), I've kind of stuck to around the greens, and making sure she has her line off the tee — like on 14 and 15 where you've got to pick and line and commit to it. She's been good at that and with being comfortable with where she wants the ball to go. And it's nice that you're good enough that you can hit it where you want it to go."
The match started off in an odd way as Romero hit her approach on the par-4 first hole inside a foot, while Wan left hers 15-20 feet from the hole. Both picked up their balls on the green and the match referee had to clarify with the players that Wan had conceded Romero's birdie and note with Wan that although she would have had a chance to tie the hole, that opportunity ended when she picked up her ball. So Romero led 1 up after hole 1.
But Wan bounced back to win hole 2 with a par and hole 3 with a birdie before Romero took the next two and never trailed again.
Romero and the rest of Wednesday's winners will play their round-of-32 matches on Thursday morning, and those that prevail will tee it up for the round of 16 in the afternoon. The quarterfinals and the semifinals are set for Friday, and the 36-hole finals for Saturday.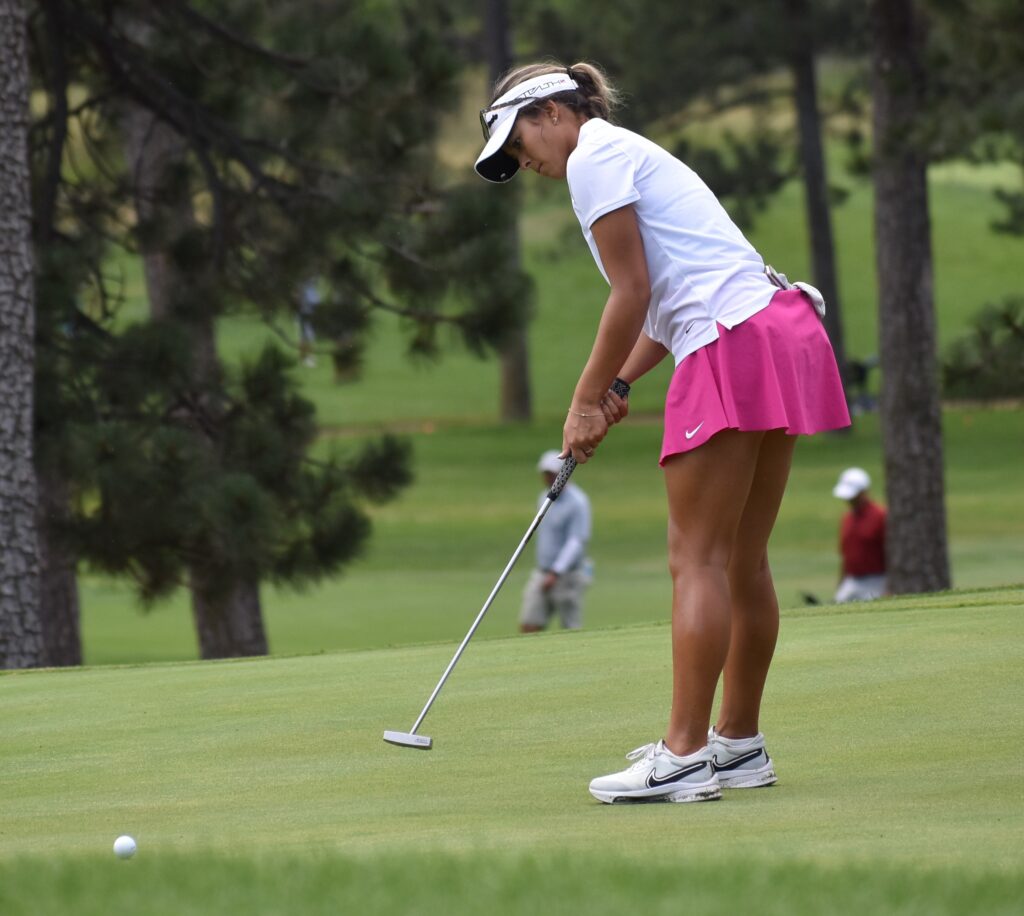 Defending champion Yana Wilson didn't lose a hole in her opening match.



2022 Champ and Top Seeds Advance: Defending champion and this week's medalist Yana Wilson was close to flawless in her first-round match on Wednesday. The 16-year-old from Henderson, Nev., didn't make a bogey until her final hole, played 14 holes in 2 under par and didn't lose a hole in a 5-and-4 victory over Ashley Kim of Korea.
"It felt good," she said. "I was just trying to hit fairways and hit greens; that was my main thing. My (future) assistant coach at Oregon, she told me to just wear my opponent out by hitting fairways and greens, so I just tried to do that and take what I learned from my loss two years ago against (2021 champion) Rose Zhang and just try to play like her. "
Also advancing relatively easily was second-seeded Anna Davis of Spring Valley, Calif., the 2022 Augusta National Women's Amateur, who defeated Thanana Kotchasanmanee 4 and 2. They were tied after six holes and Davis was 1 up after 11, but she won three of the next five holes with birdies to close things out.
"I haven't played in very many singles matches and done well, so it's kind of nice to come out with a strong start," Davis said.
All told, nine of the top 10 seeds from stroke play won their matches on Wednesday, with the exception being sixth-seeded Anna Huang of Canada, who lost 1 up to Reese McCauley of Inver Grove Heights, Minn.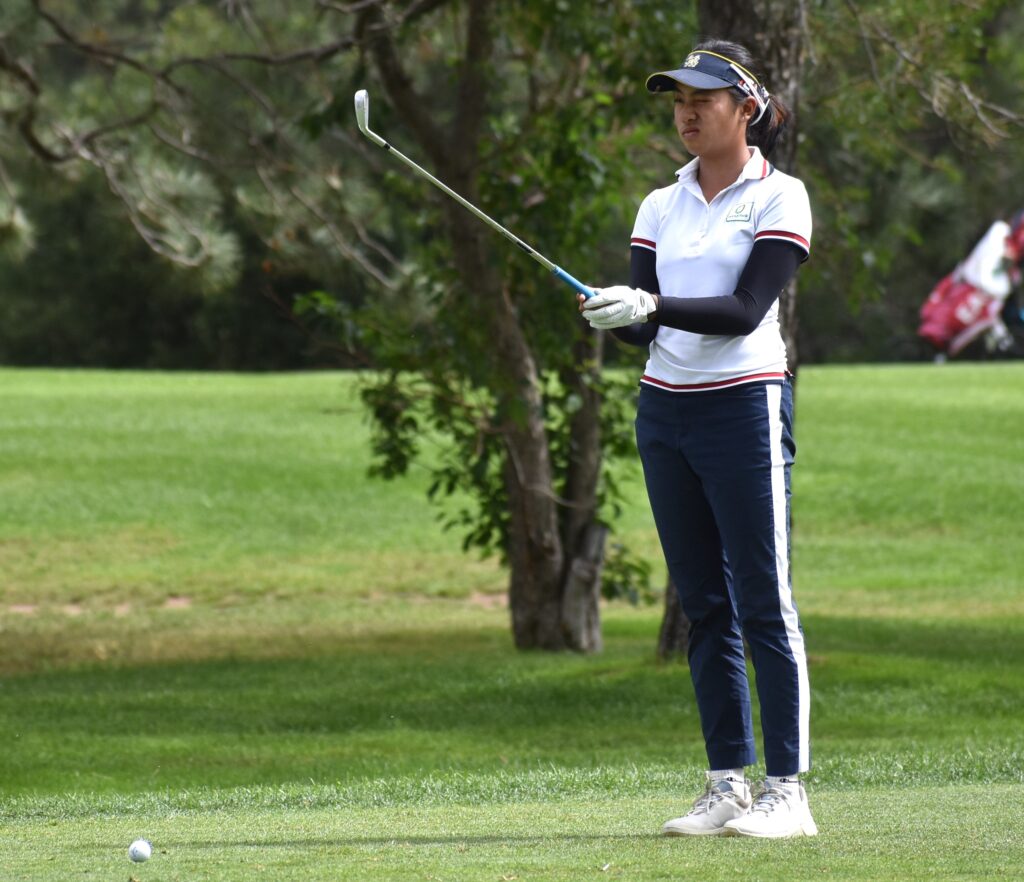 Tarapath Panya, who qualified in Colorado for the U.S. Girls' Junior, takes aim during her round-of-32 victory.



Thai Players Who Qualified in Colorado Make Final 32: The players from Thailand who performed so well last month in Colorado at the CGA Women's Match Play and the U.S. Glris' Junior qualifying are carrying it over into July.
Tarapath Panya, a semifinalist in the Women's Match Play and second-place finisher in the Girls' Junior qualifying at the Country Club of Colorado, rallied to make the round of 32 on Wednesday. She scored a 1-up victory over Canadian Ruihan Kendria Wang after being 2 down through 12 holes.
"I can accept if (Wang) makes a birdie (to win a hole)," Payna said. "But I won't be happy if I get a bogey to give her the lead. But I got pars and birdies and built momentum on the back nine."
Indeed, from hole 9 through 16, Panya was 1 under par. She tied the match with a 3-foot birdie on No. 15, then went ahead with a par on 16. Both players took double bogey on the par-3 17th, with Wang three-putting. On 18, Panya hit a good drove in the fairway and Wang went left into the bunker area before a lightning delay was signaled and play was stopped for more than two hours.
After play resumed, Wang chipped out to the fairway and the players tied the final hole with a bogey after Panya three-putted, giving the Thai golfer the 1-up win.
"I feel happy," she said. "I'll be able to end up top 32 (or better) now. And I'll try my best tomorrow."
As for fellow Thai Pimpisa Rubrong, the winner of last month's CGA Women's Match Play, she never trailed in posting a 2 and 1 victory over Amelie Zalsman of St. Petersburg, Fla. Rubrong used an eagle at No. 5 en route to finishing 2 under par for 17 holes.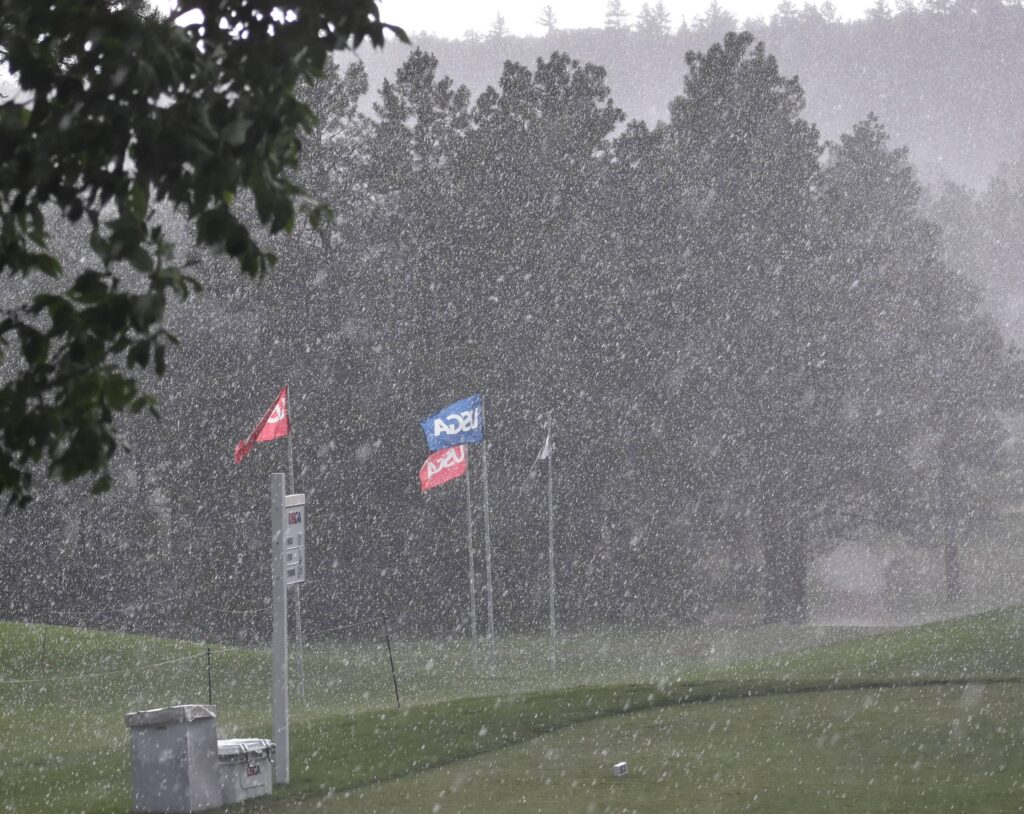 The rain came down hard during Wednesday afternoon's weather delay.


Notable: After a pleasant morning and early afternoon, weather-wise, play was suspended just after 1:40 p.m. due to lightning in the area. Heavy rain fell shortly thereafter and play didn't resume until 2 hours and 2 minutes had passed. … Nika Ito of Japan, the top-ranked girls player in the world according to Junior Golf Scoreboard — and 62nd overall among female amateurs, lost her first-round match to Yeji Kwon of Canada, 2 and 1. … A reminder that admission to the U.S. Girls' Junior is free and that the public is welcome.
TV Plans: Peacock and the Golf Channel will televise the U.S. Girls' Junior on the following schedule (MT):
Friday, July 21 — Semifinals 3-5 p.m. (Peacock); 6-8 p.m., tape delay (Golf Channel)
Saturday, July 22 — Championship match, 3-5 p.m. (Peacock); 6-8 p.m., tape delay (Golf Channel)
Results/Tee Times: For all the results from the U.S. Girls' Junior, CLICK HERE.
For pairings and tee times at Eisenhower, CLICK HERE.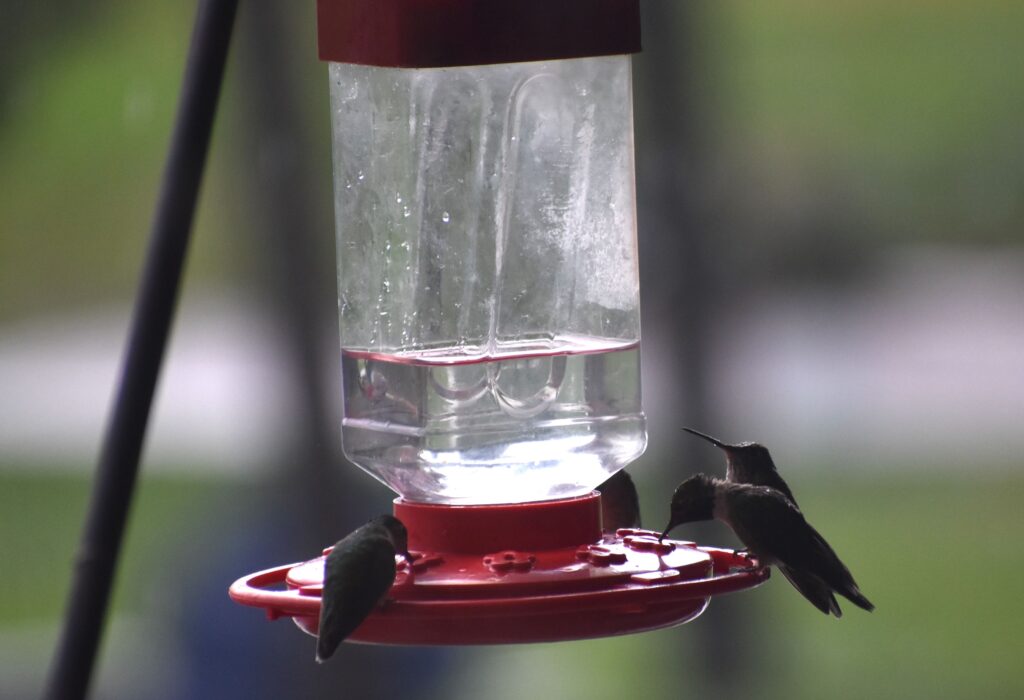 Hummingbirds certainly aren't in short supply at Eisenhower Golf Club.

About the Writer: Gary Baines has covered golf in Colorado continuously since 1983. He was a sports writer at the Daily Camera newspaper in Boulder, then the sports editor there, and has written regularly for ColoradoGolf.org since 2009. He was inducted into the Colorado Golf Hall of Fame in 2022. He owns and operates ColoradoGolfJournal.com