Despite nerves, Jennifer Kupcho opens with 70 in CoBank Colorado Open
By Gary Baines – 7/23/2020
Jennifer Kupcho has played in front of national television audiences in winning the inaugural Augusta National Women's Amateur in 2019 and the women's NCAA Division I individual title in 2018. She's also competed in almost two dozen LPGA events, finishing in the top five three times, including a runner-up showing a major.
But that certainly doesn't mean she's immune from being nervous on the golf course. The 23-year-old Colorado-born-and-bred golfer wasn't playing in front of many spectators on Thursday at Green Valley Ranch Golf Club in northeast Denver, but she still felt some butterflies in being just the second female ever to tee it up at the CoBank Colorado Open.
"Obviously it's a little out of my comfort zone playing with guys," the Jefferson Academy and Wake Forest graduate said. "I go out and practice and play against them all the time, but it's a little bit different when you come to a tournament and you're the only girl.
"I obviously was really nervous going into the first hole — and the entire first hole, honestly."
But since golf is golf, Kupcho calmed down pretty quickly and played a very solid round of golf. She shot a 2-under 70 and shares 64th place out of the 156-player field after round 1. If she finishes two days in the top 60 and ties, she'll make the 36-hole cut and stick around for the weekend a week before returning for her first LPGA Tour event since January. Kupcho trails leader Corbin Mills of Greenville, S.C., by eight shots.
Playing in the same group with older brother Steven, and with mom Janet caddying for her and dad Mike looping for Steven, it was a family affair on Thursday.
"Obviously it's nice to have a little bit of a familiar face going into it," Jennifer said. "It was fun."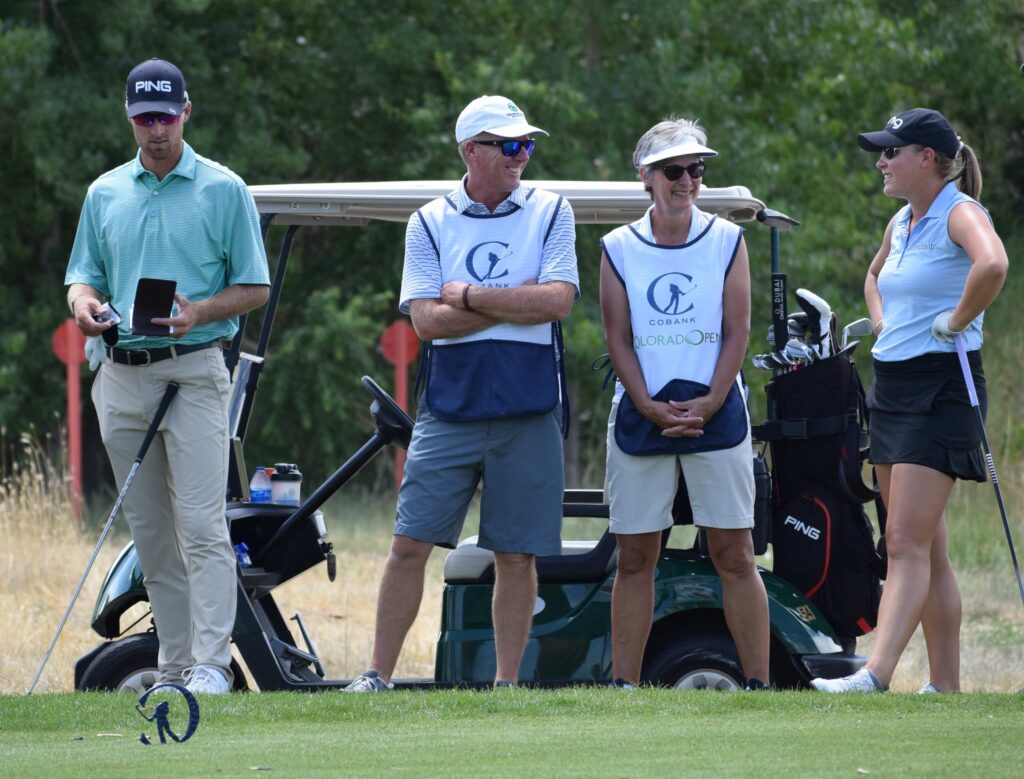 And Steven, coming off a win earlier this month in a Dakotas Tour event, played a solid round of his own. Despite a bogey on No. 18, he fired a 4-under-par 68 that included an eagle at No. 9, four birdies and two bogeys.
As for Jennifer, she carded four birdies and two bogeys. Playing a golf course at 7,309 yards isn't unheard-of for her, but it is for a tournament.
"It's definitely a lot different," she said of the length. "And the conditions of the greens are hard and fast, so hitting longer clubs (for approaches) is definitely not ideal. So I have to change my mindset a little bit and prepare for that roll-out that I'm going to get."
Other than a blip on the par-5 12th, where Kupcho was just in front of the green in two, but skulled her third over the putting surface, "duffed" a chip back and posted a bogey, she was happy with her performance on Thursday.
"I think I played really well," Kupcho said. "Obviously I messed up No. 12 a little bit, but I think that comes from not practicing my short game like I probably should."
For all the scores from Thursday at GVR, CLICK HERE.