On a day 26 golfers shot 67 or better, former U.S. Publinks champ Mills (62) leads CoBank Colorado Open, while Coloradans Keffer (63) and Prater (65) are close behind; new Denverite Chris DiMarco posts 69
By Gary Baines – 7/23/2020
Corbin Mills approached Thursday's first round of the CoBank Colorado Open much like he does when trying to Monday qualify for the Korn Ferry Tour. Which is to say, go crazy low with your score, then hope for the best.
And, judging by the results overall on Thursday, maybe he wasn't the only one to have that mentality.
Mills, the 2011 U.S. Amateur Public Links champion who resides in Greenville, S.C., shot the low tournament round of his life — a 10-under-par 62 — at Green Valley Ranch Golf Club in northeast Denver to grab a one-stroke lead after the opening round of the 72-hole event.
But Mills had plenty of company in going low on Thursday in the quest for the $100,000 first prize — or low-amateur honors — at GVR. A total of 26 competitors shot 67 or better, and more than 60 percent of the field (98 out of 156) finished the day under par.
"I've been doing a lot of Mondays, so I had the same mentality today. It's a shootout," Mills said of Korn Ferry Tour Monday qualifying, where often it takes 64 or better to land spots in tournaments. "After I made a few, I was kind of like, 'You know, we'll just treat it like a Monday and keep going with it. We're not going to let off the gas. We've got three more days. I had a 5-footer on the last hole (for birdie). My thought was, 'You've got to make this to Monday in.' That was my mindset."
Mills, competing in the Colorado Open for just the second time, made 10 birdies on Thursday in a bogey-free round. When the former Clemson golfer competed at GVR last summer, it was one of his first tournaments following a 2 1/2-year layoff from competitive golf.
"I wasn't pursuing trying to play again," said the 30-year-old Mills, who got married almost two years ago. "My father-in-law called me up one night and said, 'I'd love to help you out if you want to play golf again. I think you can do it. You don't have to worry about money or anything. I'd love for you to take another shot.'"
Mills' round was two strokes off the course record, held by Nick Mason of Parker and defending champ Sam Saunders.
Meanwhile, the Colorado contingent did itself proud on Thursday. Geoff Keffer of Lakewood, a five-time Colorado PGA Player of the Year, shares second place at 63 with Ben Wolcott of Tampa, Fla.
Like Mills, Keffer went bogey-free on Thursday. Playing in the afternoon wave, the 41-year-old Colorado native started the day with four consecutive birdies, added three more birdies, then finished with an eagle on the par-5 18th. Keffer won the Colorado PGA Professional Championship in 2016.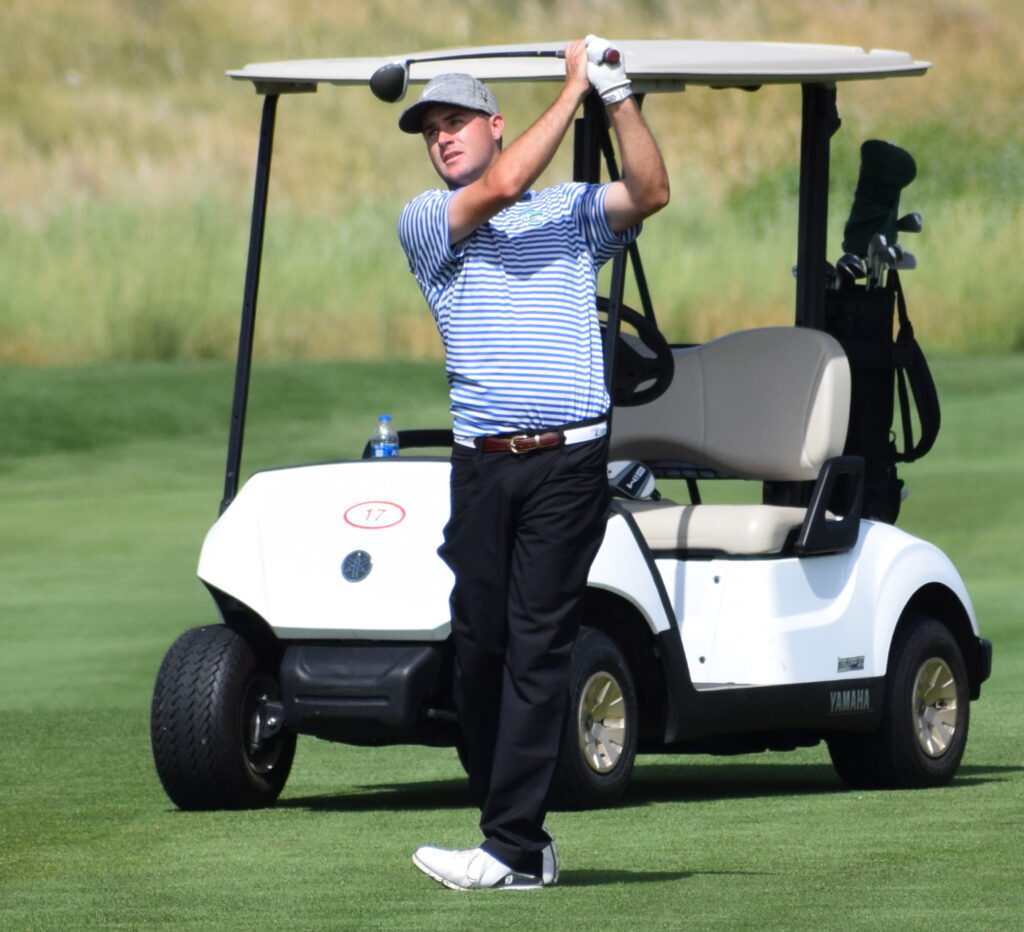 Another Coloradan falling into the bogey-free category on Thursday was amateur Colin Prater from Colorado Springs, who won the CGA Match Play last month and the CGA Amateur in 2016. Like Mills and Keffer, Prater went bogey-free on Thursday — in his case for a 7-under 65.
Other Coloradans in the top 20 include two-time champions Jonathan Kaye of Boulder and Derek Tolan of Highlands Ranch (67), two-time Colorado PGA Player of the Year Caine Fitzgerald of Parker (67), University of Denver golfer Cal McCoy of Highlands Ranch (67), James Love of Denver (67) and Mason (67). Former Colorado resident and Air Force Academy golfer Kyle Westmoreland also carded a 67.
For Prater, suffice it to say it was a different experience than he had last summer at the Colorado Open.
"I caddied for my buddy Jimmy Makloski last year in this," said Prater, a former University of Colorado-Colorado Springs golfer. "I was out here for four days and really wondering the whole time, 'Why the hell am I not playing?'"
On Thursday, Prater rarely missed a beat. Though he didn't take advantage of the par-5s — he played the four of them in 1 under par — he posted one of the best scores of the day.
"Shooting 65 playing the par-5s in 1 under is really solid," the 25-year-old high school teacher said. "I was really good tee to green. I didn't make anything super long. In fact, I think the longest putt I made all day was about 12 feet."
Through one round, Prater sits three out of the overall lead and is two ahead of the next-lowest amateur in the field, McCoy. But Prater will let all that sort itself out later. For now, he's more concerned about going shot by shot and round by round.
"Ideally, you want to have those high aspirations, but as the tournament started, I'm just trying to put two good rounds together to make the (36-hole) cut, then I'll go from there," he said. "My mindset (coming in) was, it would be awesome to shoot four rounds of 66. I accomplished that today. It was really beneficial this morning to go out there and shoot 7 down. Then I'll try to have the exact same mindset tomorrow and see what happens."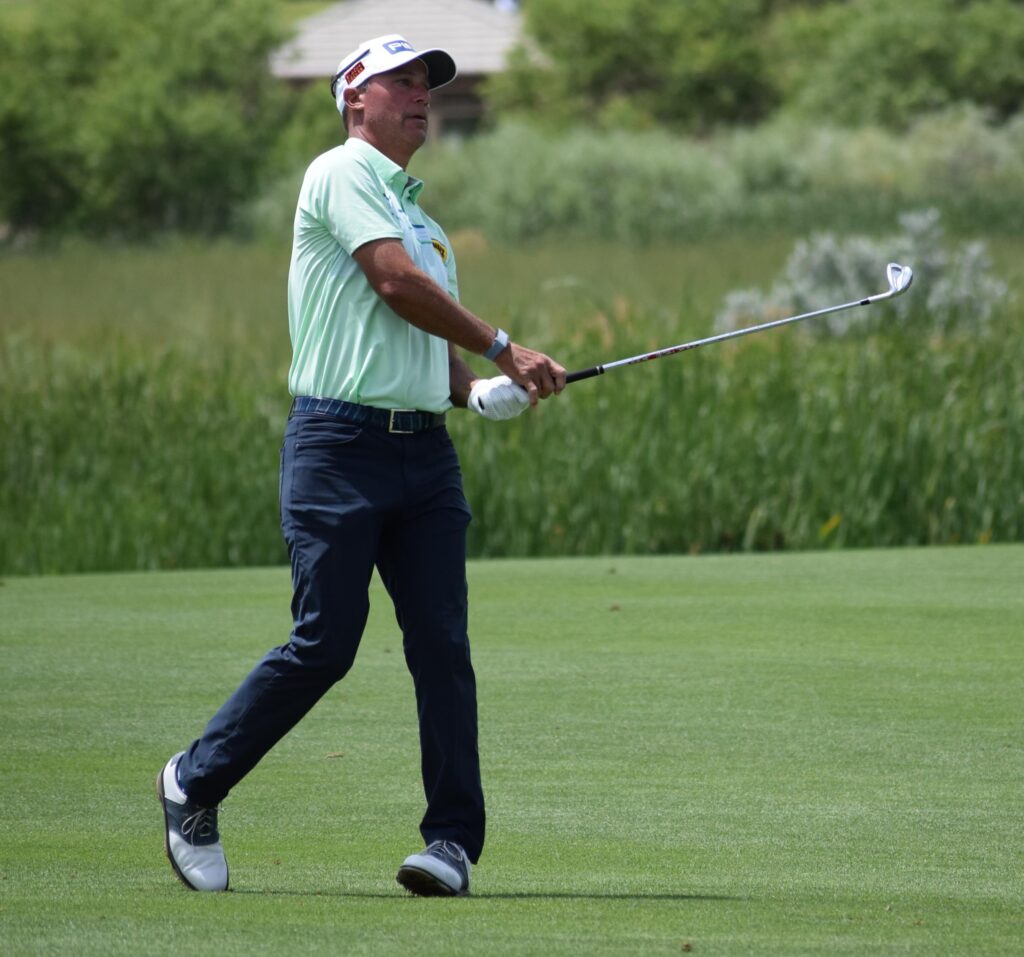 Home Game for DiMarco: To his best recollection, Chris DiMarco last played a tournament round in Colorado at the 2006 International at Castle Pines Golf Club.
Nowadays, for the last two years, DiMarco has lived in Denver, so it seems only fitting that he should tee it up "for real" in the Centennial State again.
On Thursday, the three-time PGA Tour winner did just that, and the results weren't bad at all, especially given that, at age 51, he's competing against many players half his age.
DiMarco, now a member at Cherry Hills Country Club, hit 17 greens in regulation en route to a 3-under-par 69, which leaves him seven strokes behind leader Corbin Mills of Greenville, S.C.
"I played really good," said DiMarco, who hadn't ever teed it up at Green Valley Ranch until Wednesday. "I just didn't make any putts. I probably had six or seven putts inside of 10 feet that I didn't make. I've been playing a lot at Cherry Hills, where we're members, and the greens are probably a couple of feet faster so my speed was a little bit off today.
"But I'm excited about tomorrow (and a morning round). The greens will be good."
DiMarco moved to Colorado in July 2018 as his daughter, Amanda, was attending the University of Colorado in Boulder.
"We were driving home (and said), 'Why are we not living out here?,'" DiMarco recalls. "It was perfect timing. We had one starting high school (Abigale), so she goes to (Denver) East. She'll be a junior next year. And I was turning 50, so the timing was perfect."
DiMarco's third "child", 24-year-old Cristian, is also competing in the Colorado Open this week. He carded a 68 on Thursday.
Nowadays, Chris DiMarco lives about a quarter-mile from Denver Country Club and has been playing quite a bit of golf at Cherry Hills, especially since the PGA Tour Champions hasn't held a tournament since March due to Covid-19-related safety concerns. The senior circuit will resume action next week.
"But literally I've probably played 65 rounds in the last three months," said DiMarco, whose playing companions at Cherry Hills have included John Elway and Peyton Manning. "It really hasn't been casual rounds. There's been a lot of gambling, which is good for me because it kind of simulates at least some pressure and things that I need to do (as a tour player)."
It had been so long since DiMarco last played a tournament round that some of the rituals that go with being a tour player caught him a little off guard on Thursday.
"I was a little nervous," he said. "I haven't heard my name on a tee in almost five months now. But I got off to a great start. I hit it right down the middle, hit a wedge and made a 5-footer for birdie on the first hole, so it kind of knocked all the nerves away and I started going out and playing golf.
"I figure this is a great way to knock the rust off and get things going. This is a perfect pre-tournament for next week."

Riding Around: For the first time — at least in recent memory — contestants at the CoBank Colorado Open this week are required to take carts, though a player can walk while his or her caddie drives. It's for evacuation purposes in case of lightning or related delays. Given that Covid-19-related social distancing is required, that keeps tournament organizers from having to transport multiple contestants at once to safety.
Because using carts has the added benefit of shortening the length of rounds, don't be surprised if Colorado Open organizers consider allowing carts for everyone in the field for future tournaments.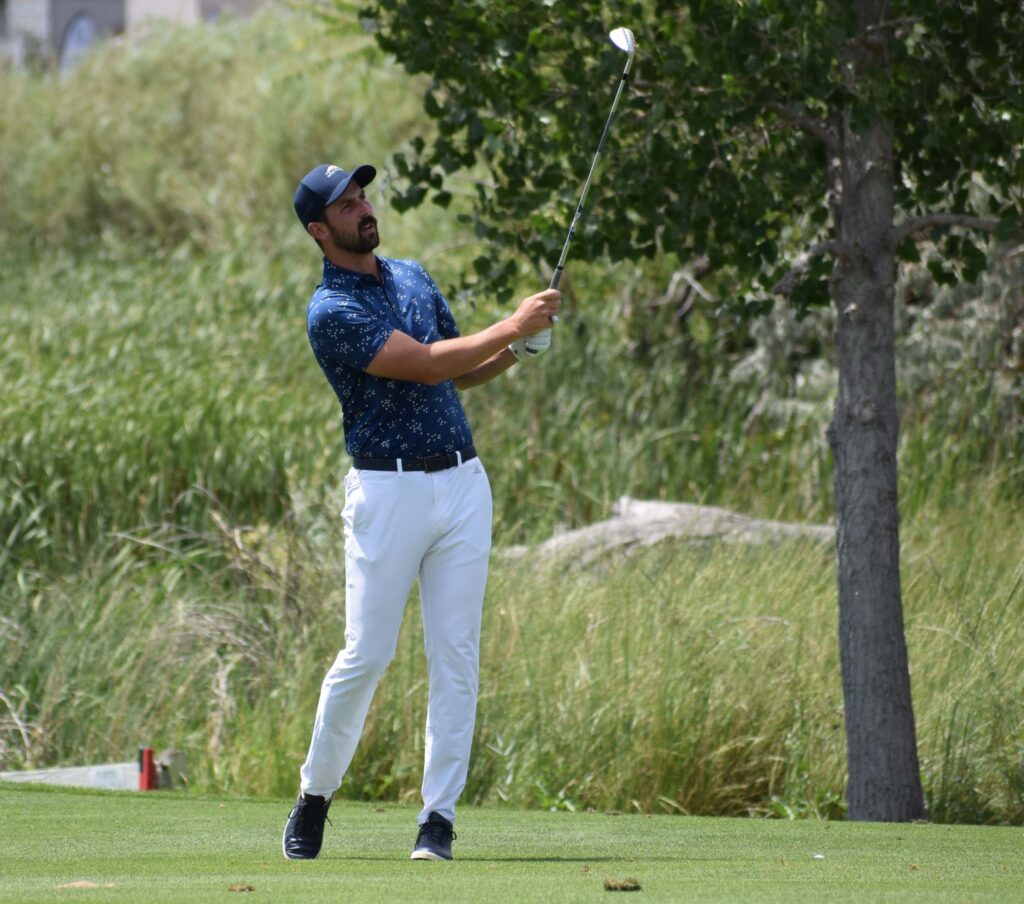 Notable: Denver Broncos placekicker Brandon McManus had a tough day competing in his first Colorado Open. With a 10-over-par 82, only four players shot higher scores on Thursday. First, the good news: he made three birdies. Now, the bad: he carded a triple bogey, three double bogeys and four bogeys. … Jason Witczak of Phoenix was disqualified on Thursday for signing for a score lower than he shot. … The field will be cut to the low 60 players and ties after Friday's second round.