Playoff win gives Arapahoe's Will Kates 2nd state high school title. Other state champs: Arapahoe (5A team), Windsor's Brentyn Paiz (4A individual), Riverdale Ridge (4A team), Vail Christian's Connor Downey (3A individual), Aspen (3A team)
By Gary Baines – 10/5/2021
Colorado's boys state high school golf tournaments produce champions that range from pre-event favorites to the completely unpredictable. It's part of the beauty of the tournaments, and this week's state meets were no exception.
At the 5A tournament at Colorado Springs Country Club, one of the expected contenders prevailed as Arapahoe senior Will Kates claimed the individual title for the second time. He became the first two-time individual state champ since Montrose's Micah Stangebye won No. 2 in 2019.
Meanwhile, in the 4A state meet at City Park Golf Course in Denver, Windsor senior Brentyn Paiz made the state title his first individual victory of the season.
"My coach said he didn't want me to peak in the middle of the season. He wanted me to wait until the end. I guess I did," Paiz said.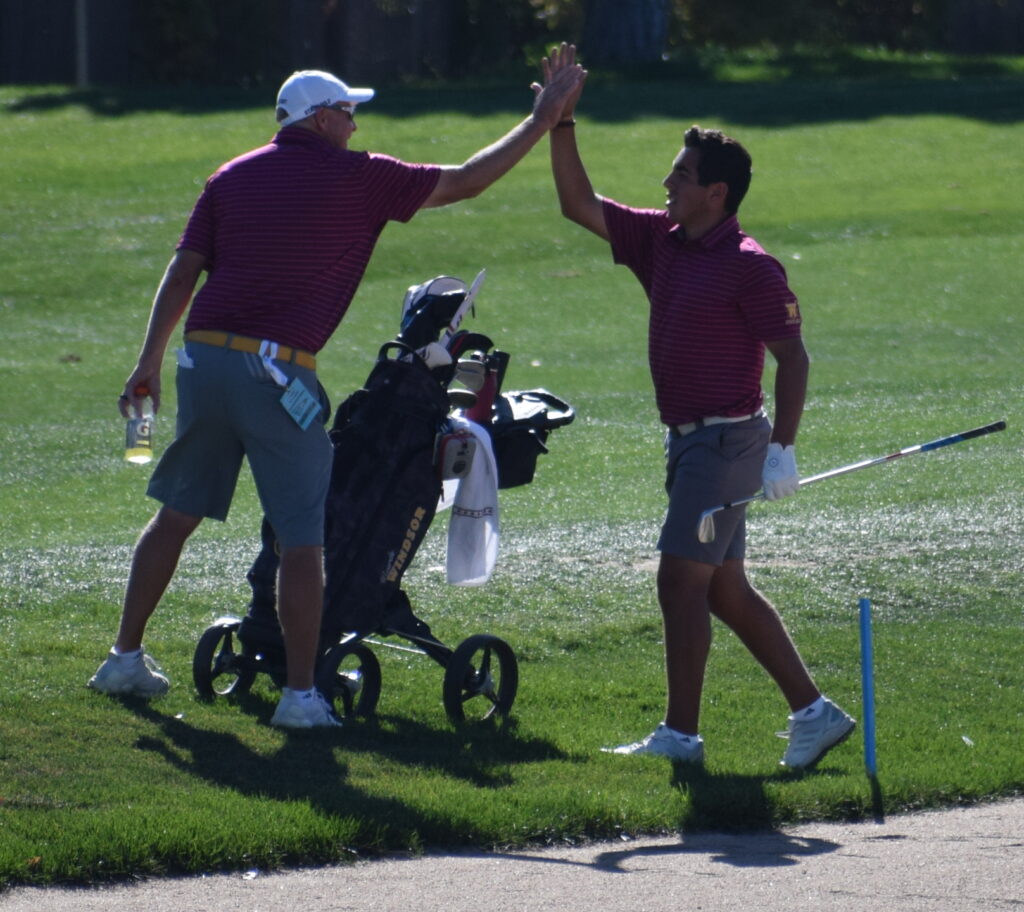 And Connor Downey made it a sweep of state titles for seniors as the Vail Christian golfer overtook Thayer Plewe in round 2 at Spring Valley Ranch Golf Club in Elizabeth, leaving the Montezuma Cortez golfer the 3A runner-up for the second straight year.
Speaking of second place, after Arapahoe was runner-up in the 5A team standings each of the last two years, it cruised to a 17-stroke victory this time. It marked the first boys golf title for the school in 33 years. Arapahoe put all four of its players in the top 10 individually.
Meanwhile, in 4A, in just its fourth year of existence, Riverdale Ridge won the 4A team championship.
"It's pretty awesome," first-year Riverdale Ridge head coach Robert Brunswick said. "The boys got after it. It's really cool to watch them succeed. They're a great group of kids. They never gave up. They went through a lot this year. It's frigging awesome."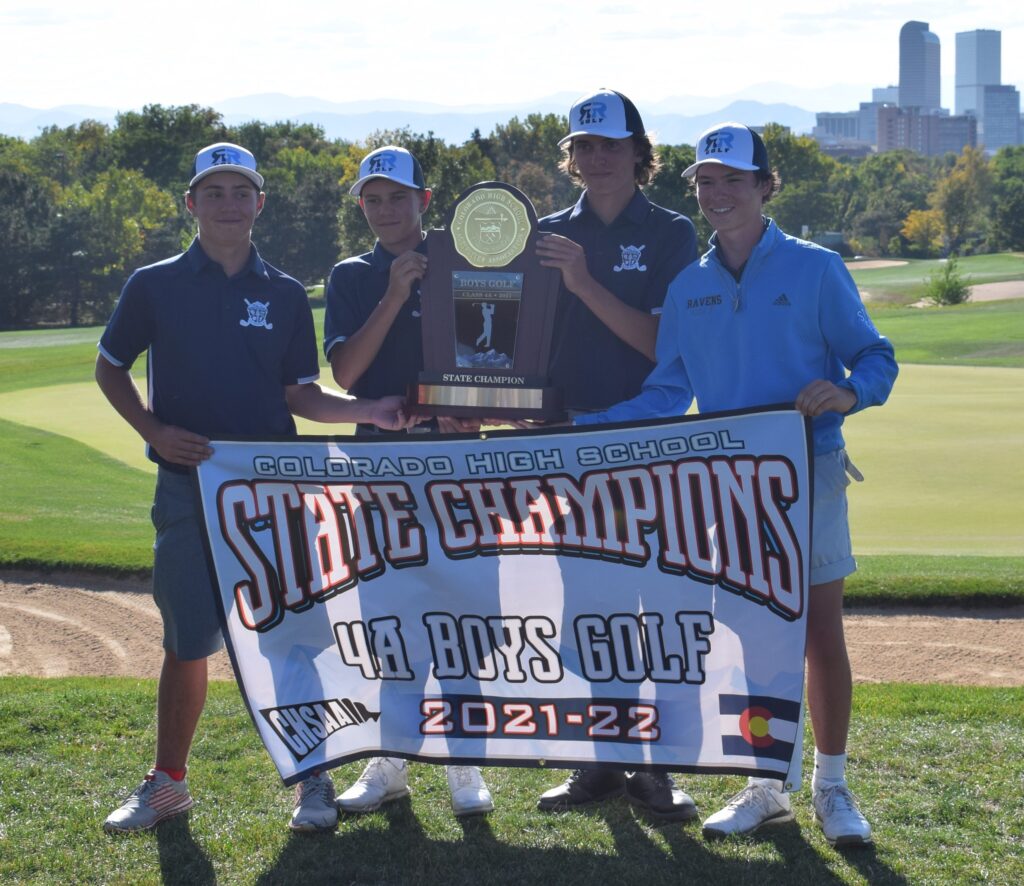 In 3A, Aspen won the state title for the second time in four years.
Here's a tournament-by-tournament wrapup from this week:

— CLASS 5A AT COLORADO SPRINGS COUNTRY CLUB — Kates, the 2019 champion as a sophomore, drained a 7-foot birdie putt on the second hole of a sudden-death playoff to defeat Pine Creek junior Wes Erling and claim his second individual state title.
Kates played his final seven holes of regulation in 2 under par and birdied No. 18 to force the playoff. He shot a 1-under-par 70 on Tuesday to check in at even-par 142 overall.
Erling, the first-round leader and a fourth-place finisher at state last year, closed with a 72 and was 2 over par for his final seven holes of regulation.
Three players tied for third place, five back of the playoff contestants — juniors Kyle Leydon of Brighton (71 Tuesday) and Luke Cushman of Castle View (72), along with senior Gage Messingham of Ralston Valley (72).
All of the players who helped Arapahoe claim the team title placed in the top nine individually: Kates (first), senior Matthew Wilkinson (sixth), junior Max Zadvorny (eighth) and junior Grant Juergens (ninth).
Cherry Creek finished second in the 5A team race, 17 behind Arapahoe, while Highlands Ranch was third.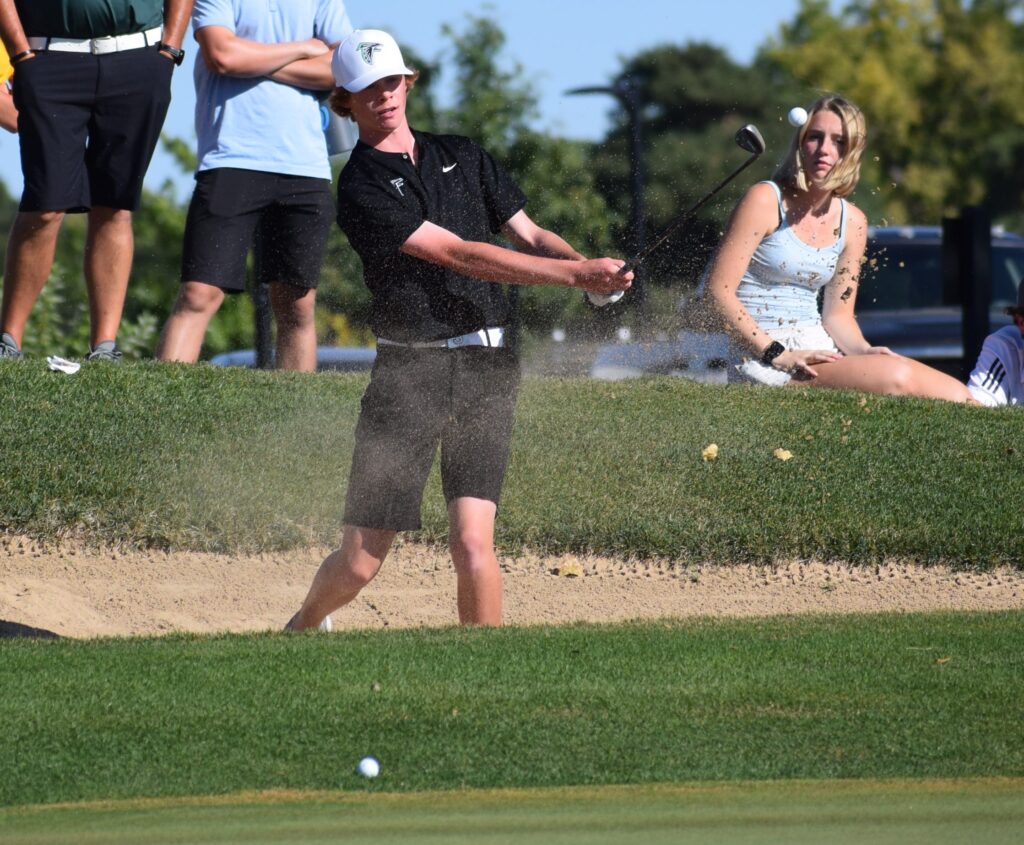 — CLASS 4A AT CITY PARK GOLF COURSE IN DENVER — Paiz, who started the day two out of the lead, battled for the individual title with playing partner Reese Knox, a junior from Falcon, for much of the back nine. Paiz went ahead for good with a two-putt birdie from the fringe on the par-5 16th.
But Paiz hit his tee shot into the sand-filled waste area to the right of the 18th fairway and his ball ended up amid some footprints. So for his approach, he flighted down an 8-iron from 174 yards, with the ball ending up on the back fringe.
"That second shot on 18 will be one I will remember," he said later.
After Knox hit his approach from the middle of the fairway over the green and into a bunker, he posted a bogey. Facing a slick attempt from the back edge, Paiz two-putted, making a 4-foot par to give himself a two-stroke victory.
"It's hard to believe" I'm a state champion, the Pelican Lakes club champ said moments later. "It's going to hit me later. It's a good way to end."
After playing his final 11 holes in 4 under par, Paiz closed with a 3-under 67 — the low score of the tournament — to post a 2-under-par 138 total. Despite his final-hole bogey, Knox carded a 68 to finish runner-up.
"I never thought I was out of it until it was over," Knox said. "The putts just didn't want to go in today. (Paiz) is a good player and he was putting really well."
Ben Harding of Silver Creek, who won the Colorado Junior Match Play at City Park GC over the summer, finished third at 1-over 141 following a 71 on Tuesday.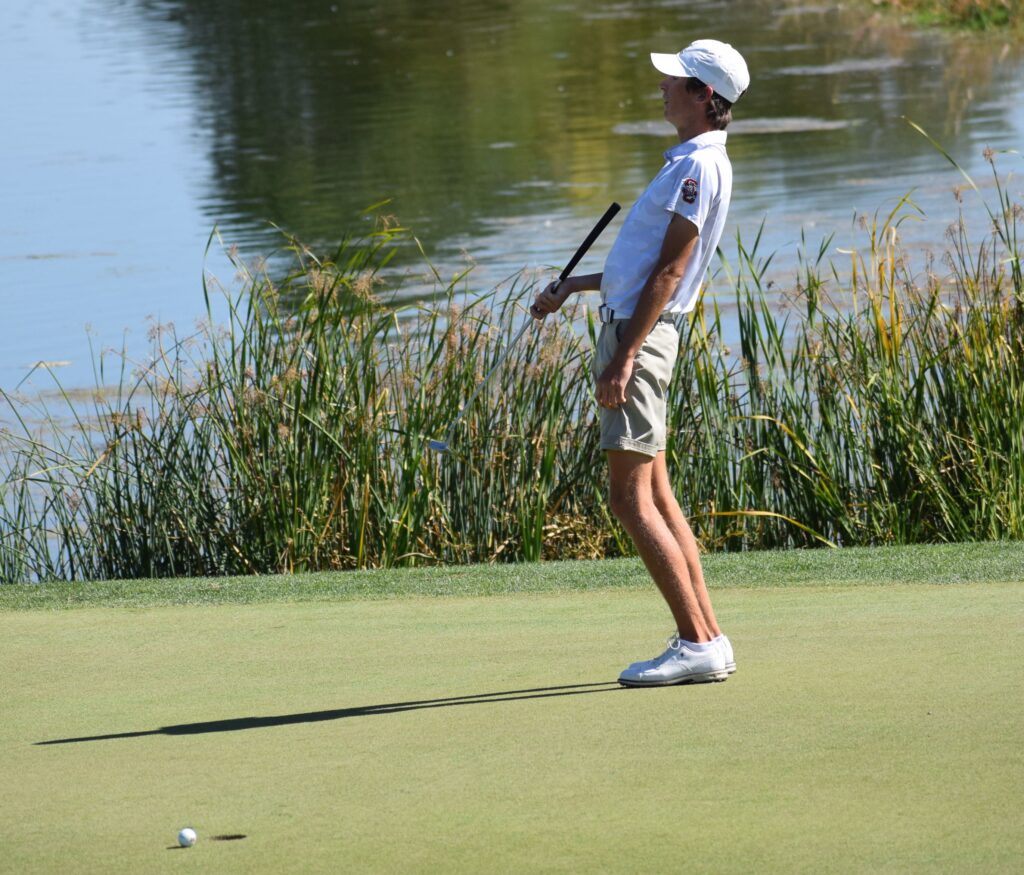 Jake Chesler of Frederick came in fourth for the second straight year — this time with Will Balliet of Riverdale Ridge — and notched four top-10 finishes in his high school career.
Riverdale Ridge prevailed in the team competition by nine strokes as it ended up at 16 over par. Balliet tied for fourth, first-round leader Bradley Weinmaster was 10th, Aiden Sweeney 15th and Carter Seis 54th.
"Going in, being top three was what the hope was," Brunswick said. "The guys pick each other up. This group of boys is super special. It's been pretty fun to watch"

— CLASS 3A AT SPRING VALLEY GOLF CLUB IN ELIZABETH — Plewe took a two-stroke lead into the final round, and was still one stroke ahead after he eagled the par-4 sixth hole on Tuesday. But Downey took the advantage shortly thereafter and was 5 under par for the first 11 holes of the day, after which he held a four-stroke lead.
And though Downey made a double bogey on No. 12 and a bogey on 17, he still eked out a one-stroke victory over Plewe, who birdied the final hole.
Downey finished at 5-under-par 139 after firing a 70 on Tuesday. Plewe closed with a 73 to place second again in 3A. Senior Nic Pevny from Aspen, the 2020 3A individual champ, ended up third on Tuesday, three back of Downey, after posting a final-round 69.
But Pevny did lead Aspen to another state title as the Skiers fended off defending champion Colorado Academy, which finished four back. Vail Mountain and Sterling tied for third.
Joining Pevny on the winning Aspen squad were Sky Sosna (10th place), William Stiller (16th) and Lucas Lee (55th).

Boys State High School Golf Top Finishers
CLASS 5A AT PAR-71 COLORADO SPRINGS CC
Individual
1. Will Kates, Arapahoe 72-70–142
2. Wes Erling, Pine Creek 70-72—142
3. Luke Cushman, Castle View 75-72–147
3. Kyle Leydon, Brighton 76-71–147
3. Gage Messingham, Ralston Valley 75-72–147
6. Lukas Beisner, Grandview 75-73–148
6. Matthew Wilkinson, Arapahoe 74-74–148
8. Max Zadvorny, Arapahoe 77-72–149
9. Ryan Peragallo, Highlands Ranch 74-76–150
9. Matt Juergens, Arapahoe 76-74–150
Team
1. Arapahoe 222-216—438
2. Cherry Creek 231-224—455
3. Highlands Ranch 233-225—458
4. Fossil Ridge 223-236–459
5. Ralston Valley 237-225—462

CLASS 4A AT PAR-70 CITY PARK GC IN DENVER
Individual
1. Brentyn Paiz, Windsor 71-67–138
2. Reese Knox, Falcon 72-68—140
3. Ben Harding, Silver Creek 70-71–141
4. Jake Chesler, Frederick 74-68–142
4. Will Balliet, Riverdale Ridge 72-70–142
6. Traejan Andrews, Northridge 73-70—143
6. Christopher Gunlikson, Niwot 74-69–143
8. Noah Richmond, Montrose 77-68–145
8. Dawson Thulin, Vista Peak 70-75–145
10. Bradley Weinmaster, Riverdale Ridge 69-77–146
10. Alex Morrall, Palisade 72-74–146
10. Noah Wagner, Pueblo West 75-71–146
Team
1. Riverdale Ridge 216-220—436
2. Windsor 231-214–445
3. Cheyenne Mountain 222-225—447
3. Silver Creek 228-219–447
5. Falcon 229-221–450

CLASS 3A AT PAR-72 SPRING VALLEY GOLF CLUB IN ELIZABETH
Individual
1. Connor Downey, Vail Christian 69-70–139
2. Thayer Plewe, Montezuma Cortez 67-73–140
3. Nic Pevny, Aspen 73-69–142
4. Jacob Gilbert, Strasburg 74-71–145
5. Jack Pashel, Colorado Academy 76-70–146
6. Jace Wright, Sterling 77-71–148
6. Tiki Jaffe, Vail Mountain 75-73–148
6. AJ Papajohn, Luthern 75-73–148
9. Taylor Schaefer, Sterling 73-76–149
10. Sky Sosna, Aspen 74-76–150
10. J.T. Timmers, Colorado Academy 77-73–150
Team
1. Aspen 223-224–447
2. Colorado Academy 232-219–451
3. Vail Mountain 232-224—456
3. Sterling 233-223–456
5. Lutheran 227-230—457