Harry Rudolph, Mickelson's youth/college rival, uses final-hole eagle to pull into share of Colorado Senior Open lead with Bob Niger

Scoring: For all the results from the CoBank Colorado Senior Open, CLICK HERE.

By Gary Baines – 8/27/2020
The symmetry of it all would be almost too ideal.
On Wednesday, Phil Mickelson won for the first time as a senior golfer, claiming a title in his debut on PGA Tour Champions.
On Friday, Harry Rudolph, one of Mickelson's primary rivals as a junior golfer in the San Diego area — and in college — has an opportunity for a breakthrough victory of his own. The senior rookie — a 50-year-old like Mickelson — shares the lead going into the final round of the CoBank Colorado Senior Open at Green Valley Ranch Golf Club.
"That would be super fun," Rudolph said of the prospect of a senior breakthrough the same week as Mickelson. "He and I have actually been practicing and playing a lot at home, so I was not surprised how well he played. He shot 61 just last week at home when we were playing. He had 19 birdies and two eagles in two rounds that we played at home.
"I thought he was going to have a really good round at the FedEx Playoffs — and I know he was surprised and disappointed in that first round (a 74 in The Northern Trust) — but he's playing great. Just to be around him at home and practicing has been fun. I'm hoping to compete against him on the Champions Tour. That's kind of the goal. That would be really fun to reunite out there after so many years of not playing together — almost 30 years."
Despite starting off with a double bogey on Thursday — after hitting his tee shot on No. 10 left into the hazard, one of his two penalty strokes on the day — Rudolph shot a 6-under-par 30 on the back nine. He punctuated his round by driving over the ditch that bisects the fairway on the par-5 ninth hole, needing just a 9-iron from 160 yards to reach the green, then sinking a 45-foot eagle putt to close the day.
"You don't really expect to make that putt," he said. "I was just trying to get it close. I kept the pin in, it hit it, and that was it. 67 with double on the first hole and into the hazard on another hole … I just started getting a little momentum going and made some putts, which was nice. The greens are so good, if you get it rolling, you can make 'em.
"You keep your head down and grind away."
Rudolph will share the 36-hole lead with Bob Niger of Sacramento, who owns five top-10 finishes in the Colorado Senior Open. Niger posted the day's low round, a 6-under-par 66 and he and Rudolph both sit at 7-under 137.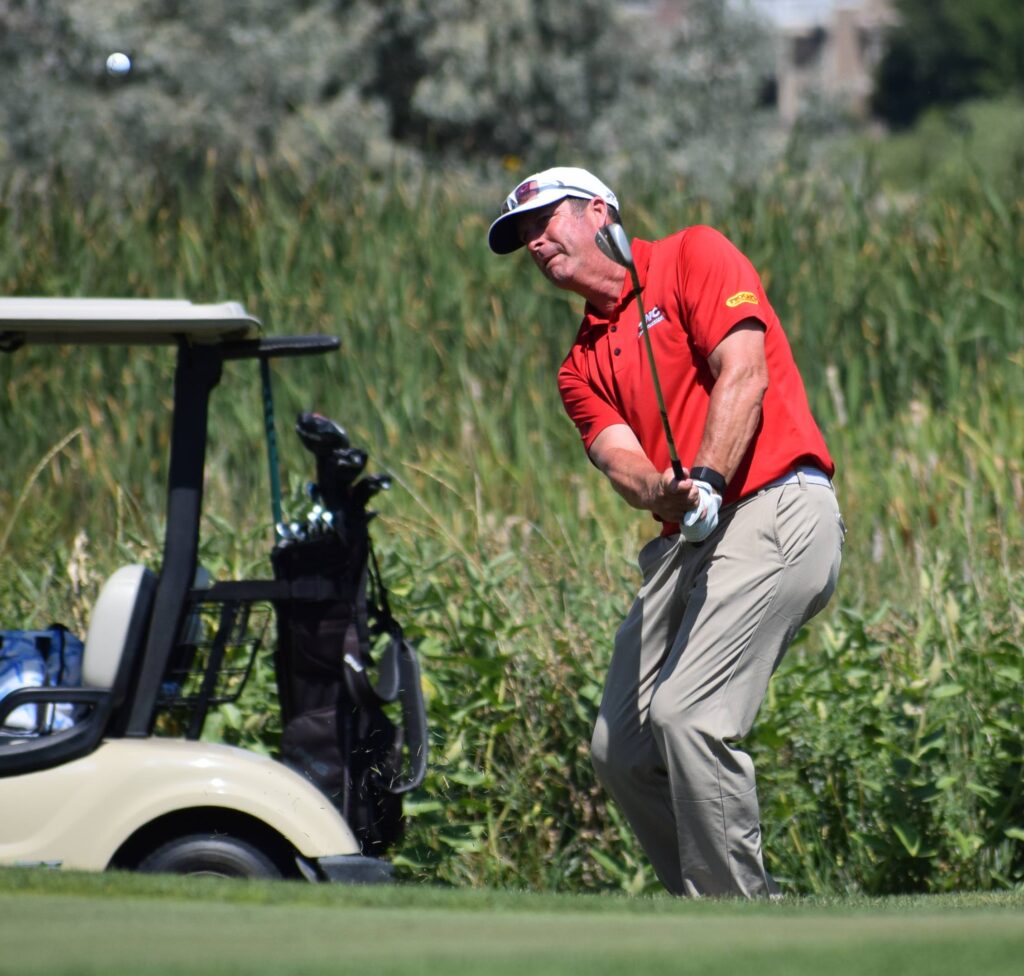 Jeff Gallagher of Henderson, Nev., the 2017 CSO champion, and Mark Owen of Draper, Utah, trail by a stroke after posting scores of 70 and 68, respectively.
As Rudolph noted in an interview with USGA.org a decade ago, he and Mickelson were the top two college recruits in the country back in the day. And, after a stint at Oklahoma State, Rudolph ended up leading the University of Arizona to the 1992 NCAA team title, while Mickelson won three individual national college championships at rival Arizona State. ASU finished second to Arizona in the '92 national team race.
Coincidentally, during those college years, Mickelson earned low amateur honors at the Colorado Open in 1989, while Rudolph did likewise in 1991, the last year the tournament was held at Hiwan Golf Club in Evergreen.
"It was always nice as an amateur to get that big trophy," Rudolph said Thursday after his round that included an eagle, six birdies, a bogey and a double bogey. "As an amateur it was always a big deal to come up here and play in the Colorado Open. And being up at Hiwan was always a treat. That course was so much fun. All the college guys would try to get into that event. If you could play that in the summer, it was a big deal. And it still is."
In his junior days, Rudolph earned medalist honors in the 1987 U.S. Junior Amateur, advancing to the quarterfinals of match play. Then while still in high school, he made the round of 16 at the 1987 U.S. Amateur.
While Mickelson flourished as a pro, winning 44 times on the PGA Tour, Rudolph didn't live up to his early promise. He only played in three events on the PGA Tour and never made a cut. His best Korn Ferry Tour showing was a runner-up in 56 starts on that circuit.
After going amateur to pro to amateur to pro, Rudolph is now giving the PGA Tour Champions a run. At Q-school last fall, he earned the right to Monday qualify in Champions events, though he hasn't yet earned a spot in one in those tournaments.
So what would potentially winning the Colorado Senior Open on Friday mean to Rudolph?
"It would be great," he said. "This is a great field. Because of Covid, there may be more 'names' than normal (in the field) because we've all been looking for a place to play. To win something like this would bring a huge amount of confidence. And hopefully you can feed off of winning a tournament. But you try not to get ahead of yourself. I've been looking forward to playing in any kind of tournament, so it's fun to play a multiple-day event with a lot of good players here and just get out and compete again.
"And it's kind of nice to be one of the young guys again (in competing in senior events as a 50-year-old)."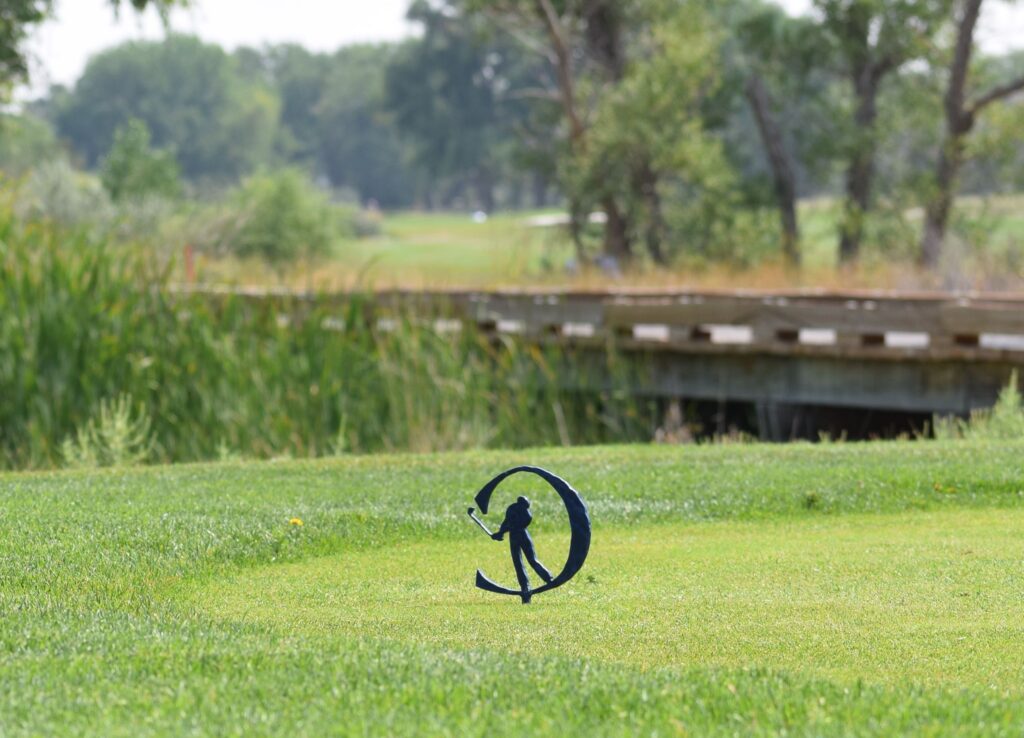 Meanwhile, the 60-year-old Niger, who finished second in the CSO in 2010 and third in 2011, posted Thursday's lowest round (66) despite a three-putt bogey from 8 feet on No. 17.
"Other than that it was good," he said. I just capitalized on the opportunities I had.
"I've always like this golf course. I kind of know where to hit it and where not to hit it. I've hit it all the bad places already, so I try to avoid those."
Gallagher, like Niger, doesn't lack for top-10 finishes in the Colorado Senior Open. After winning in 2017, he was sixth in 2018 and 10th in 2019.
"I didn't expect (to be in contention this week) — I haven't played any golf — but I've played well," Gallagher said. "I played one Monday qualifier on the Champions Tour in February. I think I'd played maybe three 18-hole rounds of golf since then.
But I hit the ball well (on Thursday). I left some putts out there like everybody else. Overall, the ball striking has been great.
"The year I won (2017), I hadn't played golf the whole time (leading up to the event), so this might be the way to do it. Just don't play golf, and it seems like I play pretty good. I don't have any expectations, so I'll just go out and keep doing what I'm doing."
All told, the Colorado Senior Open title will be very much up for grabs on Friday as 20 players have 36-hole scores in the 137-142 range.

Notable: Fifty-three players — the ones at 3-over-par 147 or better — made the cut on Thursday and will advance to Friday's final round. Among the big names who saw their tournament end on Thursday was two-time PGA Tour winner Don Pooley (148) and Steve Schneiter, the 2016 national Senior PGA Professional Champion (149). … Niger, 60, leads the super-senior division for players 60 and older with a 7-under-par 137 total. Next best among super seniors is Perry Holmes of Denver (141). … Former Colorado Senior Open champion Mike Zaremba of Pueblo West withdrew before Thursday's second round due to a leg injury. Zaremba shot a 1-over-par 73 in round 1.