In his Colorado Senior Open debut, 2-time PGA Tour winner Jonathan Kaye rebounds from opening double bogey to share clubhouse lead with fellow Coloradans Holmes, Johnson; Morland 5 under, but hasn't finished round 1
Scoring: For all the results from the CoBank Colorado Senior Open, CLICK HERE.
By Gary Baines – 8/26/2020
Jonathan Kaye's opening hole of his first CoBank Colorado Senior Open was anything but auspicious.
The part-time Boulder resident, twice a winner on both the PGA Tour and of the Colorado Open, started out his round at Green Valley Ranch Golf Club on Wednesday with a double-bogey 6.
"It was a terrible start," said the former University of Colorado, who turned 50 on Aug. 2. "You can't get much worse than that on the first hole. I hit (my tee shot) terrible. I never got it in the air and I pulled it. I dropped it in the drop area and proceeded to make my number from there."
Fortunately, it wasn't an indication of things to come.
After playing the first three holes in 2 over par, Kaye went 5 under par the rest of the way on Wednesday to post a 3-under 69 and share the clubhouse lead.
As it worked out, Kaye's threesome was the last group to finish on Wednesday — right at sunset. Because of a 2 hour, 13-minute weather delay late Wednesday afternoon, 54 players in the afternoon wave did not complete round 1 by nightfall. They will resume at 7:15 a.m. on Thursday, with only the morning wave beginning round 2 30 minutes after originally scheduled.
Two players still on the course are listed ahead of Kaye on the leaderboard as of the end of day 1.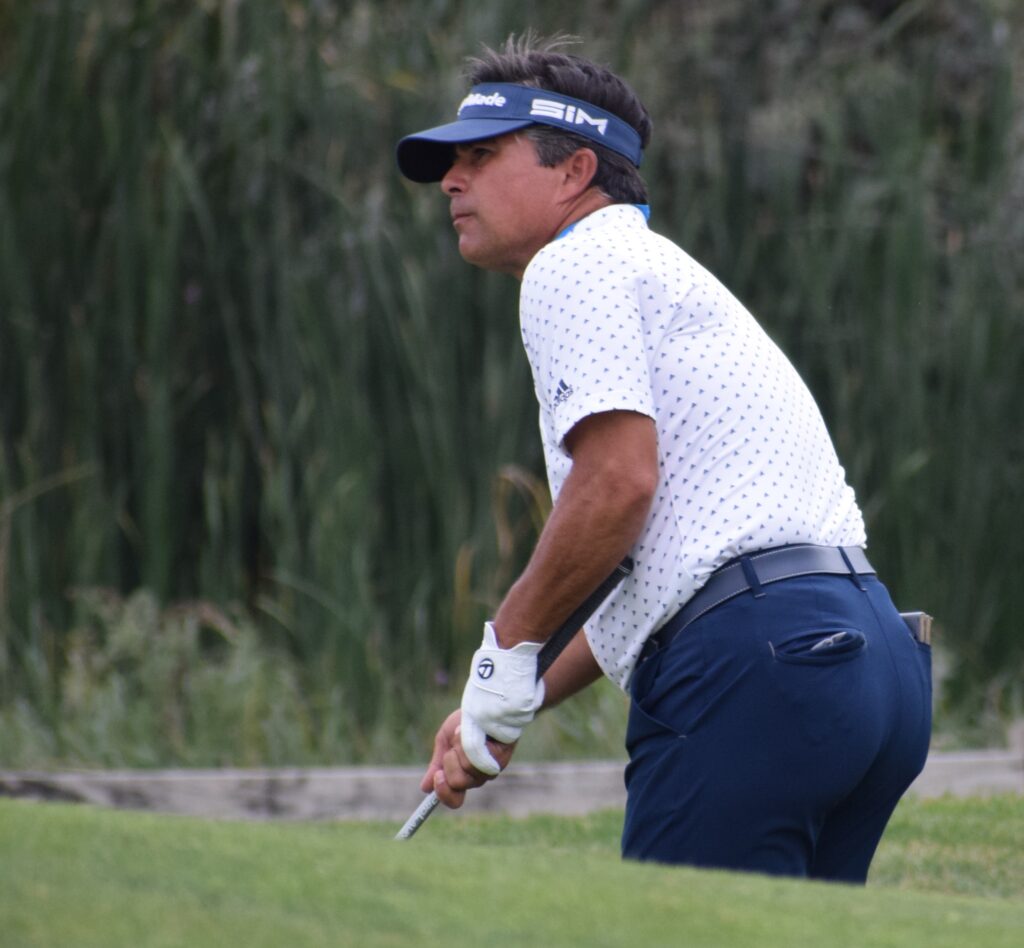 David Morland IV, a native of Canada who has played in 125 career events on the PGA Tour, is 5 under par through 14 holes. And 2017 CSO champion Jeff Gallagher of Henderson, Nev., is 4 under through 16.
Morland has made three starts this year on PGA Tour Champions, including a seventh-place finish in March at the Hoag Classic, where he opened with a 61. He won twice on the Korn Ferry Tour in the early 2000s.
Gallagher has been a fixture on the Colorado Senior Open leaderboard in recent years, having finished first in 2017, sixth in 2018 and 10th last year.
Four players, including Kaye and two others who have finished round 1, stand at 3 under par. Joining Kaye in firing a 69 were Colorado National PGA instructor Perry Holmes of Denver and Country Club at Woodmoor PGA general manager Chris Johnson. Also at 3 under par — but just through nine holes — is Kevin Dillen of Paris, Texas.
Kaye, who won the Colorado Open in 1996 and 2017, rebounded from his first-hole double bogey with an eagle and three birdies. The eagle came on a 40-foot hole-out from the sand on No. 12.
"It was right after my playing partner (defending champion Britt Pavelonis) had chipped in for eagle," Kaye said. "The hole was filling up. We had a good time."
Kaye and his family recently moved back to Phoenix for the school year after spending the summer in Boulder.
"I haven't been playing a whole lot," he said. "I only got to hit balls two times before this tournament because I was in Phoenix and it was just so hot. It was 115 every day I was there. I came up here and had a couple of days to get ready. My body is just sore, and I just did the best I could with what I had today. Hopefully tomorrow will be a little better."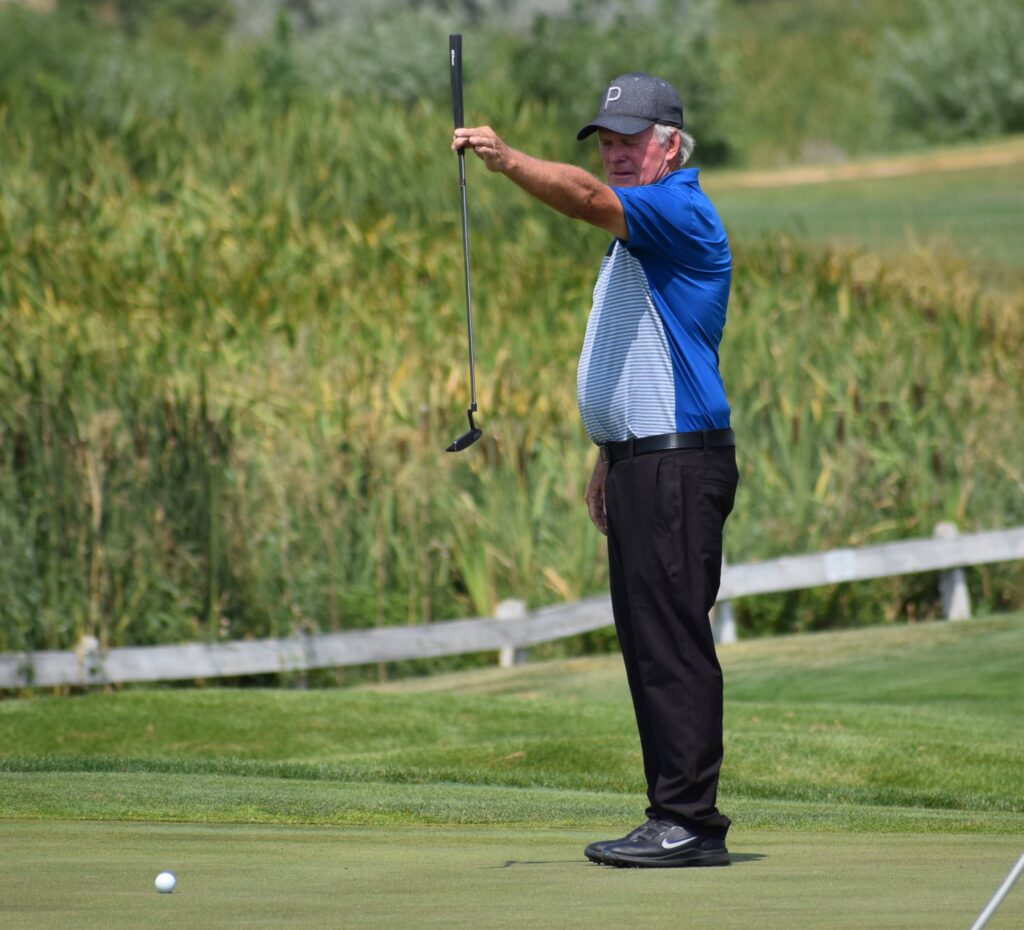 Holmes, who teaches at both Colorado National Golf Club and Columbine Country Club, posted his 69 despite three-putting the final hole for a bogey. As luck would have it, that was his only bogey of the day.
"I hit it pretty good and made some putts," the 61-year-old said. "I missed a couple too, so it could have been a little lower. But that's golf."
Holmes is no stranger to being on the leaderboard in the CSO. In both 2011 and '12, he finished third in the championship. On Wednesday, he made four birdies to go along with his bogey at No. 18, where he missed going into a penalty area with his second shot by less than 2 feet.
"I feel real comfortable here (at GVR)," Holmes said. "I've been playing here ever since (the Colorado Open moved to the course in 2004). This is one of the bigger things I play in. There are guys from all over in (the field)."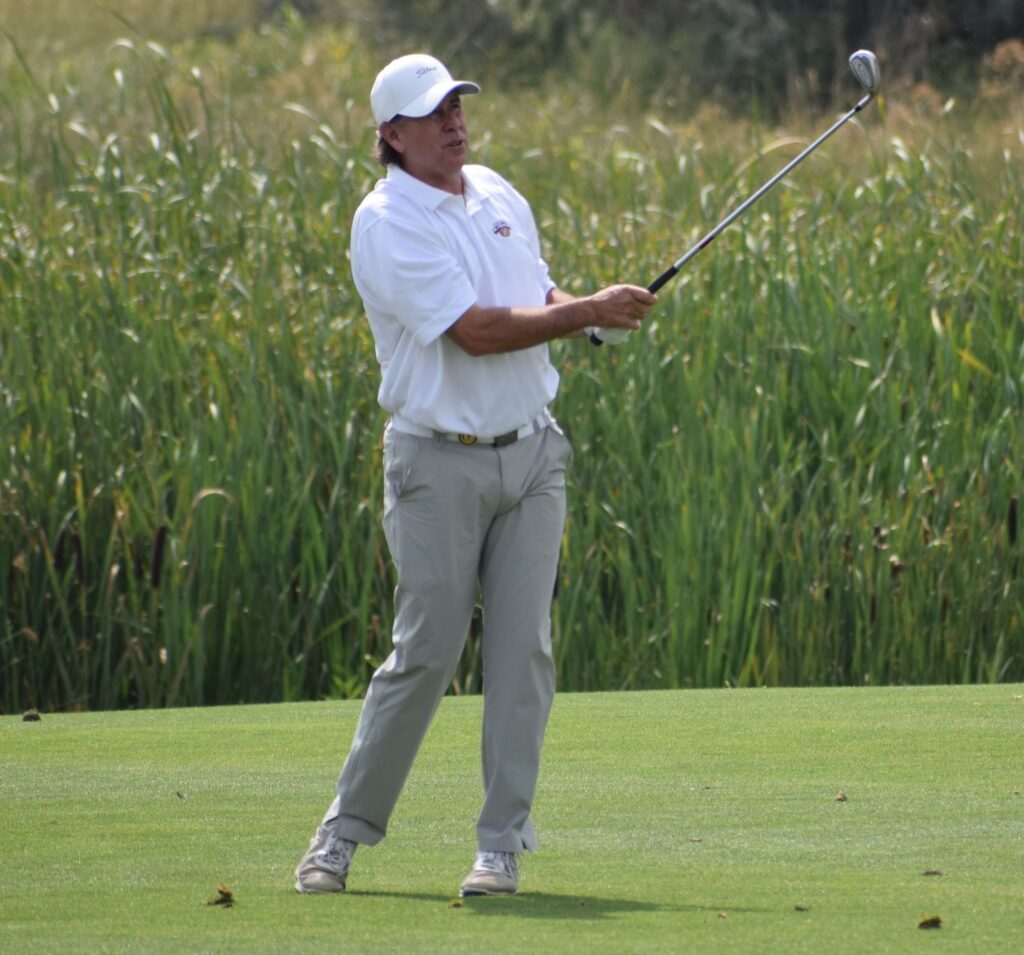 Johnson, meanwhile, overcame a double bogey on No. 15 as he recorded five birdies on the day, three of which came on his third through fifth holes on Wednesday (Nos. 12 through 14).
As for the players at the top of the leaderboard, Morland had made six birdies and one bogey through 14 holes, while Gallagher chalked up six birdies and two bogeys through 16.
Meanwhile, sitting at 2 under par through 16 holes is three-time PGA Tour winner Gary Hallberg of Longmont.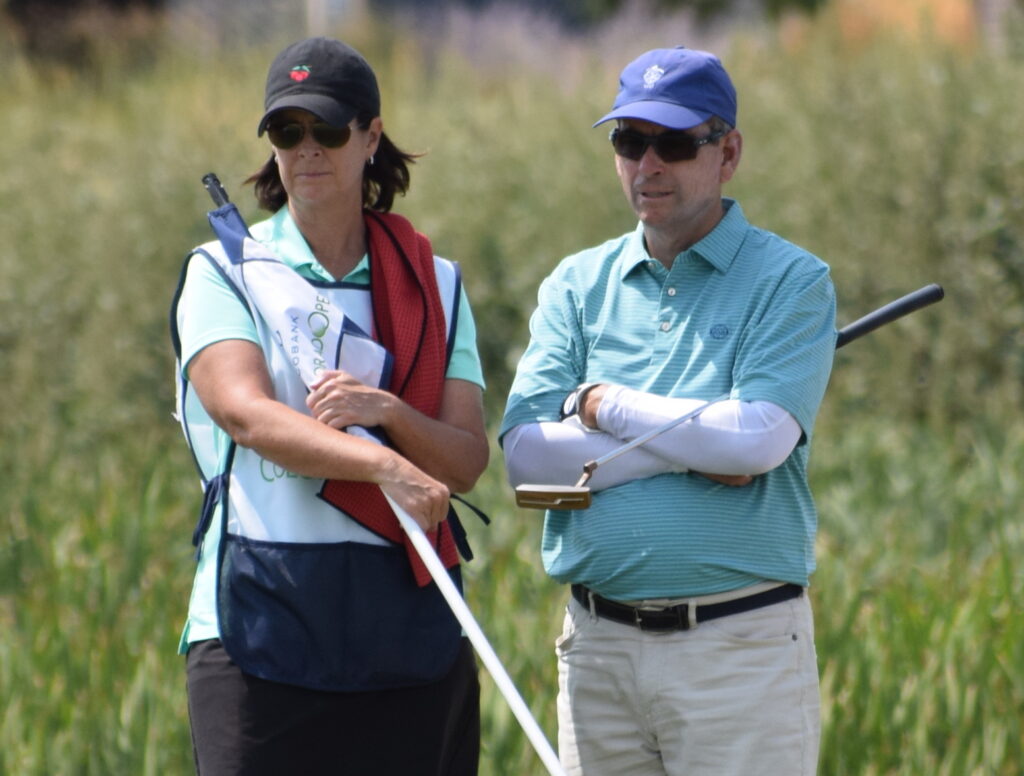 Low-Am Quest: Kent Moore of Centennial, twice the low amateur in the Colorado Senior Open (2006 and '14), may make another run at the honor. The 64-year-old Colorado Golf Hall of Famer from Cherry Hills Country Club fired a 1-under-par 71 on Wednesday to share the top spot among ams. Also carding 71 was 2019 CGA Western Chapter champion Richard Bradsby of Denver, who overcame a double bogey on the 14th hole. Both players recorded four birdies on Wednesday.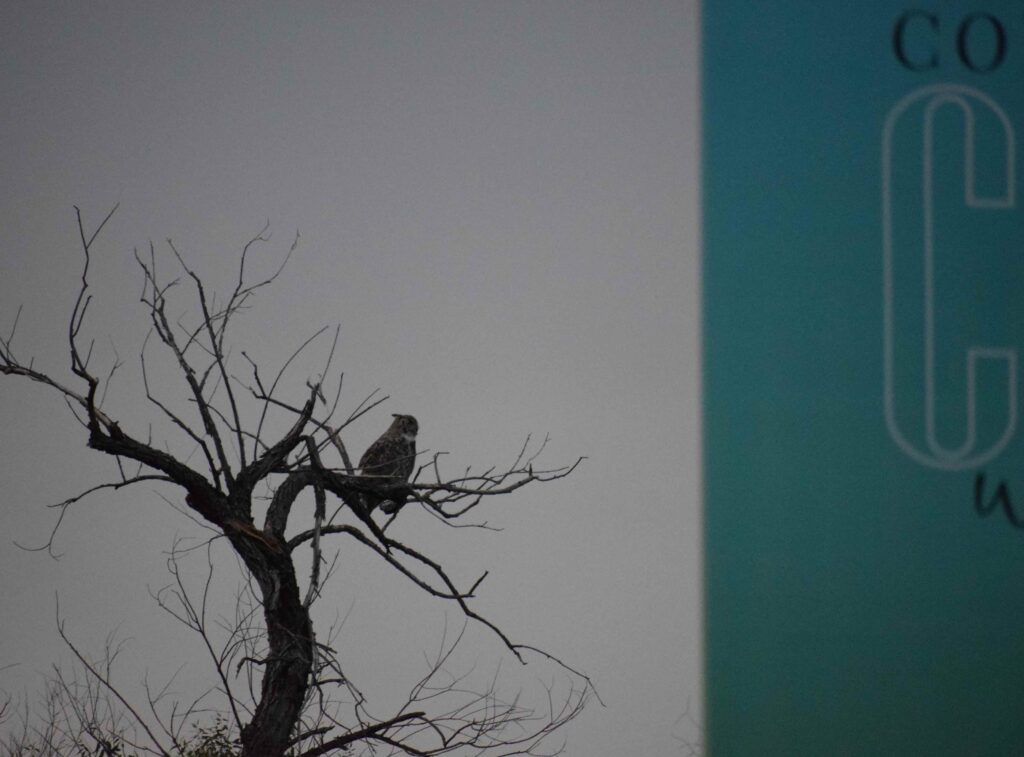 An owl greeted the players near the 18th green as play concluded on Wednesday night.

Notable: The play of the seven PGA Tour winners on Wednesday was a decided mixed bag. Besides Kaye (69) and Hallberg (2 under through 16 holes), Paul Stankowski was 1 under par through 14, Keith Clearwater was even-par through 11 holes, Grant Waite was even par through 16, Jim Carter shot a 73, and Don Pooley was 3 over par through 11. Carter, winner of one PGA Tour event in his career, couldn't have finished his nines on Wednesday in much different fashion. He eagled the par-5 ninth hole and was 2 under par through 17 holes. Then he promptly carded a snowman — a triple-bogey 8 — on the 18th hole. … After a long stretch of very warm temperatures in the Denver area, the 2:13 weather delay on Wednesday marked a big chance of pace. Tournament officials said the last time GVR had a notable amount of rain before Wednesday was during the CoBank Colorado Open a month ago. … In the super-senior competition for players 60 an older, Holmes (69) leads the way by one stroke. … After Thursday's second round, the field will be cut to the low 50 players and ties.