After knocking on door for overall title in 2018, amateur Jon Lindstrom making another run at Colorado Senior Open
By Gary Baines – 8/27/2020
An amateur hasn't won the overall title in the CoBank Colorado Senior Open since the tournament's inaugural year, 1999, when Colorado Golf Hall of Famer John Olive prevailed.
If Jon Lindstrom has his way, that may change on Friday at Green Valley Ranch Golf Club.
Lindstrom, a three-time CGA Mid-Amateur champion, made a run at the CSO overall championship two years ago in his first time competing in the event. The Denver resident and Lakewood Country Club member finished three strokes behind champion John Riegger, tying for sixth place. Among the amateurs, Lindstrom was best that week by a whopping 10 strokes.
In 2018, Lindstrom went into the final day five out of the lead. This year, going into Friday's third round, he's even closer to the lead, standing three back after 36 holes.
Lindstrom had to skip last year's CSO because of a scheduling conflict, but he hasn't missed a beat upon his return. The 52-year-old fired a 4-under-par 68 on Thursday and shares sixth place at 4-under 140, leaving him three behind leaders Harry Rudolph of La Jolla, Calif., and Bob Niger of Sacramento.
"I won the low-am a couple of years ago and I that was a great honor, but I was only three shots out of the lead, so it was a little bittersweet," Lindstrom said Thursday. "If I'm two or three shots back on that course (going into the final round), that's a great spot to be in. I think that's a doable number."
Lindstrom made five birdies and one bogey in round 2. Four of those birdies came via putts of 3 feet or less.
"When I'm hitting it close, it's really close, which is nice," he said. "But I've had my fair share of 10 footers which I haven't made yet."
Asked if GVR particularly suits his game, Lindstrom gives an equivocal answer.
"The tees we're playing for this event suit me well," he said. "The Colorado Open tees do not. That's why I didn't play (that event) this year. Last year I played in the Open and I shot even par the first day. I thought, 'That's not too bad; I could have done better' — and I think I was tied for 75th (place). So I appreciate these tees a little more."
For the record, no amateur has finished in the top four overall at the Colorado Senior Open since David Delich of Colorado Springs was runner-up in 2012.
"My mindset is to do the best I can," Lindstrom said. "I'm not really thinking about the results. At least in an event like this, winning low-am is a nice secondary prize. But I feel if I compete in the tournament, I want to compete for the whole thing."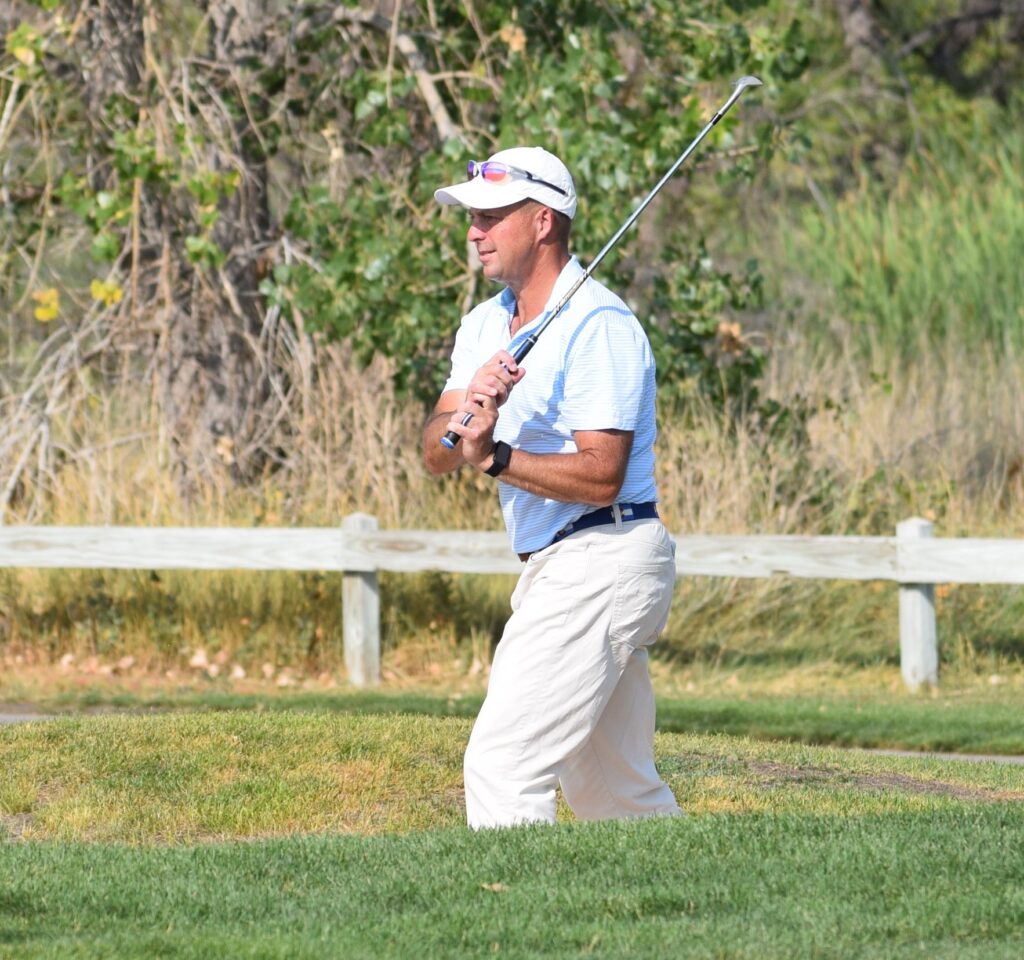 In the low-amateur competition, Lindstrom will go into Friday's final round with a five-stroke lead. Interestingly, the person in second place among ams is Richard Bradsby, Lindstrom's partner for CGA Four-Ball titles in 2017 and '18. Both are members at Lakewood Country Club.
Bradsby, the 2019 CGA Western Chapter winner, followed up his first-round 71 with a 2-over-par 74 on Thursday, giving him a 1-over 145 total.
A total of eight amateurs made the 36-hole cut, which fell at 3-over 147.

Scoring: For all the results from the CoBank Colorado Senior Open, CLICK HERE.